Welcome back to another edition of Tuesdays With Lazerbeak! I'm gonna start things off today with the fifth installment of my Starter Pack mix series. Ladies and gentlemen, I present you with Lazerbeak's Ariana Grande Starter Pack!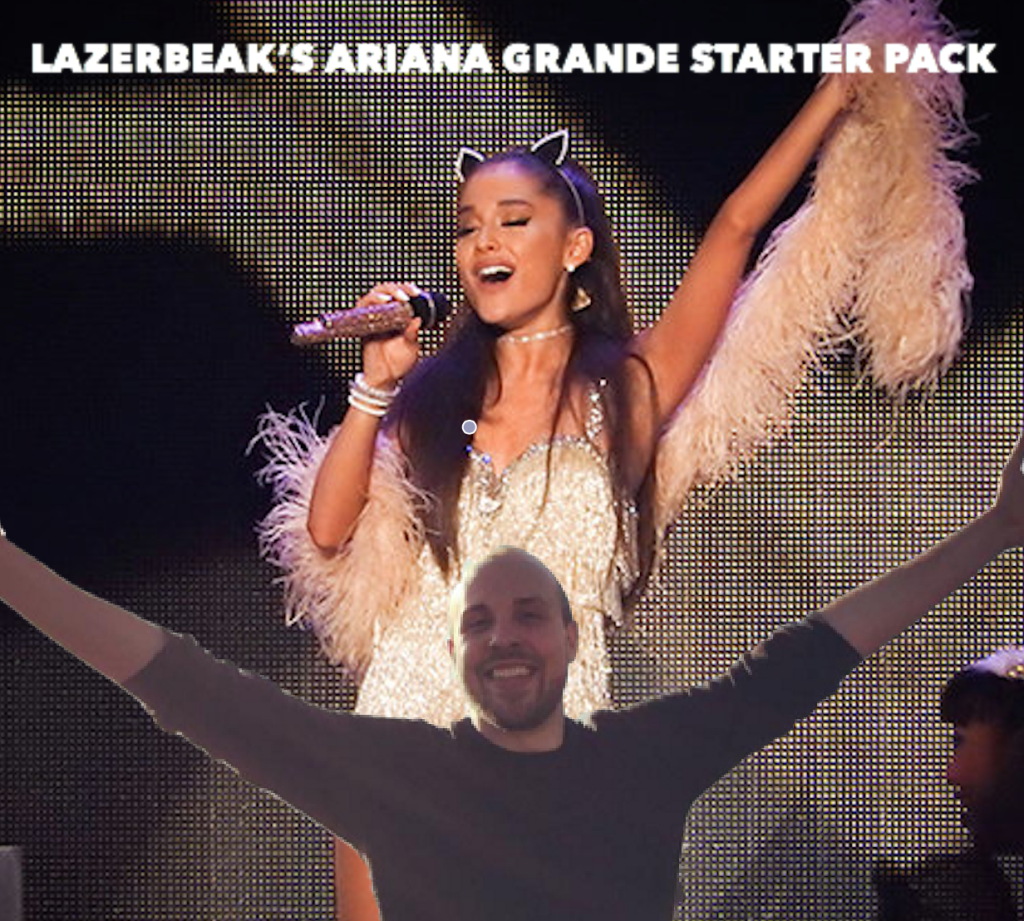 YES! If you've been following the blog at all you probably already had an inkling that this might be coming. I was a huge fan of Ariana's last album My Everything, and when she dropped the Christmas & Chill EP over the holidays I knew it was a wrap. Now we're only a few months away from the release of Dangerous Woman, so what better way to get caught up before she officially takes over the world than with 15 of her absolute greatest songs to date? Click the celebratory album cover above (shouts to Preview, the poor man's photoshop) or the Spotify playlist below to access Lazerbeak's Ariana Grande Starter Pack. ENJOY!
In some exciting Doomtree news, we've just landed a bunch of All Hands songs in three separate blockbuster video games! I stopped being able to keep up with video games right after Goldeneye for Nintendo 64 dropped, but this is still a huge deal, especially if you're into this sort of thing. Check out "Mini Brute" in the new Tony Hawk Pro Skater 5 soundtrack….
"Final Boss" in EA Sport's new UFC 2 game (very apropos title-wise)….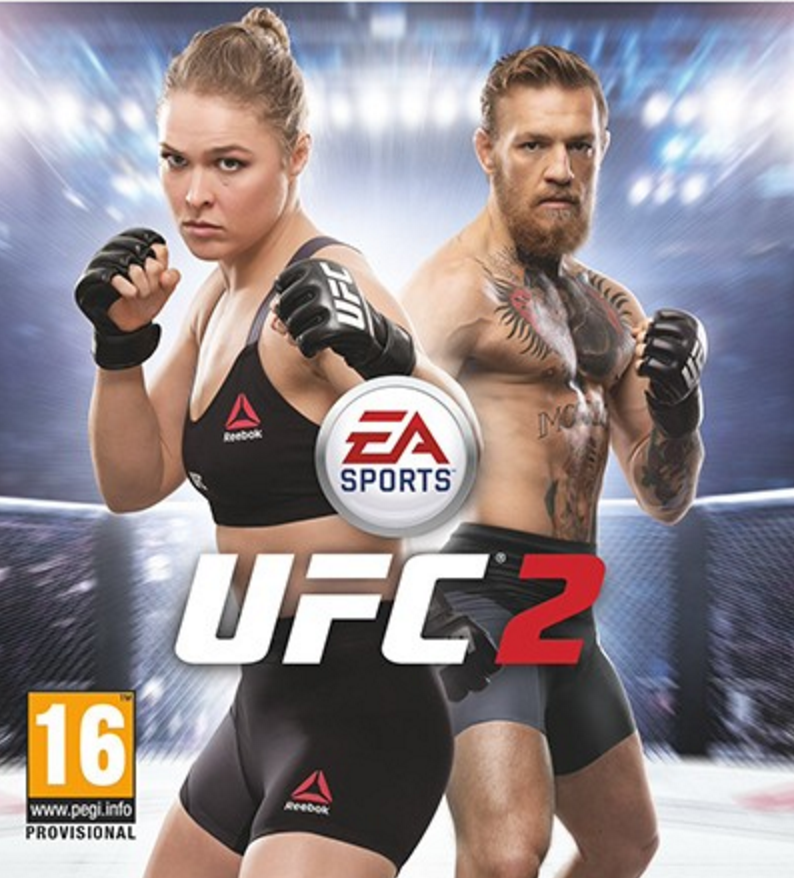 aaaaaaaaand "Gray Duck" in the soundtrack of the new Need For Speed game. So tight.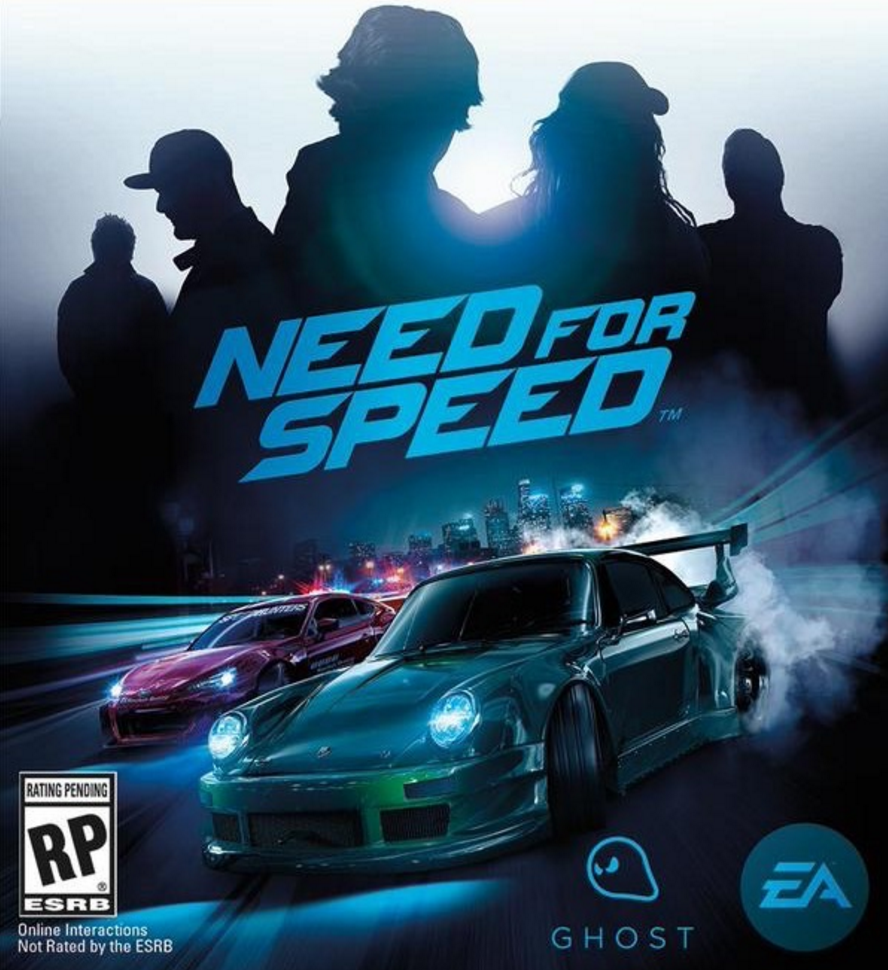 Speaking of sweet accomplishments (SEGUE STREAK), our good friends over at Clockwork, who helped bring last year's Pop Quiz, Hot Shot online trivia game to life, just won a big-time award from AdFed for their innovation and creativity with said promotion.  So cool. They deserve it and then some. Absolute crushers over there. If you want to revisit the game you can check it all out right HERE (without the prizes of course).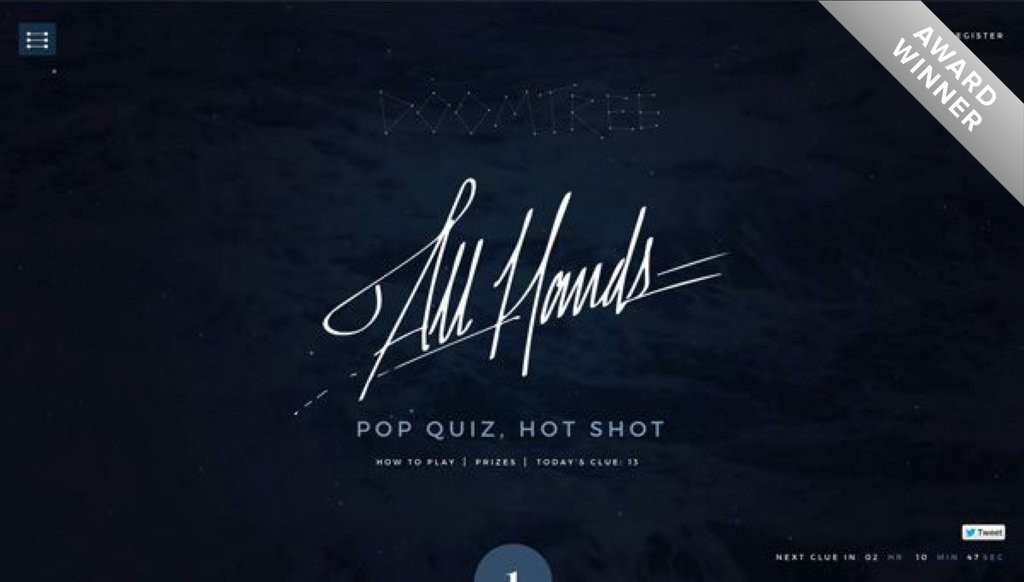 Now for some upcoming shows! Sims will be performing at First Ave this Thursday (3/24) alongside Curren$y, Your Old Droog, Greg Grease, and Sophia Eris for Mr. Peter Parker's first-ever Go Show. Should be a great time and tickets are only $11.50 if you buy in advance. Check out all the sweet deetz right HERE.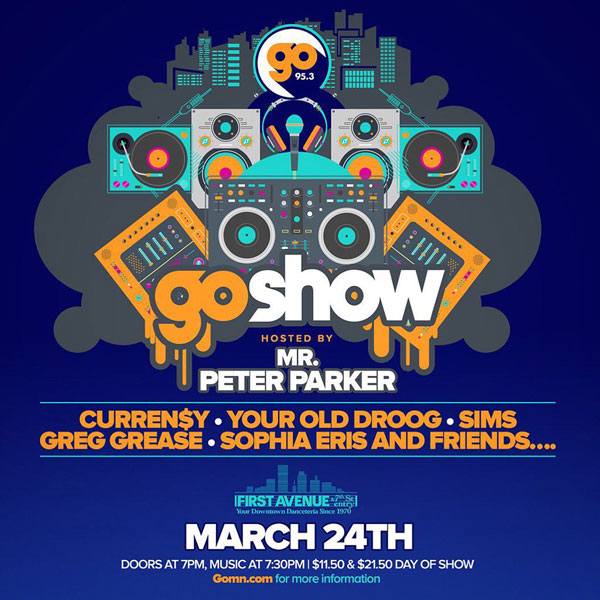 Later that night you can head over to St. Paul for some cool afterparty vibes as Minnie Blanco and our very own Ander Other will be DJing at Amsterdam Bar & Hall for FREE.99. You can also catch Ander spinning at the Entry this Wednesday (3/23) for the House of Yeezy night.
The entire Doomtree squad will head up north to Lutsen on April 1st for two headlining nights of the Elevate Ski, Board, and Music Festival taking place at Papa Charlie's. These will be our very first crews show of the new year and should be a total blast. There's a ton of great deals on lift and show tickets right HERE. Go grab em!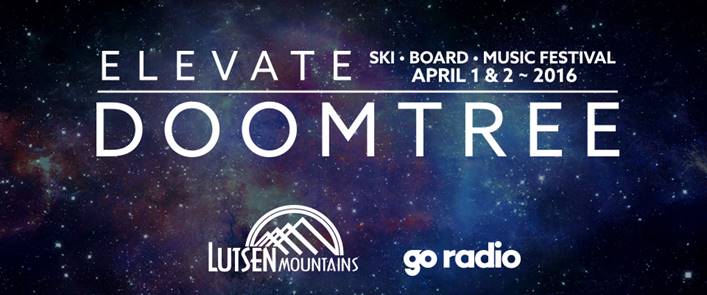 Right after that P.O.S will head back to Minneapolis to perform an intimate solo show at Icehouse on April 3rd with Milo. Tickets have already sold out, so hopefully you swooped yours up early.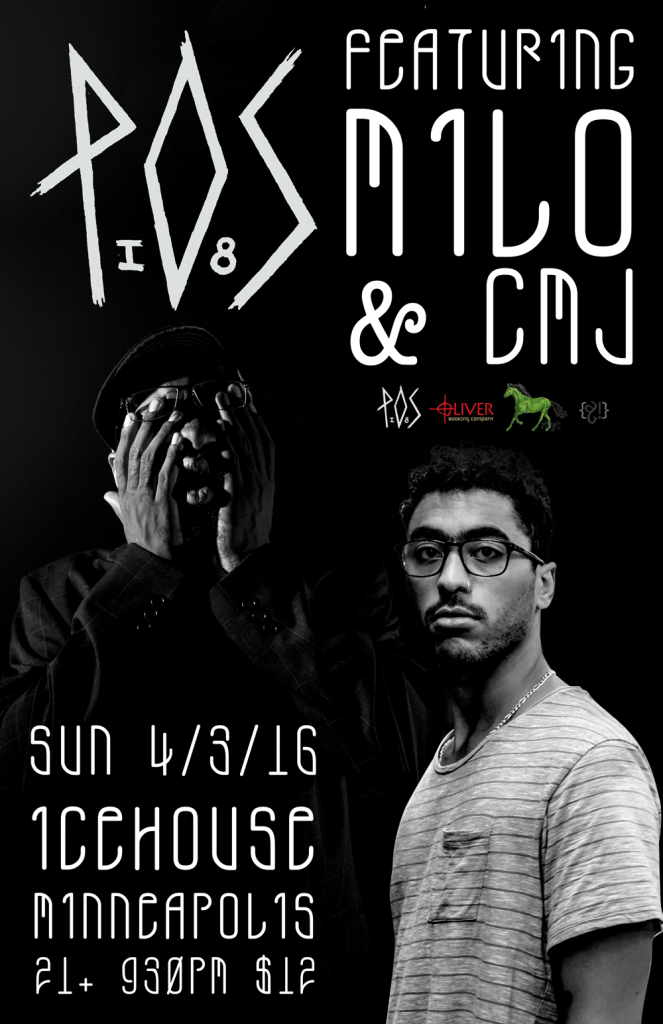 Our very own Mike Mictlan will be performing on a crazy bill at the Whole Music Club on April 8th alongside the homies Busdriver and Metasota. Such a stacked lineup and tickets are only $5! Grab yours right HERE.
In mid-April Mike will head out East to continue the big Gasoline Run Tour with Prof and DJ Fundo. Things kick off in Hamden, CT on 4/12 and end in Sioux Falls on 5/6. Check out dates and ticket details for all shows right HERE.
On April 15th Dessa will be performing a rare solo set at the Northrop Auditorium as part of the University of Minnesota's World Art Day celebration. Grab your tickets HERE.
That very same night Paper Tiger will be out in NYC spinning crazy dance floor bangers with our good friends The Hood Internet over at the Knitting Factory. Such a perfect bill. Details right HERE.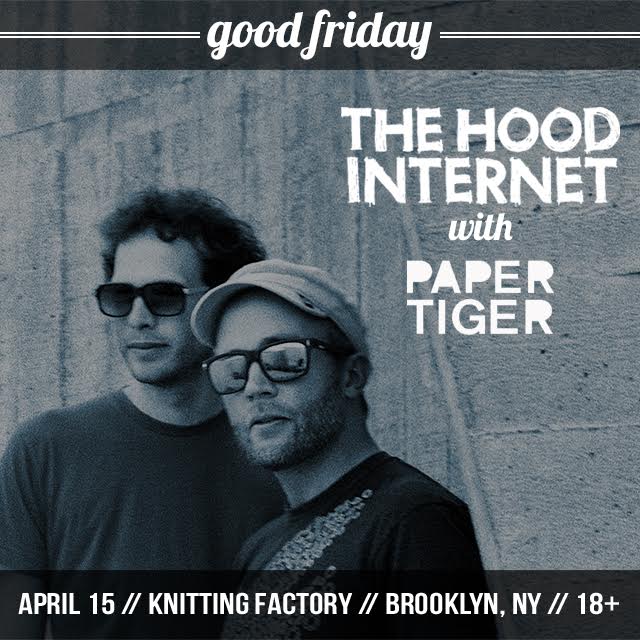 Alright, that does it for March and April shows at this point, so let's dive into an action-packed edition of TWL Bonus Jams. First up is Oakland's Kamaiyah, who just dropped a phenomenal new album called A Good Night in the Ghetto. The whole thing is flames, but this "How Does It Feel?" song (no D'angelo) is the ultimate. Perfect roll-the-windows-down springtime joint. Check it out.
Kamaiyah – "How Does It Feel?"
PARTYNEXTDOOR dropped a new monster single over the weekend and he grabbed some OVO heavy hitters for the assist. 40 murders this beat and Drake comes in for the last verse to tie it all together. This is by far the best PARTYNEXTDOOR song I've ever heard.
PARTYNEXTDOOR ft. Drake – "Come and See Me"
https://www.youtube.com/watch?v=Dw__IZVpwgI
Speaking of OVO, recently-signed artist dvsn is gearing up to drop a full-length on the label next month. I'm still playing catchup, but this "Too Deep" song is crushing it. Classic 90's R&B choir vibes throughout. Reminds me of the first scene in Belly.
dvsn – "Too Deep"
Shouts to Velvet Negroni for putting me up on Rochelle Jordan at the Polica release show a few weeks back. I've been bumping her 1021 album ever since. Reminds me of Aaliyah and Monica and Mya all wrapped in one. Check out "Follow Me" below.
Rochelle Jordan – "Follow Me"
I'm still not familiar with a ton of Kehlani's music yet, but this "Did I" song is a total smash hit. Very excited to check out more new stuff from her soon.
Kehlani – "Did I"
I'll close things out with a loosie from hometown hero Metasota. This guy is on a tear as of late, first with the "Black Lip Master" freestyle and now with this "Rumble" joint. Could not be more amped for his Rum DMT project to come out later this year. Get familiar below. He's about to have a great 2016. #BARS.
Metasota – "Rumble"
[soundcloud url="https://api.soundcloud.com/tracks/252210884″ params="auto_play=false&hide_related=false&show_comments=true&show_user=true&show_reposts=false&visual=true" width="100%" height="450″ iframe="true" /]
OK! That does it for this week's Bonus Jams. I'll leave you with a couple Bonus Baby Pics before calling it a day. Spring has finally sprung up here in the Twin Cities, but that didn't stop us from getting a little bit of snow on the ground this weekend. Here's Miss P enjoying some fluffy flakes for hopefully the last time this year.
And here's an amazing picture that her Grandma Janet took of Lou and Cam sitting next to a very terrifying Easter bunny. Crab Man Cam and Laid Back Lou must have switched bodies for this one, because Cam looks right at home in the arms of a grown human bunny impersonator while Lou seems slightly more skeptical.
The Wifepiece was out on a girls gone wild getaway this past weekend, so I had all three kids solo dolo for a few days. I didn't get too many pictures in all the ensuing mayhem, but I did snap one of Saturday night's schedule/setlist. I'll have you know I crossed every last one of those bad boys off the list by night's end. Killing it. Also, The Good Dinosaur is a huge hit in our household. It masterfully answers the classic "What would happen if dinosaurs never went extinct and instead became buffalo-herding cowboys and farmers?" debate with ease. HIGHLY RECOMMENDED.
Alright, that does it for this post! I'll leave you with the instant-classic Ariana Grande Starter Pack in case you brushed it off up at the top. 15 straight heaters to warm up your day. I cannot recommend it enough.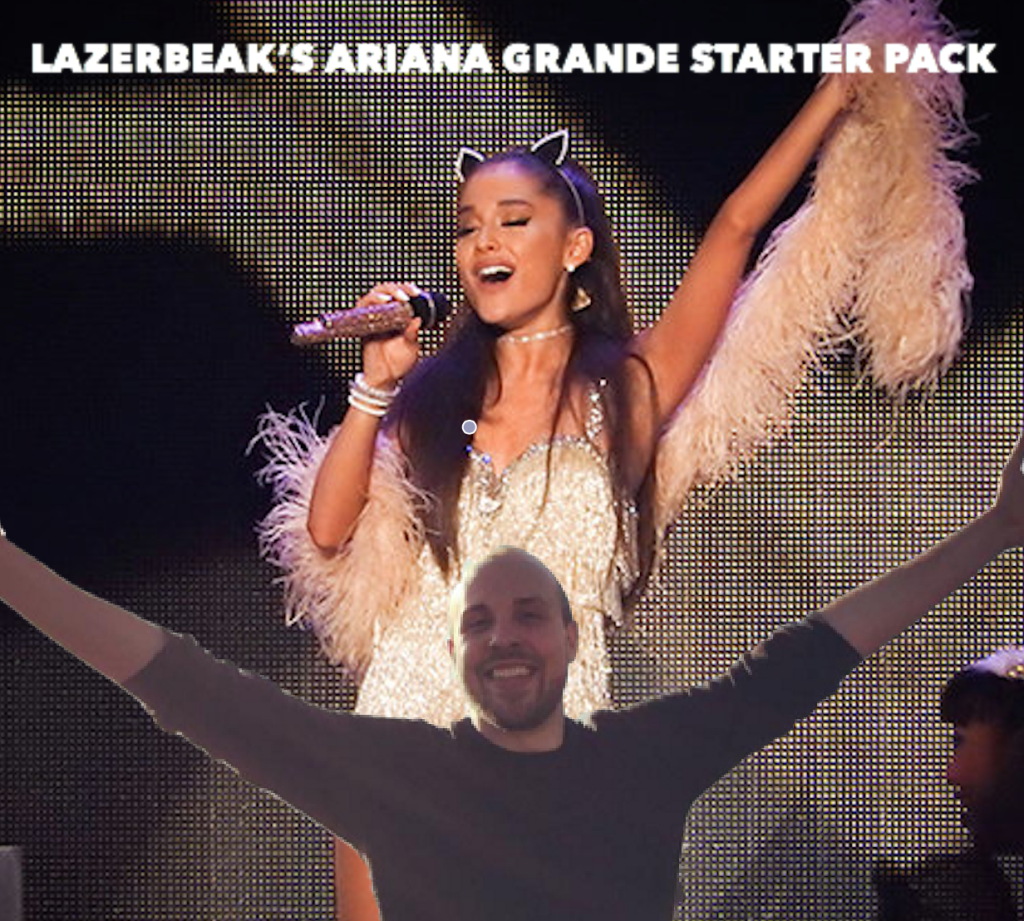 I hope you all have a wonderful week. I'm still alive in my NCAA bracket even though I picked Michigan State to make it to the finals. I've never rooted for Wisconsin this hard in my life (god it even feels weird typing that out). Enjoy what I'm sure will be an extra crazy Sweet 16 and I'll see you back here next Tuesday for another round of TWL!
— Beak
Twitter: @_LAZERBEAK_
Instagram: @lazerbeak
LISTEN TO LAZERBEAK'S STARTER PACK MIX SERIES ON SPOTIFY
SUPPORT THIS BLOG LYFE. TUESDAYS WITH LAZERBEAK SHIRTS AND POSTERS AVAILABLE NOW!!!