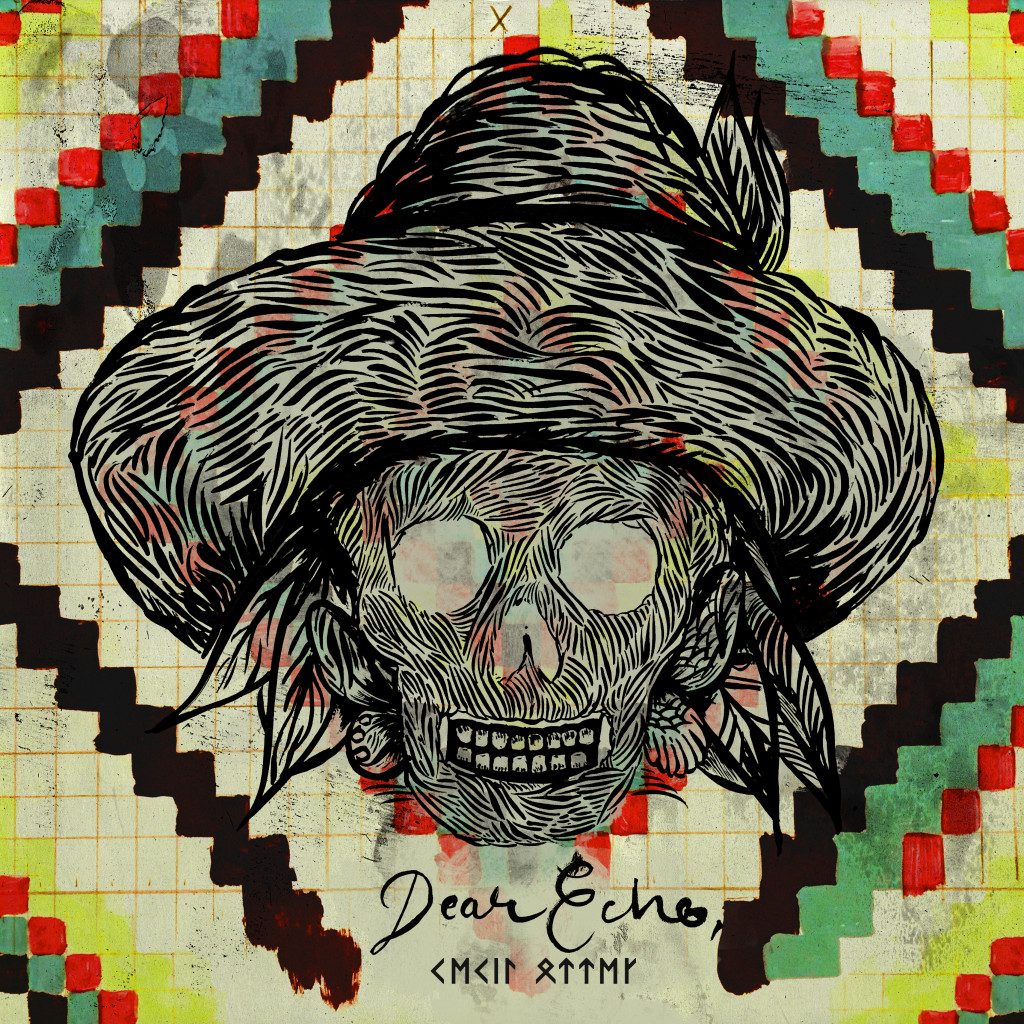 BAM! No April Fool's joke here. Straight on the heels of this week's excellent "Cross Countries" single, Cecil Otter has just released the brand new Dear Echo EP. Holy moly. I'm practically speechless with excitement, so who better to tell you all about this insane new record than Cecil himself. Take it away dude.
Here are 3 songs that I wrote a few years ago. The plan was to put them on the full length that I'm working on, but these 3 in particular were written about/for a certain part of my life that has been in the rear view for so long that they didn't make sense with the more recent songs I've been writing.
Instead of adapting them to the new tracks or letting them fade away completely i decided to cut them loose. For me, it was a good way to show fans of my music that there is still a pulse and a plan to put out new music and all of the other music i've made in the past instead of keeping it to myself, fearing that the world might explode if anyone else hears them.
I could go into detail about what these songs mean to me, but I'm not going to. I keep that kinda thing to myself as the meanings tend to change for me very often. People who know my music would also know that my songs are very cryptic and overflowing with word play, but they give you the space to make up your own worlds and meanings.
It should be known that without the support of some very important people in my life these songs as well as the next round of albums would have most likely been left to rot on an old hard drive or not have been made in the first place. If these songs mean anything to you then you have a handful of beautiful people to thank for that…as do I.
Here are some…
Ryan Olson
Lazerbeak
Zack Coulter
Justin Vernon
Joe Westerlund
Sage Francis
Benson Ramsey
Jake Hanson
B.J. Burton
Diana Ky
Andy Lund
the list can and will go on…
Expect more and more solo work and production from me and everyone else in the near future.
All the best and love to y'all.
—Cecil Otter
Amazing. Soooooooo without further ado we present you with the Dear Echo EP by Cecil Otter. Check out the Soundcloud player below for a taste and then please grab the entire album and its corresponding instrumentals from Bandcamp (HERE) or iTunes (HERE).
[soundcloud url="https://api.soundcloud.com/playlists/211011467?secret_token=s-2ARRZ" params="auto_play=false&hide_related=false&show_comments=false&show_user=false&show_reposts=false&visual=true" width="100%" height="450″ iframe="true" /]
OOOOOOOR if you're a fan of limited-edition vinyl, you can pre-order the Dear Echo 12″ from the Doomtree Webstore right now! That's right, we're going to be pressing up 1,000 limited-edition white-vinyl gatefold LPs of Dear Echo with all the artwork created by Cecil Otter (three main tracks on Side A and their corresponding instrumentals on Side B). These are in the process of being pressed up at the plant right now and should ship out at some point in June, but everyone that pre-orders the vinyl will instantly be sent a download link of the entire six-track EP. BONUS! Check out all the details below and grab your copy right HERE.
But that's not all. If you happen to be a fan of limited-edition vinyl AND insanely limited-edition screen-printed artwork hand-numbered and signed by the artist themself, you're really in luck. We've got the Dear Echo Deluxe LP Pre-Order for you and it's a doozy. You'll get the same limited-edition white-vinyl gatefold LP and immediate download link of the six-tracks, as well as FOUR separate 18×24 screen-printed posters featuring special artwork that Cecil created throughout the Dear Echo recording sessions, all hand-numbered and signed by Cecil himself. There will only be 200 deluxe packages ever made, and once they're gone they're gone for good. Grab yours now and own a piece of history. You can find all the details and info for the Deluxe Dear Echo Pre-Order right HERE.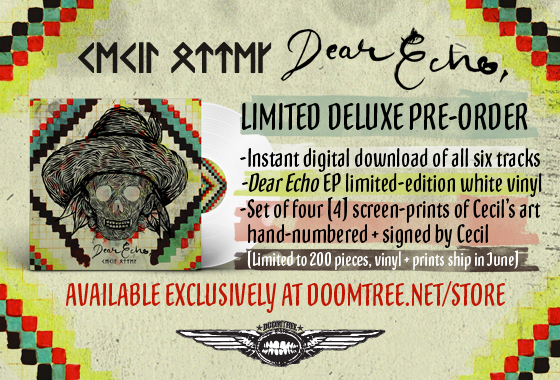 BING. BING. BING. BING. That's probably enough excitement for one post. Happy Dear Echo Day. I hope you have a wonderful weekend bumping these new heat knockers. Please, if you get a second at any point today or throughout the next week, help us spread the Cecil Otter and Dear Echo word high and low across the universe and turn people on to this incredible music. THANK YOU! TTBT 4 LYFE.
— Beak