Welcome back to another edition of Tuesdays With Lazerbeak! Last week was NUTZ. After dropping the "Cross Countries" single out of absolutely nowhere, Cecil Otter turned around and hit the world with his Dear Echo EP, his first solo work since 2008's Rebel Yellow, and on April Fools Day no less. Check out the insane cover below handmade by Cecil himself.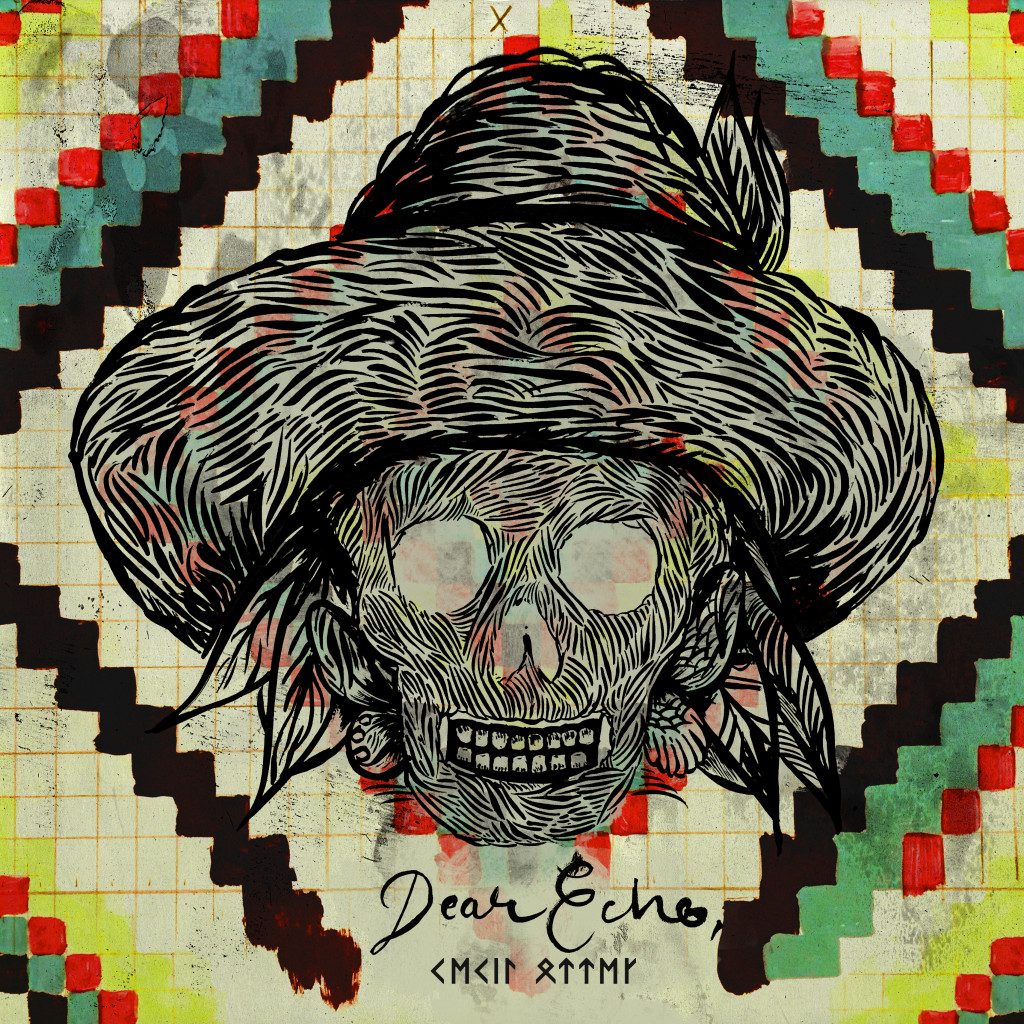 In case you missed it last Friday, Cecil also released this statement about what he's been up to, where these songs originated, and how the whole project came together. I'll let him take it from here.
Here are 3 songs that I wrote a few years ago. The plan was to put them on the full length that I'm working on, but these 3 in particular were written about/for a certain part of my life that has been in the rear view for so long that they didn't make sense with the more recent songs I've been writing.
Instead of adapting them to the new tracks or letting them fade away completely i decided to cut them loose. For me, it was a good way to show fans of my music that there is still a pulse and a plan to put out new music and all of the other music i've made in the past instead of keeping it to myself, fearing that the world might explode if anyone else hears them.
I could go into detail about what these songs mean to me, but I'm not going to. I keep that kinda thing to myself as the meanings tend to change for me very often. People who know my music would also know that my songs are very cryptic and overflowing with word play, but they give you the space to make up your own worlds and meanings.
It should be known that without the support of some very important people in my life these songs as well as the next round of albums would have most likely been left to rot on an old hard drive or not have been made in the first place. If these songs mean anything to you then you have a handful of beautiful people to thank for that…as do I.
Here are some…
Ryan Olson
Lazerbeak
Zack Coulter
Justin Vernon
Joe Westerlund
Sage Francis
Benson Ramsey
Jake Hanson
B.J. Burton
Diana Ky
Andy Lund
the list can and will go on…
Expect more and more solo work and production from me and everyone else in the near future.
All the best and love to y'all.
—Cecil Otter
So with all that being said, I would highly encourage you to check out the Dear Echo EP on the Soundcloud player below to get an idea of what we're talking about. You can buy it digitally through Bandcamp (HERE) or iTunes (HERE) to receive the three bonus instrumentals.
[soundcloud url="https://api.soundcloud.com/playlists/211011467″ params="auto_play=false&hide_related=false&show_comments=true&show_user=true&show_reposts=false&visual=true" width="100%" height="450″ iframe="true" /]
OR you could always hit up the Doomtree Webstore for this crazy physical pre-order that we kicked off last Friday! The Dear Echo Standard Pre-Order includes limited-edition white vinyl (only 1,000 made ever) packed in a beautiful gatefold sleeve all designed by Cecil. You'll also receive an instant digital download of all six tracks. Check out the details below and grab your copy right HERE.
For the serious collectors, we've got the Dear Echo Deluxe Pre-Order. You'll get all the same great stuff from the Standard Pre-Order, plus FOUR separate 18×24 screen-printed posters showcasing the artwork that Cecil made throughout the Dear Echo recording sessions. There will only be 200 of the deluxe packages ever made, and once they're gone they're gone for good. Make sure to grab a piece of history right HERE.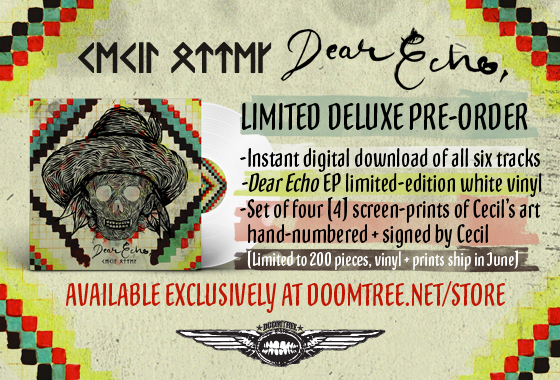 The vinyl is being pressed up at the plant as we speak and should be shipping out at some point in June. If you wanna rep Dear Echo right now though you can grab this brand new Cecil Otter t-shirt with the excellent cover image on the front. So cool. Get one HERE.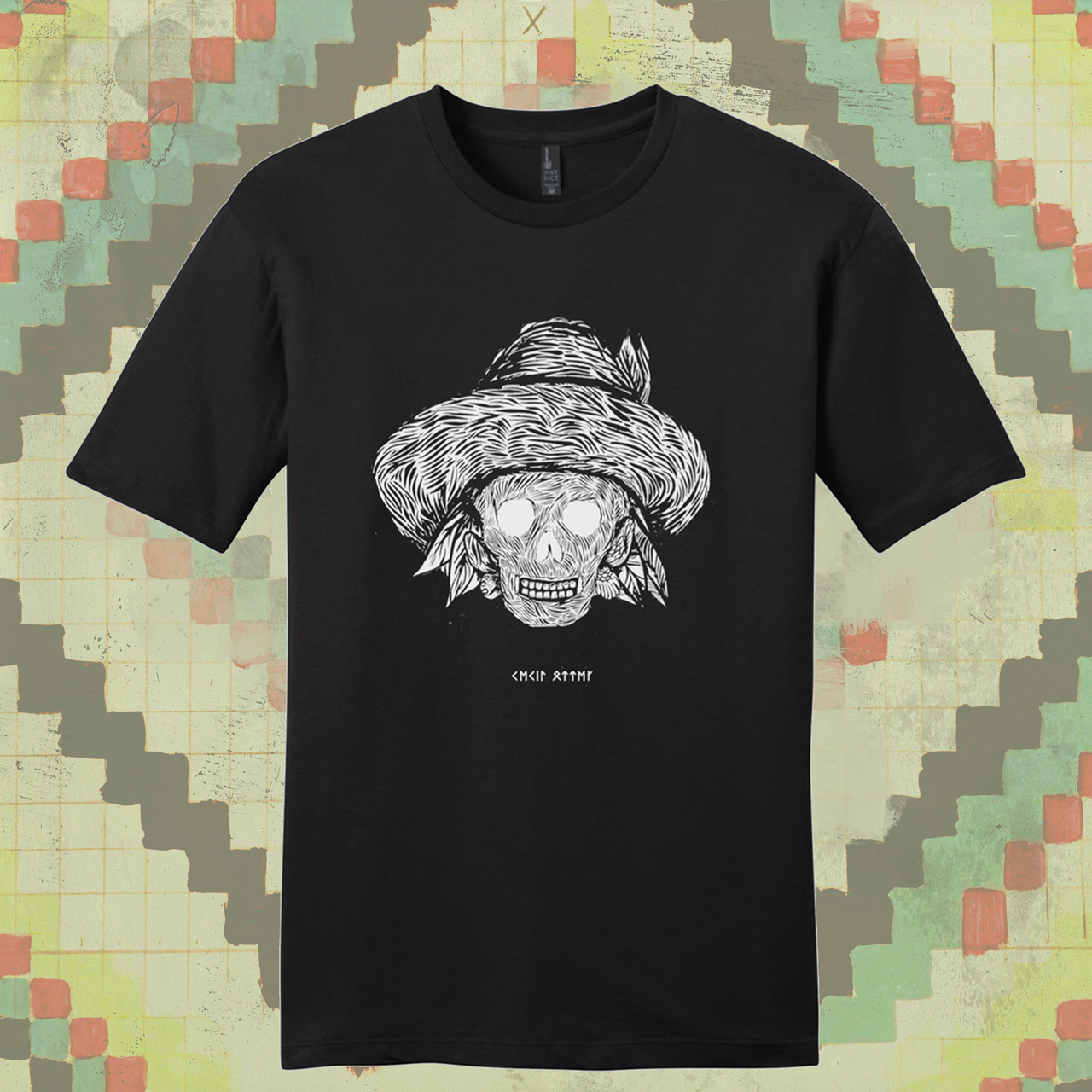 The whole gang just returned from our first Doomtree crew shows of the new year this past weekend up in the glorious winter wonderland that is Lutsen, MN. Shouts to Papa Charlie's and everyone that came up to kick it with us. That was a blast. The good people at Go 96.3 and Go 95.3 repped heavy up there and put together a couple cool videos. Check out this quick recap video of the whole weekend by clicking on the player below.
On Sunday morning Cecil got in a gondola with Go 96's Barb Abney to discuss all things Dear Echo while surrounded by some pretty insane nature. Click the player below to check out the entire six-minute interview. You can also read a great interview he did with the Star Tribune right HERE.
And here are a few more pics from the weekend. Papes and Sims brought out their matching camo ski jackets for the occasion. Pretty sure it doesn't get any more real than this.
Here's me trying on Paper's boarding shadez. The closest I got to the slopes was the gondola ride to the top of the mountain for lunch. Felt like I looked the part at least though.
All in all, it was a truly great trip. That's not it for shows though! We've got a bunch coming up in the next couple weeks alone. This Friday our very own Mike Mictlan will be at the Whole Music Club at the University of MN for a crazy show with Busdriver and Metasota. Such a great lineup. Grab your tickets right HERE and make sure to check the events calendar right HERE for all of Mike's tour dates coming up with Prof in a few weeks.
Next Friday, April 15th, Dessa will also be playing a show at the University of MN. She'll be at Northrop Auditorium performing and speaking as part of the U's celebration of World Art Day. Check out all the details and ticket info right HERE. Students get in free!
On that same day, April 15th, Paper Tiger will be spinning a raucous dance party out in Brooklyn with mashup kings The Hood Internet at the Knitting Factory. You are guaranteed to get a workout at this one. Grab your tickets right HERE.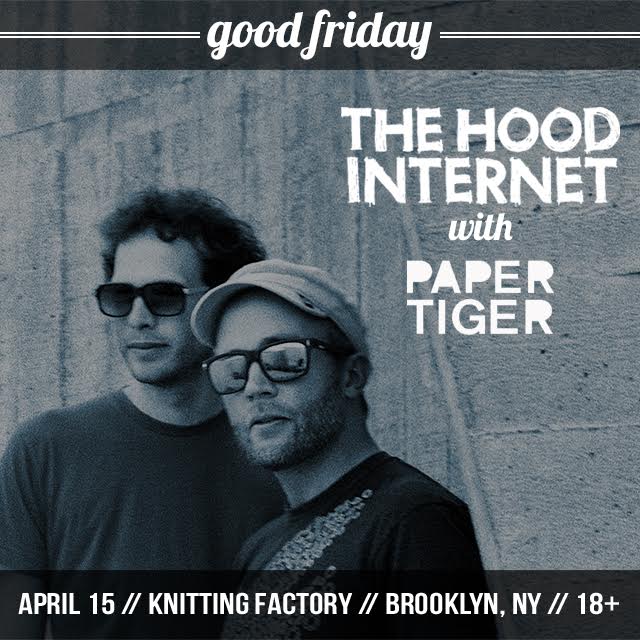 OK, that does it for the next few weeks of shows. Now for this week's installment of BONUS JAMS. There's been a bunch of random singles dropping as of late that have been catching my attention. I'll start things off with this new song by River Tiber. Yet ANOTHER Toronto R&B singer that appears to be crushing the game. I checked out his previous EP and there's some definite heat on it. This new track features a verse from Pusha T and co-production from Kaytranada and Doc McKinney. So good.
River Tiber ft. Pusha T – "Illusions"
Next up is the new single from Chicago rapper Mick Jenkins. Sims put me up on his Waters EP last year, and this song is the first leak off his upcoming summer full-length. Highly recommended.
Mick Jenkins – "Artful Dodger"
The homie Aesop Rock is getting closer and closer to dropping his latest album and has just released a video for new single "Blood Sandwich." Not only is this a phenomenal video, I honestly think this might be my favorite Aesop Rock song to date, which is saying a hell of a lot. Check it out below.
Aesop Rock – "Blood Sandwich"
I just found out about Miloh Smith by accidentally letting a Soundcloud player go into the next random track a few days ago. Not familiar with any of her work yet, but this song has me very intrigued. Definitely going to be checking for more.
Miloh Smith – "Baby Miloh Two"
Our trusty sound guy Alex put me up onto this next video, which is a collaboration between UK OGs Massive Attack and the on-the-rise indie trio Young Fathers. The song is pretty sweet even by itself, but this video is NUTZ. Just watch it.
Massive Attack & Young Fathers – "Voodoo In My Blood"
Switching musical gears a little, I recently found out about this great new band called Banta and I'm all in. They remind me just a little bit of some Brandon Flowers solo stuff and HAIM, which is about as good as it gets for me. Check out "Someday" below. Their debut album drops in a few weeks.
Banta – "Someday"
Anderson .PAAK continues to absolutely destroy everything in his path this year. Here's a song from the Snakehips that he lends vocals too. More than anything, I think this shows just how versatile he can be over any type of beat. Super into it.
Snakehips ft. Anderson .PAAK – "Money On Me"
I'll close things out with a Local Bonus Jam from rapper Chance York and producer Eric Mayson. These guys just dropped the excellent Fed and Famished EP along with a video for standout single "Harden the Paint." Make sure to check it out below and grab the EP HERE. The whole project is great.
Chance York – "Harden the Paint" (prod. Eric Mayson)
Alright, that does it for Bonus Jams this week. I'm short on Baby Bonus Pics this time around due to the insane week we've had moving into a new house. Promise I'll make up for it next week once we finally get settled in to the new spot. In the meantime here's me celebrating the incredible feeling of emptying an entire POD (with the help of a million friends and family members). One more U-Haul trip on Saturday and we'll be officially in. SO. READY.
I hope you all have a great week. Make sure to pre-order that Dear Echo LP and spread the Cecil Otter word far and wide. We're just getting warmed over here at Doomtree HQ. Tons more new music on the way much sooner than later.
— Beak
Twitter: @_LAZERBEAK_
Instagram: @lazerbeak
LISTEN TO LAZERBEAK'S STARTER PACK MIX SERIES ON SPOTIFY
SUPPORT THIS BLOG LYFE. TUESDAYS WITH LAZERBEAK SHIRTS AND POSTERS AVAILABLE NOW!!!