Heyyyyyyo! Welcome to another edition of Tuesdays With Lazerbeak. I'm in the studio all week working on some upcoming projects, so it's gonna be kind of a quickie today. Some big summer crew shows just got announced over the last couple of days. On Saturday, June 18th, Doomtree will perform at the Rhythm & Rhyme Experience in Los Angeles alongside Z-Trip, Brother Ali, Gaslamp Killer, Grieves, and many more. Should be a total blast. Check out the poster below and grab your tickets HERE.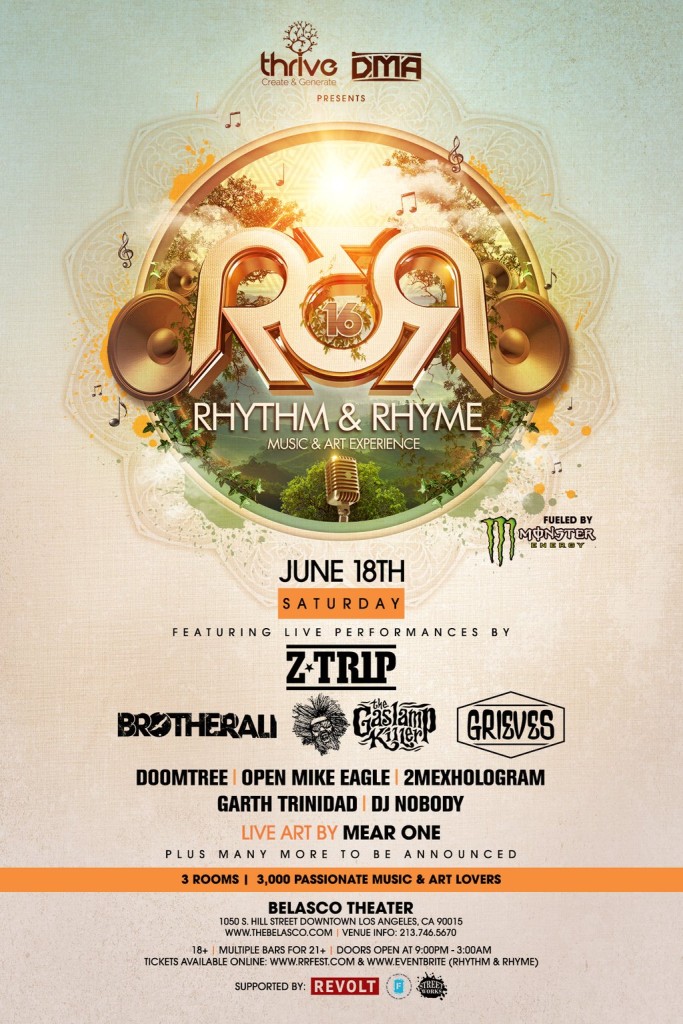 A few weeks prior to that the whole crew will head down to Chicago to play at the annual Do Division Street Fest on Saturday, June 4th. There's a ton of great artists playing all week long including Peanut Butter Wolf, Bad Bad Not Good, and J-Rocc. Check out the sweet deetz right HERE.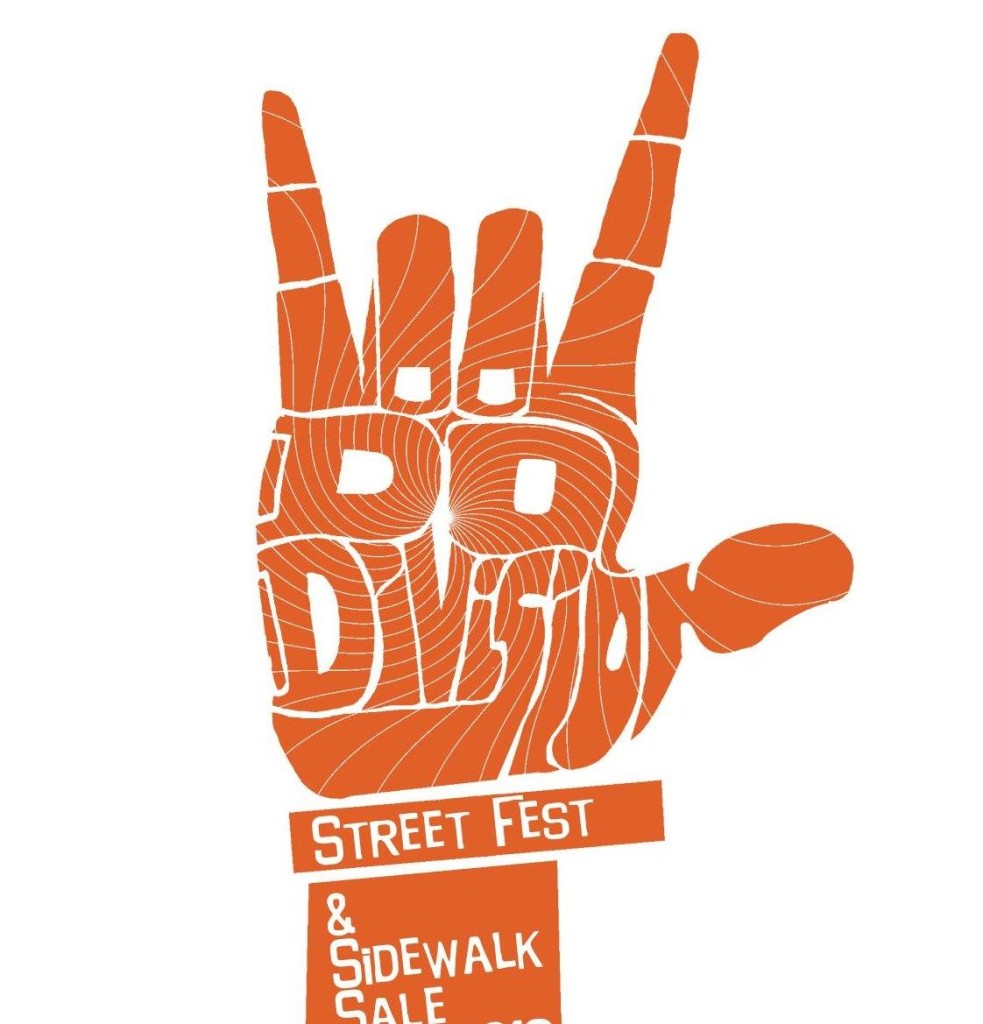 The night before on June 3rd we'll be playing a special Do Division afterparty club set at Subterranean. You can grab your tickets to that right HERE. Should be a great weekend in the Windy City.

And don't forget about Soundset on May 29th! We just took over the Soundset Instagram for the day. Make sure to check out a bunch of candid pics from the whole crew right HERE and then grab your tickets to the largest hip-hop festival in the world right HERE.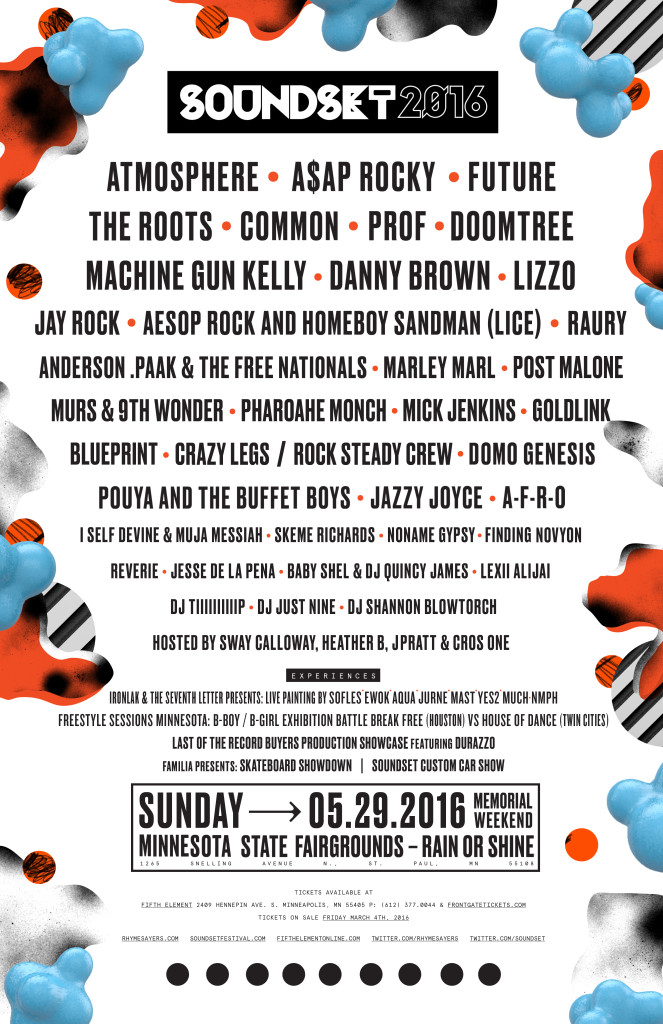 Switching gears back to some April shows in our beautiful city of Minneapolis, Get Cryphy is making a special one-off performance at the 7th St Entry this Friday night and they're bringing one millllllllllion rapper friends with them. Our very own P.O.S and Sims will be in the building making cameos, along with Sophia Eris, Finding Novyon, I Self Devine, Astronautalis, Meta, and a ton more. Grab your tickets right HERE while you still can. This one is guaranteed to be NUTZ.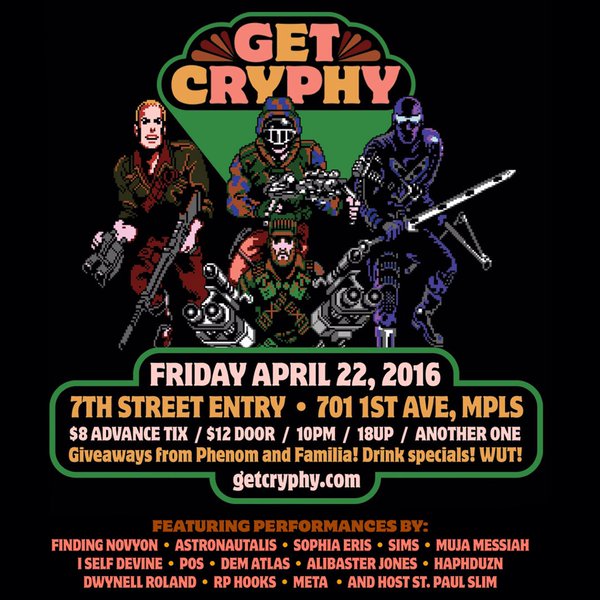 Speaking of sweet DJ nights (SEGUE SEGUE SEGUE), Ander Other and I will be making our return to Surly's quarterly 90's hip hop night at Honey on April 29th. We had an absolute blast last time and I'm really looking forward to this next one. We might even jump into the early 2000's a bit so you can hear all of your favorite Ja Rule and Ashanti collabos. Check out the amazing flyer below and grab more info HERE.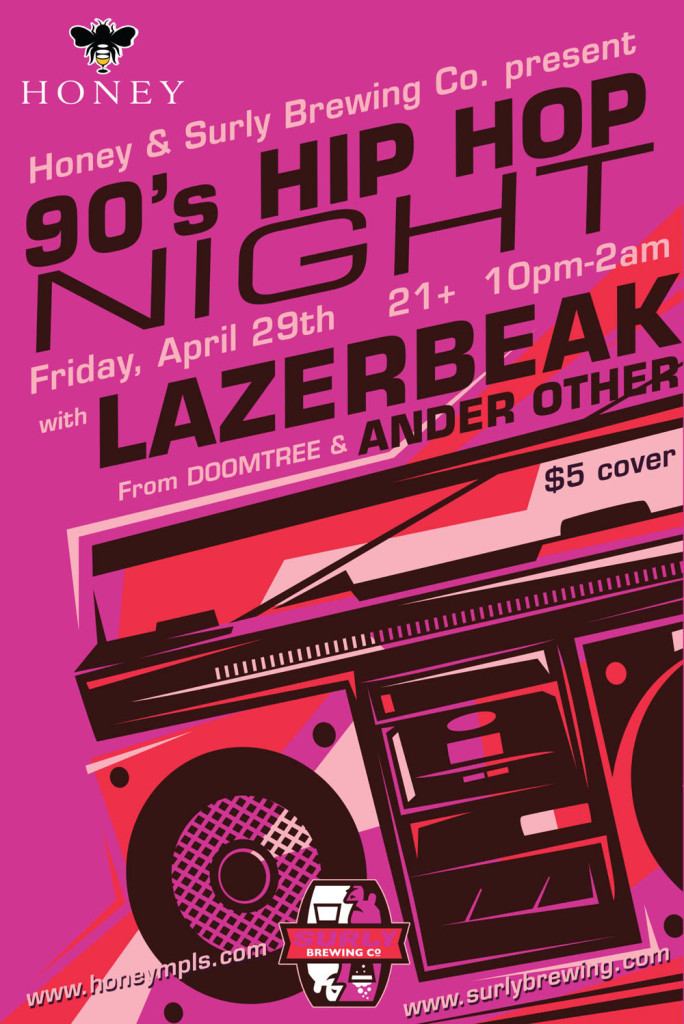 In some unfortunate news, Mike Mictlan had to call off his remaining Gasoline Run tour performances off with Prof due to some health issues that have come up. Mike's back in Minneapolis getting checked out and taking care of his health (dealing with stomach issues that have plagued him most of his life). For anyone that knows Mike, his track record for playing shows even when he's super sick is near perfect, so canceling these dates was very hard. He's gonna be OK but right now we've gotta put his health first and foremost. Luckily, our good friend Metasota has tagged in and will be finishing the rest of the tour with Prof. Make sure to check out all the dates below and grab your tickets HERE. Both these dudes' stage shows are second to none. And no fear, Mike will be back out on the road as soon as he's feeling up to it. We'll definitely keep you posted. Big thanks to everyone sending well wishes this past week.
Dessa stopped by the Go 95.3 studios in downtown Minneapolis last week to chop it up with Mr. Peter Parker about what she's been up to lately. Check out the full eight-minute clip below.
And speaking of interviews, P.O.S recently knocked out a couple of great ones dealing with his health, what the last few years of recovery have been like, and the new music he's got in store for us this year. Check out the XXL Mag feature on him right HERE, and The Current's Andrea Swensson interview for Growler Magazine right HERE. Shouts to Nate Ryan on the pic.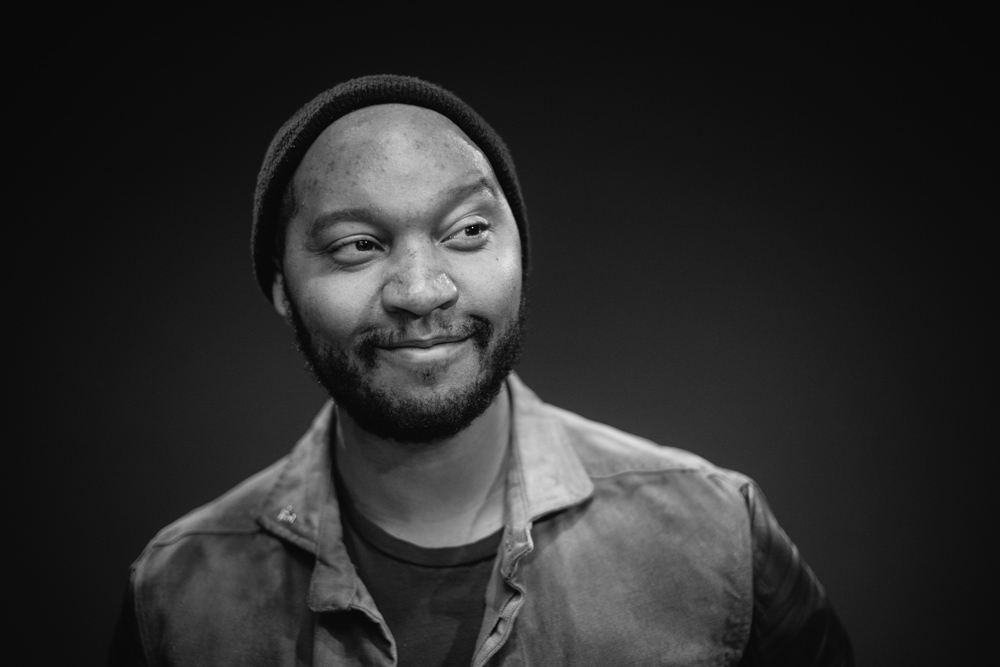 Now for something a little different. Our good friend Sam Rosen, movie actor and writer of the film Stuck Between Stations, is releasing a new film that he wrote and directed with his good friend Nat Bennett. It's called Trophy Husband and our very own International Touring DJ Paper Tiger contributed a bunch of material to the score (including a pretty amazing use of "The Traveling Wayfarer" in the climactic closing scene). I got to check out an early screener of the film over the weekend and I was waaaaaaay into it. The entire thing is awesome. Definitely doesn't hurt that I'm a father of three dealing with the same type of issues any parent goes through while trying not to lose their own identity in the process of raising a family. This movie breaks it all down in a very unique and lighthearted way, but also takes on some of the real difficulties that arise in the process, despite how mundane or trivial they may seem at the time. Trophy Husband is premiering on Thursday and Saturday night this week at St. Anthony Main Theatre in Minneapolis and I couldn't recommend it more highly (parent or no parent). Grab tickets right HERE and check out more about the film below.
[vimeo]https://vimeo.com/122843233[/vimeo]
Now for the Bonus Jams of the Week! Excellent new music keeps flooding the streets at an alarming pace this Spring. I honestly can't think back to a better start to a year than the stuff that's come out so far. Continuing in that vein, I give you Ology by Gallant. This record is seriously incredible. Every single song front to back, from the vocals to the backing harmonies to the production and arrangements, is FLAWLESS. I am so happy to see classic R&B music like this being pushed to the forefront with a slight twist. Cannot say enough about it. Perfect springtime cruising music. Check out a couple of my favorites below.
Gallant – "Bourbon"
Gallant – "Bone + Tissue"
Morly just dropped a great new EP that actually features a little production from Stint, the man behind Gallant's sound. I really love the new stuff she's been putting out as of late. Definitely keeping my eye out for a full-length coming up here.
Morly – Something More Holy EP
[soundcloud url="https://api.soundcloud.com/playlists/212556742″ params="auto_play=false&hide_related=false&show_comments=true&show_user=true&show_reposts=false&visual=true" width="100%" height="450″ iframe="true" /]
Producer extraordinaire Cory Grindberg just dropped a solo instrumental single last week and it is straight fire. Cory has worked a ton with Doomtree's Mike Mictlan and P.O.S, not to mention Chicago staples like Saba and Tink. Check out "Clockman" below.
Cory Grindberg – "Clockman"
[soundcloud url="https://api.soundcloud.com/tracks/257347031″ params="auto_play=false&hide_related=false&show_comments=true&show_user=true&show_reposts=false&visual=true" width="100%" height="450″ iframe="true" /]
Finding Novyon has been on a tear as of late and just dropped this heater produced by Blended Babies. Check out "Put In Work" below.
Finding Novyon – "Put In Work"
[soundcloud url="https://api.soundcloud.com/tracks/258709124″ params="auto_play=false&hide_related=false&show_comments=true&show_user=true&show_reposts=false&visual=true" width="100%" height="450″ iframe="true" /]
Lizzo has been blowing up all over the place with her "Good As Hell" single from the Barbershop 3 soundtrack and subsequent signing with Atlantic Records. Lizzo, Sophia Eris, and The Big GRRRLS all stopped by The Real a few weeks back for a live performance of the track and it put a big-time smile on my face seeing this one performed live for the first time. Guaranteed to brighten up your day.
Lizzo – "Good As Hell" Live on The Real
I've been bumping the new K Michelle record a ton lately. Claaaaaassic R&B. Certainly doesn't hurt that the first two tracks were produced by T-Pain either (theee best). Check out "Got Em Like" below.
K Michelle – "Got Em Like"
I'll end this run of Bonus Jams with a dude that I've already slept super hard on. I've seen Kurt Vile's name all over the place for years now, but I honestly don't think I'd ever heard one single song. That all changed last week when Ryan played me "Pretty Pimpin" and now I'm a changed man. Check out the song below, accompanied by a super tight vizual. Definitely gonna check out way more from this guy. Super into it.
Kurt Vile – "Pretty Pimpin"
Alright! I'll leave you with a few Bonus Baby Pics to make up for the lack thereof the last few weeks. Our Mader Party of Five has finally had some time to move in and get a bit settled in our new digs, and the kids are absolutely loving it. Here's Crab Man Cam turning into his new WWE alter ego, Trash Can Cam, and reeking havoc all over the new house. No trash can is safe from getting flipped upside down and worn like a hat. Someone get Vince McMahon on the phone stat.
Here's Laid Back Lou doing lord only knows what. It appears that he may be fishing with a stick inside of an upside-down blowup swimming pool. Whatever he's doing, he's killing it.
Now for a really strange picture of the JAMMY BOYZ during their morning ritual of apple juice and breakfast bars. Cool faces, guys.
Here's Penny with her best bud Anaiya checking out the new neighborhood. Watch out Longfellow, these two are serious trouble.
And here's Anaiya's little brother Wesley taking the first real nap in our new basement. NAILED IT. Incredible technique. Couldn't have done it better if I tried.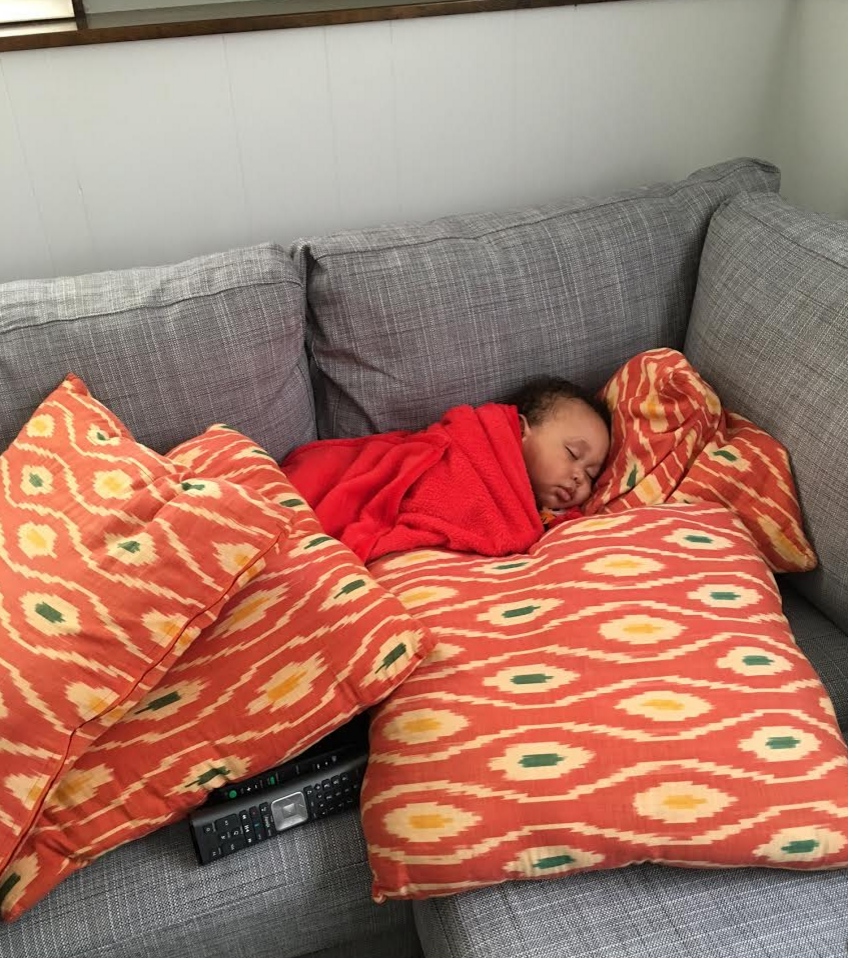 That about does it for this week. I'm off to the studio. Tons and tons of new music coming at you very shortly so make sure to keep it locked on this site over the next month (ahem, Friday?). I hope you all have a wonderful week watching playoff basketball and enjoying the great weather. See you next Tuesday for sure!
— Beak
Twitter: @_LAZERBEAK_
Instagram: @lazerbeak
LISTEN TO LAZERBEAK'S STARTER PACK MIX SERIES ON SPOTIFY
SUPPORT THIS BLOG LYFE. TUESDAYS WITH LAZERBEAK SHIRTS AND POSTERS AVAILABLE NOW!!!