Welcome back to another edition of Tuesdays With Lazerbeak! Last weekend the first signs of Summer began to pop up here in Minneapolis, and even though it's been raining ever since I wanted to drop this sweet Summer Sixteen playlist on you to bump while you cruise around town with your windows down in the coming months. Lazerbeak's Summer Sixteen Mix features appearances from Tory Lanez, NAO, Kamaiyah, Kehlani, dvsn, Kaytranada, Anderson .PAAK, Chance the Rapper, Jeremih, R. Kelly, Jamie xx, Young Thug, Rihanna, Drake, Ariana Grande, Domo Genesis, Schoolboy Q, Gallant, Jeremih, Wizkid, Kyla, Andre 3000, Erykah Badu, Bryson Tiller, PARTYNEXTDOOR, A$AP Ferg, and Future. 20 of my favorite tracks that dropped over the last six months (give or take). STRAIGHT HEAT. Stream it from Spotify right HERE and check out the Summer-themed cover below, shot in my backyard this weekend while I was building a real deal kid prison to contain my three maniac children. Shouts to Drake for swinging through to offer some handyman tips. ENJOY!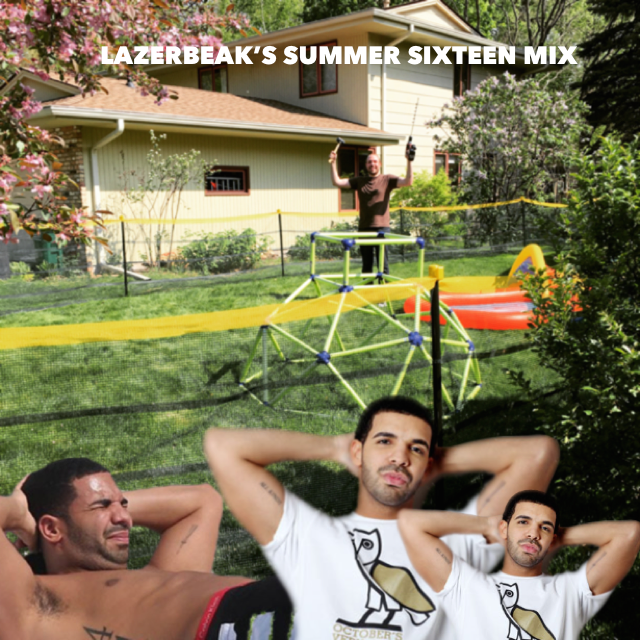 We've got two huge May Doomtree shows coming up here in the next few weeks. First up is Denver, where the "Gentlemen of Doomtree" will be performing a special Project Pabst festival afterparty at the Marquis Theatre on May 20th, alongside our good friends Sean Anonymous, DJ NAME, and Input. Dessa will be out in NYC at the time working on a few different literary projects, so look for me to rock a tanktop, lots of rings, and some Chuck Taylor's, all while belting out classics like "Call Off Your Ghost" and "Warsaw." Should be a once-in-a-lifetime experience. Grab your tickets right HERE.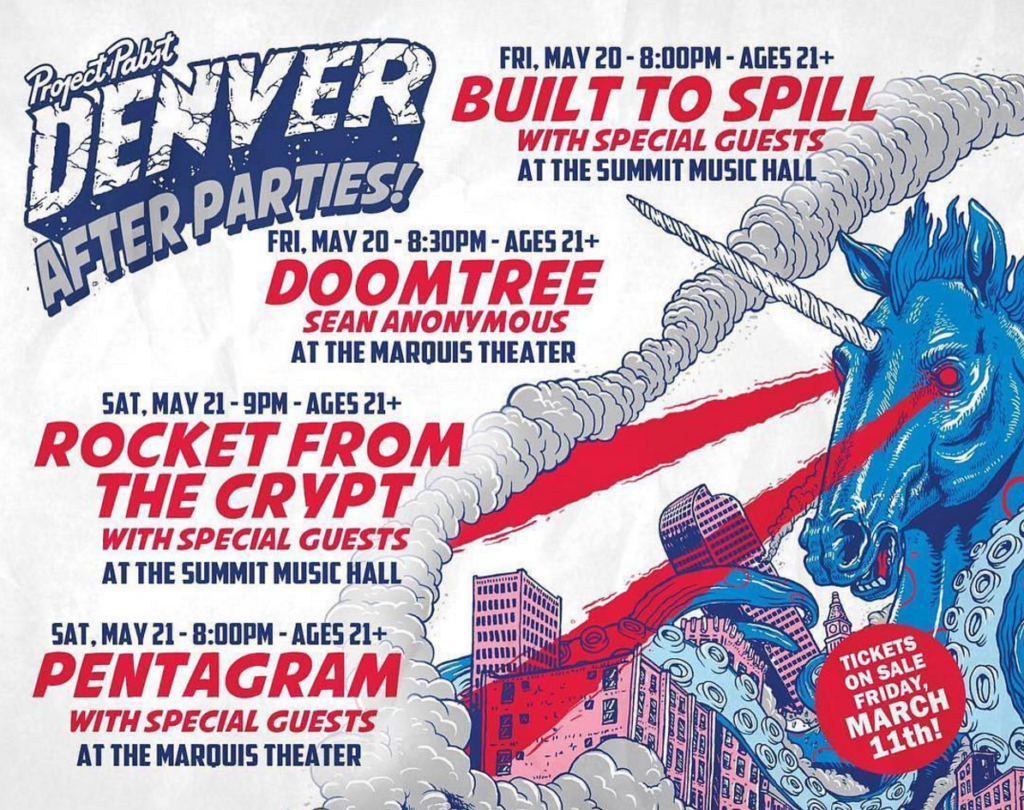 On Sunday, May 29th the entire crew will bring it all back home to the Twin Cities for Soundset 2016, the largest hip-hop festival IN THE WORLD!!! Just look at that outrageous lineup below. Can't wait to see newer guys like Anderson .PAAK and A$AP Rocky alongside some of my all time old favorites like Pharaohe Monch and The Roots, not to mention awesome locals like Finding Novyon and Lexii Alijai. Gonna be a total blast. Make sure you grab your tickets HERE right now, as they've sold out in advance the past two years. Can't wait for this one.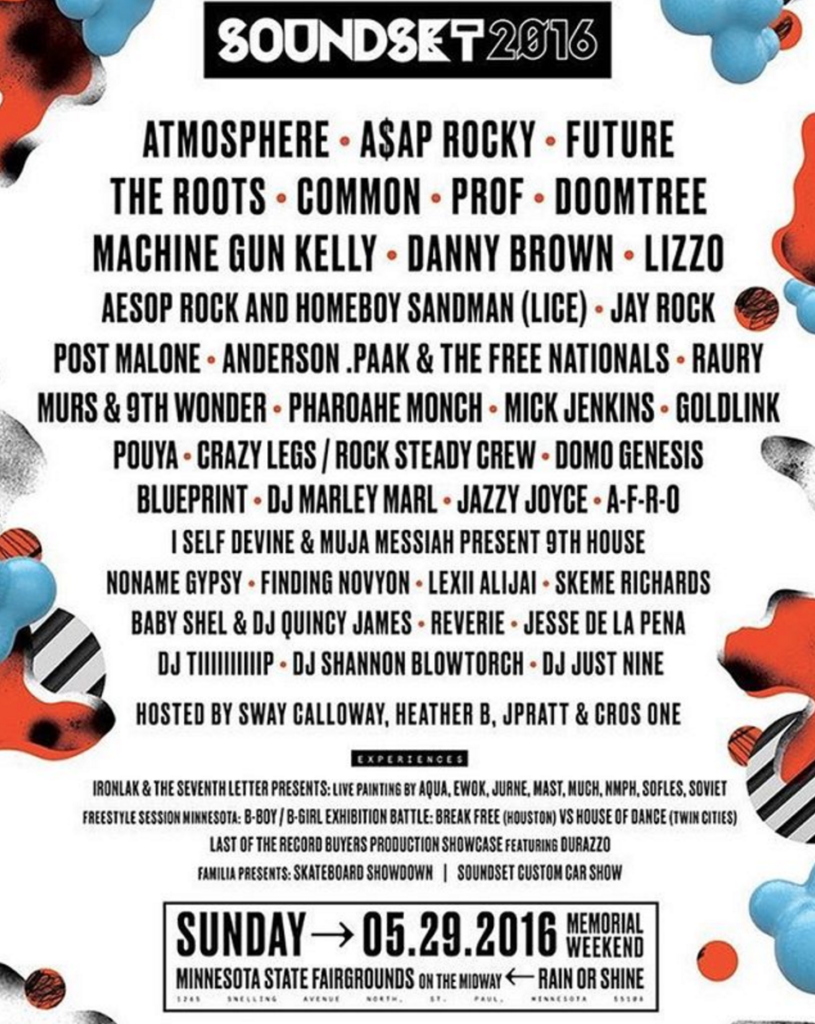 I believe that's the most pressing Doomtree news as of right now. Every single member of the crew is hard at work on new solo and side projects as we speak, and we're starting to amass a slew of new music to hit you with very shortly. In the meantime though let's get into some phenomenal new Bonus Jams since there's been an absolute onslaught of new music, both locally and nationally, over the last few weeks. I'll start things off with our good friend Astronautalis' new album Cut The Body Loose, which officially drops this Friday. You have the good fortune of being able to stream the entire project from his Soundcloud page below in advance though, and I would highly recommend doing so. Make sure to check out the Cecil Otter-produced "Running Away From God" while you're at it.
Astronautalis – Cut The Body Loose
Speaking of good friends, our dude Har Mar Superstar just released his Best Summer Ever album and now it comes accompanied by one of the greatest videos of all time. Shouts to Isaac Gale for completely destroying the vizualz for "It Was Only Dancing (Sex)". Check it out below as soon as possible. You're welcome.
Har Mar Superstar – "It Was Only Dancing (Sex)"
Mac Irv just dropped a new heater right in time for school graduation called (you guessed it) "Graduation." Willie Wonka on the beat! Check it out below.
Mac Irv – "Graduation"
Speaking of beats, here's Minneapolis-by-way-of-Chicago producer Cory Grindberg's second instrumental release in as many months. Excited to hear more instros from this dude. I can 100% say that the stuff he's kicked Stef for the upcoming P.O.S album is totally insane. Check out "Djimbo" below.
Cory Grindberg – "Djimbo"
Haley Bonar just announced her latest album will be coming out this summer on Dave Simonett from Trampled By Turtles new lable GNDWIRE. Check out lead single "I Can Change" below. I really like this one.
Haley Bonar – "I Can Change"
Moving outside of the Local Bonus Jams, Skepta just dropped his long-anticipated Konnichiwa album and it certainly was worth the wait. Every song on here slams. This dude is truly at the top of his game. Check out one of my favorites from the album below.
Skepta – "Man"
Yoni Wolf and Serengeti just dropped their second collaborative album together last week and it SLAYS. Make sure you go Testarossa and check out their great "Lunchline" single below. Some of my favorite cover artwork in a minute too.
Yoni & Geti – "Lunchline"
James Blake dropped his excellent new album The Colour of Anything last Friday out of nowhere and it is looooooong. I still have to spend some more time with it to fully grasp everything that's going on, but I do know that this Justin Vernon-assisted "I Need a Forest Fire" track is straight flames.
James Blake – "I Need a Forest Fire"
BAM! That's probably good for jams this week. I'll leave you with a few Baby Bonus Pics before heading out to the studio. Like I said, Summer is creeping up on us and this past weekend we busted out this crazy slip-n-slide contraption and went wild. Here's Penny working on her dives hours before I put up the kid prison that you saw at the top of the post. Freedom isn't free.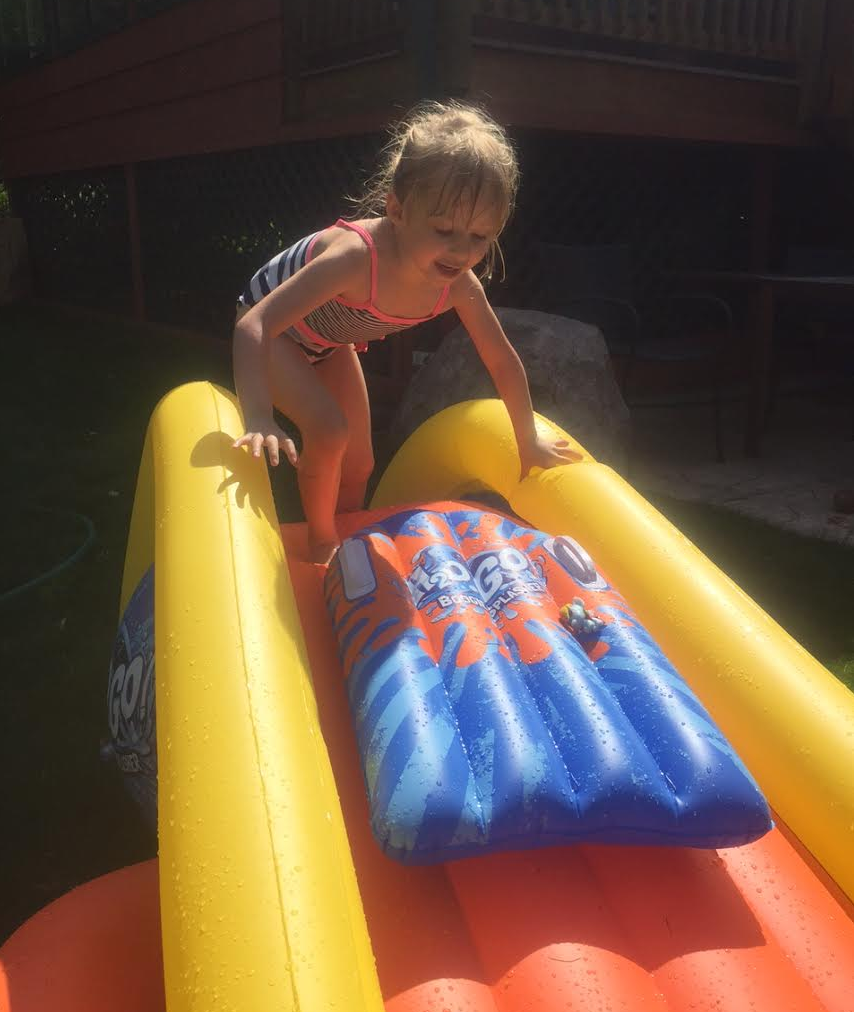 Here's Lou and Cam fresh from the barbershop getting rewarded with some sprinkle ice cream cones after crying hysterically for the past half hour. Haircuts are no joke, man. Not sure what's worse: Sitting through those screams again at their next appointment or just letting them grow awful white guy dreads and calling it a day. Hard to call it.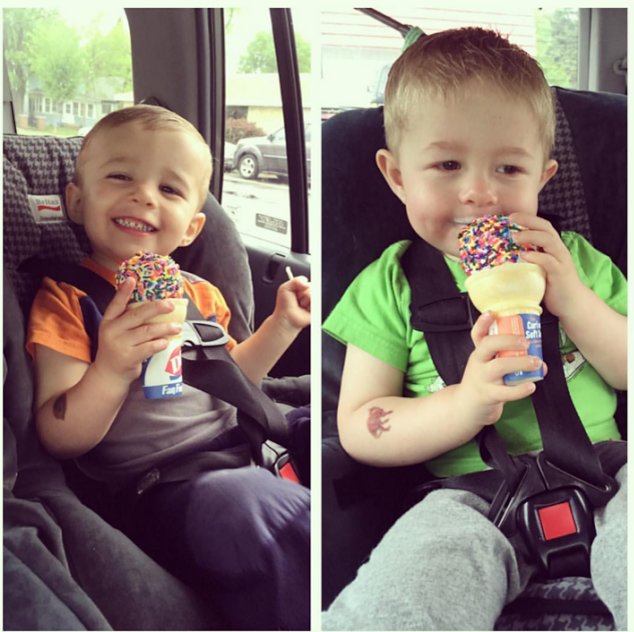 Sunday was Mother's Day and we did it up real big with the first-ever cookout at our new place. It's a proven fact that Moms are the absolute best human beings on Planet Earth and I hope every single one of you had an amazing and relaxing day with your feet kicked up and an alcoholic beverage at your side. Extra special shouts the my Wifepiece for holding the family down every single day and wrangling these insane children with a smile on her face (for the most part). We love you big time.
Extra extra special shouts to my mom and Penny's grandma, Rosemary, for wrangling me and keeping me alive for the past 33 years. Here's Mom and P getting registered for the annual Mother's Day cancer walk out at the Mall of America.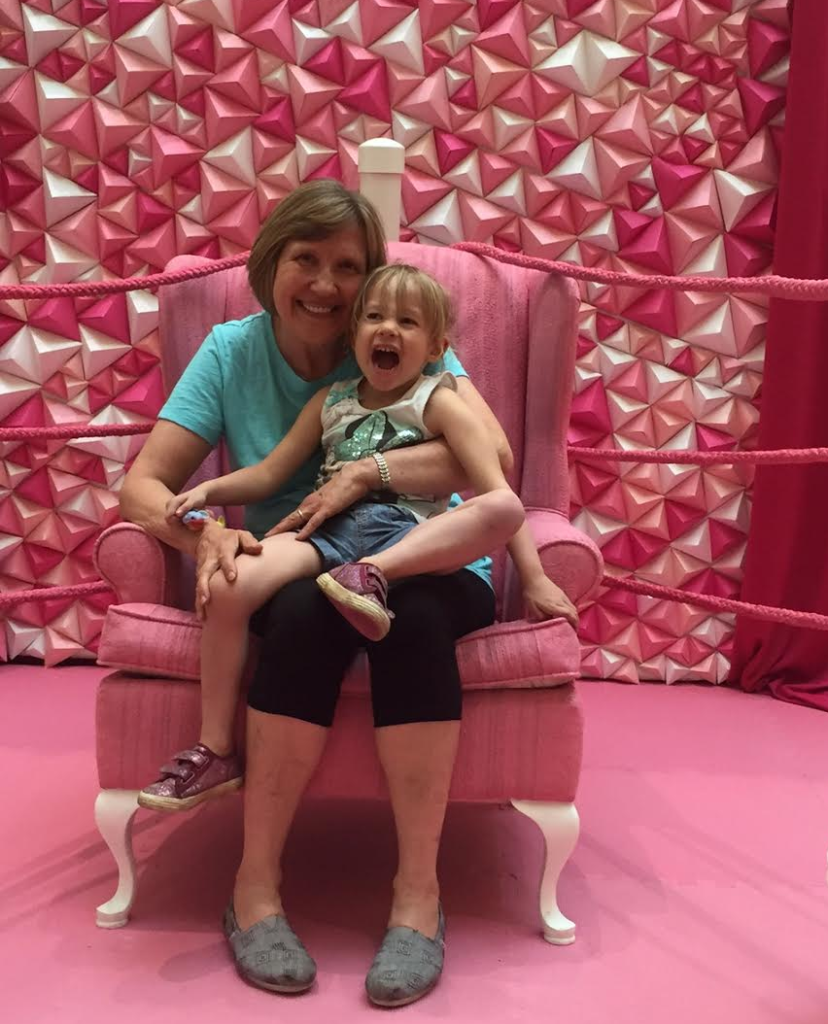 And here's our Walk for the Cure squad after crossing the 5k finish line. We've done this walk the past three years now in celebration of my mom beating breast cancer a few years back. Such a great event. Also great: my dad's sunglasses.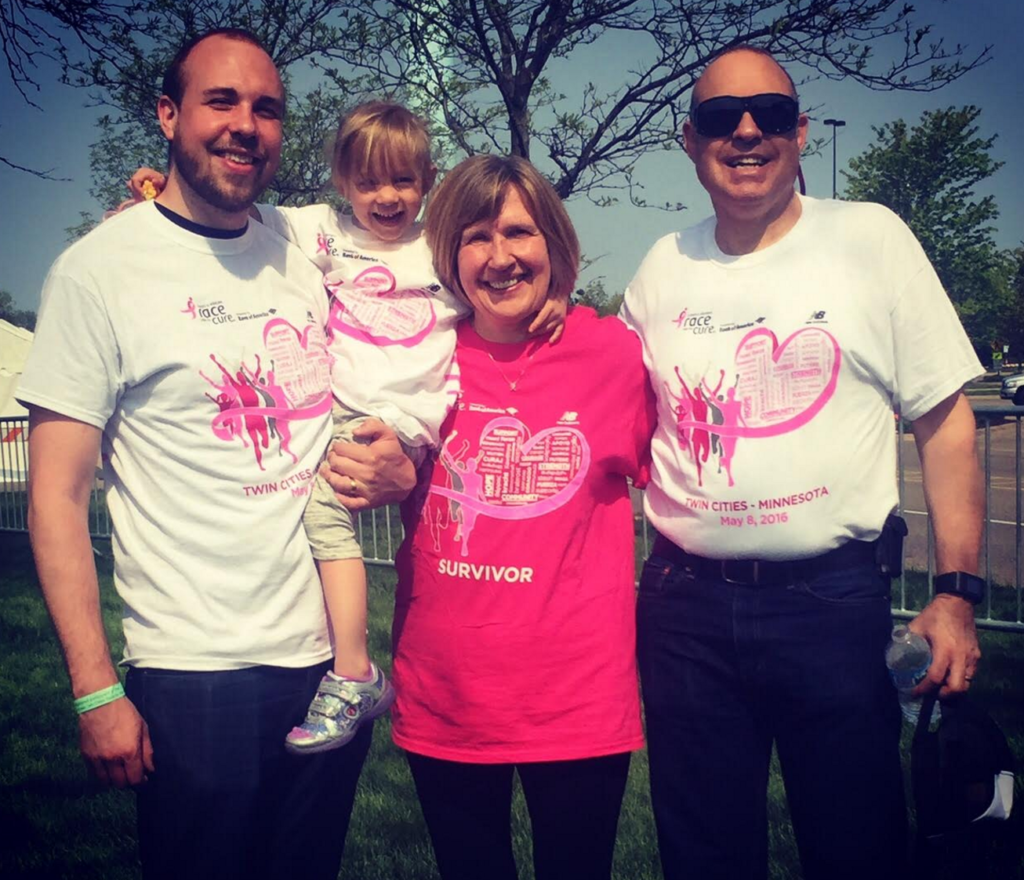 Alright! That does it for this week. Don't forget to check out Lazerbeak's Summer Sixteen Mix right HERE (or by clicking the cover below). 20 absolute heater knockers to bang out to at the beach or in your whip. Doooooooooit.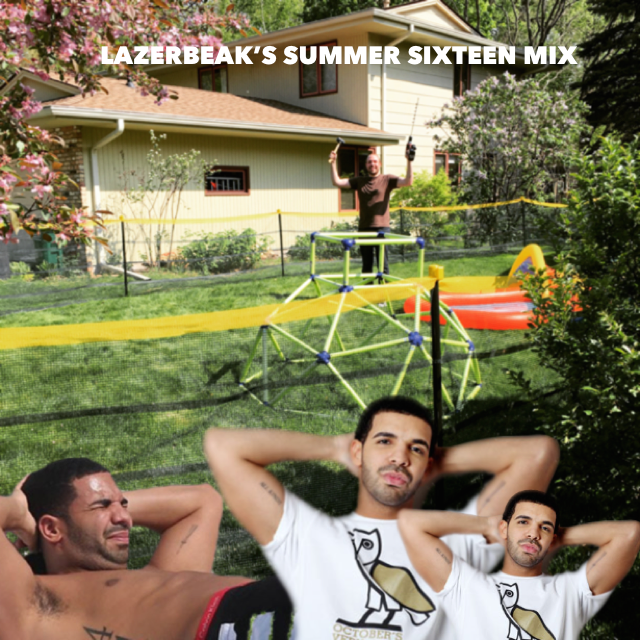 I hope you all have a great week watching Round 2 of the NBA Playoffs heat up. Go Raptors, Go Warriors, Go Thunder. See you next Tuesday!
— Beak
Twitter: @_LAZERBEAK_
Instagram: @lazerbeak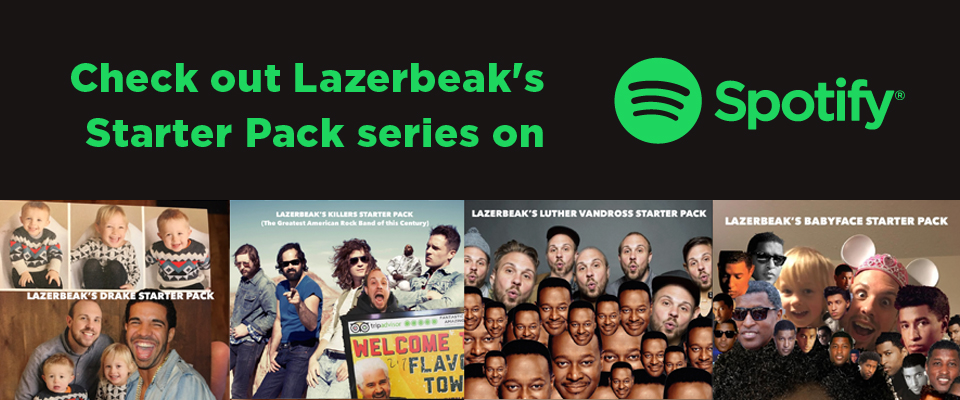 SUPPORT THIS BLOG LYFE. TUESDAYS WITH LAZERBEAK SHIRTS AND POSTERS AVAILABLE NOW!!!