Welcome back to a major edition of Tuesdays With Lazerbeak! Summer is almost over (sad as it is to say), but the good news is that Fall brings a serious TON of new Doomtree-related shows. The month of September is completely jam-packed with live experiences, so let's jump into the big Doomtree Fall Show Rundown! Dessa will be kicking things off this Saturday (9/3) in Duluth at the second-annual Super Big Block Party. She'll be joined by the likes of Low, Caroline Smith, Grieves, and many more. Check out all the sweet deetz right HERE.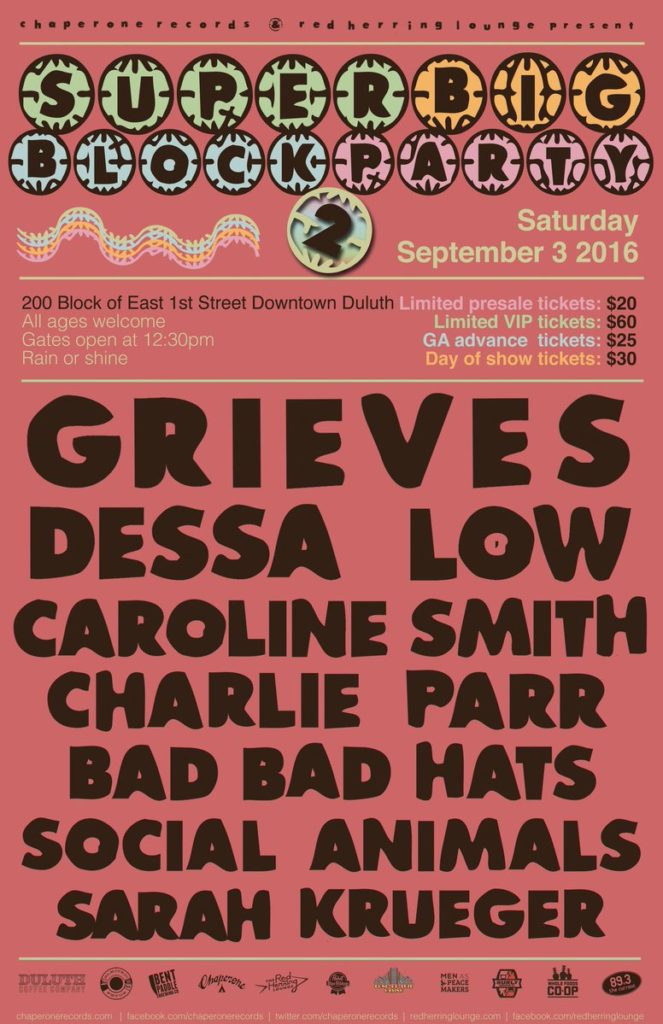 On September 9th Dessa will head back to the Twin Cities to perform her hugest hometown show of the year at The O'Shaughnessy alongside Matt Santos' new group Monakr. Dess has been working like crazy getting this show together and anyone that's seen her before know she throws a ton of surprises into these big headlining theater performances. Grab you tickets HERE.
That very same night (9/9) the Gentlemen of Doomtree will be performing in Duluth for the University of Minnesota-Duluth's big End of Summer Block Party. Apparently Duluth really loves a good block party. Make sure to come on out if you're anywhere near the area and celebrate with us. Should be a total blast. Ticket info and details right HERE.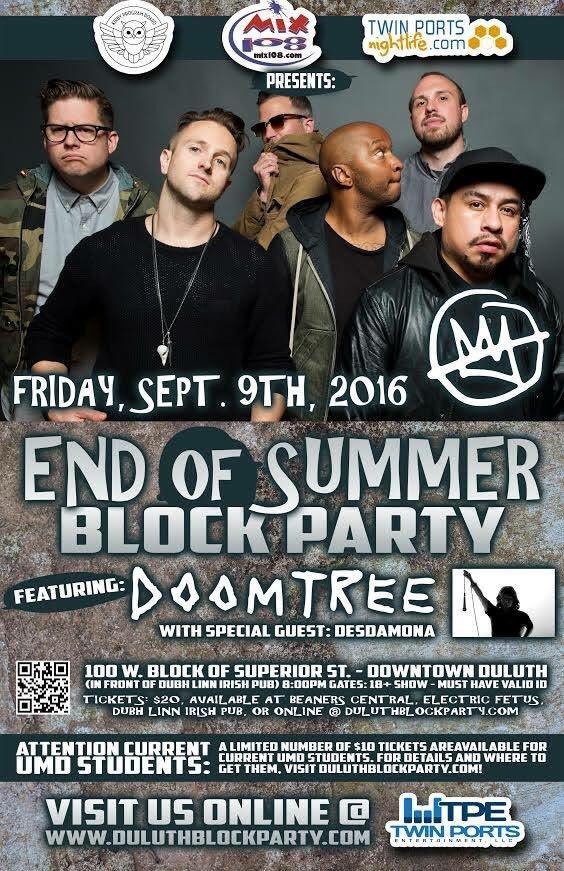 The following night, on September 10th, the Gentlemen of Doomtree will head West for a headlining show at Sanctuary Events Center in Fargo. Excited to make an official weekend out of this one, plus our homies Sean Anonymous & DJ Name will be on the bill as well. Tickets and details right HERE.
On September 17th the Gentlemen of Doomtree will head out to Fort Wayne, Indiana to join The Flaming Lips and Best Coast at the first-ever Middle Waves Festival. I've never been to Fort Wayne before. Super pumped to visit and checkout this great lineup. Gonna rule so hard. Grab your ticket right HERE.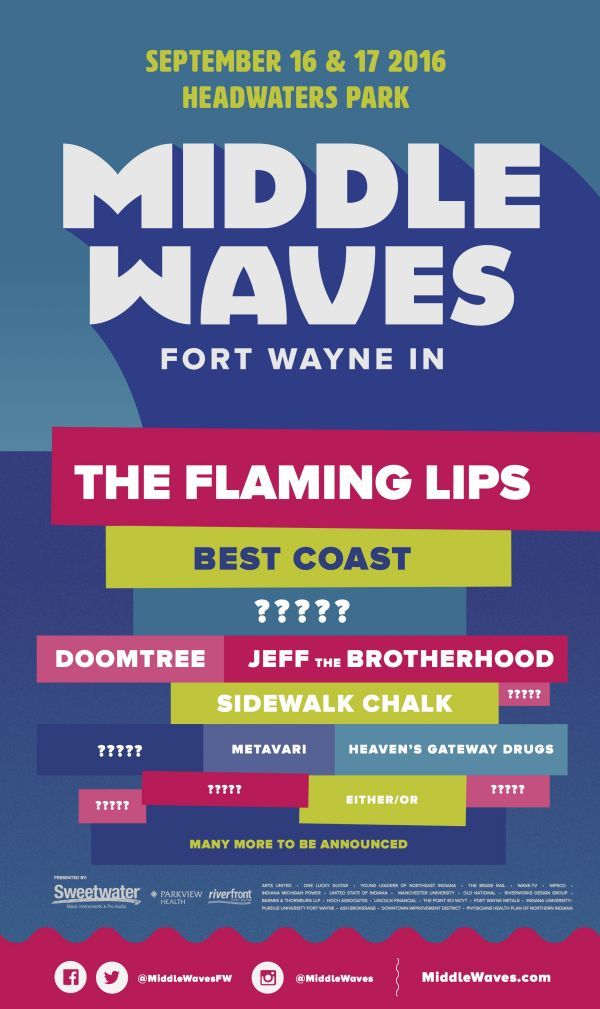 And lastly, on September 24th, P.O.S will head out to Long Beach, CA to perform at the Music Tastes Good Festival alongside a million awesome bands including Dr. Dog, Gallant, and Sylvan Esso. Should be an extra crazy weekend. Grab your tickets right HERE.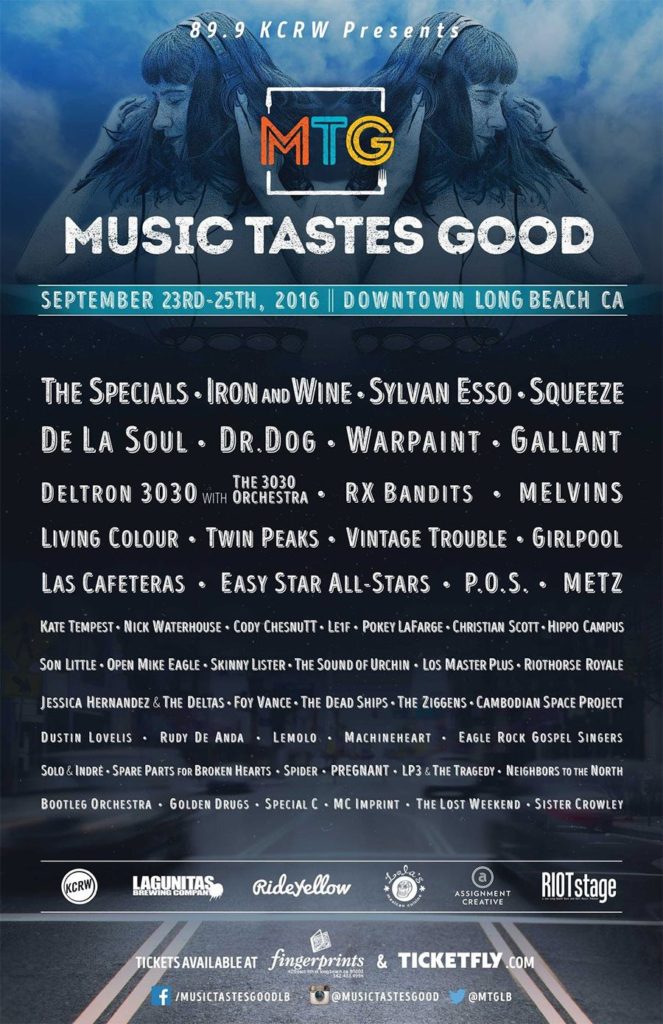 BAM! September is going to be one hell of a month. While we're on the whole end-of-summer rundown subject, let's take a trip down memory lane and revisit the absolute onslaught of Doomtree-related music that's been released this year to date. Something I fondly refer to as the Doomtree 2016 Takeover. Consider it a quick refresher course before we continue the new music mania next month. We kicked things off in January with a remix project from myself and Minnesota bluegrass legends Trampled By Turtles. This was a ton of fun to work on, plus it gave me the opportunity to channel some of those Legend Recognize Legend indie-pop vibes that I love so much. Check out the whole EP below and grab it for keeps right HERE.
Trampled By Turtles x Lazerbeak – Wild Animals Remixes EP
In March, P.O.S made his long-awaited musical return with an absolute monster nine-minute-long song called "sleepdrone/superposition" featuring a ton of extremely talented guests such as Kathleen Hanna, Allan Kingdom, Astronautalis, Lizzo, Eric Mayson, Nicholas L. Perez, Lydia Liza, and Hard_R. Check out the bonkers music video by Stef and James Gundersen below and grab the song for keeps right HERE. This song also marked the first P.O.S release on Doomtree Records since Ipecac Neat. Extremely excited for what the future holds.
P.O.S – "sleepdrone/superposition"
In April, Cecil Otter released his first solo project since 2008's legendary Rebel Yellow album, and it was sooooo worth the wait. The Dear Echo EP consists of three songs and their corresponding instrumentals, completely written, performed, and produced by Cecil – not to mention the crazy artwork he made as well. It's by far my favorite release from him. Stream it below and grab the whole thing digitally right HERE. There are also still a few of the insanely limited super deluxe vinyl packages that include four screenprinted posters of artwork that Cecil created during the recording sessions. Learn more about that right HERE.
Cecil Otter – Dear Echo EP
Speaking of Cecil, he also found the time to lace the new Astronautalis record with an absolute banger. Check out the video for "Running Away From God" below. Andy on the raps, Cecil on the beats.
Astronautalis – "Running Away From God" (prod. Cecil Otter)
Back to the remixes for a second. I got a chance to remix the Mark Andrew Band's excellent song "Stopping For Green Lights" off their excellent debut album. For my TV people out there, you might remember Mark as a finalist on both the Voice and American Idol. This was one of the more fun and challenging remixes I've ever done. Got to take the song into a super different direction and also fulfill some gospel/arena rock itchings at the same time.
Mark Andrew Band x Lazerbeak – "Stopping For Green Lights" Remix
Later in April, Paper Tiger dropped the first of four upcoming EPs in an ongoing project called In Other Words, which consists of wordless vocals from the likes of Dessa, Aby Wolf, and Jessie Daley chopped up and placed all over some of the most expansive and beautiful Paper productions to date. Part One reflected some of the indie rock and pop influences that have crept into Papes' work. Check out the four-track EP below and grab it to own right HERE.
Paper Tiger – In Other Words: Part One EP
In May, P.O.S followed up the epic "superposition" single with a totally different modern and hooky song called "Wave" which features guest raps from Moncelas Boston and Sophia Eris with crushing production from engineer-extraordinaire BJ Burton. I love this one so much. Check it out below and grab it digitally right HERE.
P.O.S ft. Moncelas Boston and Sophia Eris – "Wave"
In June, I got the opportunity to remix Speedy Ortiz, one of my current favorite bands. It's been a blast to get to know these guys and tour with them over the last year, as well as knock out a remix for one of my favorite songs off their last album. Check out "Puffer" below with a bonus verse from Lizzo. Really happy with how this one came out.
Speedy Ortiz x Lizzo x Lazerbeak – "Puffer" Remix
June also marked the first bit of new Doomtree crew music since 2015's Year of All Hands. "Spill Me Up" is a certified Lava Banger with fire raps from Sims, Cecil, and Stef and production from yours truly. It felt like a nice uptempo change of pace from All Hands' more plodding vibe, and it's been an absolute blast playing this one out at shows all summer long. Check it out below and grab the song for keeps right HERE.
Doomtree – "Spill Me Up" (prod. Lazerbeak)
Back on the remix tip, Paper Tiger took a crack at local-band-on-the-rise Fraea's song "Trouble" in July. Fraea features the vocals of Jessie Daley, who is a prominent voice on Paper's In Other Words series, so this song feels like an awesome extension of that project to me. Really love this one.
Fraea x Paper Tiger – "Trouble" Remix
July brought the announce that Sims was in the studio putting the finishing touches on a new full-length album. To celebrate, we dropped a non-album single called "Triple 6's" to get everyone out-of-their-minds amped about the upcoming project. STRAIGHT BARS with a mammoth beat from our friend MAKR. This is just a small taste of what is in store for you later this year. I seriously cannot wait for you to hear this new album. For now, check out "Triple 6's" below and grab it for keeps right HERE.
Sims – "Triple 6's"
Shortly following that was the announce of Paper Tiger's second EP in the In Other Words series. Part Two was anchored once again by the vocals of Dessa, Aby Wolf, and Jessie Daley, but delved into some harder and more electronic beats inspired by Paper's upbringing in the Jimmy Jam and Terry Lewis era. I like this one even more than Part One, which is saying quite a bit. Check out the EP below and grab it to own right HERE.
Paper Tiger – In Other Words: Part Two EP
P.O.S ended July with yet another single, this time ditching the guest raps for a straight up two-and-a-half minute rapathon. "Wearing A Bear" features Stef rapping straight through with no hook over a total heat knocker from yours truly, not to mention a reference to the fact that Leonardo DiCaprio basically wore a bear for the duration of The Revenant. One of my faves for sure on all levels. Check it out below and grab the song right HERE.
P.O.S – "Wearing A Bear" (prod. Lazerbeak)
At the top of this month Dessa dropped her first new bit of solo music since 2014's Parts of Speech, and it too was definitely the worth the wait. "Quinine" features an awesome beat from Paper Tiger with additional production from Dessa and myself. A true dream-team trifecta. One of my favorite songs from her and definitely a bit of a change of pace. I'm extremely excited to see what direction she goes next.  Stream the song below and grab it for keeps right HERE.
Dessa – "Quinine" (prod. Paper Tiger & Lazerbeak)
A few weeks back Sims released another non-album single called "On You" with great production from hometown producer Dimitry Killstorm. It appears on Dimitry's new production album IDK which features an insane cast of some of the best rappers out of the Twin Cities right now. Check out the song below and then definitely go stream the whole album right HERE.
Sims x Dimitry Killstorm – "On You"
Aaaaaand lastly: Just last week Rhymesayers Entertainment announced a super limited 10-year-anniversary edition of P.O.S' breakout album Audition. In addition to the bonus tracks, extremely cool artwork, and blood-red vinyl, you also get this unreleased track from the Audition sessions. The intro to "Infatuation With A Ghost" appeared on the original album but was cut off after only a few seconds. Now you can hear the entire song in all of its 10-year glory. Stef on the raps, Beak on the beats. Brings back a ton of memories when I listen to this one. Check it out below and grab your limited Audition vinyl right HERE.
P.O.S – "Infatuation With A Ghost" (prod. Lazerbeak)
DOUBLE BAM! That concludes the first three seasons of the Doomtree 2016 Takeover. Can't wait to show you what we've got in store for you next month. I'll leave you with a quick recap of my awesome trip to NYC last week with the Wifepiece. This summer has been absolutely nutz for our Party of Five, so we wanted to end it with a big kid-free long weekend in one of our favorite cities and with some of our favorite people. Here's a cool picture of Paper Tiger in Korea Town exuding that King of NY style.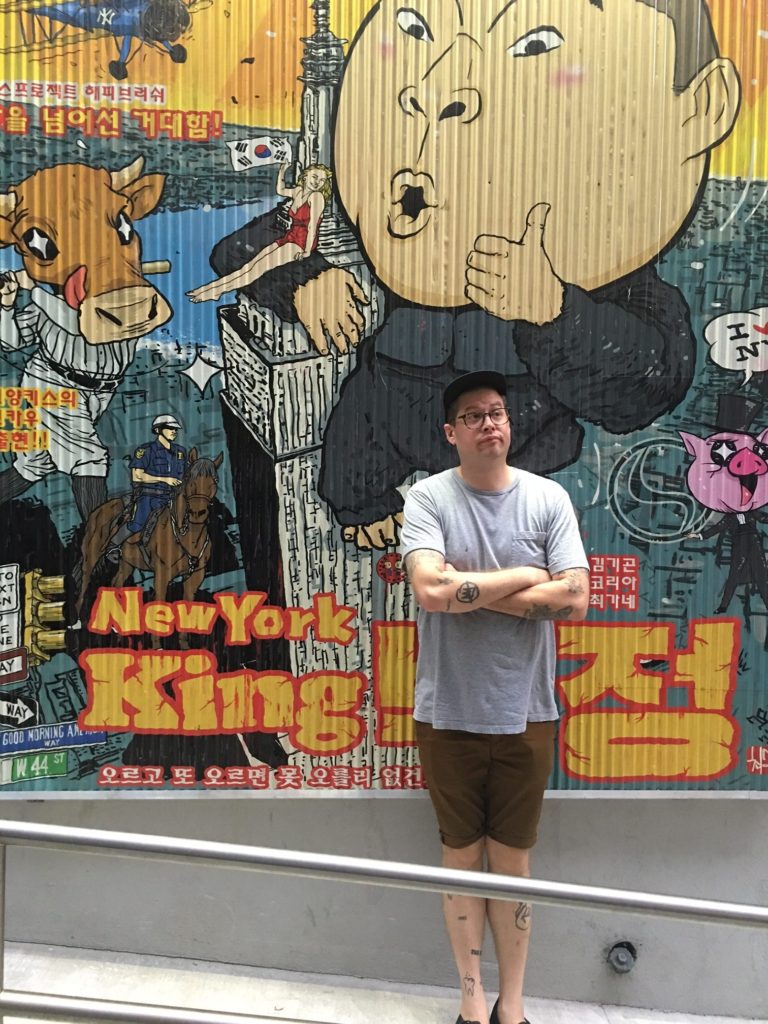 And here's a shot of a pretty incredible 12th floor K-Town bar called Space Billiards where you're greeted with a bag of free microwave popcorn before getting into a game of pool (or several rounds of Fireball shots). Only in New York. Loved this place.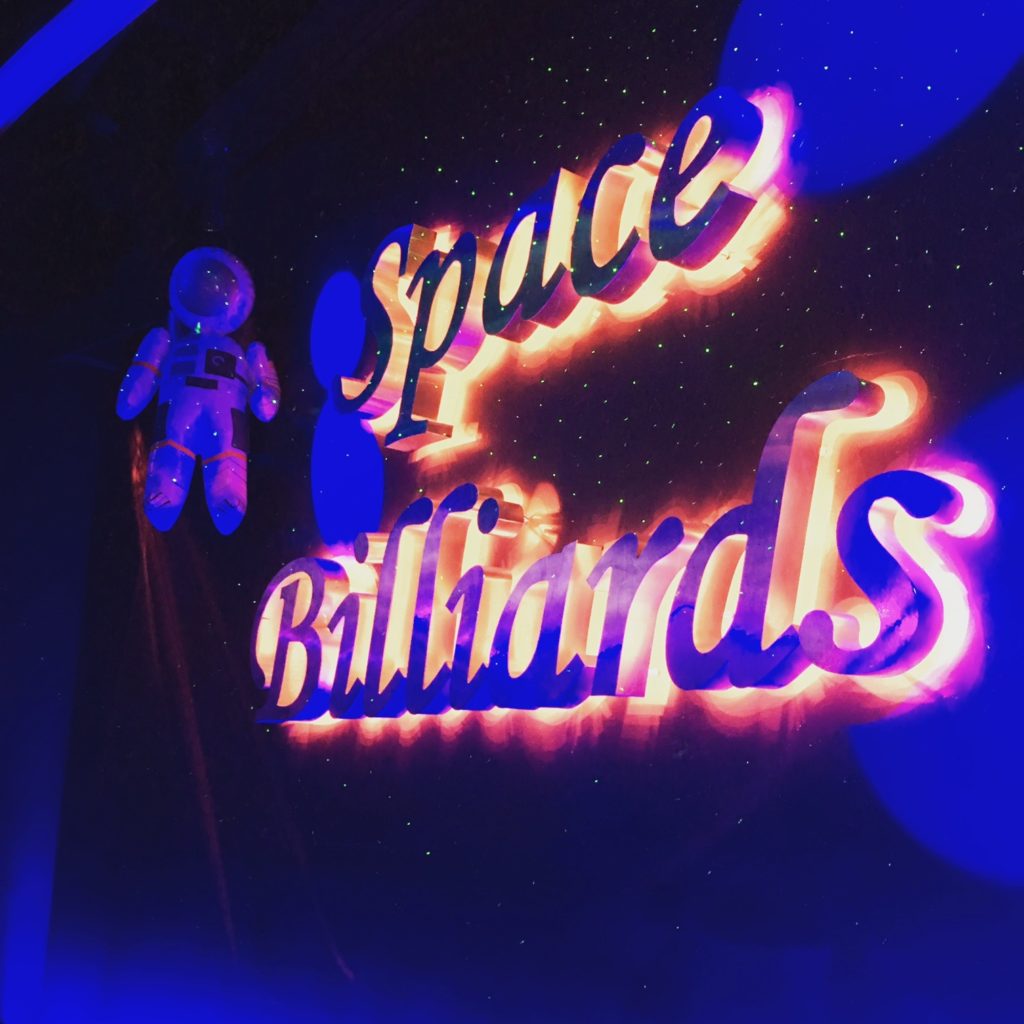 One of the highlights of the trip was finally getting to meet up with the Luther Vandross Foundation. I'll spare you all the details, but let's just say that I had my mind completely blown wide open. Here's a picture of a plaque honoring the unveiling of Luther's star on the Hollywood Walk of Fame. This was by far one of the best days of my life.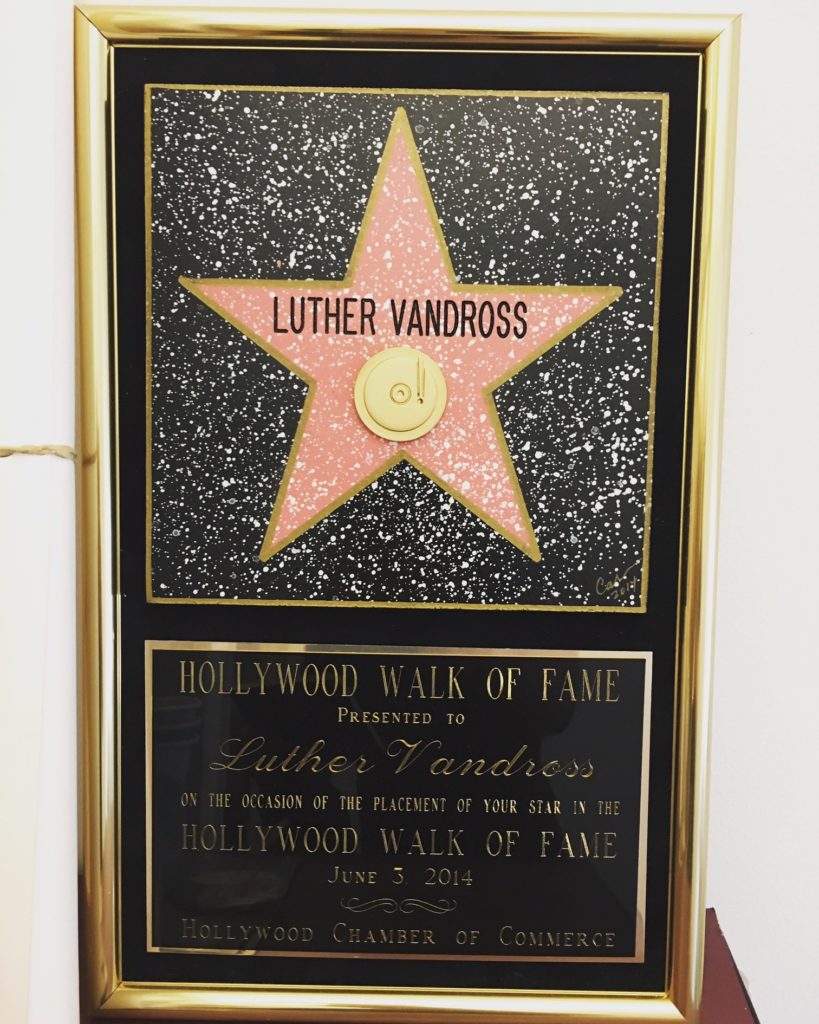 On Friday we got super touristy and made the trek through Central Park to the Museum of Natural History. That place is seriously out of control. I think we managed to see less than 10% of it in the afternoon that we spent there. So much amazingness to behold. Here's one of the trillions of incredible dioramas we got to see.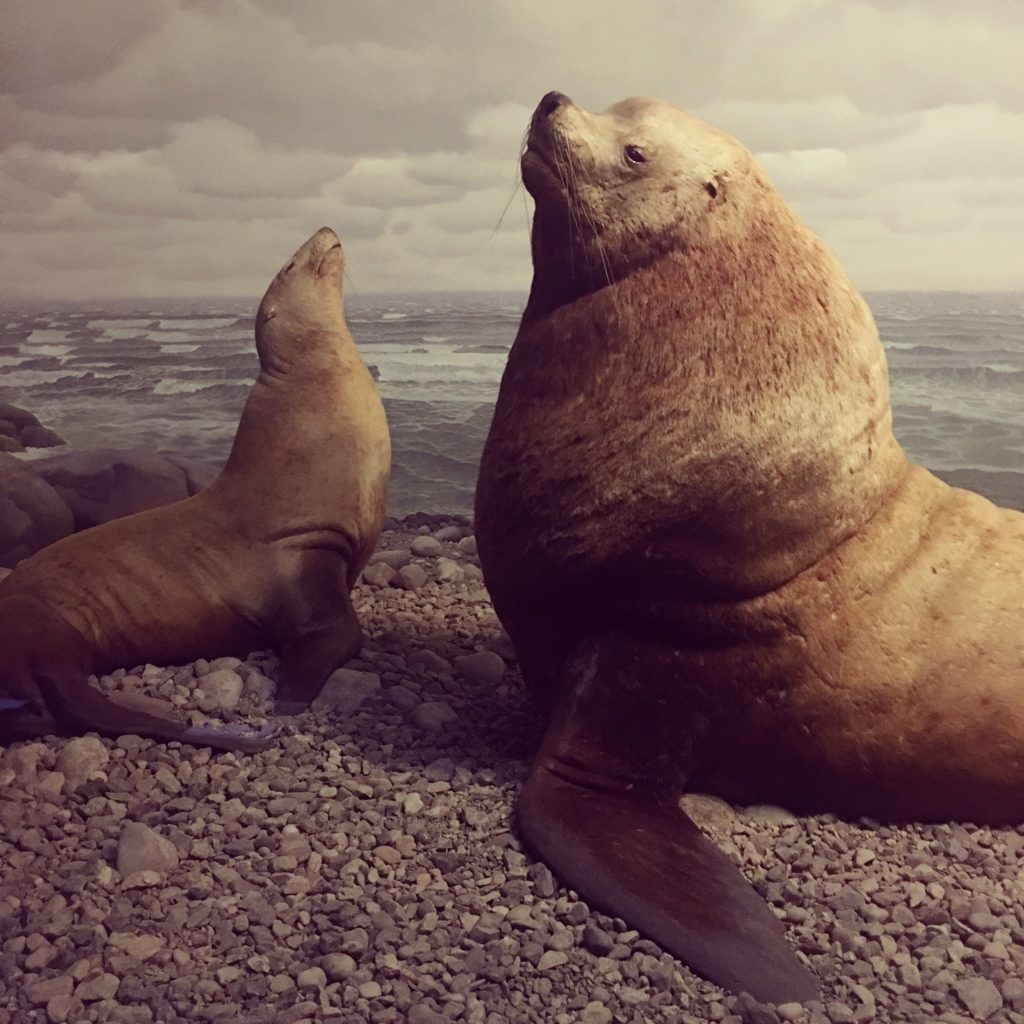 And here's Killa Cam posted up next to a next level Stibnite. We're getting into rocks and crystals, guys. I know, I know.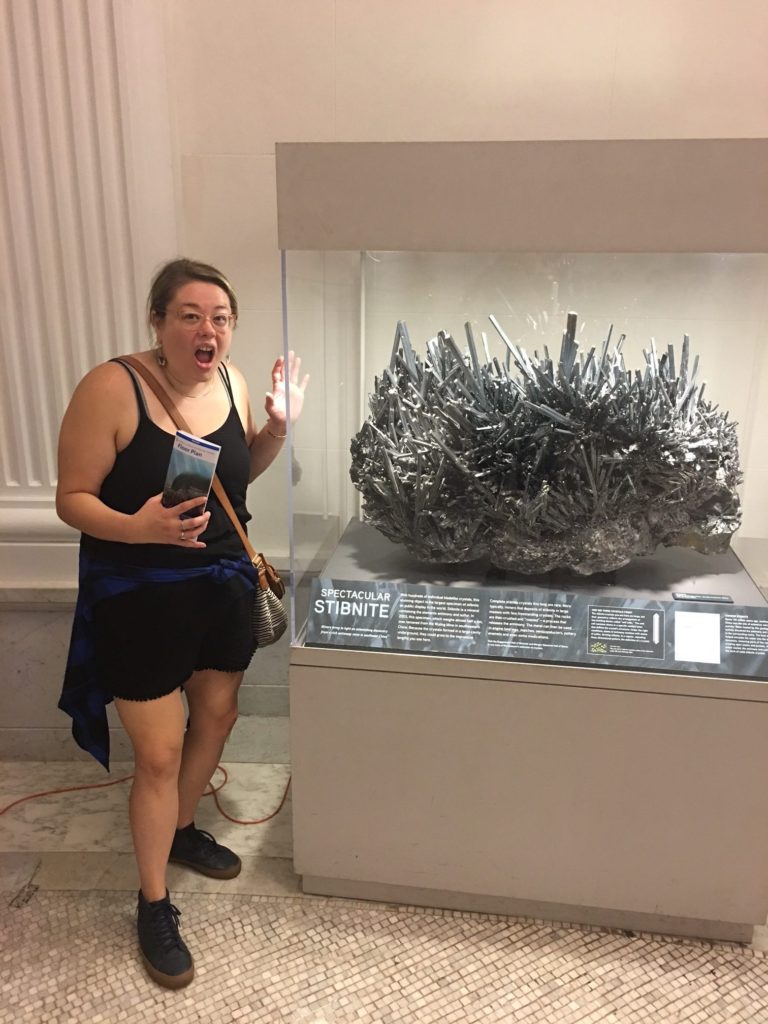 Things got even weirder after a trip to a few rock and crystal shops. Played a game of Medicine Cards and discovered that in my past I was a possum, currently I'm a bat, and in the future I will rise out of the ashes and be reborn as a MOOSE. So into it.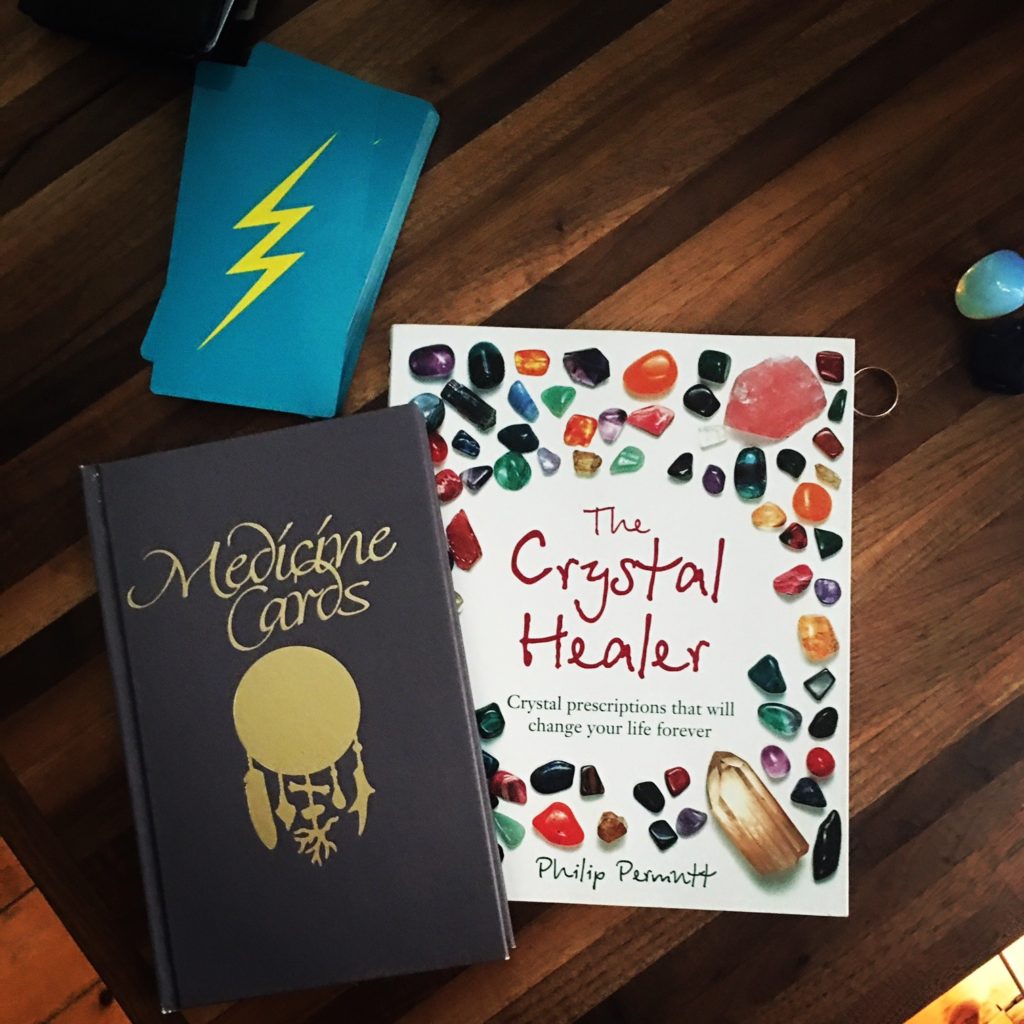 More weird crystal stuff. Pretty sure I can successfully pull this look off though.
Saturday we took a ferry to Greenpoint to celebrate the opening of our friend's new bar Goldies. Here's the patriotic view off the back of the boat. I would take this every day to work if I lived here.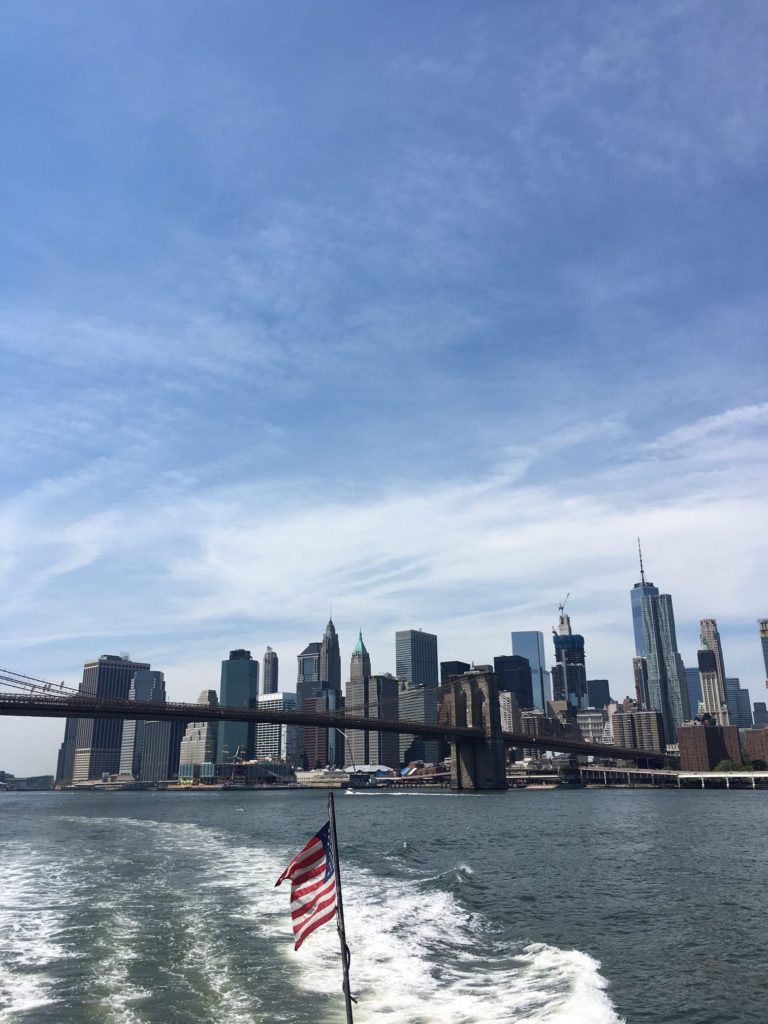 We stuck around Greenpoint all day because that night was the official New York City debut of SICK TRIM, the made-up band that me and Paper created on the No Kings Tour. Well, that made-up band is now an internationally-touring superstar DJ duo that plays shows at venues called Tender Trap where "anything goes." Mama I made it.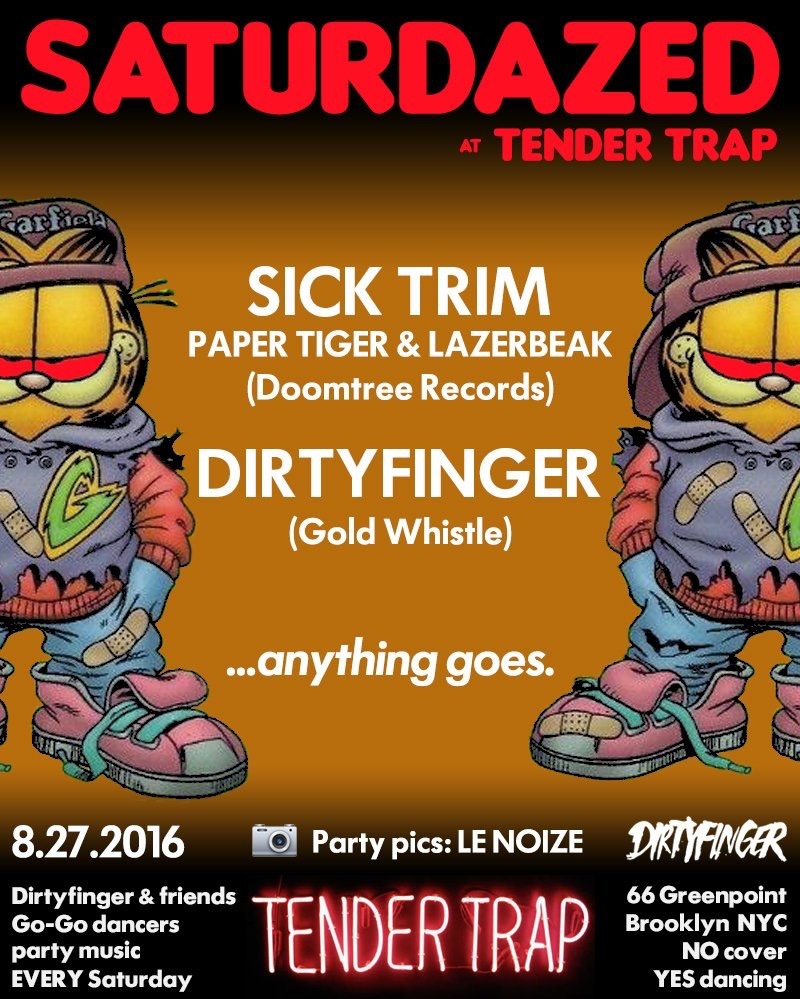 Click the video below got get a six second glimpse at the power that is SICK TRIM. Our matching hats really set the crowd into a fury of dancing and adoration. The bodyguard behind us was very needed.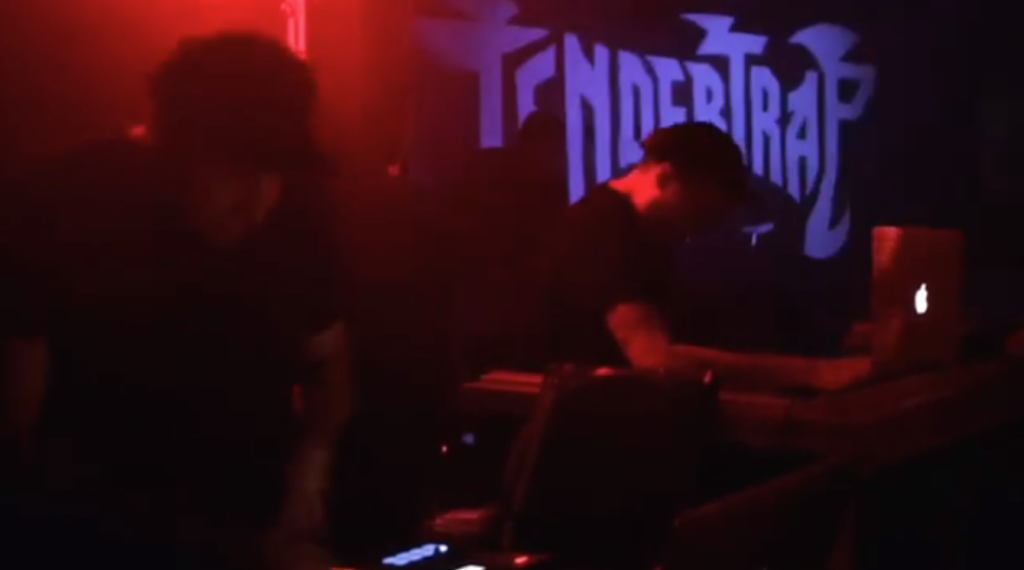 And there you have it! My NYC Recap. Huge shouts to Papes & D & Dessa and all the friends that took such good care of us out there. Love that city more and more every time I get to visit. I hope you all have a wonderful long Labor Day Weekend. Rest up. We've got some outrageously big news coming for you next week.
— Beak
Twitter: @_LAZERBEAK_
Instagram: @lazerbeak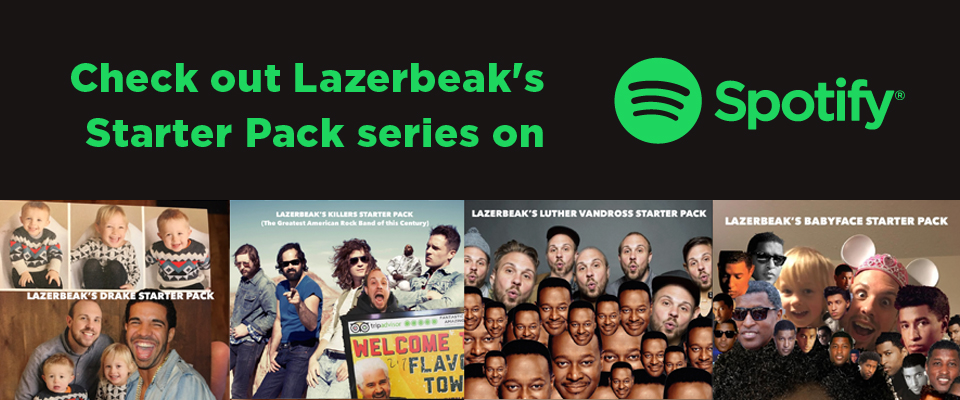 SUPPORT THIS BLOG LYFE. TUESDAYS WITH LAZERBEAK SHIRTS AND POSTERS AVAILABLE NOW!!!