Welcome back to another edition of Tuesdays With Lazerbeak! We are less than one week away from the release of Sims' brand new full-length More Than Ever and the album rollout has reached a fever pitch over here at Doomtree HQ. Last Friday the good people over at All Things Go premiered the insanely awesome video for third single "Brutal Dance," and boy is it a doozey. Mega shouts to our good friend James Gundersen for shooting, creating, editing, and VFXing the living crap out of this one. VIZUALZ 4 DAYZ. Check out the ICETEP-produced banger below and get seriously amped for More Than Ever to drop THIS FRIDAY.
Sims – "Brutal Dance" (directed by James Gundersen)
On top of that huge news, we also announced the big More Than Ever hometown album release show. It all goes down on Friday, January 6th at the legendary First Avenue Mainroom where Sims will be joined by the truly bonkers lineup of Webster X, Air Credits, and Nazeem & Spencer Joles. CRAZY. Tickets are now on sale and you can (ahem, should) grab yours right HERE. Party, Party!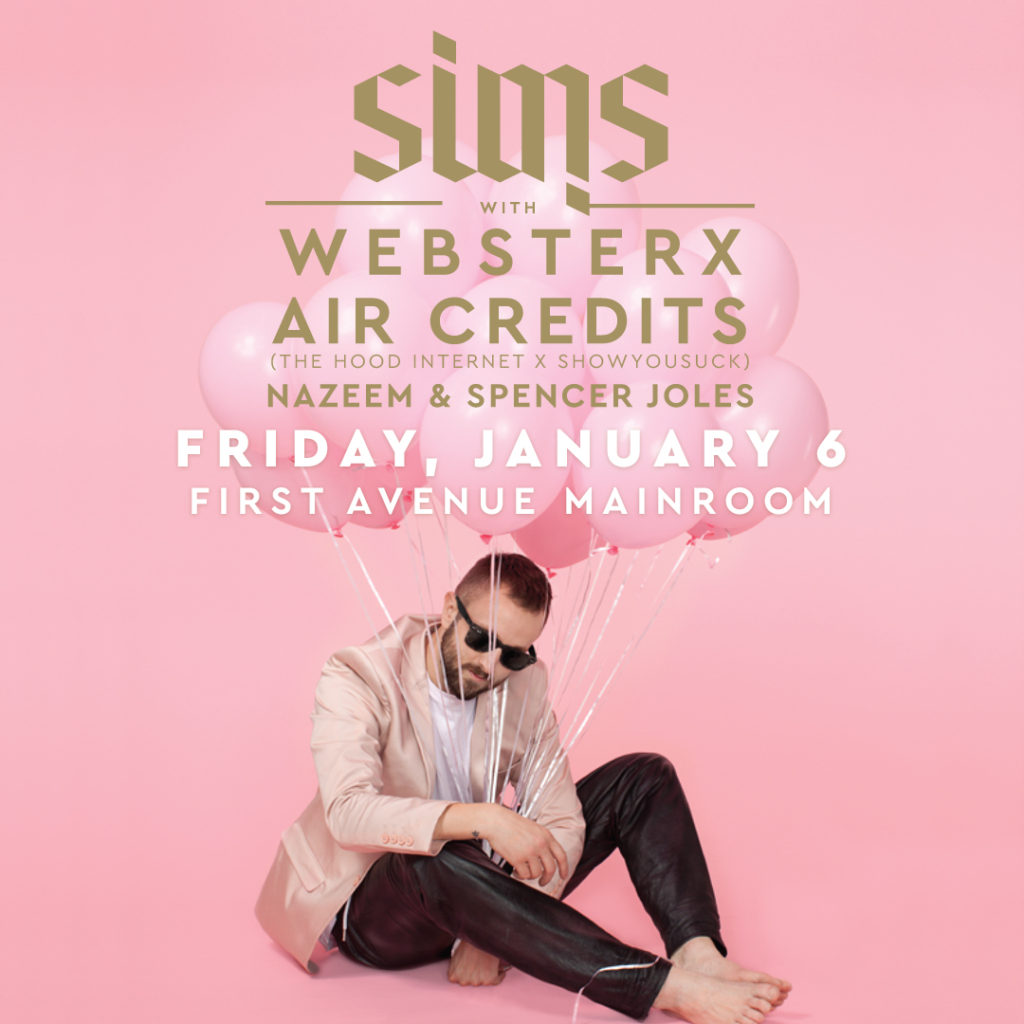 If you live near the Twin Cities but January just seems a bit long to wait and celebrate this album, you're in luck. We're throwing a first-peek More Than Ever listening party at Muddy Waters in Minneapolis tomorrow night (Wed 11/2) where you can check out the album with Sims in attendance and also partake in some killer merch and drink specials. Check out all the details below.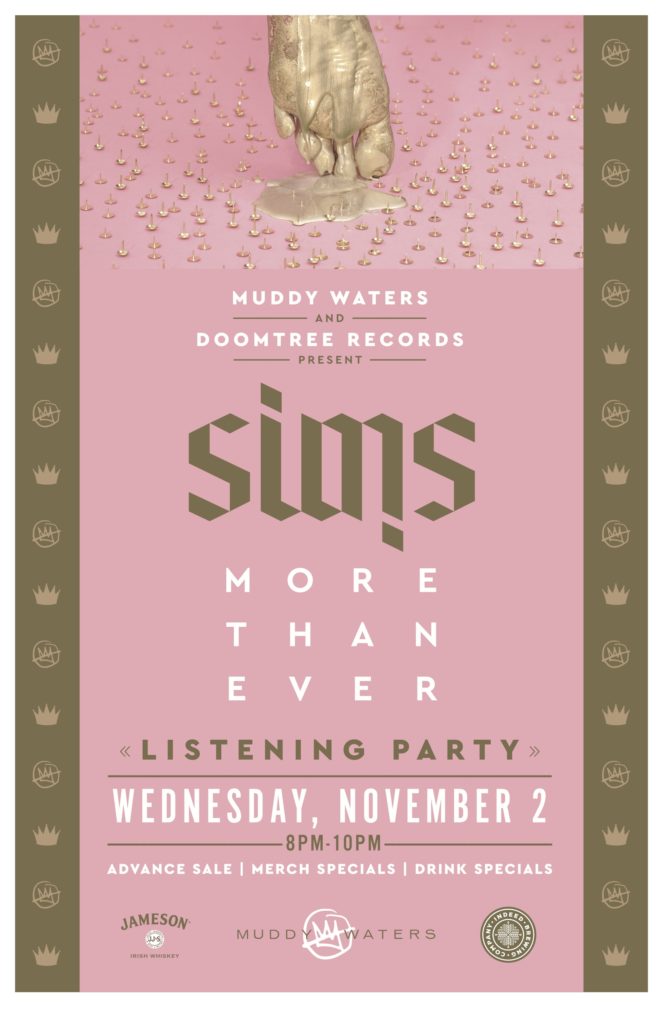 Wednesday night's listening party is also doubling as a giant Sims Sendoff, as he'll be hitting the road the following morning to embark on the More Than Ever Tour. Sims, Makr, and Ander Other have been super hard at work over the last month crafting a truly next level performance. Take a look at some of the setup and visuals at yesterday's practice by clicking on the video below.
Again, you do not want to miss this show when it rolls through a town near you. This week the dudes will be hitting Milwaukee (Thurs), Chicago (Fri), Pontiac (Sat), and Lansing (Sun) before heading out to the East Coast next week. Check out all the cities below and grab your tickets right HERE.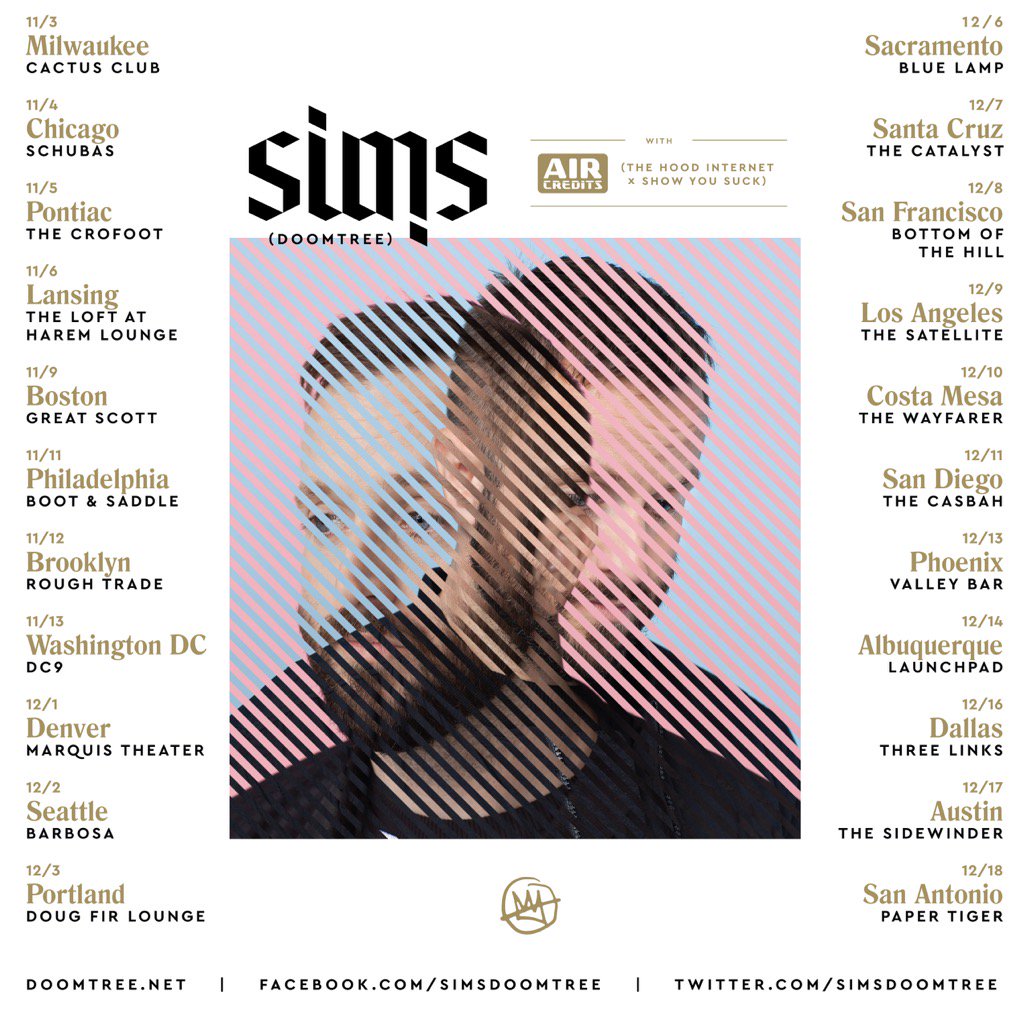 I want to take a second to thank every single one of you who took the time and money out to purchase a copy of the More Than Ever Pre-Order the last few months. I know we (I mean I) lay on the Pledge Drive speech pretty tough at this point in an album cycle, and I congratulate you all on enduring the constant pitches thrown your way in the blog for awhile now. Doomtree has maintained for 15 years now due to your support of not only the shows and music in general, but also the for-sale items that keep us in business and allow us to continue to create on our own terms. It's hard not to get sentimental every time we release a new album into the world, so I'll try to spare you too much emotion here. Just know you are very much appreciated. I'm so excited for people to start getting their packages in the mail later this week and checking out the album. If you've been on the fence, there's still a few more days to get your pre-order in. Check out all the different options below and grab yours right HERE from the Webstore (or HERE from Bandcamp).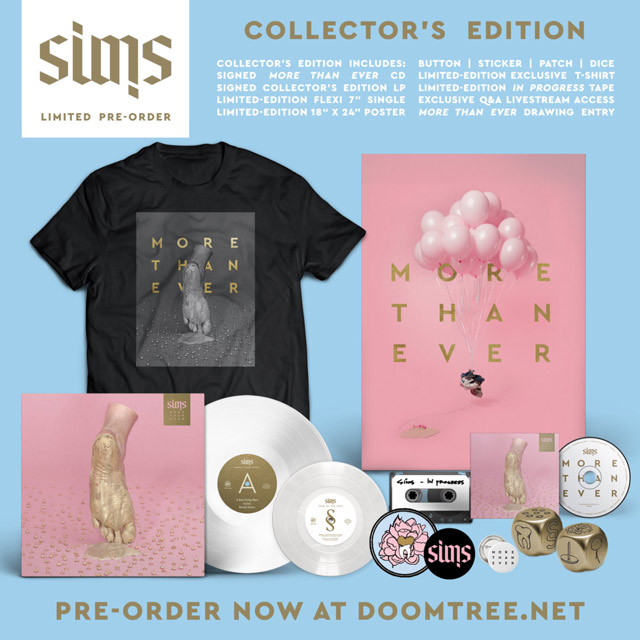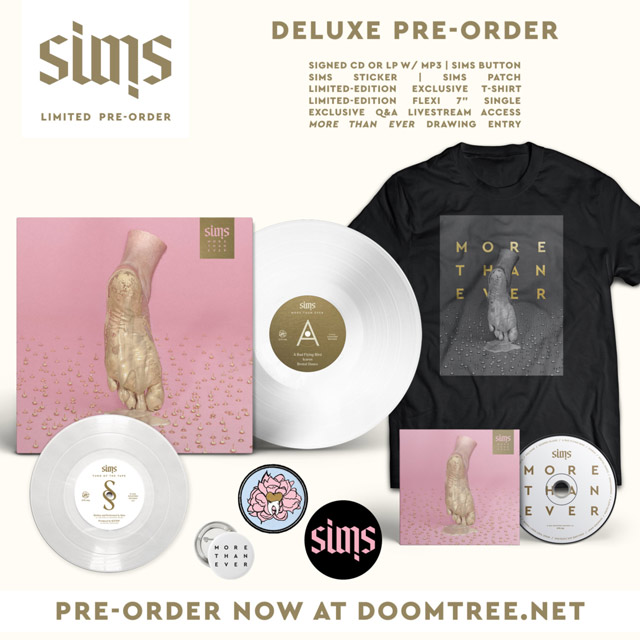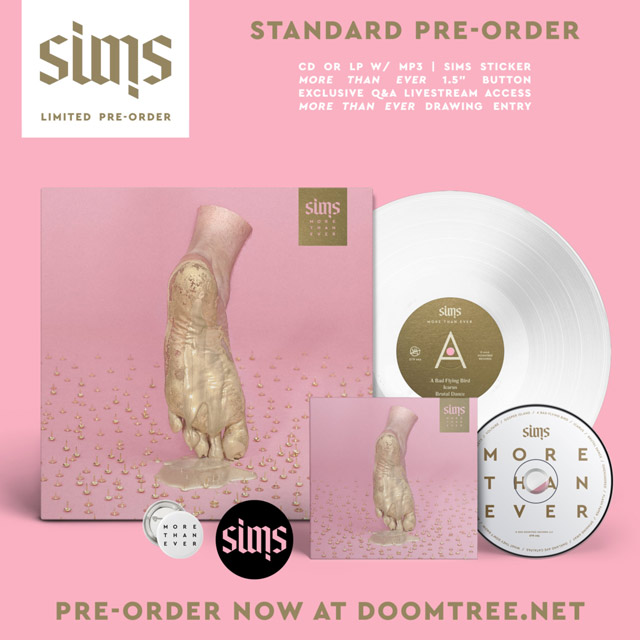 Switching gears a little, let's get into some sweet P.O.S news. Stef has been hard at work in the studio putting the finishing touches on his next project and is about to head into mixing this week. We'll have a ton more updates about all of that much sooner than later, but in the meantime, check out this great Dwynell Roland song that Stef popped up on last week. Two of the city's finest in top form.
Dwynell Roland ft. P.O.S – "Been Here"
Stef took some time out to roll around with the good folks at MapQuest a little while back and give them a personal tour of Minneapolis for their new Sounds Local series. Cruise around to Familia to watch Stef (attempt to) skate, Muddy Waters where he dines on the finest charcuterie with Dwynell Roland, the Triple Rock for multiple shots of Fireball, and then bring it all to a close over at First Avenue with an intimate performance of "Lock-Picks, Knives, Bricks, and Bats." Click the video below for the whole 12-minute excursion.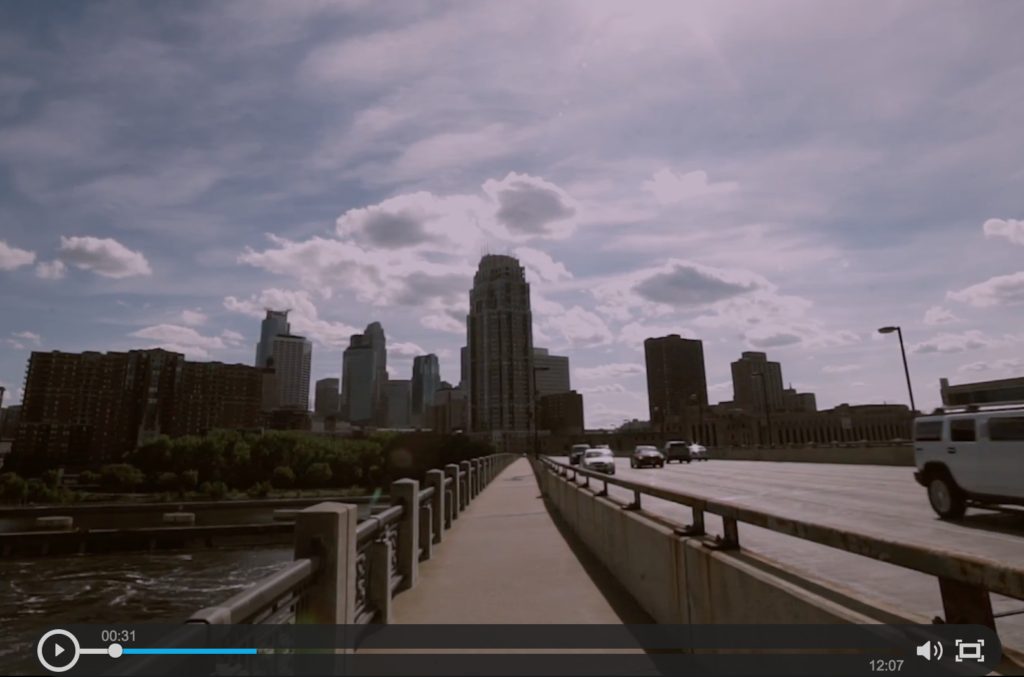 Speaking of tours (SEGUE SEGUE!), Stef will be heading out on his first headlining tour in over four years at the start of next year. Make sure to check out all the cities and dates below and then grab your tickets right HERE.
Alright, that does it for Doomtree-related news this week so let's jump right into the Bonus Jams. Our good friends The Hood Internet and ShowYouSuck just released their excellent collaborative album under the Air Credits banner last week, and it's absolutely phenomenal. Check out the entire album below and then make sure you go see them live on tour with Sims. Such a perfect lineup.
Air Credits (The Hood Internet x ShowYouSuck) – Broadcasted LP
Confession Time: I've finally fallen suuuuuuuuuper hard for dancehall music. It only took me 34 years to figure it out, but I'm now hooked and there's no going back. I'm diving into the new and the old stuff, but my favorite songs usually tend to have a bit more of an R&B undertone to them. Here's a couple great songs from two of my current favs, Popcaan and Burna Boy. Sooooo good. Feels like I'm in 7th grade discovering indie rock all over again.
Popcaan – "Love Yuh Bad"
Burna Boy – "Fa So La Ti Do"
And speaking of music genres that I've slept on my whole life, I also recently got super into house music for the first time ever. I just went and saw one of my favorite groups Classixx play last weekend and I'm super intrigued by the melodic, R&B, and funk influences in some of this stuff. Shouts to ICETEP for putting me up on this guy Darius as well. Loving his EPs too. If anyone has any other house or dancehall recommendations, I'm all ears. Get at me.
Darius – "Espoir"
Classixx – "Holding On"
Now for the Local Bonus Jams segment. Andrew Broder has been out in Europe the last month performing as Fog and opening up a ton of great shows for Poliça, and he somehow also found the time to drop a super crazy hard-hitting solo EP under his government name. Four total heater knockers. Check out one of them below and grab the whole thing right HERE.
Andrew Broder – "Son"
The ZULUZULUU squad continues their Icehouse residency this week with another new AstralBeat Theories EP. Last week Proper-T set things off and this week's installment comes courtesy of MMYYKK. Check out all five tracks below and make sure you stick around til the end to catch a killer Bilal cover.
MMYYKK – AstralBeat Theories Vol. 2
BAM! That does it for this week's Bonus Jams. I'll leave you with a few Baby Bonus Pics before calling it. Last weekend we had our monthly Doomtree Potluck over at my place and the "Future of Doomtree" had quite a blast. Here's Lincoln and Penny concocting some sort of diabolical battle between My Little Ponies, Sleeping Beauty, and a giant wiggly skeleton.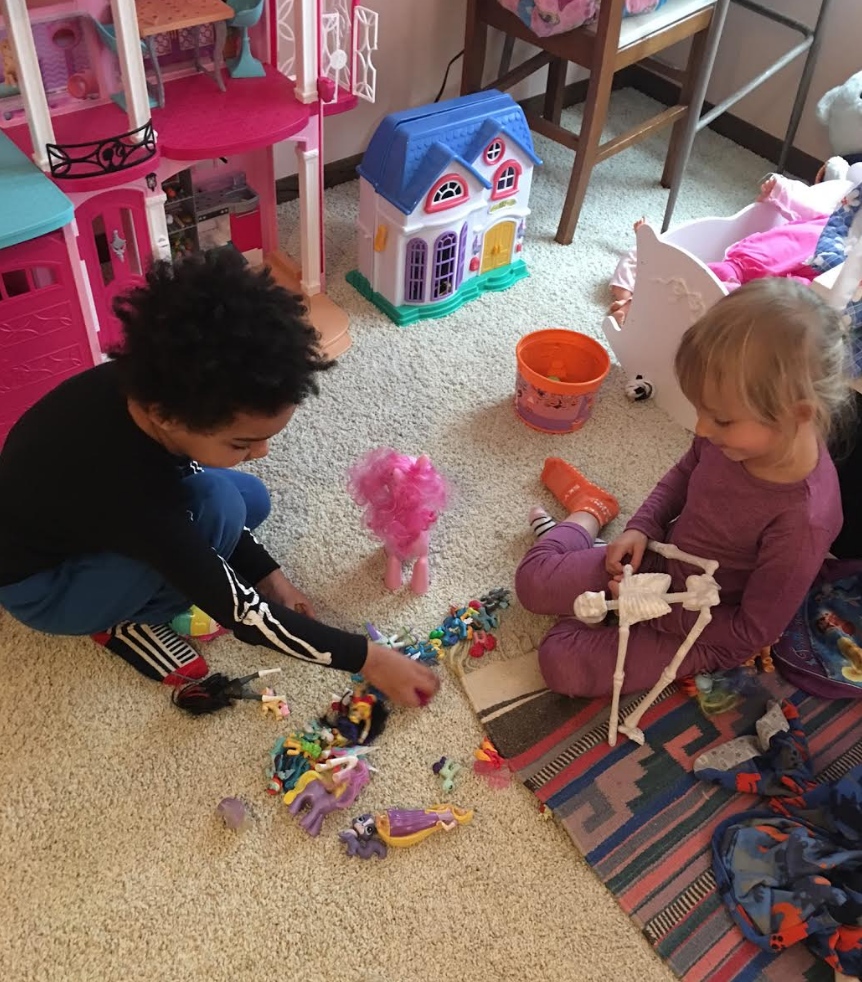 And here's Crab Man Cam as happy as I've ever seen him. The kid is OBSESSED with trucks these days and his Grandpa Bob somehow broke into a Bobcat while we were having a family dinner (shouts to the Granite City weekend brunch special) and made Cam's dreams come true.
My sister's brother Hyeonju was in town from Korea visiting the states for the first time ever, and we made sure he got the full American culinary experience. Here's a shot of the Mader fam five minutes after shutting down the Granite City buffet.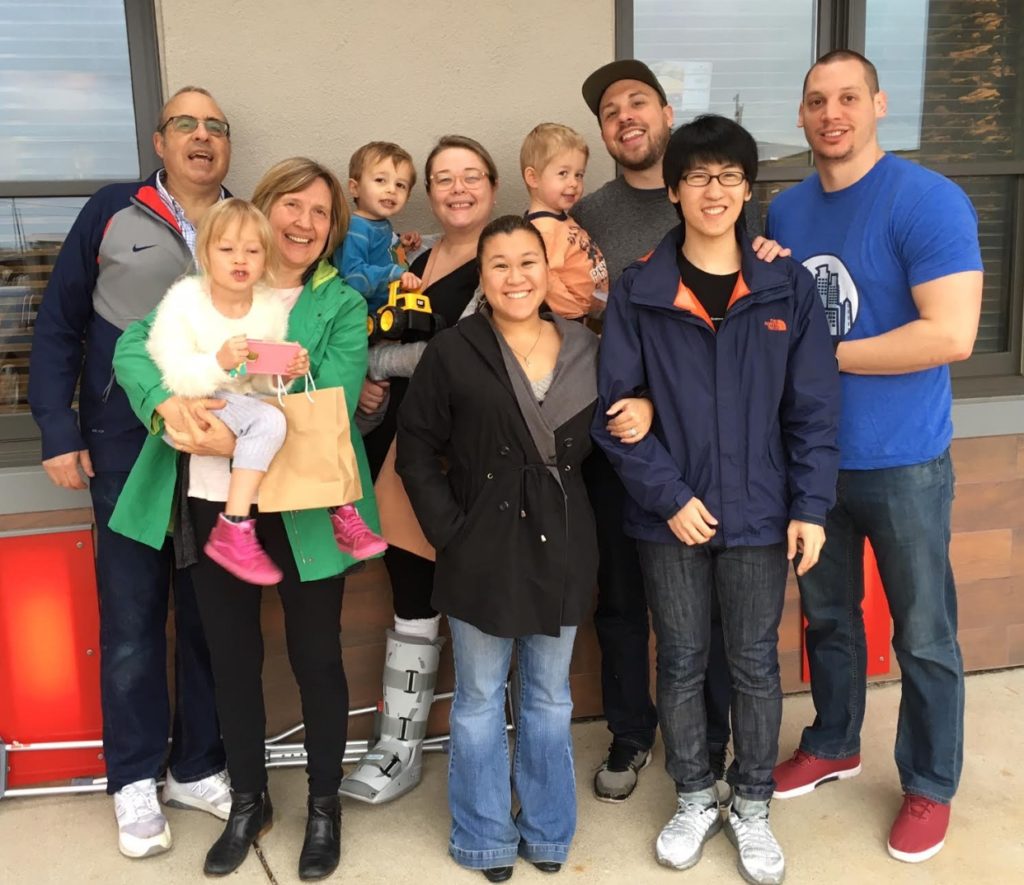 And here's a shot of Hyeonju about to dive into his first ever Jucy Lucy burger. Don't worry, I made sure he waited the full five minutes before biting into molten-lava cheese center. Success!
Things got pretty buck for us over Halloween weekend. We hit up an outdoor carnival on Saturday and Laid Back Lou got a little too close to this cop car.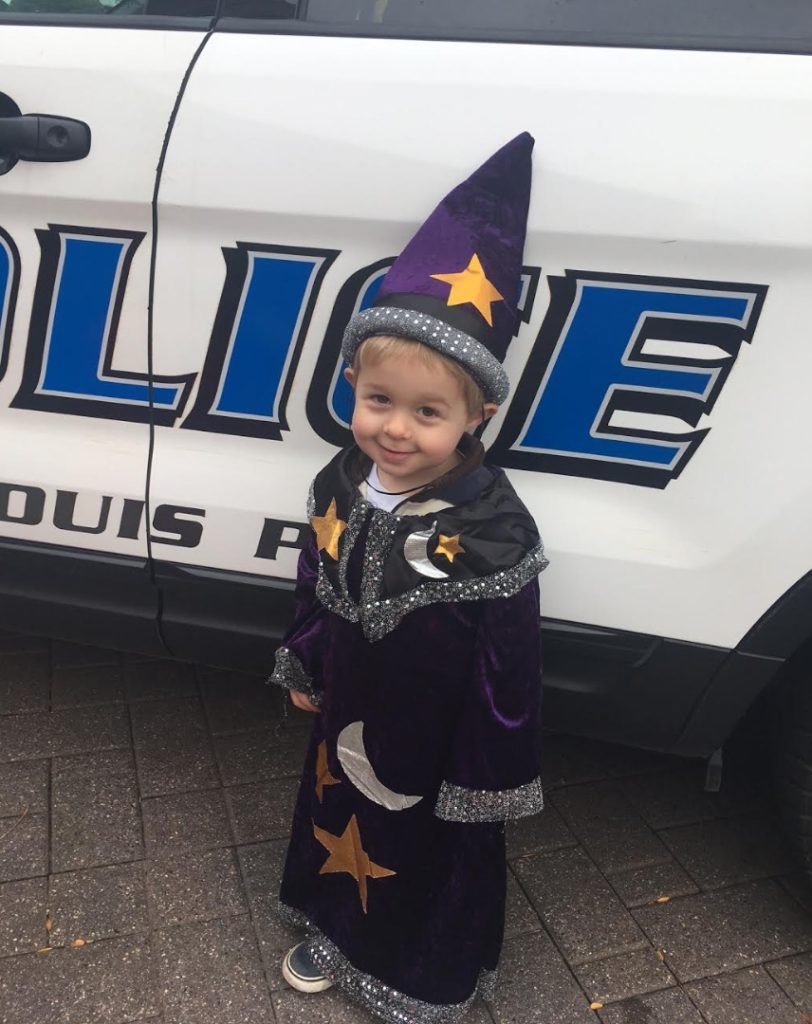 Not even his Ancient Magical Wizard costume could save him from taking a ride in the backseat.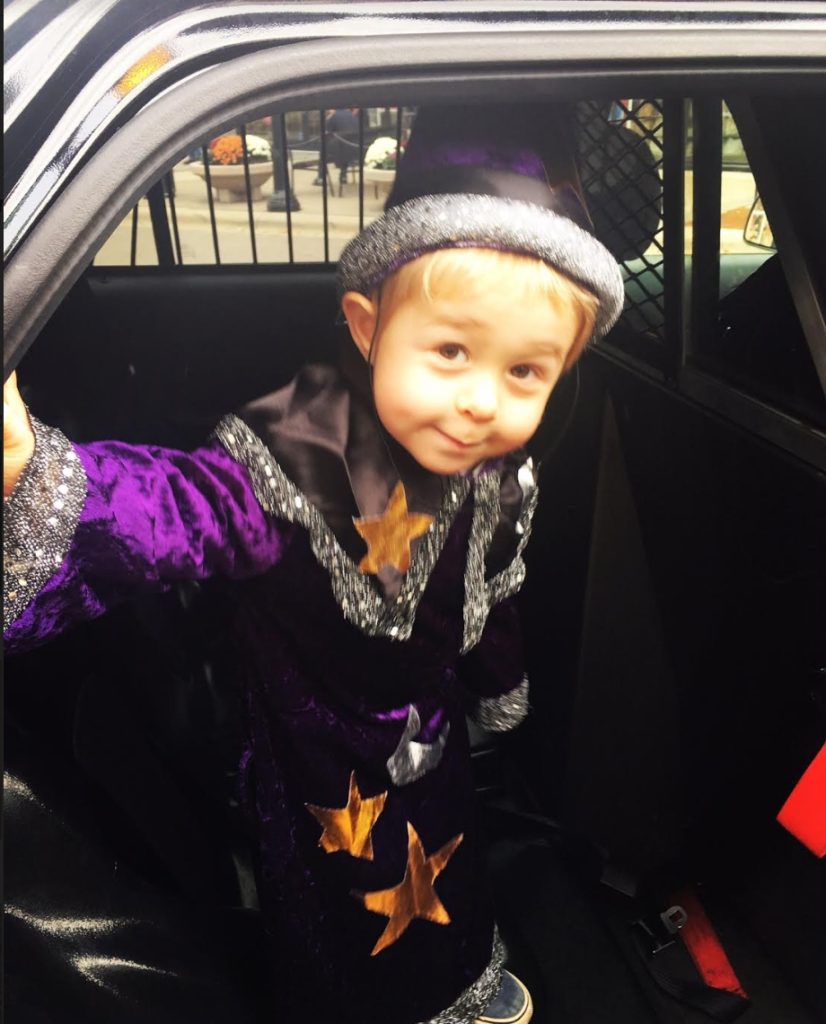 Penny has been crushing her weekly dance class the last few months, and her awesome teacher decided that all the kids could wear their costumes to class last week. Here's the whole gang doing their best to look scary. Penny is Princess Elena of Avalor if you were having a hard time figuring it out. Don't worry, I don't know who that is either.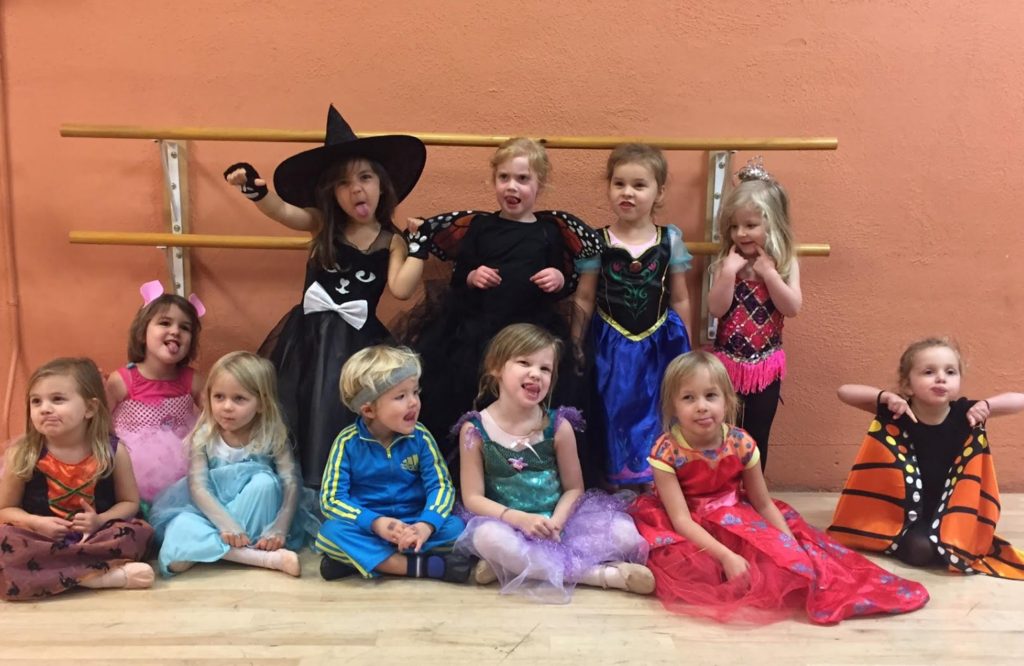 Here's the kids concocting some sort of pumpkin witch soup with the Grandmas after carving their pumpkins.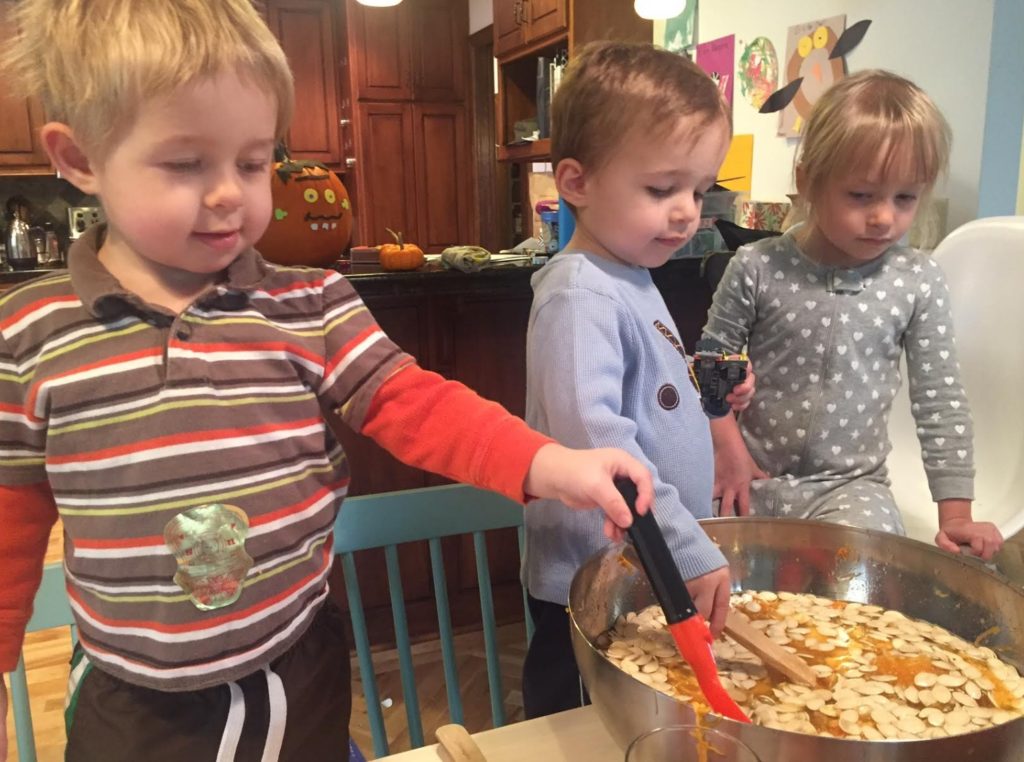 And here's a peaceful nature shot of the TWINZ destroying fun-sized bags of Doritos while sitting on a dead tree.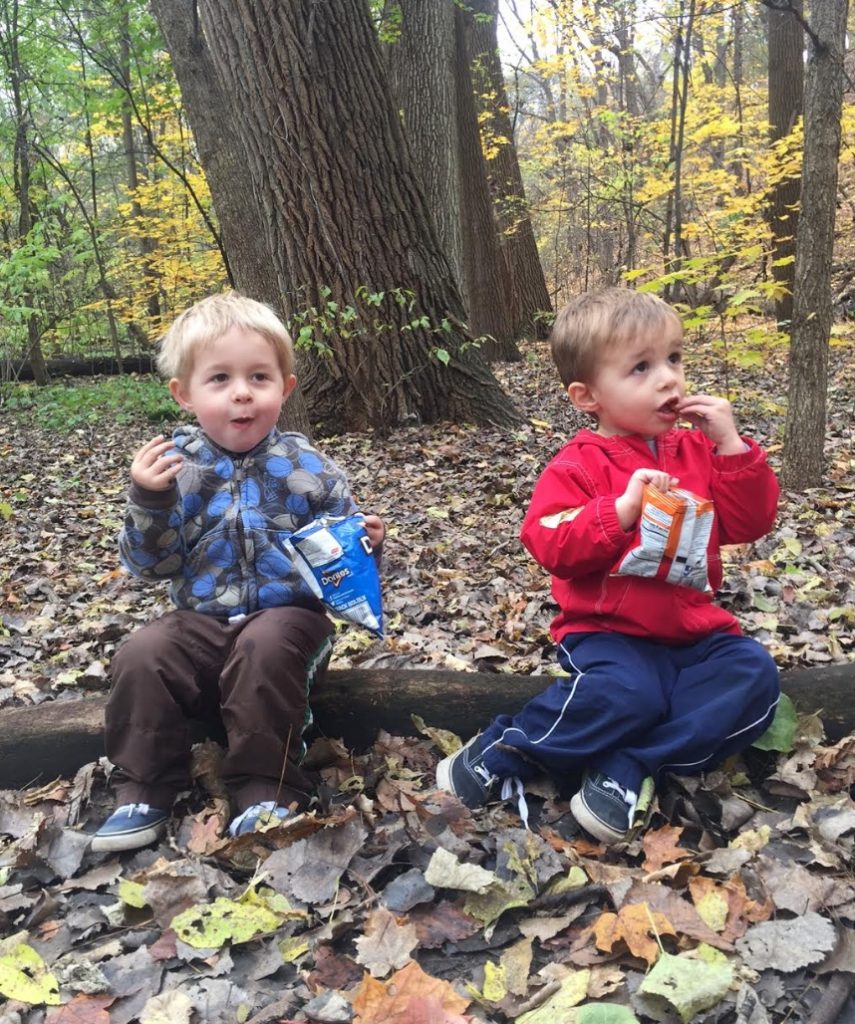 Penny and her new favorite thing on earth: Wiggly Skeleton. This thing doesn't leave her side, not even to sleep. It's kind of awesome.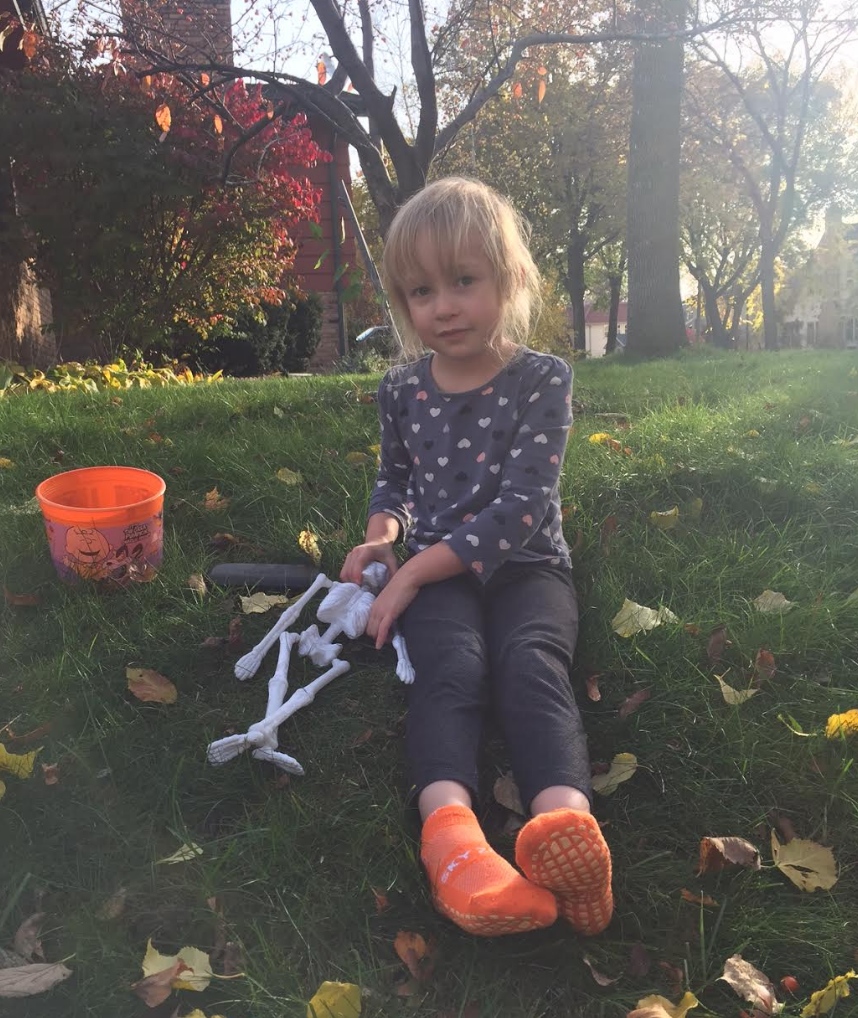 We didn't get too many pictures in the sheer chaos of trick-or-treating last night, but here's Princess Elena, Fire Chief, and Ancient Magical Wizard right before we set them loose on the neighborhood. All in all, a total success. I for one am thrilled this holiday only happens once a year though.
OK! I hope you all have a wonderful week nursing that Halloween hangover. I can't wait to celebrate More Than Ever with you all this Friday! SO. PUMPED.
— Beak
Twitter: @_LAZERBEAK_
Instagram: @lazerbeak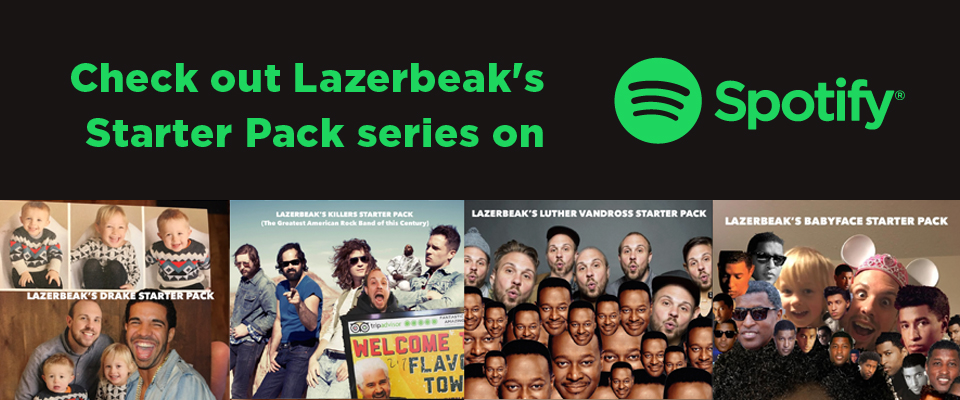 SUPPORT THIS BLOG LYFE. TUESDAYS WITH LAZERBEAK SHIRTS AND POSTERS AVAILABLE NOW!!!