Welcome back to an absolutely over-the-top edition of Tuesdays With Lazerbeak! So much news to discuss, so let's dive right in. First up, the annual December Blowout Sale is back in full effect at the Doomtree Webstore from now until the final moments of 2016. We've brought back some incredible deals, including the standard 10% off $50 orders or more (Discount Code: BLOWOUT10) and 20% off $100 orders or more (Discount Code: BLOWOUT20).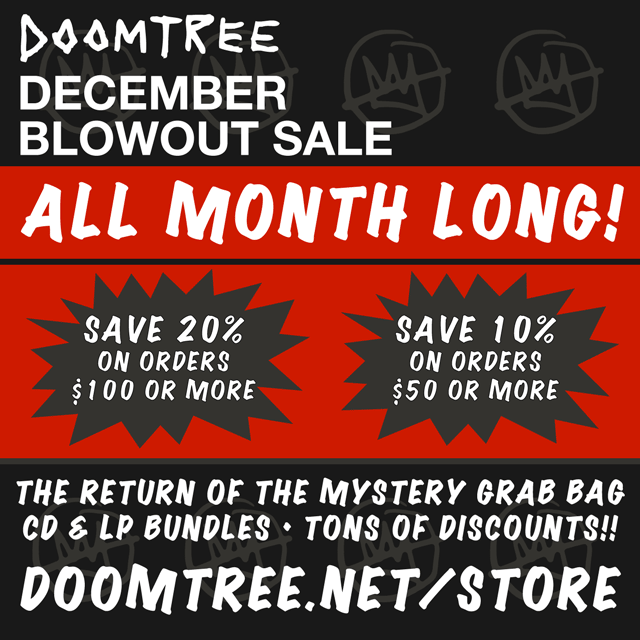 Beyond that we've discounted almost every single item in the store, as well as made room for the return of the Mystery Grab Bags! This deal is perfect for holiday gifts or stocking stuffers. You get three random CDs, 1 random shirt in your size, plus a ton of little trinkets, odds and ends, and one really awesome surprise, all for only $24.99!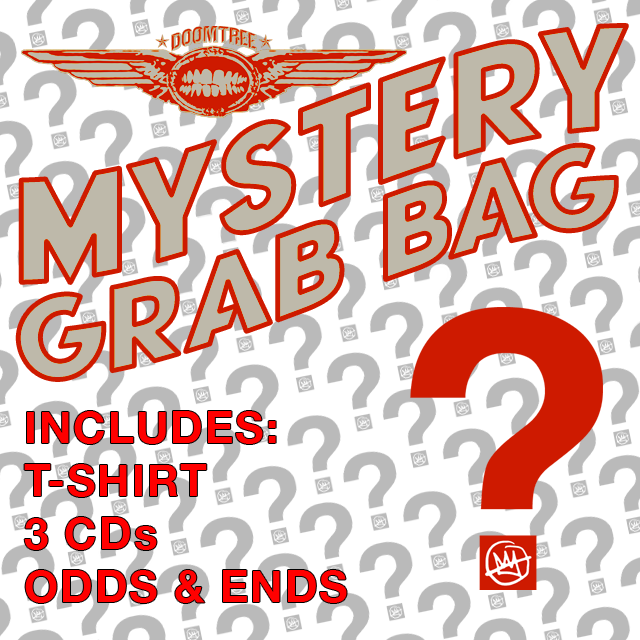 Then there's the ultimate bundle stocking stuffer options. Choose from 10 random CDs for $19.99, three random LPs for $29.99, or three random screen-printed posters for $19.99. INSANE!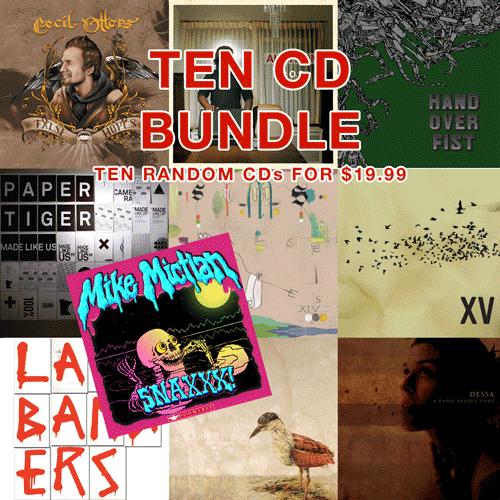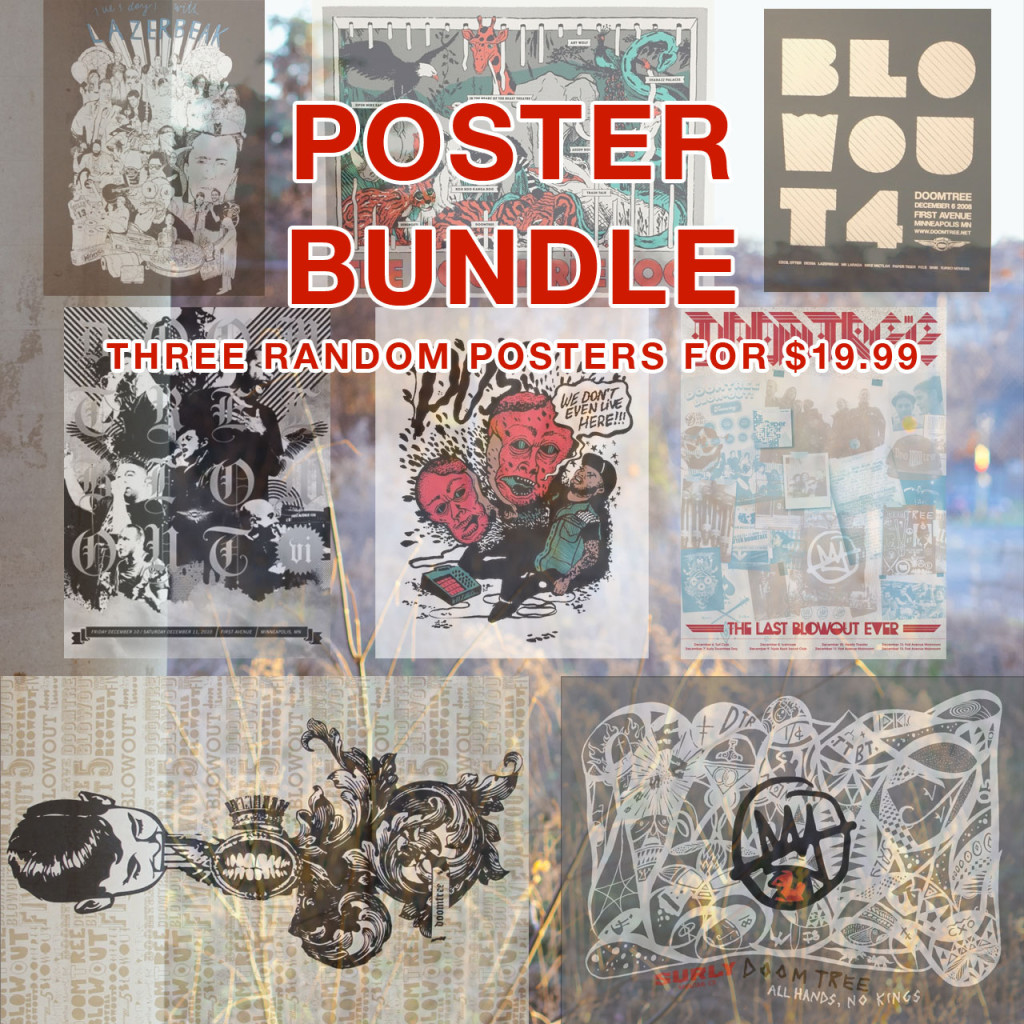 We've also got a ton of awesome new Sims merch just in from the More Than Ever Tour. Check out these sweet designs below and check out all the deals and savings over at the Doomtree Webstore right HERE.
Speaking of the More Than Ever Tour (segue segue segue), Sims and the dudes hit the road again at the end of last week and have already crushed their way through Denver, Seattle, and Portland on their way down the West Coast and through the Southwest and Texas. Here's a quick photo recap of the past week's adventures. Sims kicked things off with an in-studio performance and interview at The Current studios. You can listen to the entire thing right HERE. Here's a pic of the guys gearing up to tear it down.
Obligatory mic case shot.
Makr and Show posted up super hard outside the Doug Fir in Portland. From the looks of it, this might have been the craziest show of the tour so far.
Proof of said Portland craziness. Thanks to everyone who has been coming out and supporting this run!
This week the dudes will be rolling heavy through California, hitting Sacramento (12/6), Santa Cruz (12/7), San Francisco (12/8), Los Angeles (12/9), Costa Mesa (12/10), and San Diego (12/11). Check out all the upcoming dates below and grab more info and all sorts of tickets right HERE.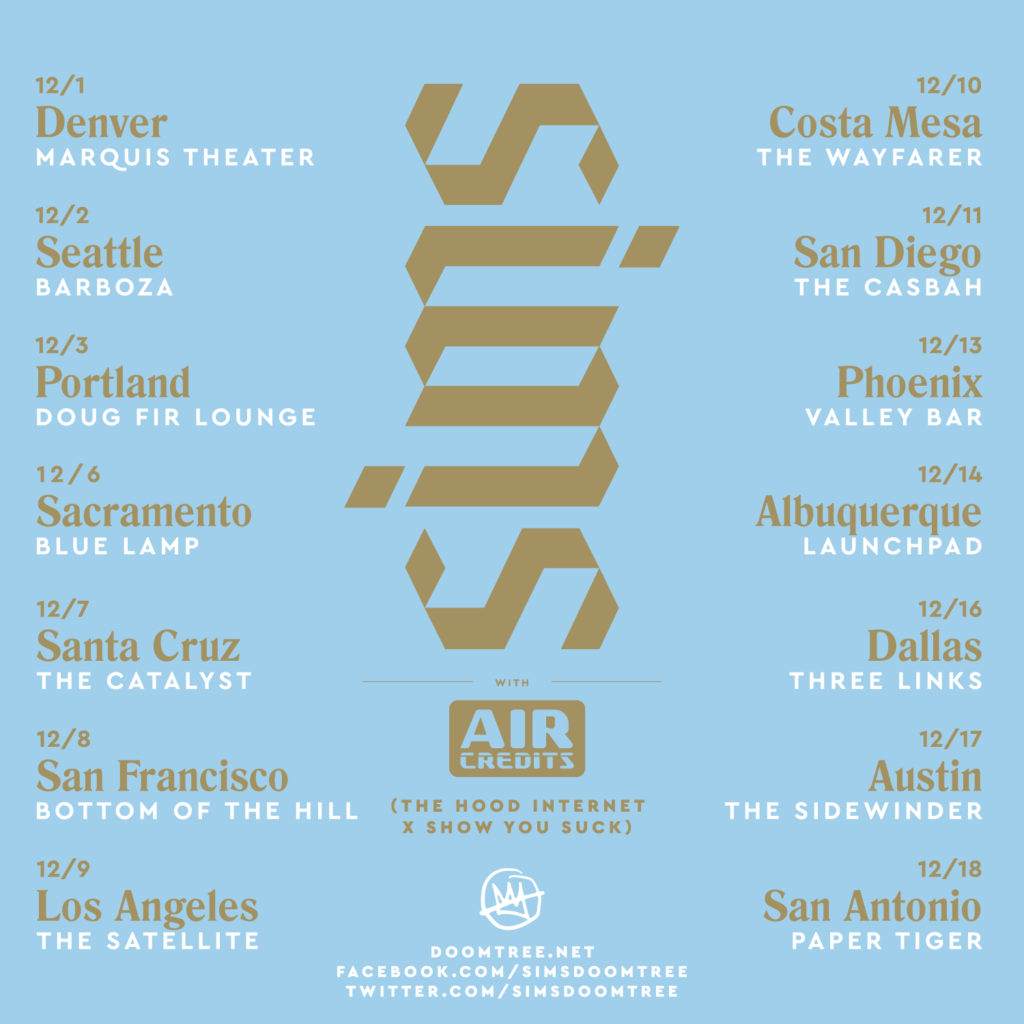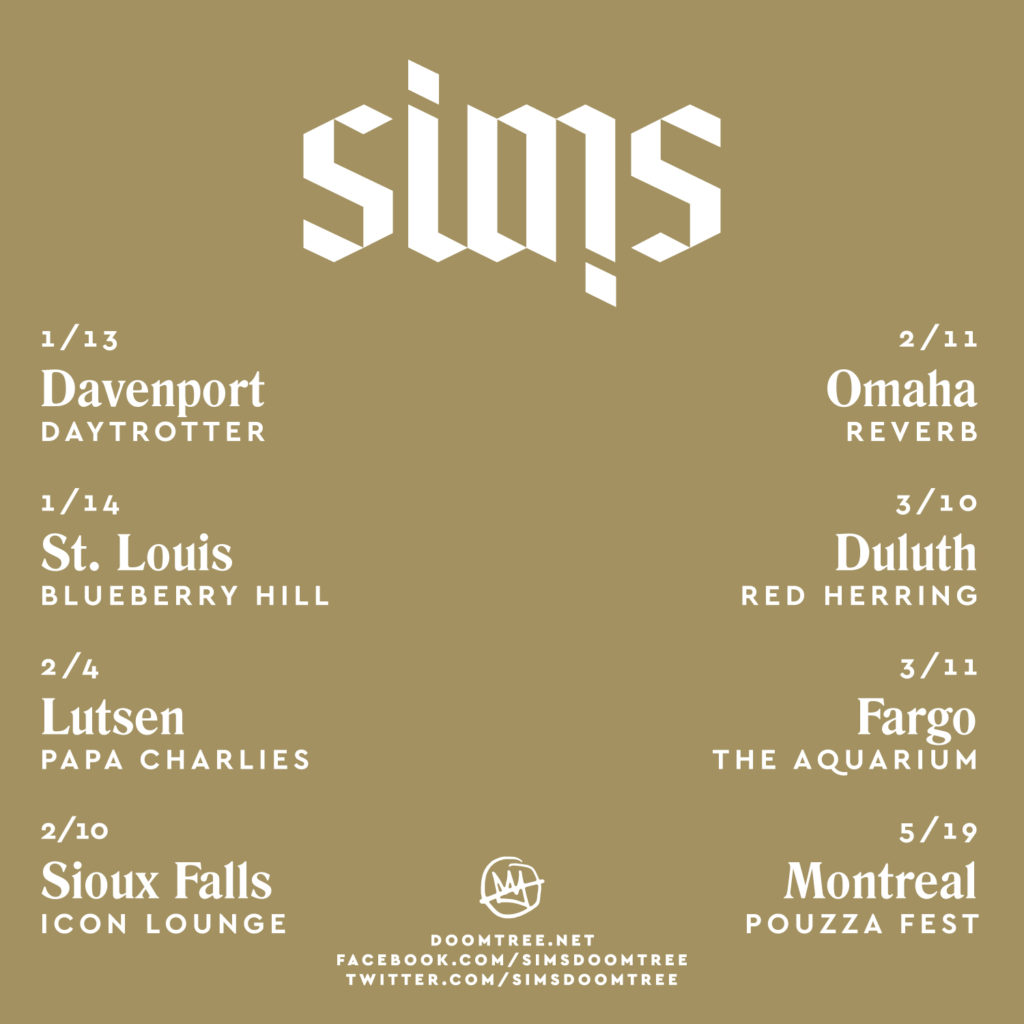 In upcoming Doomtree big time music news, we have officially wrapped up the new P.O.S album!!!! Here's a shot of Stef and I in party mode after knocking out the final mastering sessions with Bruce Templeton over at Microphonic Mastering. Days don't get much better than this. Best feeling in the world.
We're working around the clock to get all the details and behind-the-scenes stuff handled in order to bring you announce news very shortly. Keep it locked over here. Much more coming way sooner than later. In the meantime though, you can get pumped about Stef's first headlining tour in over FOUR YEARS. You can absolutely believe that he'll be debuting a whole slew of new music at every single one of these shows, so grab your tickets right HERE. We also just announced main support slots, and Stef will be bringing a rotating cast of awesome rappers along for the ride. Check out the details below. Ceschi and Transit22 will be supporting dates at some point on this massive run.
Now for some crazy Dessa news. The long-awaited Hamilton Mixtape finally dropped last Friday, along with Dessa's musical contribution "Congratulations." It's been pretty amazing to see the support and excitement around this entire project, and I'm so proud and pumped for Dessa that there is a whole new huge spotlight being shown on her with this major look. Very honored to have played a part in creating the music for this track alongside the Legend God composer Andy Thompson. Check out the track below and grab the entire album right HERE.
Dessa's got a couple really big shows coming up here in 2017. She'll be performing two very special nights of material with our very own Minnesota Orchestra down at Orchestra Hall on April 14th and 15th. The first night is already sold out, so make sure you grab your tickets fast to see some brand new music and crazy spins on older material. Details and ticket info right HERE.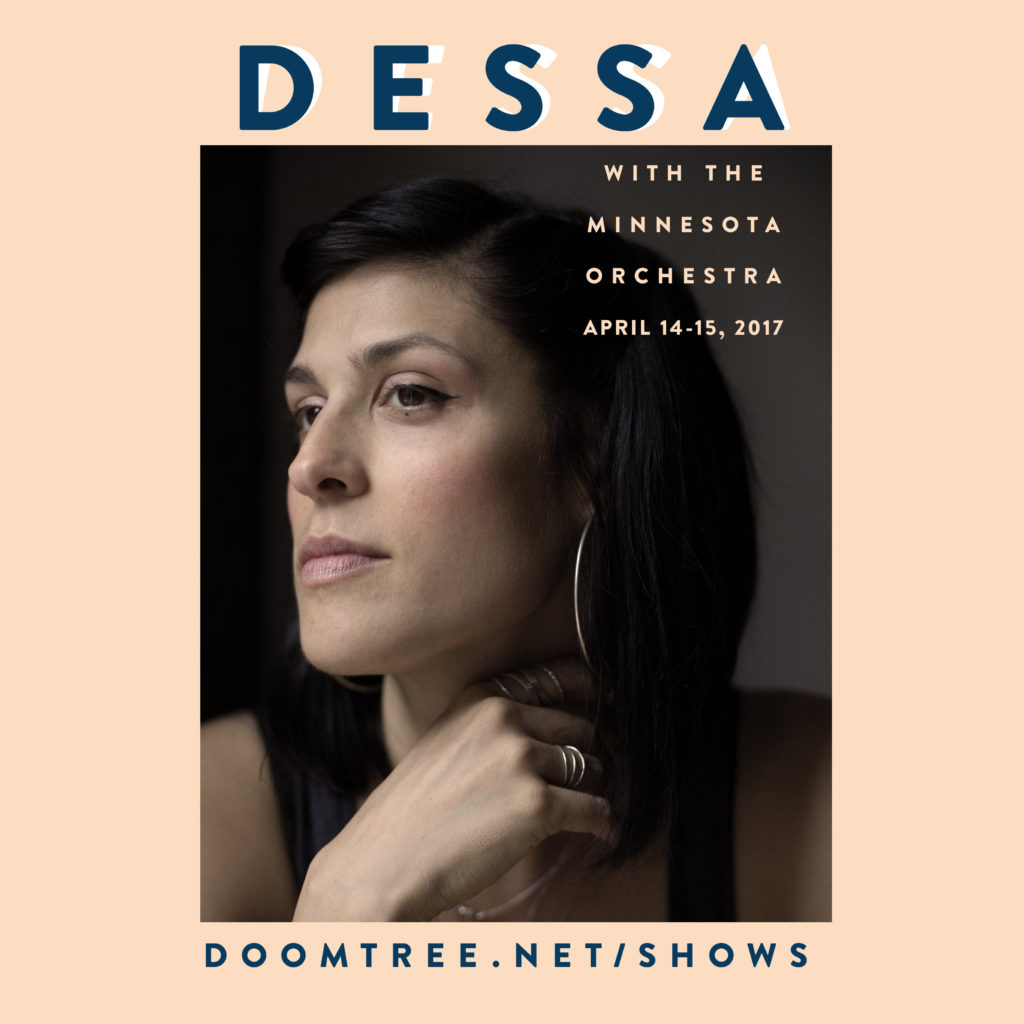 Dessa also just announced her annual winter play up at Lutsen Mountains. She'll be posted up on the slopes this January 21st and is bringing special guests Fraea along for the frozen tundra getaway. Grab your tickets right HERE.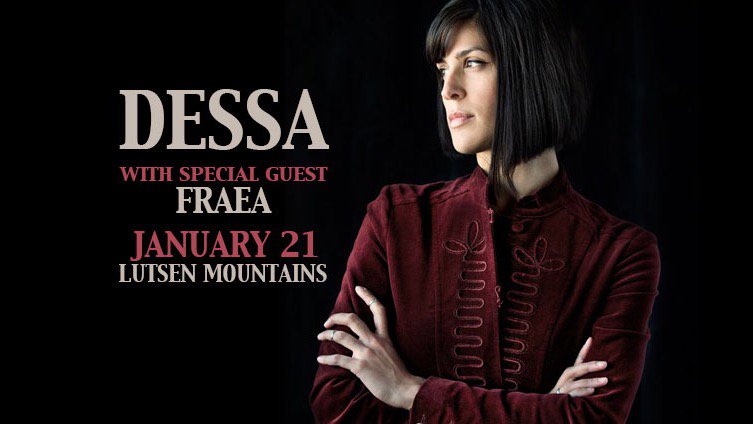 OK, I think that's about all I can take for new Doomtree-related news this week. Let's jump into some Bonus Jams that I've had in heavy rotation as of late. Huge shouts to Abjekt (the UK Lazerbeak) for putting me up on this new Liana Bank$ mixtape. I've been playing it nonstop. Perfect mix of new slowed down Drake R&B and some of the 90s stuff that I grew up on. Definitely a year-end-list contender. Check out "LVLUP" to see what I mean.
Liana Bank$ – "LVLUP"
My descent into house music continues. Shouts to the homie Dave Rene for showing me Oliver on my recent trek out to LA. This "Night Is On My Mind" song is absolutely crushing.
Oliver – "Night Is On My Mind"
Speaking of house, our good producer friend Zavala is gearing up to drop a new solo album next month and has dropped the first video single. Waaaaaaay into this one. Check it out below.
Zavala – "Roosevelt & Letting Go"
I'm sure you haven't been able to escape the promo rollout for the new xx album. They just dropped this video for "Hold On" and it's great. Can't wait to check out the new material. Jamie xx's solo album still gets lots of play in the Pilot.
The xx – "Hold On"
Poliça just announced a big five-year anniversary show at First Avenue coming up this February and followed it uo by dropping this cover of Crass' "Shaved Women" that they recorded at the BBC's 6Music studios this past summer. Check it out below. Pumped for this show!
Poliça – "Shaved Women" (Crass Cover)
Andrew Broder dropped off a remix for his recent his "Son" track with the legendary UK grime guy Trim adding killer vocals. Love both of these dudes and they sound so good on the same track together. We need a full-length collabo, just throwing that out there.
Andrew Broder ft. Trim – "Son RMX"
The ZULUZULUU takeover continues! Fresh off their sold-out residency run at Icehouse, four separate solo EPs, and a brand new mixtape, the dudes have dropped off a video to the title track of their What's The Price? album. Unstoppable! Love it. Check out the video below and grab the album HERE if you haven't yet.
ZULUZULUU – "What's The Price?"
The young gunner Finding Novyon continues to drop project after project this year. He just released his new mixtape Super Saiyan 2 and everything I've heard so far is flames. Check out the full thing below.
Finding Novyon – Super Saiyan 2
The homie Prof is back with a brand new banger. This one's called "Time Bomb" and I can only imagine how crazy it's going to go off at his upcoming shows. Love the beat too. Check it out below.
Prof – "Time Bomb"
c. Kostra just released a new album on Pytch Records that I've been really into. Check out "Miracle Child" below and grab the whole album right HERE.
c. Kostra – "Miracle Child"
Dave Simonett from Trampled By Turtles is back in solo territory as Dead Man Winter! I couldn't be more excited for this new album. Everything I've heard so far has been outstanding and this "Destroyer" lead single is up there with the best work I've ever heard from him. Check it out below and get ready for the star-studded music video dropping soon.
Dead Man Winter – "Destroyer"
I'll close the Bonus Jams out with this absolutely spectacular new Christmas song from Low. These guys are pretty much untouchable in that department and this new track ranks right up there with their best work to date. Check out "Some Hearts (At Christmas Time)" below and get sentimental for the season.
Low – "Some Hearts (At Christmas Time)"
BAM! That's a wrap for the Bonus Jams. I'll hit you with a few Bonus Baby Pics before calling it. The Wifepiece was away on a cool Girls Gone Wild weekend last week so it was the return Daddy Daycare at the Mader household. Here's a look at Saturday's action-packed activities. This is my 2016 Dad version of a crushing setlist, encore and all.
On Sunday I took the boys outside to construct their first-ever snowman. This thing lasted all of about two minutes but at least I got a good picture.
And here's Penny over at Grandma Rosemary's house making her own version. I'd say she wins.
We hit Loring Park for the big Holidazzle event they're hosting all month. Here's Penny by a giant nutcracker flashing her new super weird smile.
This interactive wolf piece was both incredible and terrifying. There's P pulling the rope that made it howl.
And who doesn't love a good wooden cutout animal board? Here's all three of my children pretending to be a blue cartoon reindeer. Pretty lifelike if you ask me. Note Penny's new bonkers face she's been working on. Pretty great.
Alright, that does it for this week's post. Now back to non-stop P.O.S work until we get this announce up. Next week is gonna be a huge one. See you next Tuesday!
— Beak
Twitter: @_LAZERBEAK_
Instagram: @lazerbeak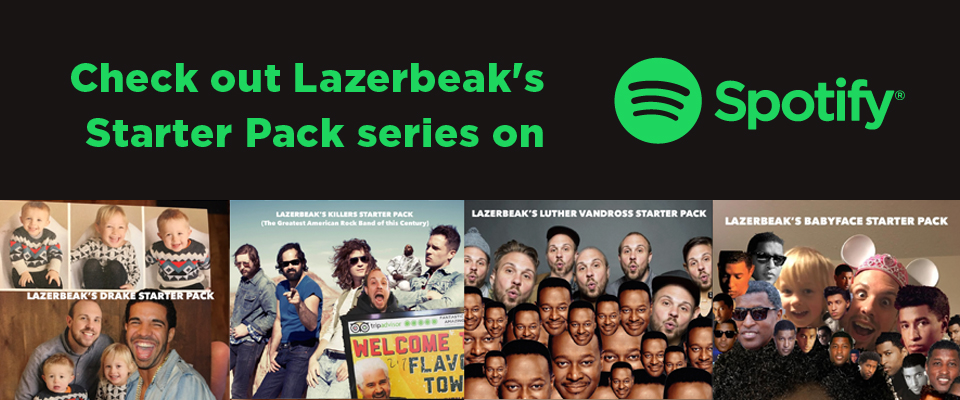 SUPPORT THIS BLOG LYFE. TUESDAYS WITH LAZERBEAK SHIRTS AND POSTERS AVAILABLE NOW!!!