Hey!!! Welcome back to the most insanely action-packed Tuesdays With Lazerbeak post of the year. This one is going to be a marathon, not a sprint, so settle in. First off, last week we announced the most epic news that P.O.S will be releasing his brand new Chill, dummy full-length on DOOMTREE RECORDS this January 27th. Oh. Man. I've been waiting a long time to say all of that. Here's the incredible cover art below courtesy of photographer Brian Hart with sweet lettering by our good friend Crystal Quinn.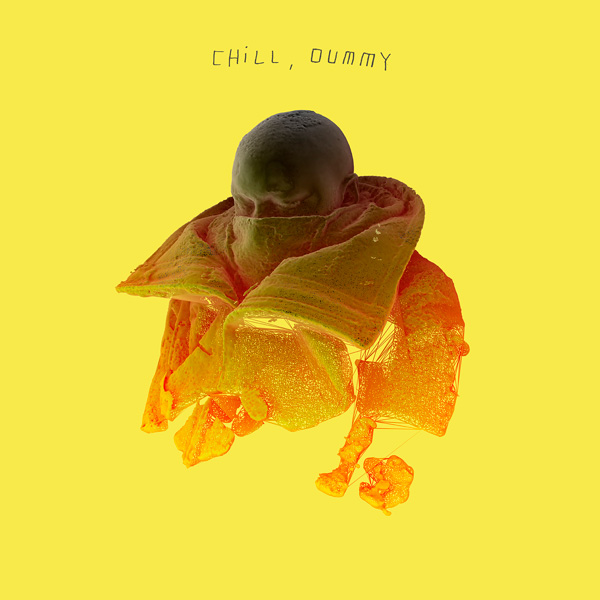 And here's the leaker single from the album so you can get out-of-your-mind totally pumped about new P.O.S music. Chill, dummy will also feature the previously released singles "sleepdrone/superposition" and "Wearing A Bear."
P.O.S – "Lanes" (produced by P.O.S)
With the album announcement we also dropped news of a very special Chill, dummy Deluxe Pre-Order available only from the Doomtree Webstore. Check out all the completely bonkers items you get with this one below (ahem, STRESS BALLS) and go get your pre-order on right HERE. We've got a simpler Standard Edition if you're balling on a budget. And if you're the digital type, you can pre-order from iTunes (HERE) or Bandcamp (HERE).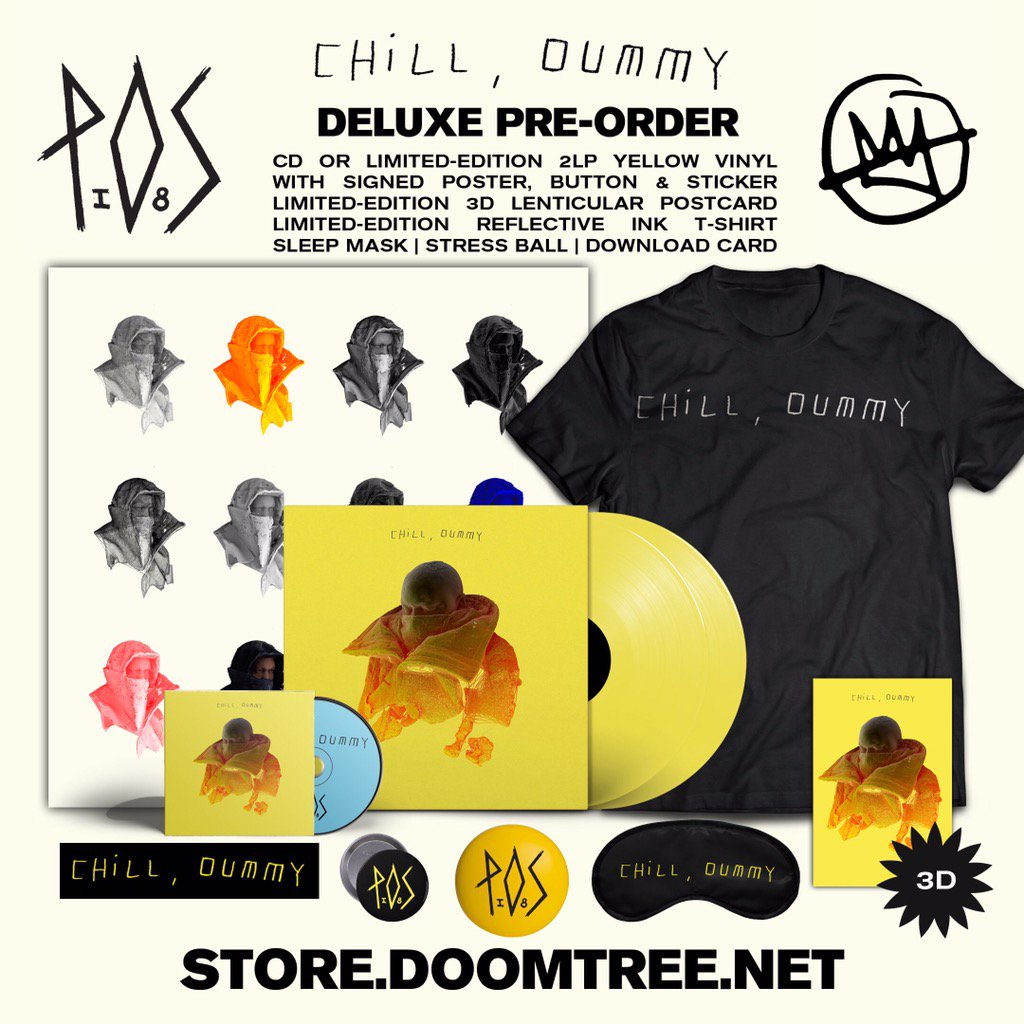 Speaking of the Doomtree Webstore, don't forget about the crazy December Blowout Sale we've got going on all month long. We just past the point of being able to guarantee delivery before the holidays, but you can still rack up a ton of extremely discounted items and sweet bundles for another 11 days. Check out the promo codes below and peruse the entire shop right HERE. And remember to order your P.O.S pre-order separately if you want your other stuff to arrive before it ships in January.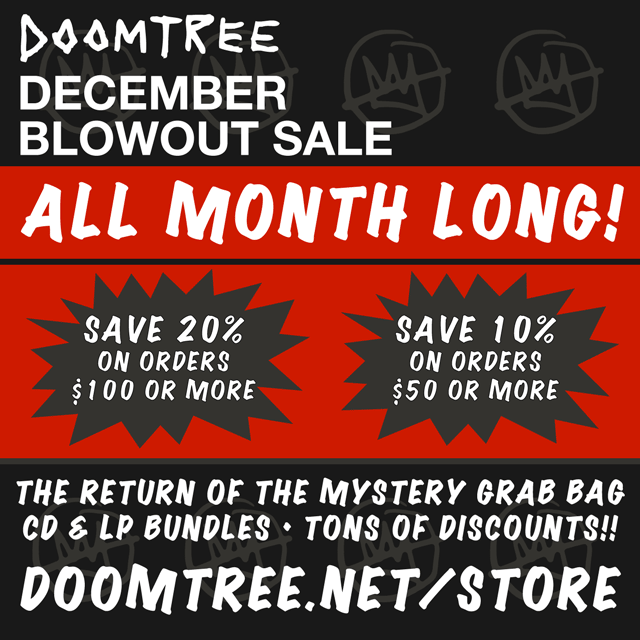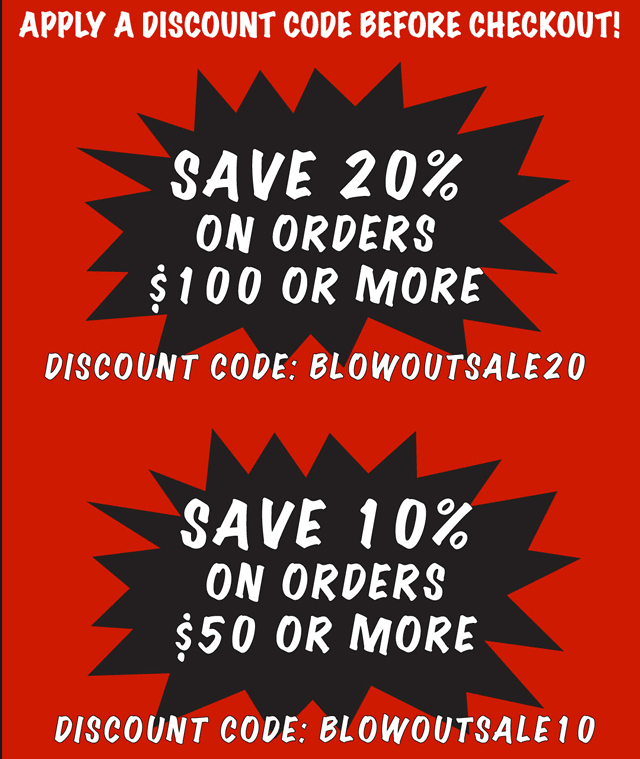 Back to Stef real quick, he's gearing up for his first headlining tour in over four years and he's hitting the road with a ton of friends. We previously announced he'd be bringing Ceschi and Transit22 along for some spot dates, and now we've just gotten word that both Sims and Dwynell Rolands will be joining the Chill, dummy Tour at various destinations throughout. Check out the entire run below and grab your tickets now right HERE. Stef also just announced he'll be playing in Rochester, MN with Har Mar Superstar on January 14th (details HERE).
Speaking of Sims (SEGUE SEGUE), the dudes just wrapped up the second leg of the More Than Ever Tour a few days back and are making the drive home from Texas as we speak. Shouts to everyone that came out all across the West Coast, Southwest, and Texas. These shows looked totally nuts, and judging from all the pics on Instagram I'd say the guys had an absolute blast. Here's a quick photo recap of the last few weeks, starting with a jam-packed room in Austin the other night for one of the last shows of the run.
Looks like everyone was getting into the holiday spirit as of late. V festive.
Our ultimate homies Serengeti and Open Mike Eagle popped in to the LA show to kick it. Love these guys.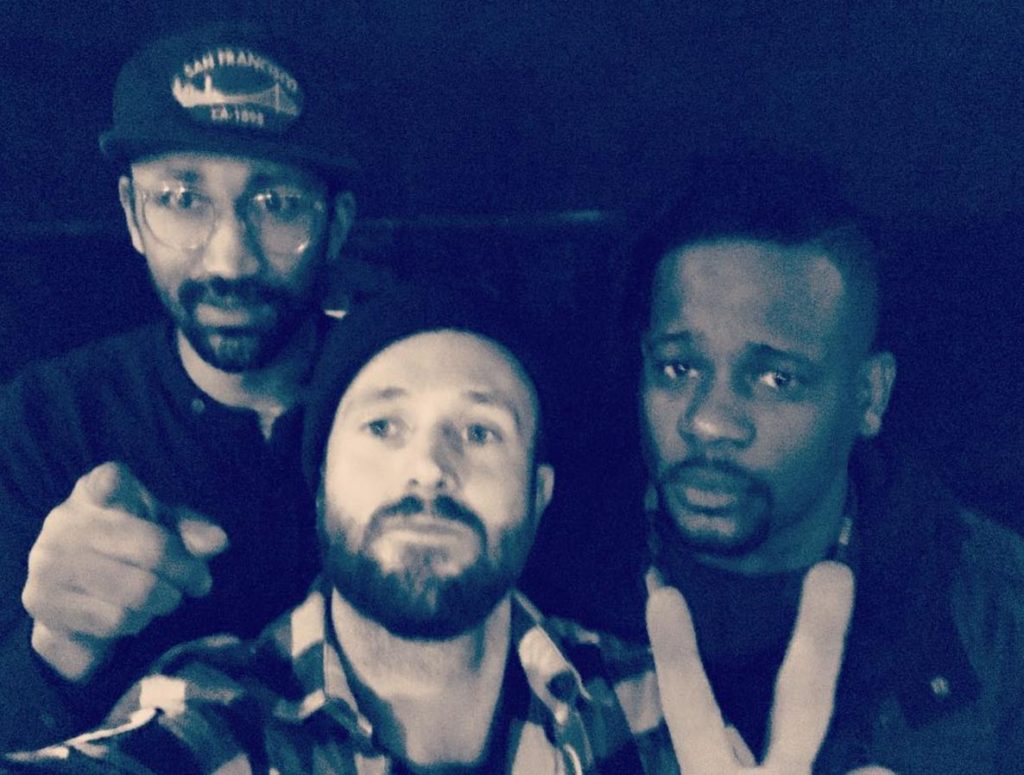 Sometimes after a hard day on the road you really just need a drink. This might be pushing the boundaries of excess ever slightly, but you do you.
Ander Other's awesome mom and sister showed up in LA to wish everybody well. Love these guys too.
The obligatory "we made it to the damn ocean" shot.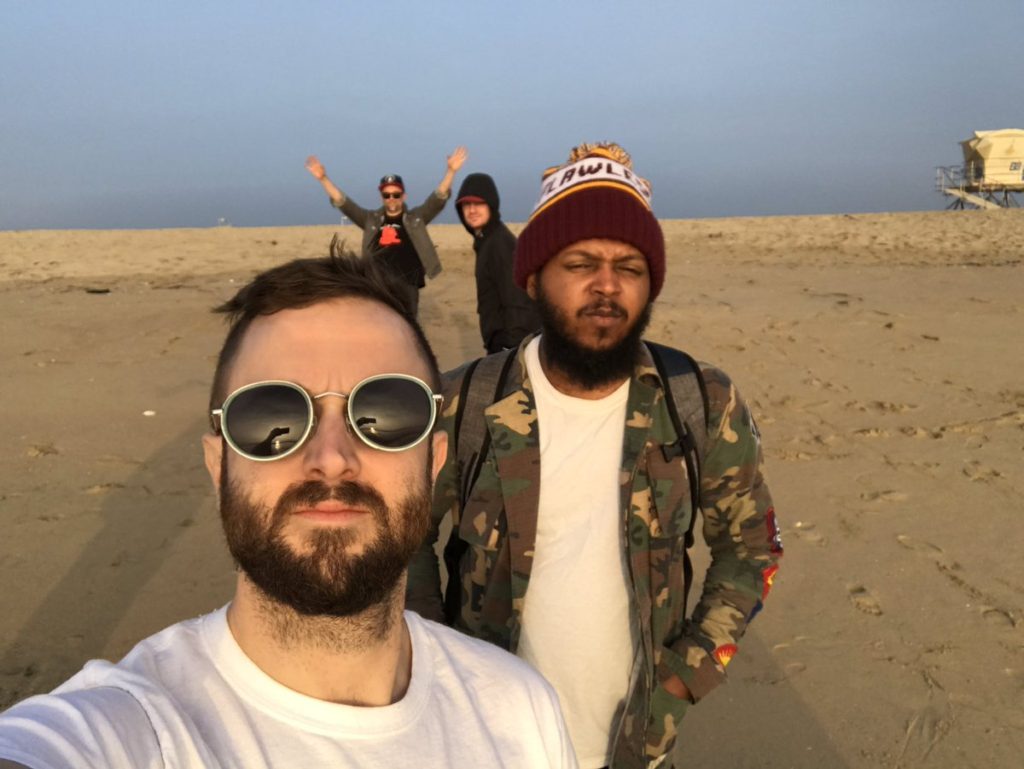 Dudes shopping.
Air Credits and Sims shot a music video out in the desert for one of their excellent collabo tracks on a day off. Based on all the pics I've seen this one is going to be a beast. Here's Steve doing his best impression of that weird Daft Punk movie.
And here's Show posted up repping pizza super hard, as he does.
The Return of Desert McGee!!!! Makr throwing it up to the Big Man Upstairs surrounded by huge rocks and sand.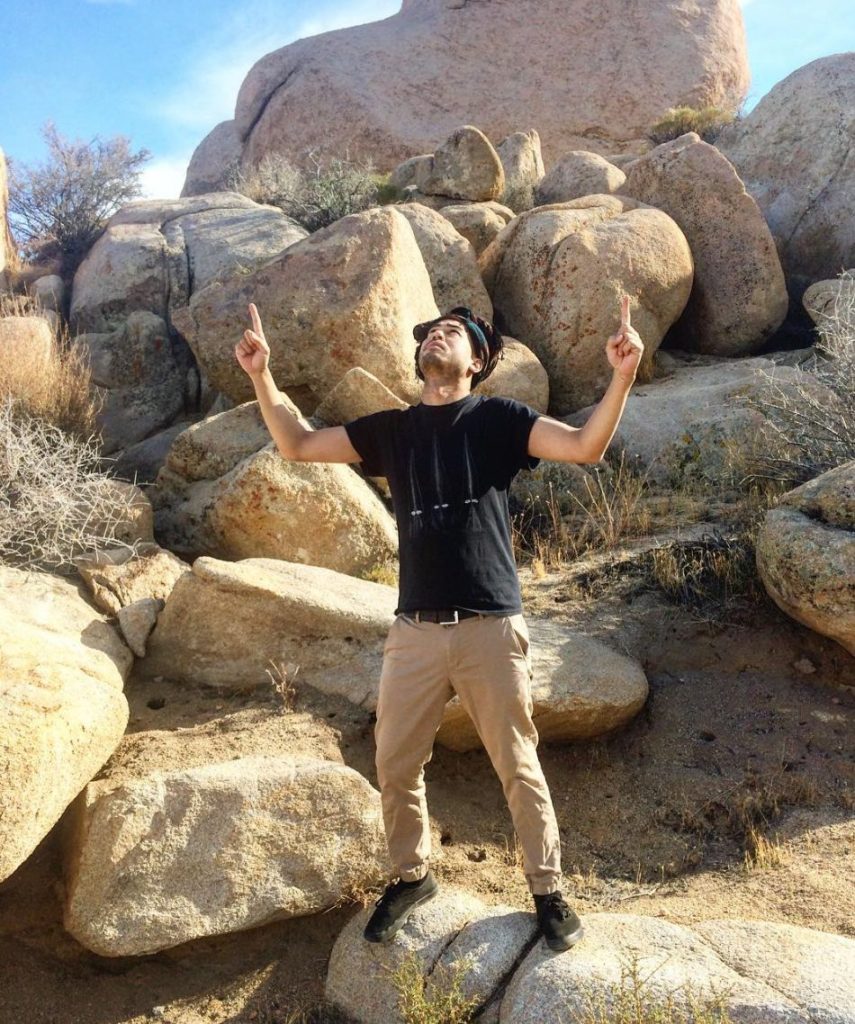 BAM! Everyone is gonna get a little rest the next few weeks and then reunite once again at Sims' beyond-epic hometown album release show taking place at the legendary First Avenue Mainroom on January 6th. Sims, Air Credits, WebsterX, and Nazeem & Spencer Joles will all be in the building to celebrate More Than Ever as big as possible. Make sure you grab your tickets right HERE and join us. Can't wait for this one.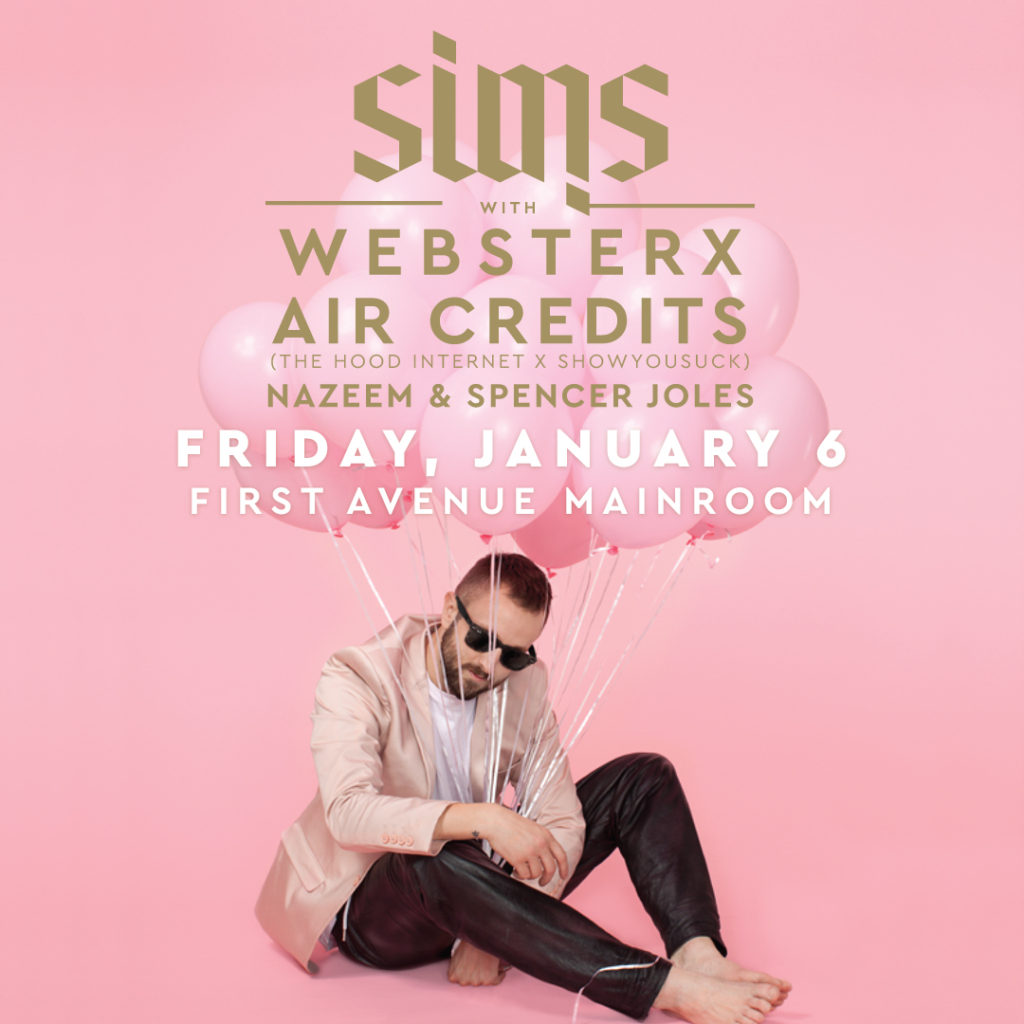 Sims popped by the Audiotree building in Chicago earlier in the tour and filmed a live session for them. Check out the entire seven-song performance below.
Sims – Audiotree Live
One more quick show announcement. Next Friday the 30th it's the return of BONUS JAMS with myself and DJ Ander Other. We're gonna be posted up at Honey all night playing a billion 90's hip-hop and R&B jams, as well as a ton of current stuff (mostly Drake). Come ring in the new year one night early with us. Should be a total blast.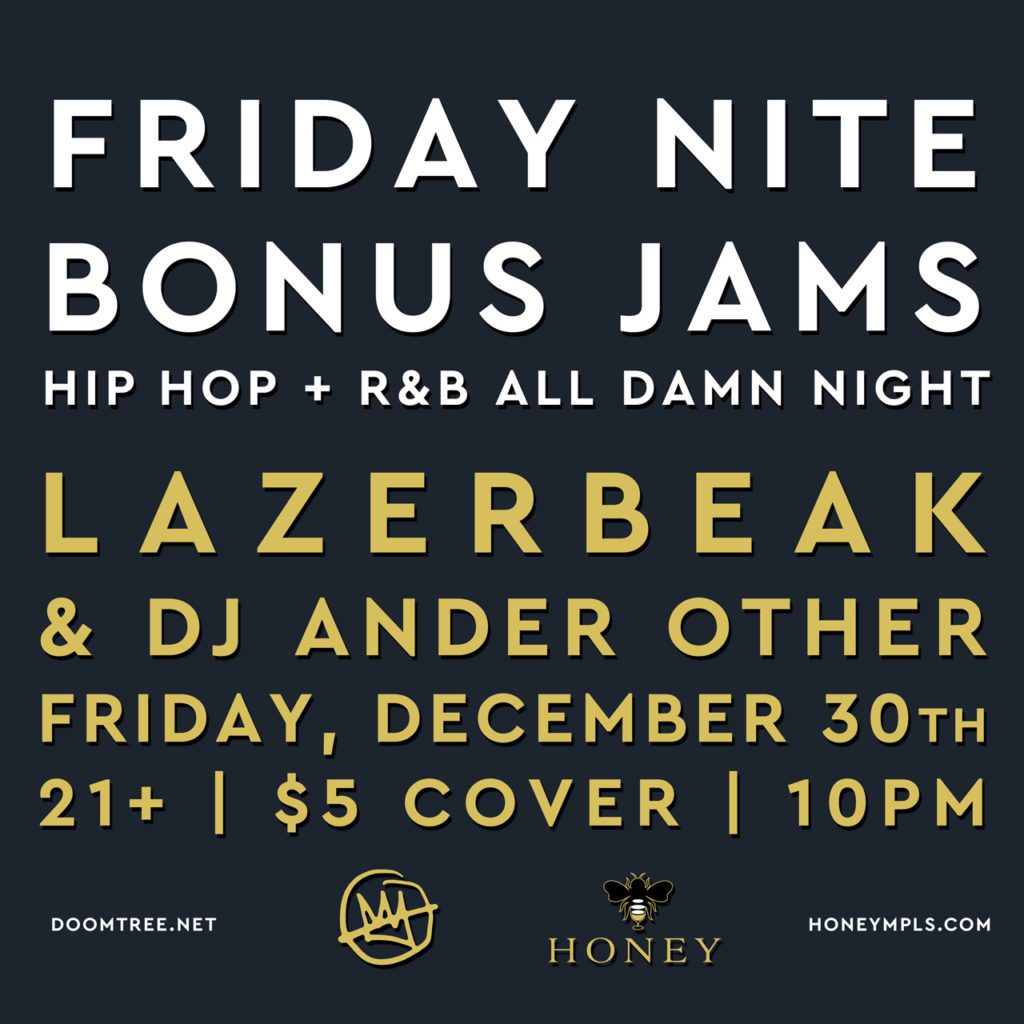 Now for some actual Bonus Jams. Gonna start things off with this sweet choreagraphy video that our friend John Mark put together. John Mark has worked with a ton of artists around here to help choreograph live shows and music videos, and now he's put together a dance piece to our very 0wn Paper Tiger's In Other Words: Part One EP. Check out the full video below and catch up on everything else John Mark has been up to right HERE.
John Mark x Paper Tiger   
My best friend and old bandmate Jeff Allen just announced the news of a brand new TYTE JEFF album dropping this January 21st! So great. Read all about what the Star Tribune has to say about it right HERE and check out lead single "From The Mouths Of Major Babes" below. The TJ dudes are gonna be throwing a massive album release party at the 7th St. Entry on 1/21 as well. I'll have lots more news on that front shortly, but for now bump this heater.
TYTE JEFF – "From The Mouths Of Major Babes"
Caroline Smith just dropped a massive smash hit with this Stint-produced "Trying Not To Love You" track. Stint was by far my favorite producer of last year. I'm so pumped to hear these two are working together. Check out the brand new video for the song below. So good!
Caroline Smith – "Trying Not To Love You" (produced by Stint)
Been really getting into Milwaukee's Lex Allen lately. Check out "Cream and Sugar" below featuring WebsterX, who will be performing at Sims release show on the 6th. Excited to hear more new music from both of these guys.
Lex Allen ft. Webster X – "Cream and Sugar"
Local producer O-D just dropped a brand new instrumental full-length last week. I'm a big fan of everything this guy has put out and can't wait to check out the new project. You can listen to the whole thing below and grab a copy for yourself right HERE.
O-D – Lost Time Found Space
Chance York and Big Cats! decided to bless everyone with a brand new collabo EP out of nowhere. Looking forward to having next week off so I can finally play catch up with the onslaught of excellent local releases coming out of the Twin Cities. Knowing these two's previous track records, I can already guarantee I'm going to be feeling it.
Chance York & Big Cats! – Highest Self
Mac Irv is gearing up to release his big time solo album Misfit: 55411 and he dropped a new video for the intro track a few weeks back. Mac always brings it. Looking forward to checking out the entire project.
Mac Irv – "Misfit: 55411 (Intro)"
The homie Ecid put out a new video for his single "Breaking Up With Death" last week. I gotta say, I think this is the best thing I've ever heard him do, and the Mercies May-directed video is phenomenal on top of that. Definitely check this one out.
Ecid – "Breaking Up With Death"
Now for possibly my favorite video of the year. Appetite For Change is a North Minneapolis nonprofit organization that uses food to build health, wealth, and social change. A bunch of the youth that are involved with the project recently got together to make this "Grow Food" banger and shoot the following video over on the north side. It's the best. Consider this the opposite of "Hot Cheetos and Takis," or something like that. Learn more about the entire Appetite For Change organization and how you can help right HERE.
Appetite For Change – "Grow Food"
Had to share this Lydia Liza and Josiah Lemanski take on the classic (yet v creepy) holiday standard "Baby, It's Cold Outside," although by this point you've probably already heard it yourself based on how much it's blown up online in the last couple weeks. These two got together to revamp some of the song's more questionable lyrics and help raise money and awareness for the Sexual Violence Center. Check out a live recording of the song below and grab it online HERE to help the cause.
Lydia Liza and Josiah Lemanski – "Baby It's Cold Outside"
That does if for this week's Bonus Jams. I'll leave you with a few Baby Bonus Pics since I missed them last week. Penny is definitely on one as of late. Here she is doing her best Game of Thrones impression.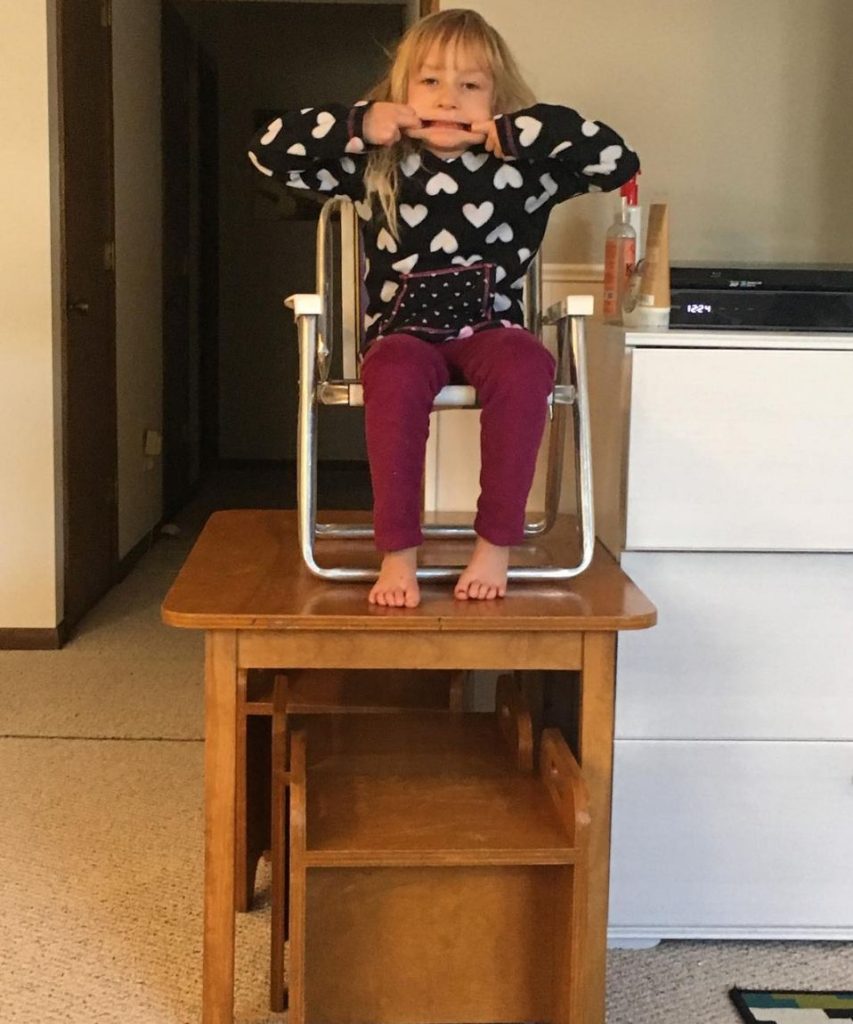 And here's my whole squad all dressed up in purple for what was supposed to be a triumphant Vikings victory over the Indianapolis Colts last weekend. By halftime we had burned all of our shirts and switched to Finding Dory. Never dressing them up again.
Penny just recently wrapped up another season of ballet class and Teacher Rachel invited all the parents to come in for the last class before the holidays. Here's the whole gang reinterpreting Drake's "Pop Style." Classic. Click the vid below to see what I'm talking about.
And here's the Fifth Harmony Tribute Band during one of their very intense Sunday night rehearsals. We've moved on from hit singles to deep cuts and ballads, and I gotta say, this thing is really starting to come together. Click below for the proof.
People have always told me that kids grow up fast, but I didn't know that I'd go from first-timer ballet class right into mini skirts and high heels and clutch purses. Glad to see that the stuffed animals are sticking around for at least a little while longer. Good lord.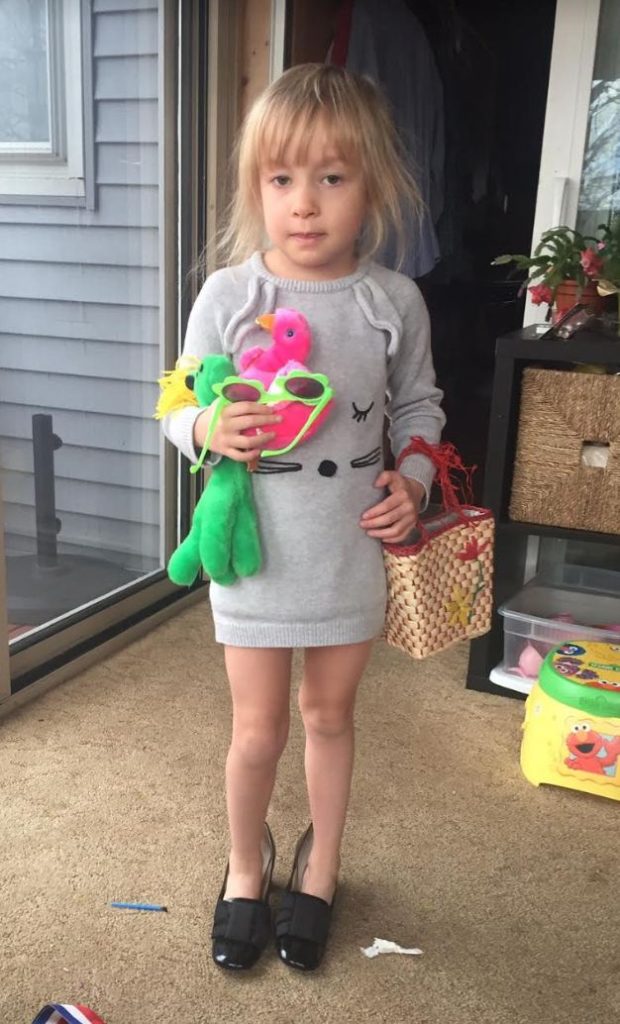 OK! We did it. Thus concludes the longest Tuesdays With Lazerbeak of the entire year. I congratulate you on your dedication to staying informed about all things Doomtree (and my kids). I hope you all have a truly wonderful holiday surrounded by close friends, family, loved ones, and cookies. Depending on time I might try to whip up a 2016 Doomtree Year In Review next week, but there's also a good chance that the eight separate family Christmas obligations I have will prevent me from getting to it. Either way, Merry Christmas and Happy Holidays to all. See you real soon!
— Beak
Twitter: @_LAZERBEAK_
Instagram: @lazerbeak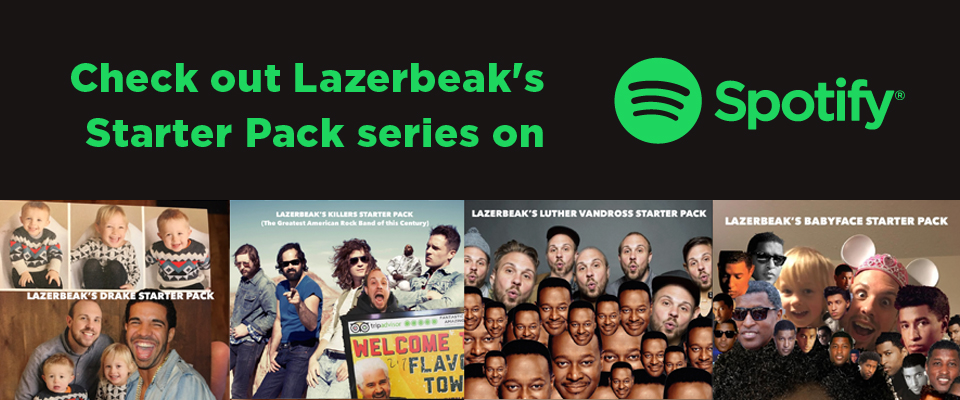 SUPPORT THIS BLOG LYFE. TUESDAYS WITH LAZERBEAK SHIRTS AND POSTERS AVAILABLE NOW!!!