Hey! Welcome back to another edition of Tuesdays With Lazerbeak. Last week we announced the exciting formation of a new Doomtree subgroup called Shredders. P.O.S and Sims on the raps, Lazerbeak and Paper Tiger on the beats. That's us below in all of our giggly glory.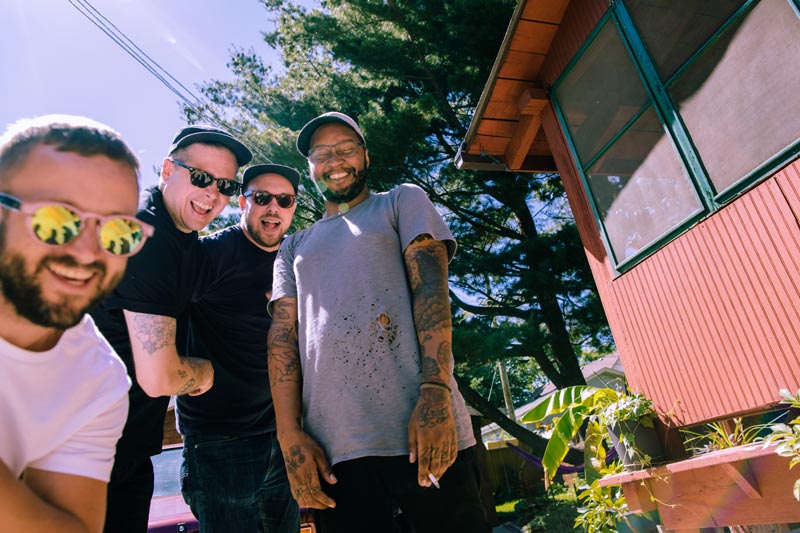 Shouts to Zoe Prinds-Flash for the photos and shouts to Vance Wellenstein for this cool logo/gif below.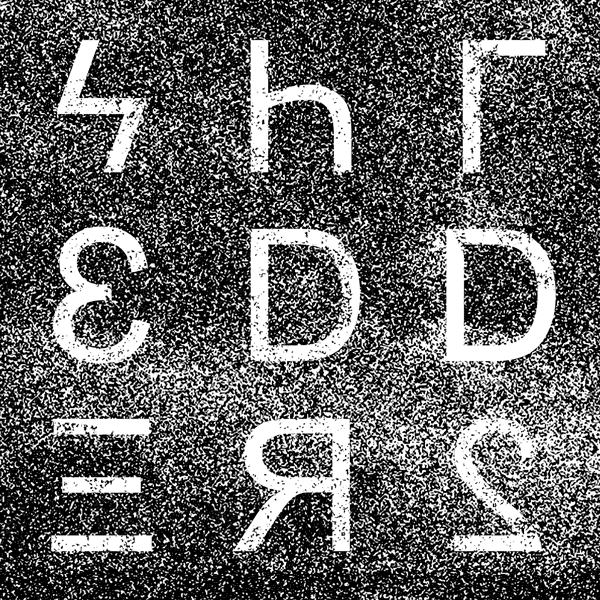 Shredders EP
Bandcamp | iTunes | Spotify | SoundCloud
We dropped our debut EP last week which you can cop or stream at the links above and below. I could not be more excited about this project. We've got a lot more Shredders news and music on the way for you real soon, so definitely stay tuned.
Shredders will be performing for our very first time on September 9th at the fourth-annual Prof Outdoors festival in Minneapolis. Check out the insanely stacked lineup below and grab your tickets right HERE.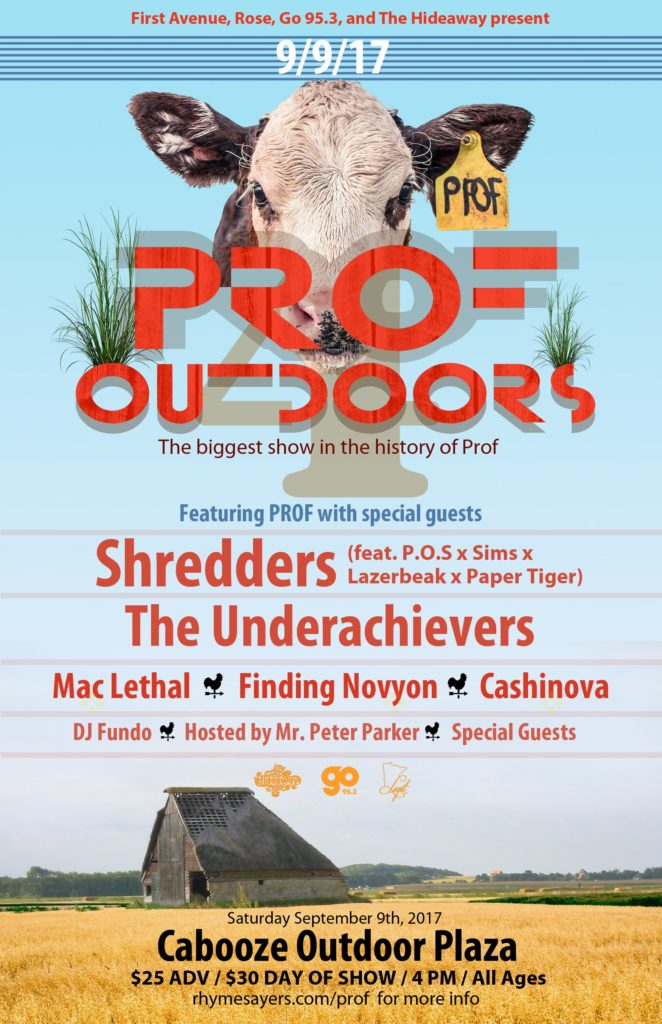 Oh and speaking of new music (SEGUE!), our friend Transit22 just released my lava-banger-certified remix for his "Throw The Match" track featuring a killer guest verse from P.O.S. Check it out below.
Transit22 ft. P.O.S – "Throw The Match" (Lazerbeak Remix)
Our homies Air Credits (ShowYouSuck + The Hood Internet) recently put out a brand new EP called Omega Virus and it features a bonkers verse from Sims. Check out the whole thing below. Sims pops up around the five-minute mark.
Air Credits – Omega Virus EP (featuring Sims)
The entire Doomtree crew will be playing our first shows together in over a year next weekend. It all goes down in Chicago on July 27th and 28th. We'll be kicking things off with a super intimate club gig at Subterannean on the 27th. I just got word that only 25 tickets remain for this show, so grab em while the grabbings good (right HERE).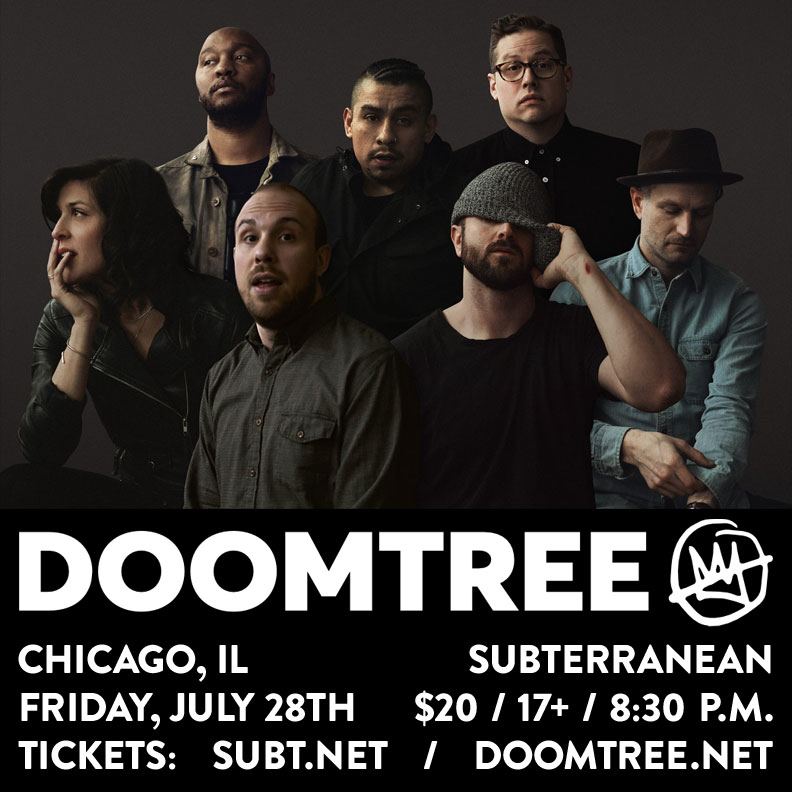 The following day, July 28th, Doomtree will be headlining the first night of Wicker Park Fest with a ton of awesome bands. Check out the headliners below and grab all the sweet deetz right HERE.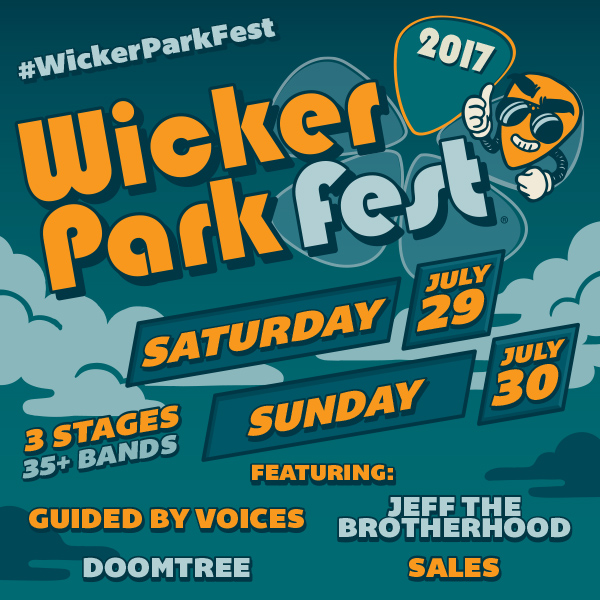 Back in Minneapolis, Sims will be performing a rare headlining set at Icehouse on August 25th to close out the summer. Grab your tickets HERE.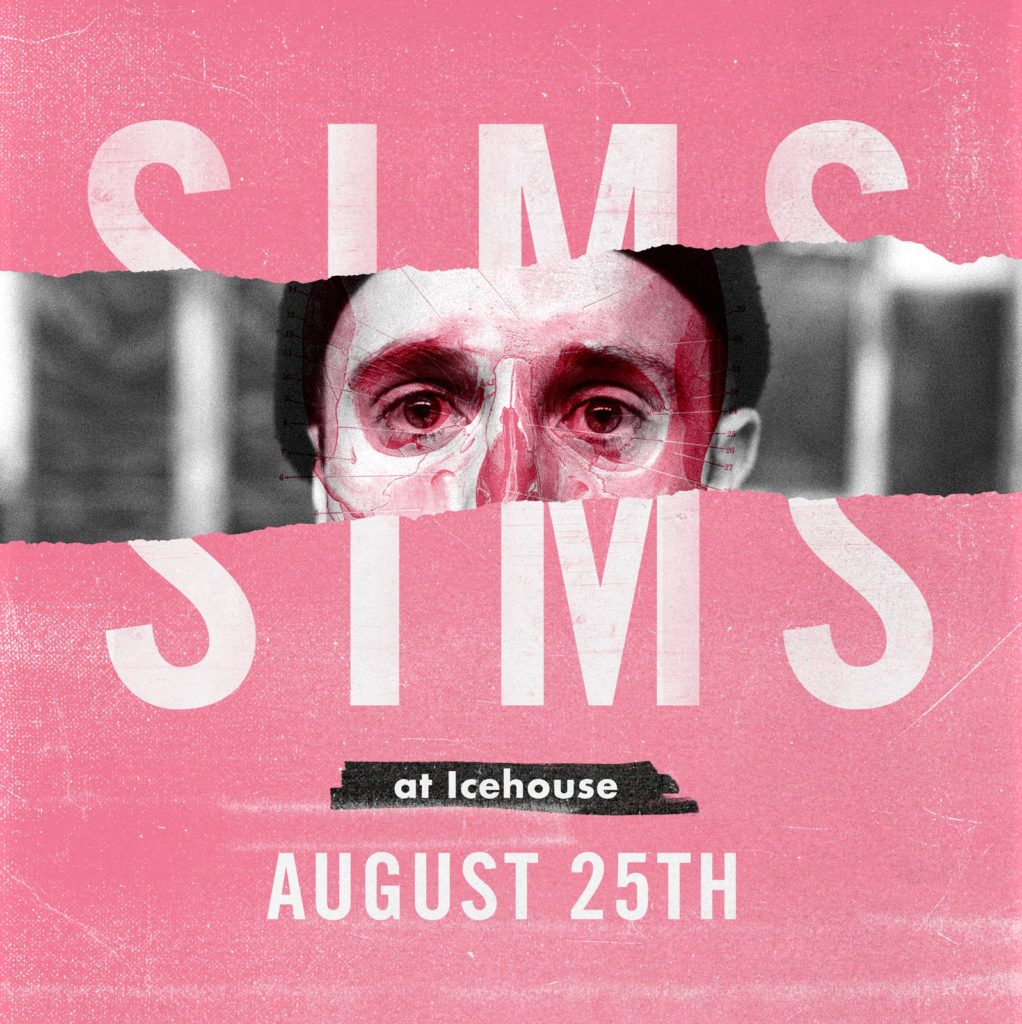 Dessa just announced her own headlining Icehouse show. She'll be performing with MONAKR, Aby Wolf, and Eric Mayson on 9/14. Tickets go on sale this Friday right HERE.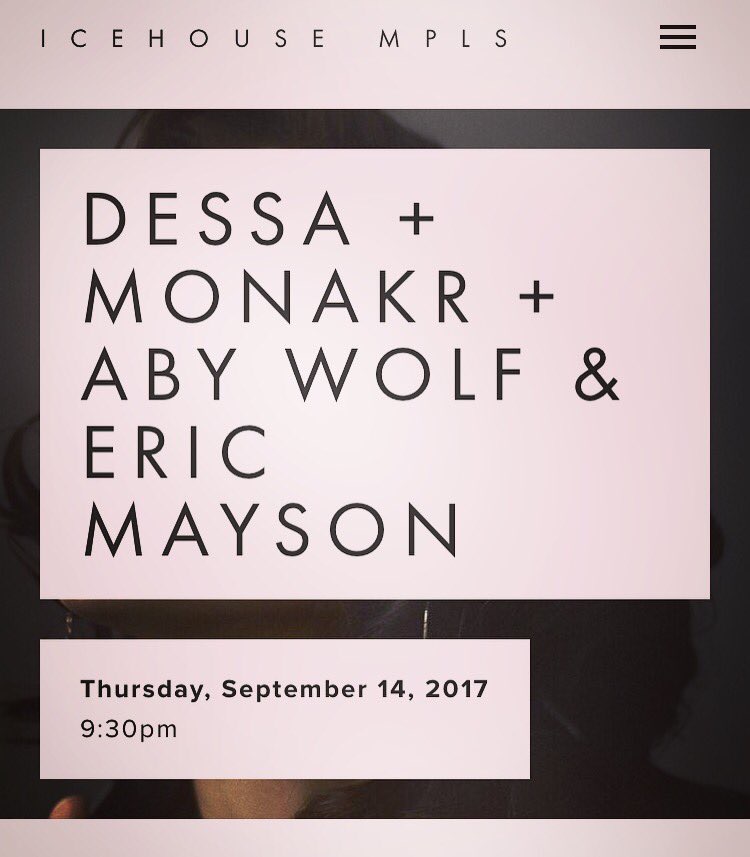 Fall means the return of P.O.S tours. Stef will be hitting the road hard throughout September and October and he's bringing special guest BLACKIE along for the ride. Check out all the dates below and grab your tickets HERE.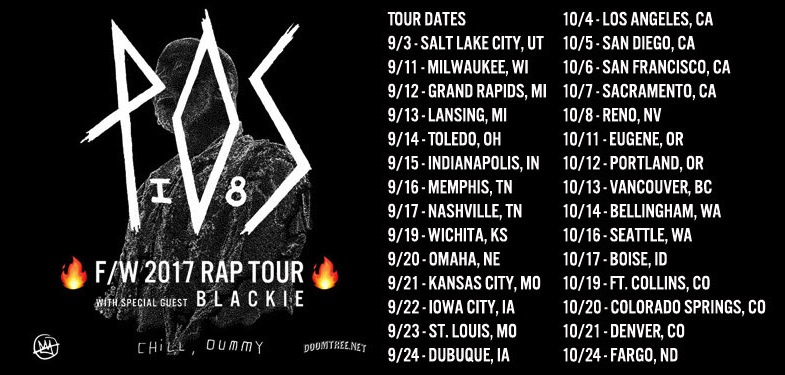 BINGO BANGO. That does it for the Doomtree-related news this week. I've taken a few weeks off from this Bonus Jams segment and the jams have seriously started to pile up. Let's jump into what's been soundtracking my summer as of late. I will spare you the essay-length fanboy freakout that I've been doing over the new HAIM record. Let's just say that it is probably one of the top ten albums of all time and I've may or may not have listened to it 84 times in the last two weeks. Unreal on every level. Records like this just don't come around that often. Check out "Y0u Never Knew" below.
HAIM – "You Never Knew"
I'm way into the new Jay-Z album like everybody else in the world. I feel a little guilty for turning my back on him a bit over the last decade as Drake rose to prominence and took the top spot for me. This guy still has plenty of gas in the tank.
JAY-Z – "The Story Of Jay-Z"
Definitely been bumping the new Toro y Moi album a bunch too. Check out "Girl Like You" below.
Toro y Moi – "Girl Like You"
This new Waxahatchee album caught me by surprise and has been a nice respite to ensure I don't completely burn out on that HAIM album. Reminds me of my fav 90s indie rock bands and her voice is so good. Not a bad song on the album.
Waxahatchee – "Recite Remorse"
Getting super pumped for the new Moses Sumney album coming out later this year. This new "DOOMED" song rules and the video is PHENOMENAL.
Moses Sumney – "DOOMED"
Hundred Waters just dropped a new EP and the title track is a total heater. Excited to hear where they go next.
Hundred Waters – "Currency"
Way amped for the new Daphni album coming out this month from Caribou's Dan Snaith. Here's the latest single "Vikram" below.
Daphni – "Vikram"
Our good friend Budo recently dropped an instrumental collabo EP with Looptroop member Embee and it totally slays. This "Do You Hear Me" track is insane.
Embudo – "Do You Hear Me"
The homie Greg Grease is gearing up to release his Down So Long album next month and hit us with the title track and a video for "Migraine" in the same damn week. Check them both out below.
Greg Grease – "Down So Long"
Greg Grease – "Migraine"
Bobby Raps dropped his super highly-anticipated Mark project this month and it BANGS SO HARD. This "Winning" track is my fav for sure.
Bobby Raps – "Winning"
Toki Wright continues to drop new music at a rapid pace. Here's a sweet new self-produced loosie called "Lose The Path, Find The Way." Words of wisdom.
Toki Wright – "Lose The Path, Find The Way"
And I'll close things out with a new one from the young gunner Yung Wes. This "Ball" song is one of my favorites from him so far and he keeps getting better. Pumped to hear more.
Yung Wes – "Ball"
That does it for the Bonus Jams this week. I'll leave you with a few Bonus Baby Pics before calling it a day. Our little Party of Five had an extremely awesome cabin time up north last week. Here's Penny and Cam getting ready for a pontoon ride in style. FASHION ICONS.
And here's P with her best friend Aniyah hugging it out and enjoying summer break.
All three of the kiddos have joined the neighborhood soccer league this summer, which means I might have to finally learn how to play. Penny looks real cool in this pic doing her best "angsty teen" impression.
Alright, I hope you all have a wonderful week. Keep bumping that Shredders EP as loud as possible and spreading the word. I'm gonna be gone next Tuesday, so it'll be a special Wednesdays With Lazerbeak. See you then!
— Beak
Twitter: @_LAZERBEAK_
Instagram: @lazerbeak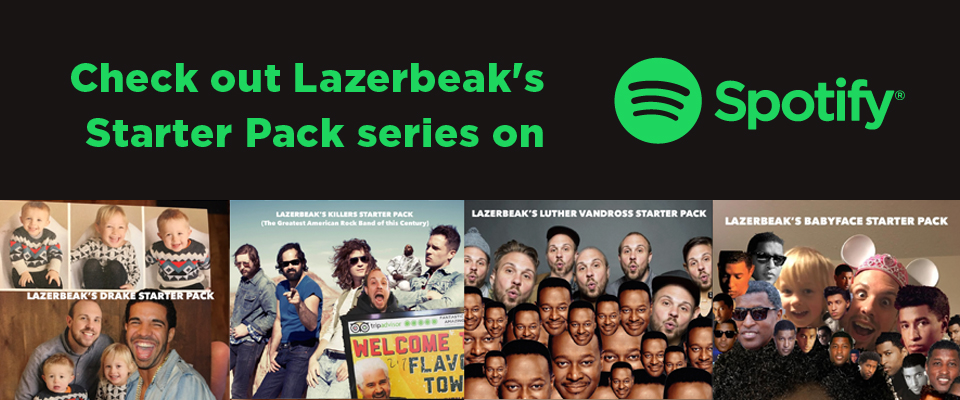 SUPPORT THIS BLOG LYFE. TUESDAYS WITH LAZERBEAK SHIRTS AND POSTERS AVAILABLE NOW!!!