Welcome back to a very special edition of Wednesdays With Lazerbeak! I got to get away for a few days up north with the family over the weekend, so we're pushing everything back a day this week. Let's start things off with some big-time tour news! P.O.S will be adding on to his Fall run with a ton of shows throughout the Midwest and East Coast this November. Check out all the dates and cities below. Tickets officially go on sale this Friday and you can grab those and all sorts of other sweet deetz right HERE.
And don't forget he'll be hitting the rest of the US throughout September and October in the cities below. These shows are already on sale and you can check out all the details right HERE.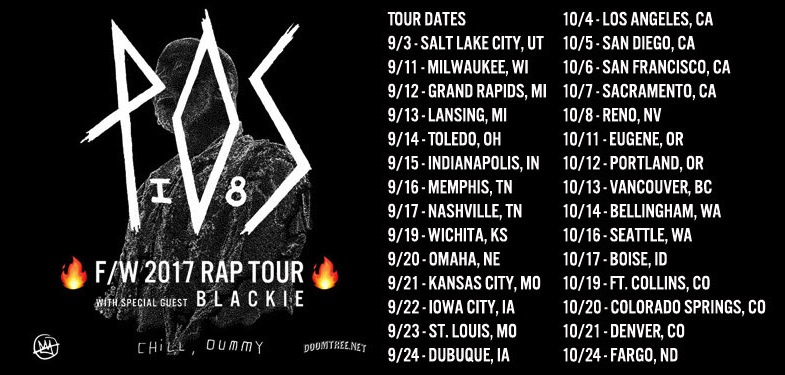 Speaking of awesome shows (SEGUE STREAK!), the entire Doomtree crew will be getting back together for our first shows in over a year this weekend. We're playing a big doubleheader in Chicago, starting with an intimate club show at Subterranean on Friday (7/28). That show is officially sold out, but there may be a handful of tickets available at the door day-of. You can contact the club right HERE.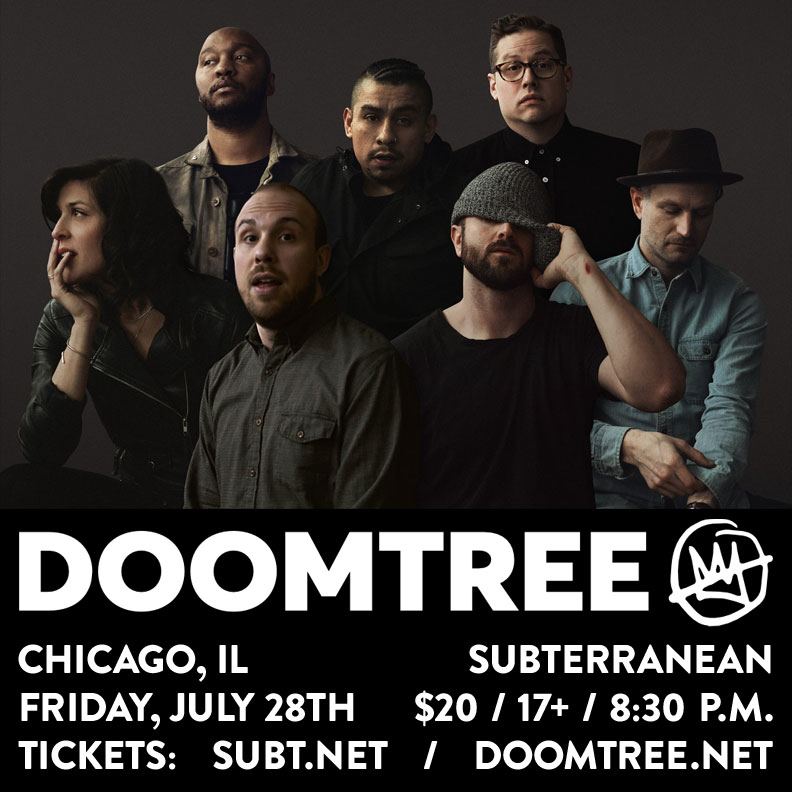 The following day we'll be posted up at Wicker Park Fest headlining the South Stage. The even is free with a suggested donation and is guaranteed to be a total blast. We'll be playing alongside greats like Guided By Voices, Jeff the Brotherhood, and our ultimate Chicago homies Air Credits. More details right HERE.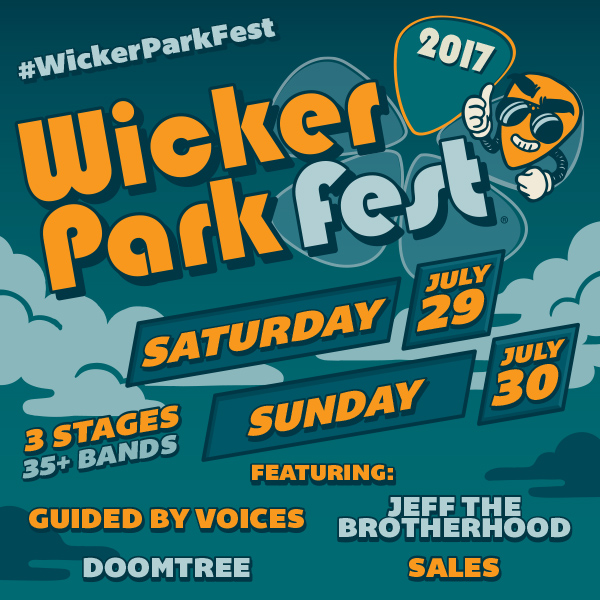 In other Doomtree news, our good friend Roman Mars has been featuring us in his latest Radiotopia podcast caled Trump Con Law. Doomtree is soundtracking each episode and Roman made a sweet little Spotify playlist to keep track of what's been used and spread the word throughout his network. Major shouts to him for repping Doomtree out in the world. Check out the playlist below.
In music news, I've been working with Har Mar Superstar and producer BJ Burton on a bunch of new music as of late and our first single was premiered last week by the good folks at Paste. Check out the epic 7 and a half minute long "Personal Boy" below. This was by far one of the funnest songs I've ever had the pleasure of working on and I can't wait to show you more. The Personal Boy EP will come out at the end of August and we'll be back in the studio next month to get started on a full-length.
Har Mar Superstar – "Personal Boy" (produced by Lazerbeak and BJ Burton)
Now for the Bonus Jams! POLIÇA has just released the physical 12″ for their debut music with European orchestral ensemble s t a r g a z e. You can check out the full 20 minute Steve Reich reworking below and by the limited-edition etched 12″ right HERE.
POLIÇA and s t a r g a z e – "Bruise Blood: Reimagining Steve Reich's Music for Pieces of Wood"
Dizzy Fae is gearing up to drop a ton of new music this year and she just dropped a bomb on us with this new "Johnny Bravo" track. Shouts to psymun and sen 09 on the production. Love this one.
Dizzy Fae – "Johnny Bravo"
The homie Lophiile just dropped the song of the summer in my opinion. By far one of my favorite producers out right now. Can't wait to hear what else he's got up his sleeve next. Check out "Newno" with Moss Kena and Nick Grant below.
Lophiile – "Newno" ft. Moss Kena and Nick Grant
Speaking of songs of the summer, Ty Dolla $ign just put out a smash hit with The-Dream and Lil Wayne a few weeks back that I can't get out of my head. Check out "Love U Better" below.
Ty Dolla $ign – "Love U Better" ft. The Dream and Lil Wayne
Can't wait to be reunited with our good friends Air Credits this weekend at Wicker Park Fest. The dudes just dropped off this new music video for "Safe Room" off of their brand new Omega Virus EP. So tight.
Air Credits  – "Safe Room"
Nick Jordan continues to build crazy buzz here in the Twin Cities fresh off his win for the Star Tribune's Are You Local contest. Check out the video for "Petty" below.
Nick Jordan – "Petty"
Here's a new one from rapper Student 1. This is my first time checkin gout his music but this song goes extra hard. Psymun on the beat too. Looking forward to hearing more for sure.
student 1 – "paint"
The Rotation crew continues to pump out new music at breakneck speeds. Here's a new one from Devon Reason featuring Finding Novyon on the guest verse.
Devon Reason – "Thermostat" ft. Finding Novyon
And here's a pair of new ones from Rotation producer Travis Gorman. Check out "Jump" and "Scene Kid 08" below. Love the double single approach he's been taking as of late.
Travis Gorman – "Jump / Scene Kid 08"
Corbin just re-emerged with a brand new slamming and tour announcement. Good to see him back. Check out "Ice Boy" below.
Corbin – "Ice Boy"
One of my favorite MN bands, Dead Man Winter, just dropped TWO brand new surprise EPs out of nowhere last Friday. This music made for a great soundtrack on my road trip up north and I'm super excited to see the sound progress more and more with every new song. Here's one of my favorites from the new batch.
Dead Man Winter – "Travels With Charley"
Actual Wolf just released a brand new video for single "Baby Please" off of his excellent Faded Days album. This one rules.
Actual Wolf – "Baby Please"
And I'll close things out with a brand new song and music video from my longtime friends and old tourmates Thunderbirds Are Now!. These dudes were signed to Frenchkiss Records about a decade ago when TPC! also joined that label and we became immediate best friends. Got to tour the country a couple times with these dudes and have had plenty of crazy times in their hometown of Detroit. So good to see them back at it. Check out "Outsiders!" below.
Thunderbirds Are Now! – "Outsiders!"
BOOM! That does it for this week's Bonus Jams. I'll leave you with a handful of Baby Bonus Pics from our recent trip up to Brainerd, MN. Here's Laid Back Lou, Crab Man Cam, and Young Nelpz really turning it on and cheesing it up for the camera.
Lou is definitely the artistic talent of the family. Here he is rocking Penny's tutu from dance class and belting out the Moana soundtrack.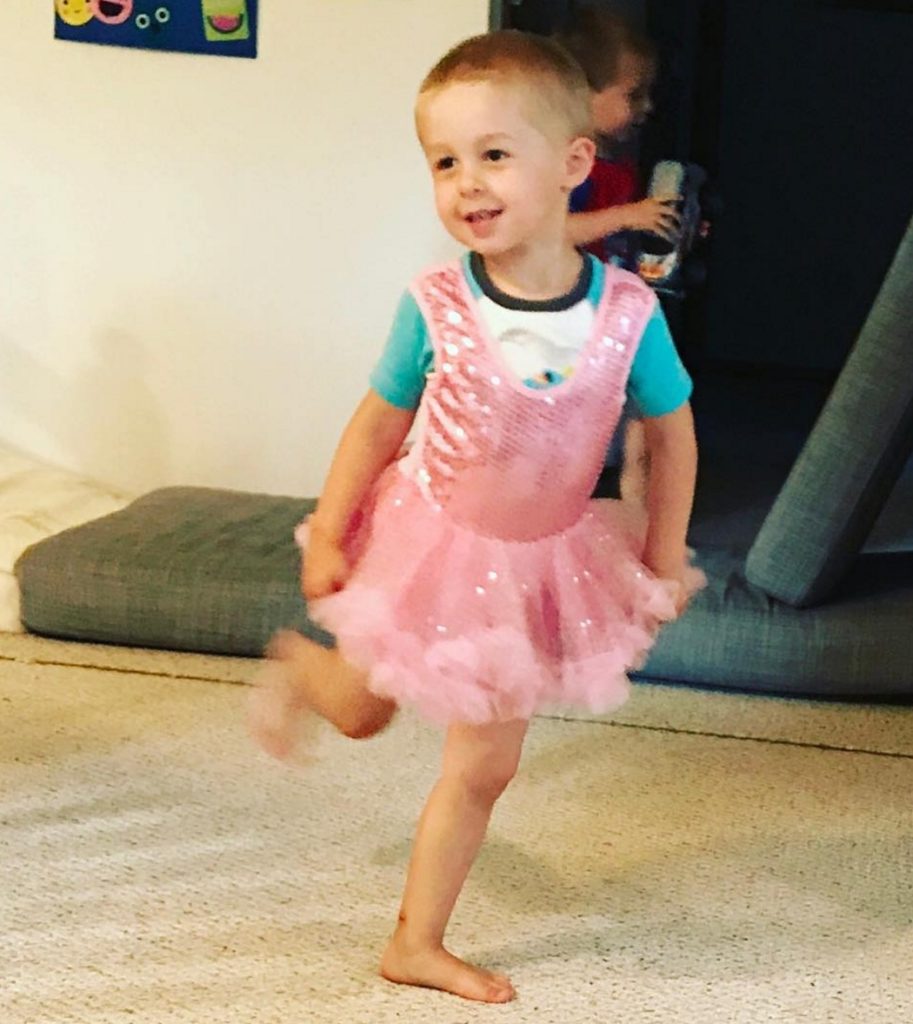 And here's the whole squad chilling hard at the outdoor pool at Cragun's resort and taking in the sunshine. Best weekend.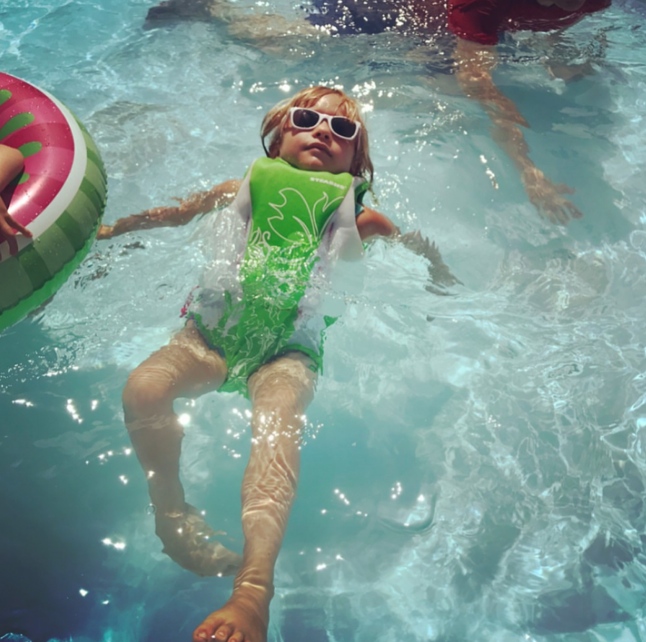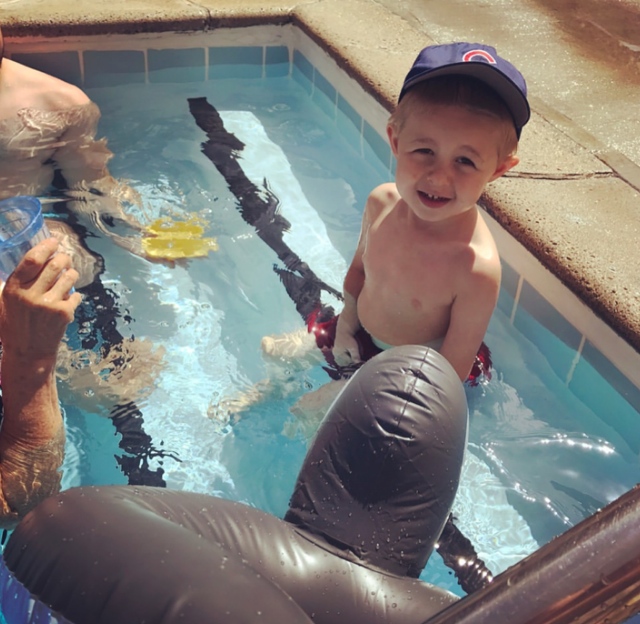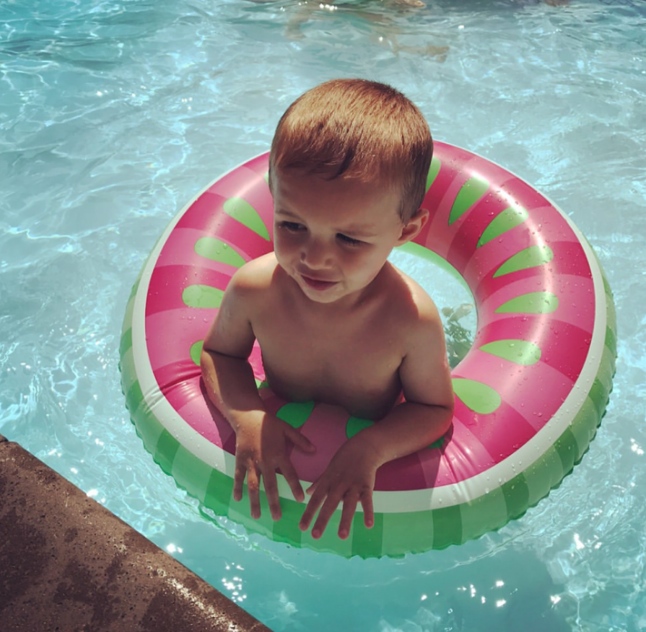 Ok, that does it for this post. I hope you all have a wonderful week. Looking forward to seeing a ton of you out in Chicago for the big Doomtree double header this weekend. If not, next Tuesday for sure!
— Beak
Twitter: @_LAZERBEAK_
Instagram: @lazerbeak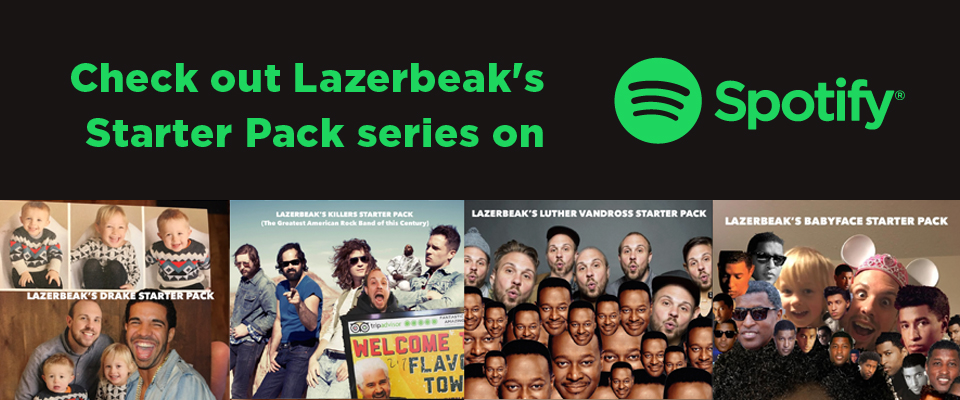 SUPPORT THIS BLOG LYFE. TUESDAYS WITH LAZERBEAK SHIRTS AND POSTERS AVAILABLE NOW!!!