Welcome back to an insanely jam-packed edition of Tuesdays With Lazerbeak. So much going on here at Doomtree HQ now that we're officially in Fall mode. First up: A brand new P.O.S music video! Huge shouts to director and VFX-extraordinaire Adam Dunn for this insane vizual to Stef's Chill, dummy track "Roddy Piper." Love this one so much. P.O.S and Moncelas Boston on the raps, Ryan Olson and Lazerbeak on the beat. Enjoy and please help us spread the word far and wide.
P.O.S ft. Moncelas Boston – "Roddy Piper" (Director/VFX: Adam Dunn, Beat: Ryan Olson & Lazerbeak)
Stef recently sat down with the Back To The City podcast for a very extensive and thorough interview about his entire musical career and everything he's got coming up (including Shredders and Four Fists updates). The YouTube playlist below includes the first three parts of that interview (parts 2 and 3 are brand-spanking new as of this morning), and if you really want to go down the Doomtree rabbit hole, you can continue through the playlist for awesome one-on-one interviews with Dessa and Sims, plus a discussion with our extended fam Har Mar Superstar on his new "Personal Boy" track that I worked on). Big-time shouts to Back To The City for continuing to dive deep and shed light on this vibrant and growing music community.
Stef, Ander, Fundo, and Sean Anonymous all piled in the van yesterday and headed West for sunny California. Leg 2 of the Chill, dummy Tour will see them touch down in California tomorrow for shows in LA (Wed 10/4), San Diego (Thurs 10/5), San Fran (Fri 10/6), Sacramento (Sat 10/7), and then Reno (10/8). Check out all the dates on the entire West Coast run below and grab those tickets right HERE.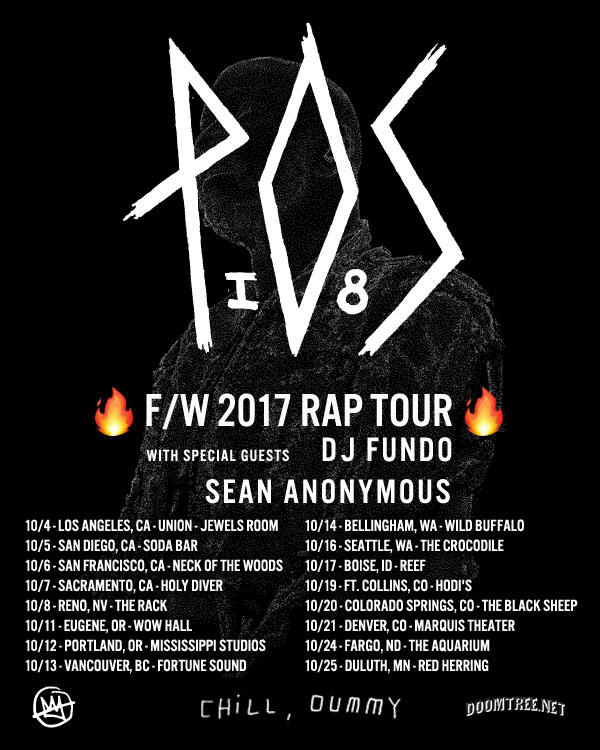 Now it's time for a straight-up blog hijack from Dessa, who's got a big update for you and some great info on what you can do to help the people of Puerto Rico:
"Dessa here, taking Cntrl of Lazerbeak's keyboard for a moment. Last week, on the invitation of Lin-Manual Miranda,  I had the chance to be part of a project to benefit Puerto Rico. To raise money for disaster relief, Lin wrote a new song and–within like a day or two–an overwhelming number of crazy-talented Latin artists agreed to record a few lines for it. As you probably know, Puerto Rico was hit really, really hard by Hurricane Maria. And the federal government's response leaves a lot to be desired. If you can help, here's a link where you can make a donation HERE. And keep your eye out for the new joint–been humming it all day."
BOOM! Lazerbeak here again. You can check Dessa out on the East Coast and in the Midwest next month performing in NYC, Philly, DC, Brooklyn, Boston, Ann Arbor, and Chicago. Find all the details below and grab your tickets right HERE. I can also attest that you will not be disappointed with that Puerto Rico tribute when it drops sooner than later.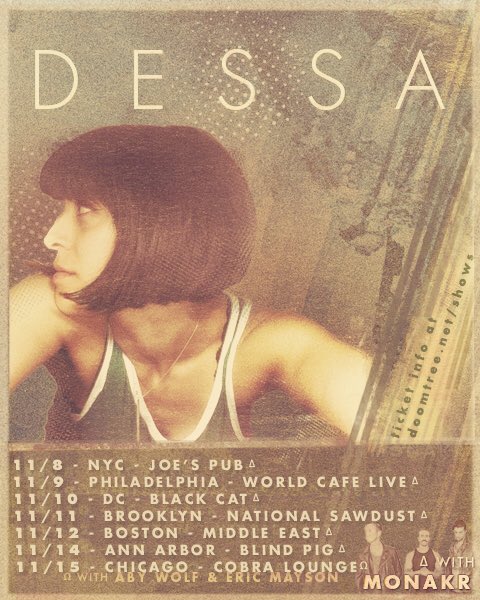 Now for a quick update from the one-and-only Mike Mictlan, who recently popped up on a track on our good friend Greg Grease's latest project. Check out "The Motion II" below which features fire bars from Mike, Greg, I.B.E., and Ak-Rite over a heat knocker produced by Greg himself.
Greg Grease ft. Mike Mictlan, I.B.E., & Ak-Rite – "The Motion II"
Last month I had the pleasure of being shadowed by local station KFAI for a radio segment that uncovered a bit more of what a day in my life is really like as Doomtree's GM/CEO. Yesterday, the good folks at Minn Post featured a print version of the story and you can read all about it right HERE if you want a little more behind-the-scenes info on what I actually do when I'm not making music. That picture below is where I am literally typing this blog from as we speak. Is that meta? Big thanks to Nancy Rosenbaum for taking the time to hang in my windowless office.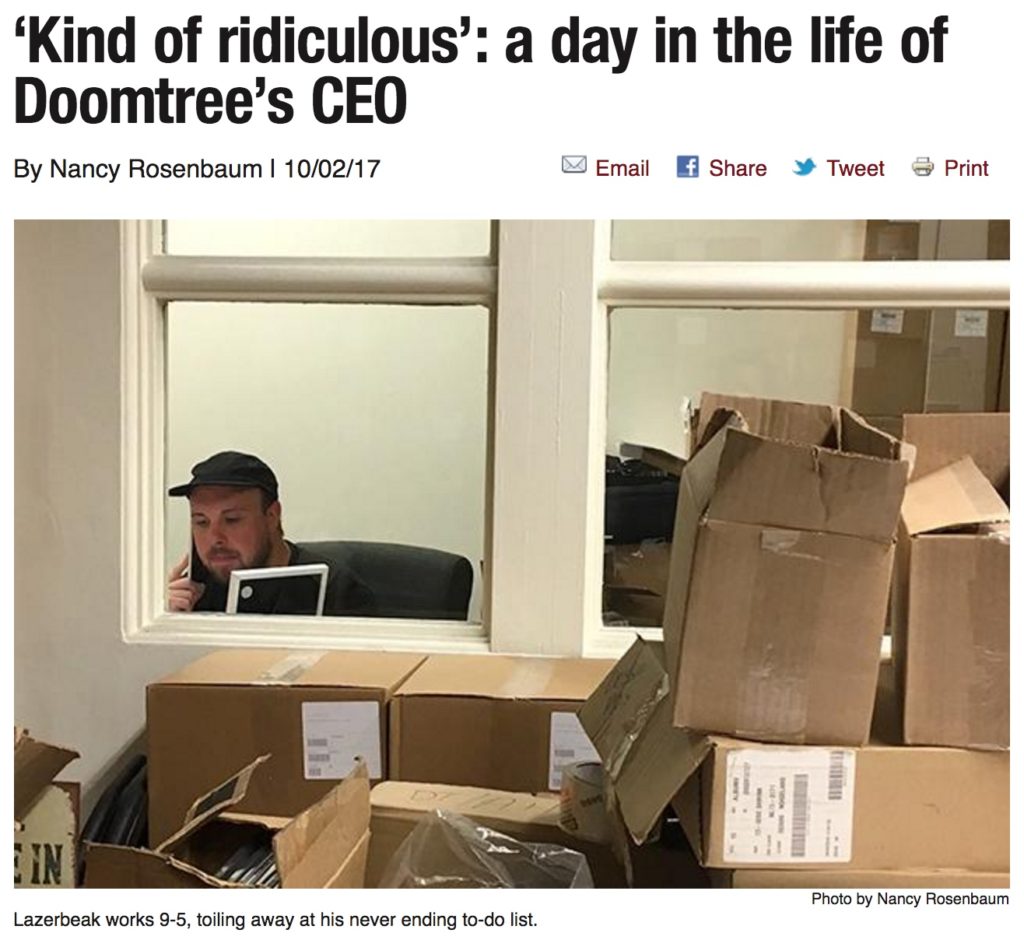 In music-related Beak news, I was in the studio all last week putting the finishing touches on a pair of collabo projects that I'm really excited about. The first one is with longtime friend and rapper Longshot. We've got a full-length in the works – Shot on the raps, Beak on the beats – and should have some new music for you to hear shortly.
The second project is an instrumental collaboration with producer ICETEP, who you know from his mammoth beats all over Sims' More Than Ever record. We've been going outside the box of rap beats as of late and are working on something bordering on electro-house. What a time to be alive. More news and music coming very soon. Huge shouts to Joe Mabbott and The Hideaway Studio for always crushing it. That's Joe's back in pretty much every studio photo I ever take.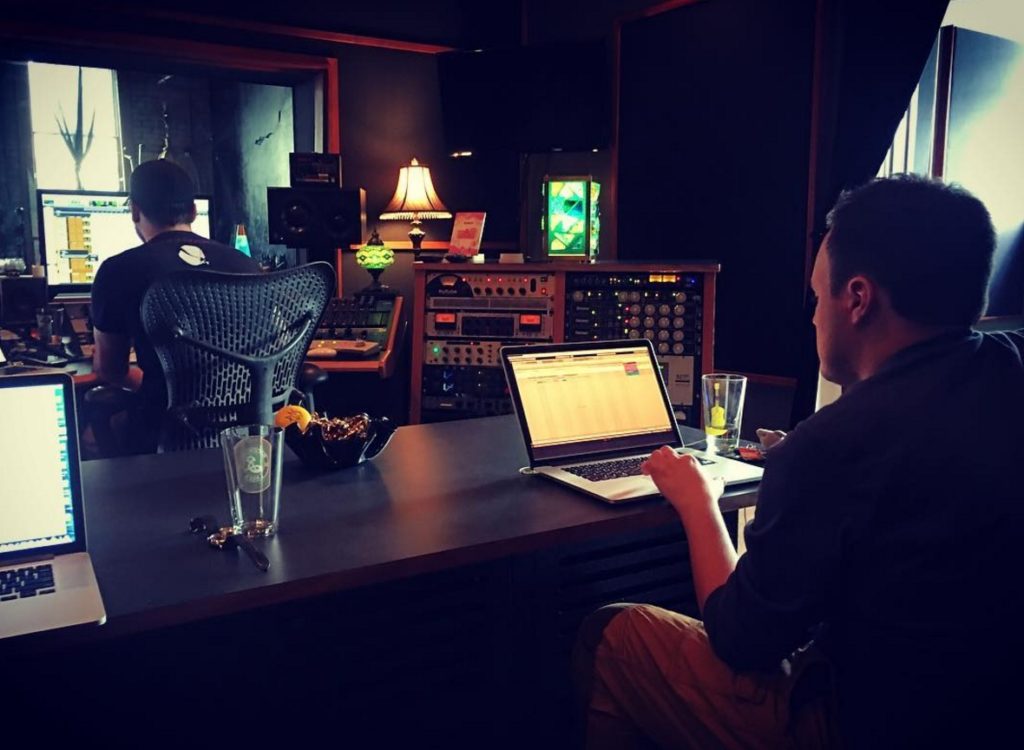 And lastly, WE GOT SHREDDERS CDs BACK! Thanks to Copycats Media, these bad boys look amazing and come with a big poster insert that also includes all the album's lyrics on the back. Here's Sims dropping my copy off yesterday. So pumped!
Make sure you get your Shredders pre-order in if you haven't already. Today marks exactly one month until Dangerous Jumps is released out into the world and I can't wait for you to hear it.  Check out the crazy deluxe pre-order options below and get your copy right HERE.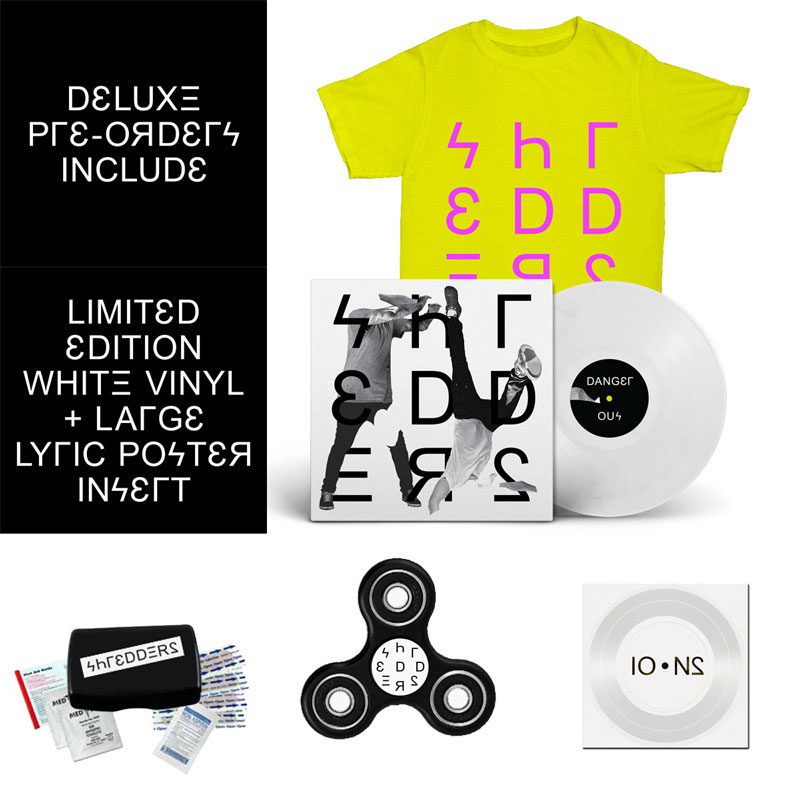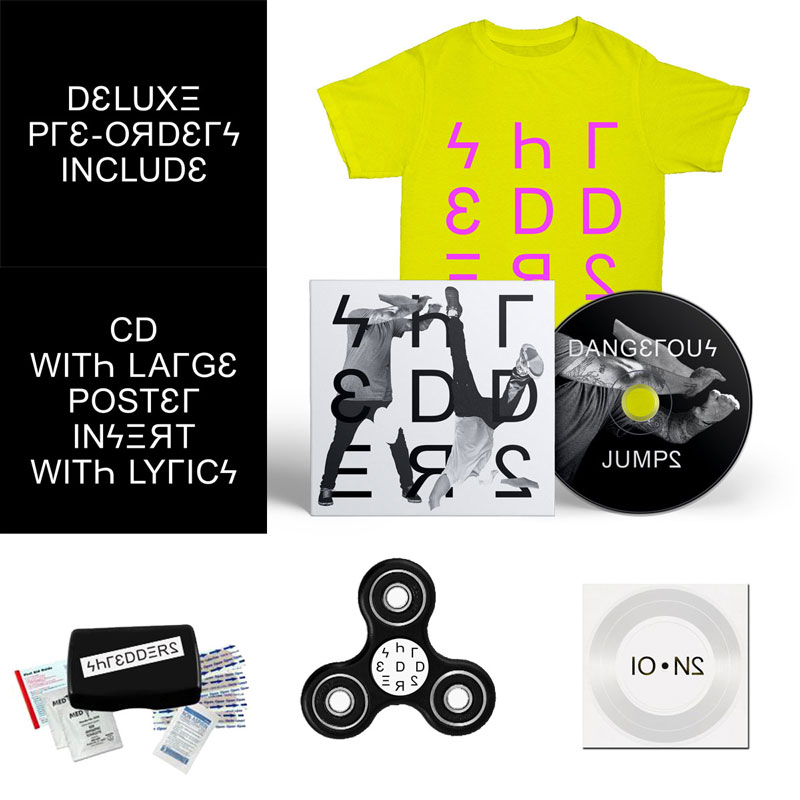 Alright! That does it for all the Doomtree-related news that I can think of, so let's get into a few Bonus Jams. Speaking of Greg Grease (SEGUE STREAK!), his Down So Long album came out last Friday and it is an instant classic in my opinion. Such a huge fan of this dude and everything that he creates. Couldn't recommend this album more if I tried. You can stream the whole thing below and then make sure you support the art and pick up your own copy right HERE.
Greg Grease – Down So Long
Friday was an incredible day for MN music, as Izell Pyramid released a long-awaited debut EP as well. I've only gotten to listen to it once through so far, but I'm absolutely loving it. Really incredible production and vocals all over this thing. Check out Priestcraft below.
Izell Pyramid – Priestcraft
Yung Wes has been releasing new music at a totally insane rate this year, and his new project Lucy is absolutely crushing. I like everything about this EP except for that terrifying snake on the cover. Stop it. If you can get over that though these songs are fire. Check it all out below.
Yung Wes – Lucy
Lizzo is back with a new HIT. Check out "Truth Hurts" below. Shouts to Quinn on the vizual!
Lizzo – "Truth Hurts"
Bobby Raps just dropped a video for the last track on his recent and excellent Mark album. Check out "Back 2 Life" below.
Bobby Raps – "Back 2 Life"
Our old friend Budo has been having a crazy year. He just produced the entire new Macklemore album and has been collaborating constantly with all sorts of artists from varying genres. This new track with Ben Zaidi is definitely a standout. Can't wait to hear more from these two.
Ben Zaidi & Budo – "Mile A Minute"
And lastly, I wanted to highlight this new Harmony of Difference EP from Kamasi Washington. I don't even really mess with jazz that much, but this album has been a tiny bit of light for me in a very dark couple of weeks. Between Puerto Rico and Las Vegas it's been hard to process all of the tragedy and loss and anger, and this music has been a great help in that time – especially this song "Truth" below. Highly recommended and very much worth the 14 minute run time.
Kamasi Washington – "Truth"
That does it for this post. I hope you all have a healing and restful week and I'll see you back here next Tuesday with another edition of TWL.
— Beak
Twitter: @_LAZERBEAK_
Instagram: @lazerbeak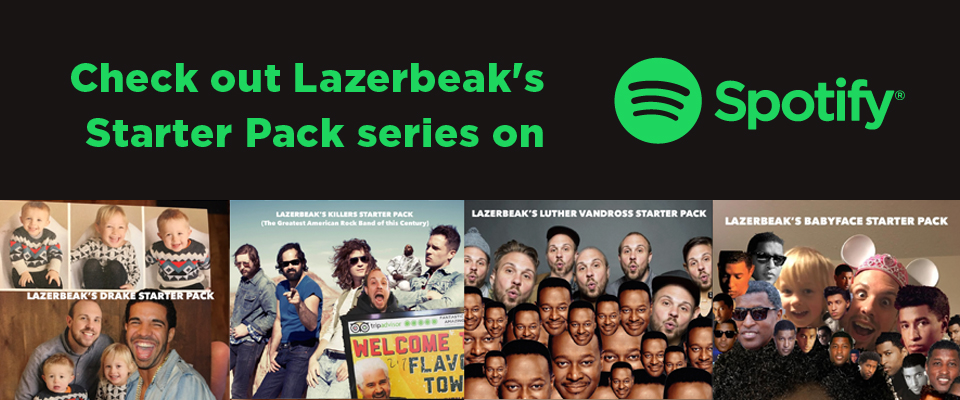 SUPPORT THIS BLOG LYFE. TUESDAYS WITH LAZERBEAK SHIRTS AND POSTERS AVAILABLE NOW!!!