Welcome back to a brand new edition of Tuesdays With Lazerbeak! Gonna start things off today with an awesome new song from our very own Cecil Otter. This one is a collaboration with our good friend and drummer extraordinaire Joey Van Phillips. Joey has played studio drums on an enormous amount of the the Doomtree Records catalog and toured with Dessa's band extensively throughout the years. He's gearing up to release his debut solo full-length this Friday which features Joey creating all of the music with drums and mallets while tons of special guests like Dessa, Open Mike Eagle, Sims, P.O.S, Aby Wolf, and Cecil handle the vocals. You can listen to Cecil's contribution and get an idea for the crazy recording process in the video below. Pre-order Punch Bowl right HERE and grab tickets to Joey's star-studded release show at Icehouse in Minneapolis on November 30th right HERE.
Joey Van Phillips & Cecil Otter – "Sights On" ft. Jacob Mullins
The big Doomtree homecoming show happens NEXT WEEK in St. Paul at the magnificent Palace Theatre. Last week we announced the list of killer local artists that will be making special guest appearances throughout the night. Bruise Violet, Makr, Sophia Eris, Astronautalis, and The Lioness will all be sharing the stage with us. SO PUMPED.I just got word this morning that there are only 140 tickets remaining for this very rare full-crew performance, so make sure you grab a ticket HERE right now because this one will absolutely sell out. Can't wait to party with everyone on the 22nd!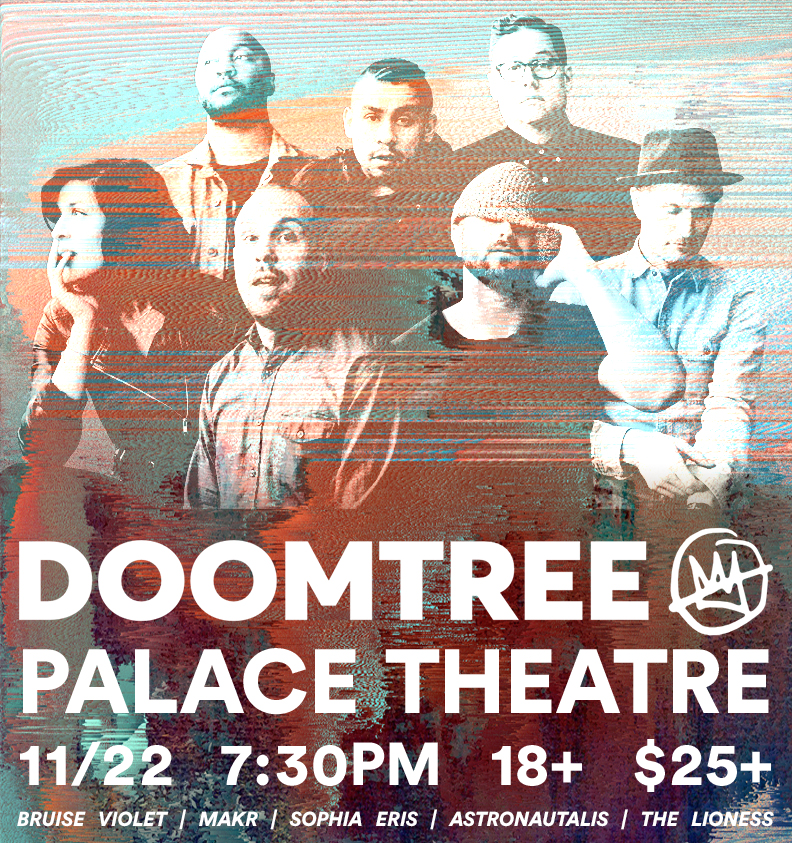 Speaking of cool Palace Theatre special performances (SEGUE!!), Shredders will also be doing a mini-set at The Palace highlighting some jams from our recently released Dangerous Jumps album. We recently met up with our good friend Adam Dunn and started shooting a new video podcast called "Does It Shred?". It's basically P.O.S, Sims, Paper Tiger, and myself in a heated exchange about what shreds and what doesn't shred. If you know us at all, you know that all four of us have very strong opinions on some of the most trivial pop culture subjects (Arby's, romantic comedies, The Killers, Pitbull, etc) – so this podcast gives us a chance to air out our feelings out and really get to the bottom of these tough issues. Adam shot each mini one-minute episode in full 360 so you can navigate throughout the room with your cursor and hone in on whatever Shredder you'd like. Check out Episode 1 below where we discuss Carly Rae Jepsen, HAIM, Amy Grant, and Madonna. We'll be dropping a new "Does It Shred?" episode every Tuesday so definitely stay posted.
Shredders – "Does It Shred?" Episode 1
After the Palace, the next chance to catch Shredders live will be at Myth with Run The Jewels on December 3rd. This show is a dream come true and I personally cannot wait to throw down on the same stage as RTJ. Grab your tickets right HERE.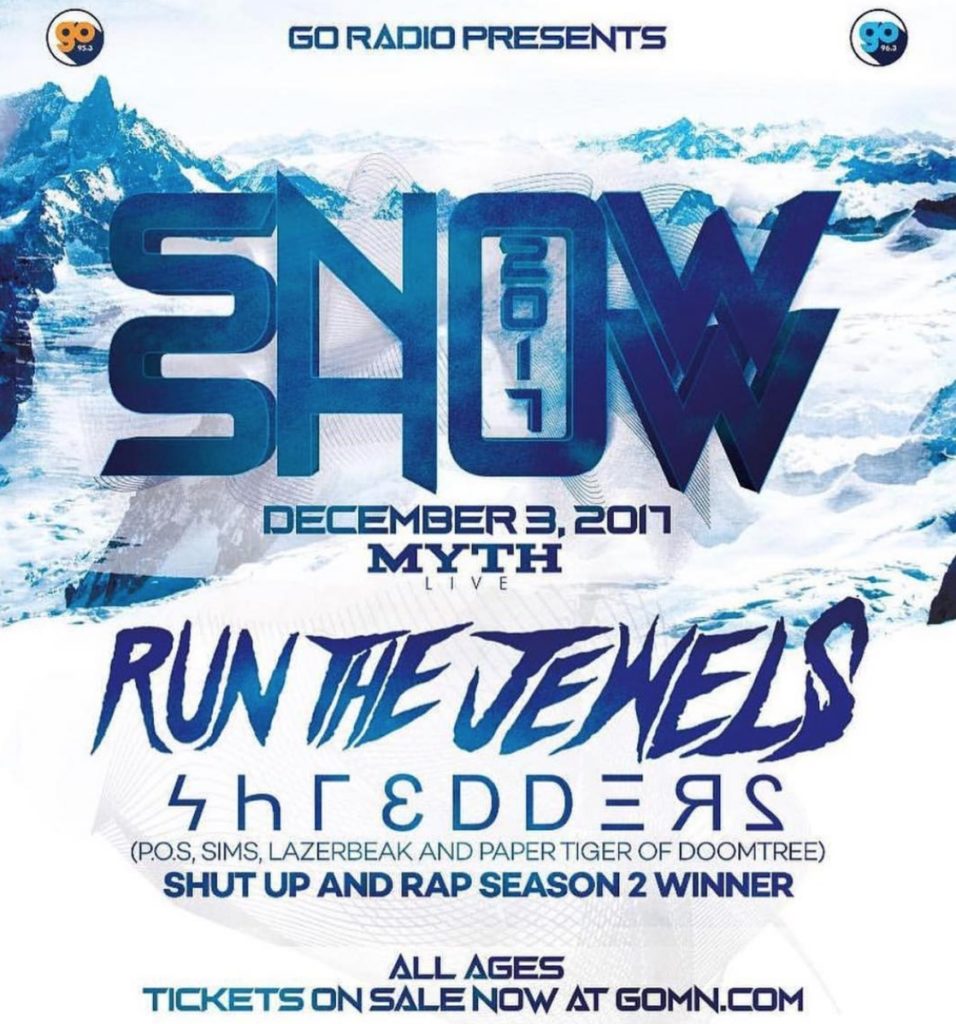 From there we'll be hitting the road hard in January and February to bring Dangerous Jumps to a beautiful city near you. Check out the list of current dates below and make sure you grab your tickets right HERE. These are all gonna be a total blast.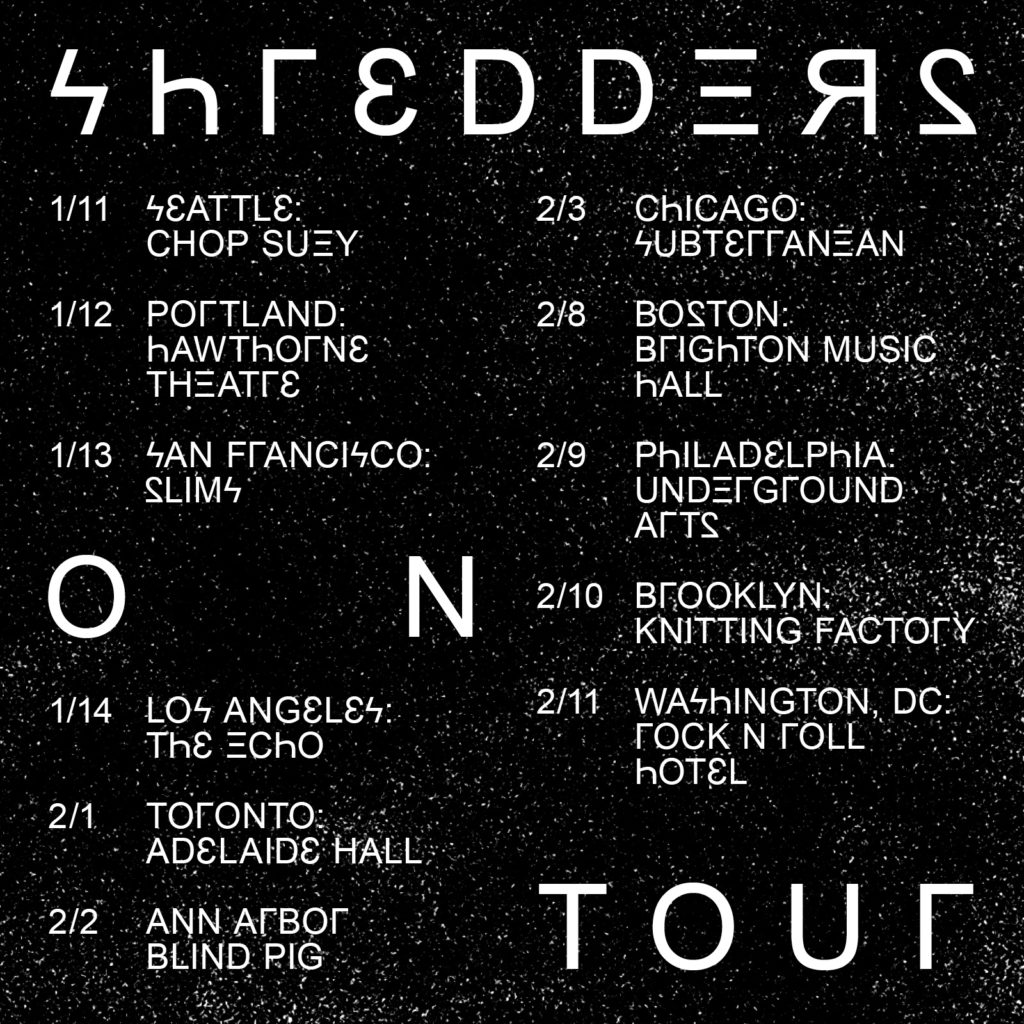 And speaking of tours (DOUBLE SEGUE), Dessa is currently on the road knocking out her week-long East Coast run. She'll be performing at the Blind Pig in Ann Arbor tonight (11/14) before playing another sold-out show in Chicago tomorrow (11/15). Ann Arbor is currently the only show on this run that hasn't sold out, so if you're near Michigan or know someone who might be, make sure you/they grab tickets right HERE.  Here's a few shots from this past week on the road featuring Dessa, Aby, and the Monakr dudes.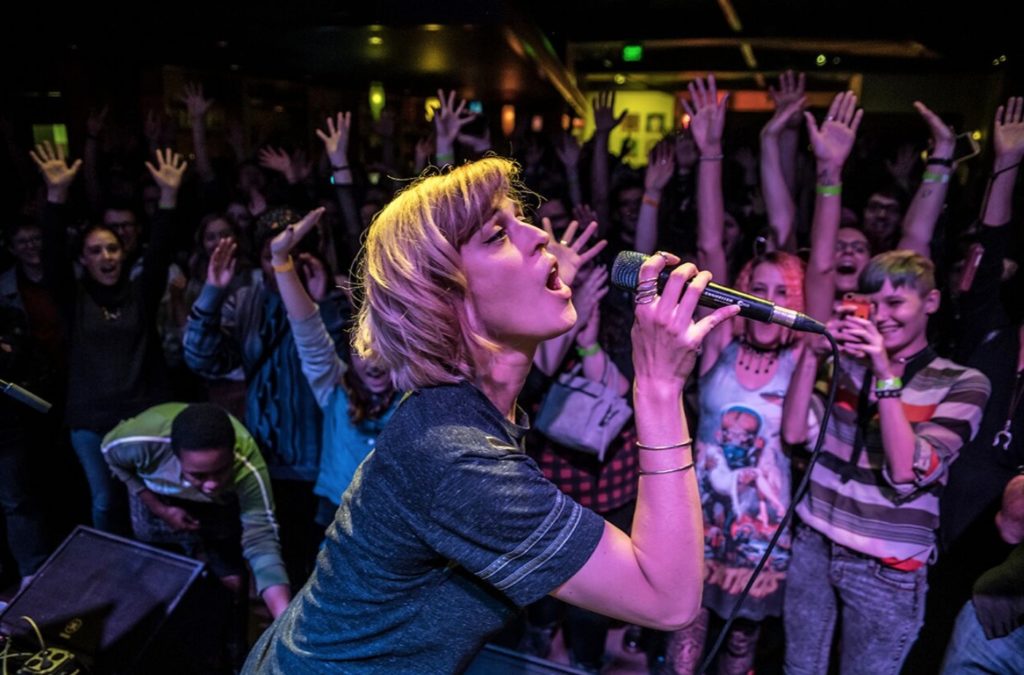 (photo credit: Matthew Shaver)
(photo credit: Matthew Santos)
(photo credit: Jenna Scherer)
P.O.S has been running around all over North America for the past three months and is out on the East Coast as we speak playing his last solo US dates this year. Stef, Fundo, Meta, Transit, and Ander will be hitting Camden, Buffalo, Philly, Brooklyn, DC, and Vienna this week before heading back for the Palace Theatre show on the 22nd. Get your tickets right HERE and go rage with these guys.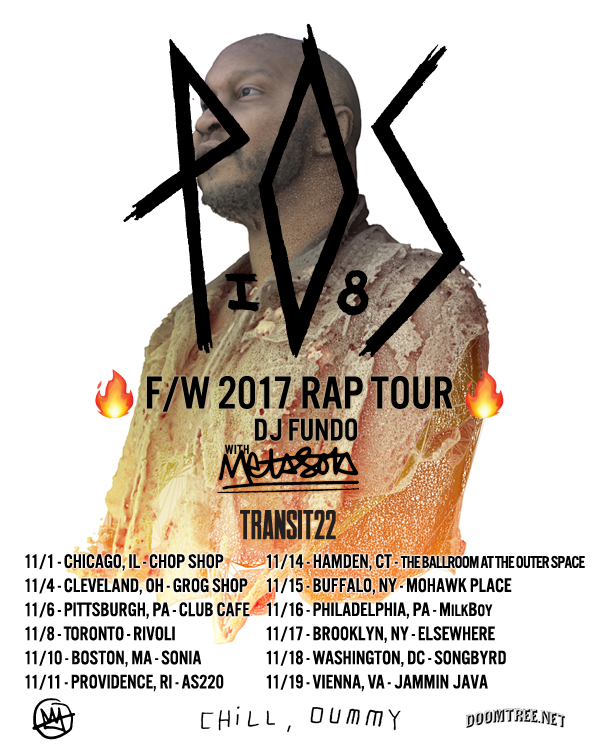 Here's a couple of bonus pics from the past few days on the road. Love the arcade shootout between Stef and Transit. Not totally sure what's going on with these cool faces, but I'm into it.
BAM! That does it for Doomtree-related news this week. Time to get into some Bonus Jams! I'm gonna start things off with the first single from the upcoming POLIÇA and s t a r g a z e collaborative album Music For The Long Emergency. Full disclosure, I started managing POLIÇA about a year ago and this epic project has been a total labor of love for all of us these past twelve months. So excited to finally announce it and have a release date set for Feb 16th. Check out the haunting 10-minute "How Is This Happening" below and pre-order the album right HERE.
POLIÇA and s t a r g a z e – "How Is This Happening"
While we're on the subject, you can also hear POLIÇA's Channy Leaneagh guest on the new single from electronic producer Lane 8. Check out "No Captain" below.
Lane 8 – "No Captain" ft. POLIÇA
Dizzy Fae just dropped one of my favorite videos and songs all year. Her debut album is coming real soon now and I can't even begin to tell you how good it is. Highly recommended.Check out "Don't Hate For Me" below.  Shouts to Chris Hadland on the vizualz!
Dizzy Fae – "Don't Hate For Me"
Just got put on to South Korean house-music artist Yaeji last week and I'm waaaaaaaay into this "raingurl" song. Check it out below. Her new EP is the best.
Yaeji – "raingurl"
The Lioness just dropped an excellent video for her new track "Chosen Ones." So excited to have her perform at the Doomtree show next week! Love this one.
The Lioness – "Chosen Ones"
I've been really feeling this new Jessie Ware album Glasshouse as of late. She's been working a lot with Stint, one of my favorite current producers, and this "Alone" track is an absolute smash hit. Been on repeat for weeks now.
Jessie Ware – "Alone"
Aero Flynn are back! This new "You Care" song is a total heat knocker. Beyond stoked to hear the new album. BJ Burton crushing the production per usual.
Aero Flynn – "You Care"
You might remember the name James Gundersen from a plethora of Doomtree music videos. He's a great friend out in NYC who's directed and edited videos like Doomtree's "Generator," Sims' "Brutal Dance," P.O.S' "Faded," and Paper Tiger's "The Fortunate Wayfarer" (plus an unreleased Shredders vid that you'll learn more about much sooner than later). James is also an incredibly talented musician and singer who's started to release new solo music under the handle J. Gundersen. Check out "Never Listen" below and be on the lookout for a ton of new music from him real soon. So good.
J. Gundersen – "Never Listen"
And lastly, I'll leave you with a sweet song from newly formed Minneapolis group Turbo Pastel. If you've been reading this blog for awhile you know about my love for Ben Burwell's previous band Taj Raj. That band called it quits a few years back (which very much bummed me out), but now Ben is back under the Turbo Pastel moniker and totally crushing it with an even more countryfied sound. I am SO into this. Can't wait to hear more. Check out "Do What You Gotta Do" below and get amped.
Turbo Pastel – "Do What You Gotta Do"
Alright, that does it for this post. I hope you all have a wonderful week and I'll see you back here next Tuesday for another round of TWL!
— Beak
Twitter: @_LAZERBEAK_
Instagram: @lazerbeak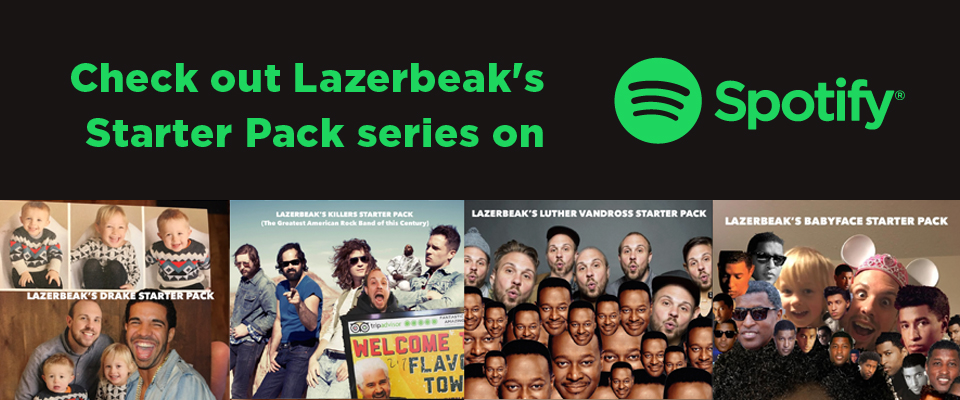 SUPPORT THIS BLOG LYFE. TUESDAYS WITH LAZERBEAK SHIRTS AND POSTERS AVAILABLE NOW!!!