Heyyyyyyyyo! Welcome back to another v exciting edition of Tuesdays With Lazerbeak. Let's get right into it and kick things off with a totally crushing music video. Last Thursday the good people at HipHopDX world premiered the brand new "Entertainment" vizual from Shredders (P.O.S x Sims x Lazerbeak x Paper Tiger). We shot this in Minneapolis back in the summer – the night before our first show ever at Prof Outdoors to be exact – with the extremely talented and greatest guy ever James Gundersen. James has done a ton of videos for Doomtree artists ("Generator," "Faded," and "Brutal Dance" just to name a few) and he is the absolute best. Enormous shouts to him for being a one-man directing and editing powerhouse. Check out "Entertainment" below and then go forth and share it with all of the inhabitants of this wild world. This is by far one of my favorites off of Dangerous Jumps and I'm so happy with how the video turned out.
SHREDDERS – "Entertainment" (directed by James Gundersen)
Could not be more excited to hit the road next year with Stef, Sims, and Papes on our first official Shredders tour. Our good friend Adam Dunn just put together this rad promo video that breaks down all the dates, cities, and clubs we'll be rolling through. This footage was taken at our pop-up release show party at Bauhaus back in early November. Still smiling from that night. Check it out below and holler at your peoples if they live in any of these areas. These shows are going to RULE.
And if you prefer your concert information in a more stationary format, you can check out all the dates below as well. So excited to be joined by the ultimate homie Astronautalis on all of these shows. RIDICULOUS. Check out the deetz and then grab your tickets right HERE. This thing kicks off in less than a month!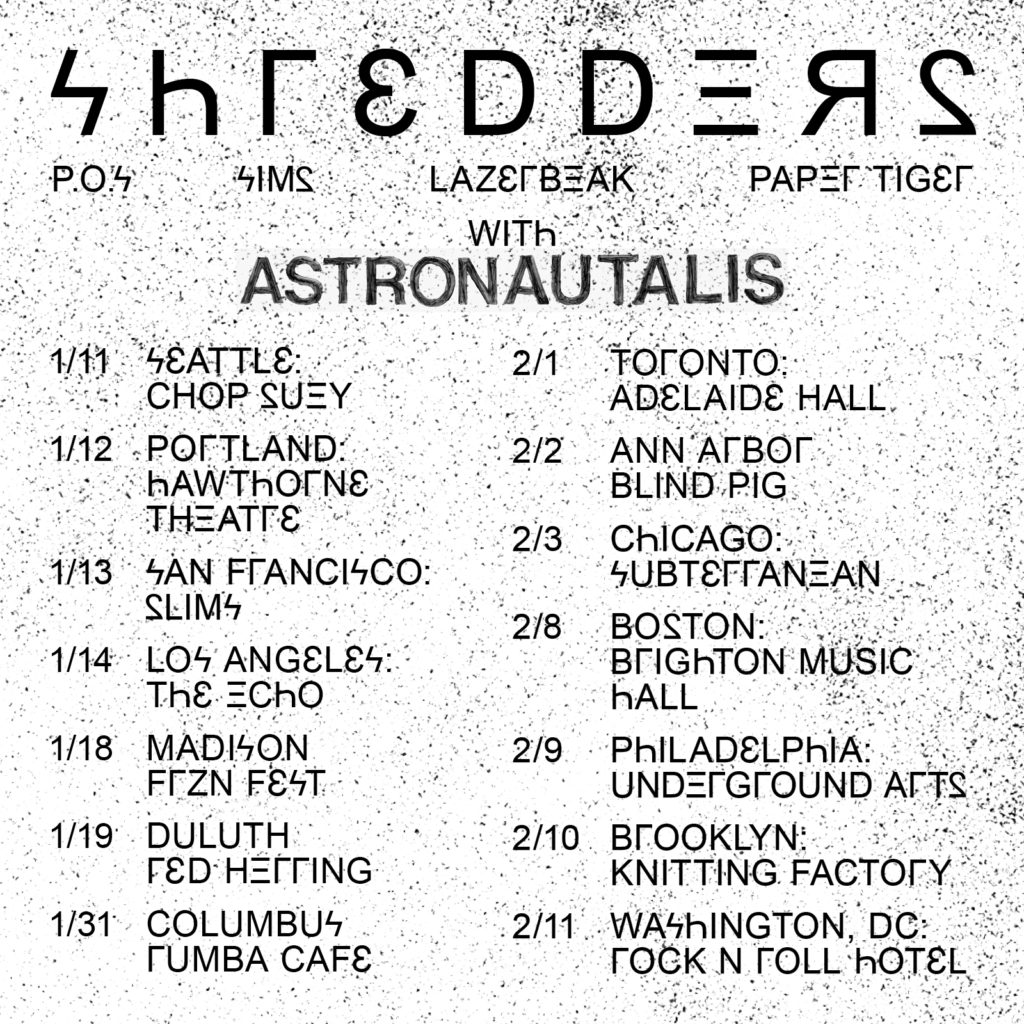 Speaking of tour dates (SEGUE!), we just announced a new Shredders hometown appearance in St Paul on January 20th for Red Bull's big Crashed Ice Afterparty. We'll be returning to the Palace Theatre and playing alongside Paper Diamond and Mike 2600. This one is def going to be crazy. Check out the awesome flyer below and grab your tickets right HERE.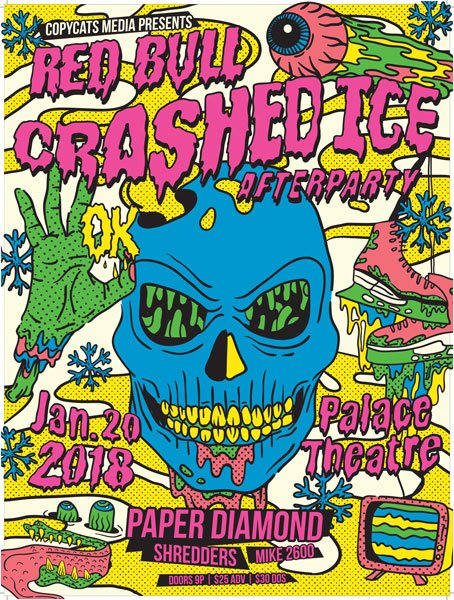 And while we're shredding it up, I can't forget about our ongoing one-minute weekly podcast series "Does It Shred?". Again, many thanks to Adam Dunn for shooting and editing all of these vids together. Episode 5 is below, where we discuss corn-on-the-cob eating competitions and truck commercials.
SHREDDERS – "Does It Shred?" Episode 5
Back to tour stuff  real quick, our big dun P.O.S is currently overseas knocking out his fourth consecutive leg of the Chill, dummy Tour. Here's Stef and Fundo posted up in front of a cool wooden painting of Coco Rosie.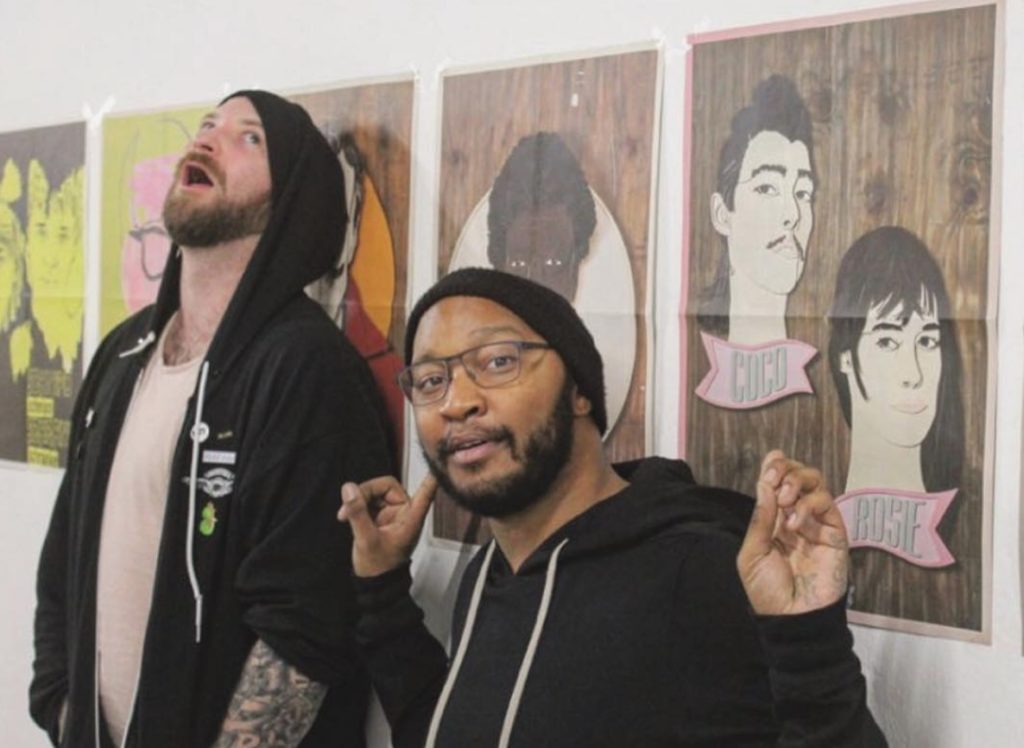 And here they are with the Prague Squad backstage on the first night of the run.
You can catch P.O.S in Brussels on Wednesday (12/13), Manchester on Thursday (12/14), Glasgow on Friday (12/15), and London on Saturday (12/16) before he heads back home for the holidays. A lot of these final shows are verrrrrrry close to selling out so make sure you alert your peoples and grab those tickets right HERE before it's too late.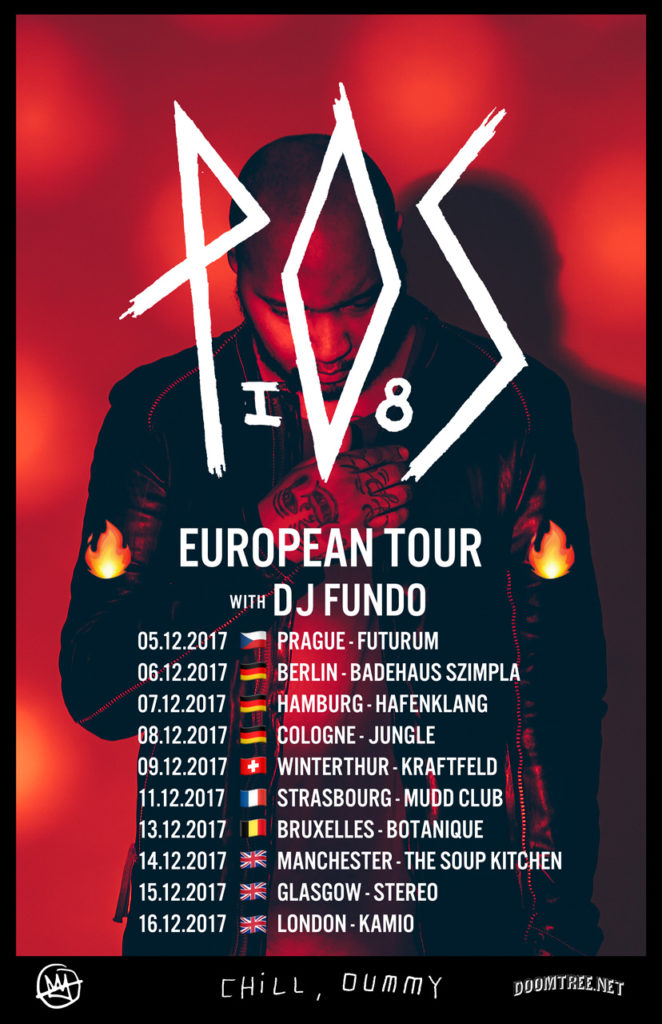 Things are ramping up like crazy for this upcoming Dessa full-length. I know we've been teasing out shots from the studio for the past few weeks without any specific album info, but just know that we're getting extremely close to unveiling all of the glorious details and it's going to be worth the wait. Make sure to stay tuned to this site for the full scoop. Won't be long now. In the meantime, here's a cool shot of Dessa tracking the final background vocals with Aby Wolf in her makeshift kitchen studio. Pro gear, pro attitude. More soon!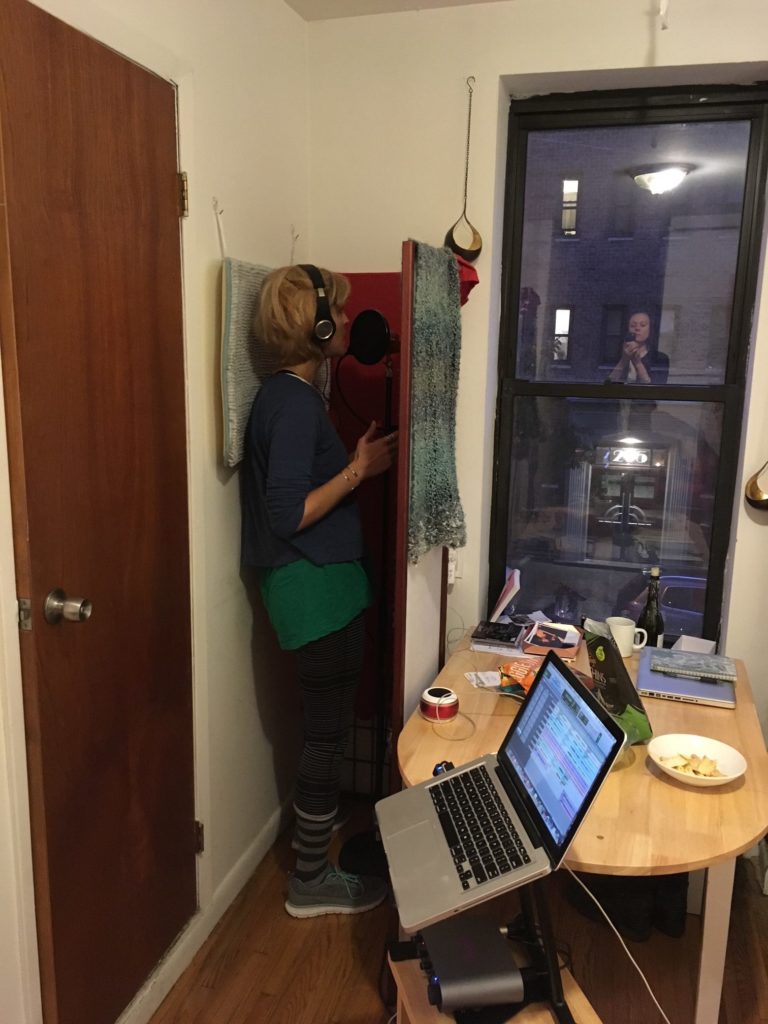 Alright! That does it for Doomtree-related news this week. I'll leave you with a handful of Bonus Jams that I've been bumping as of late. First up is Minnesota's own Ness Nite. I'm a huge fan of Ness and her longtime producer Mike Frey, and it's been awesome to watch them  continue to build on their ever-evolving sound over the last couple years. Check out the new single "Tightrope" to hear what I'm talking about. Loving this one.
Ness Nite – "Tightrope"
The homie ShowYouSuck has been in the studio recently working on a new solo project and he just dropped this loosie called "Crocs Or Nah," which has got to be one of the better song titles of all time. Check out the track below. Pumped to hear what Show has been working on as of late outside of the certified classic Air Credits material that continues to get churned out.
ShowYouSuck – "Crocs Or Nah"
Booboo just released an awesome new track called "Fake" that I've been bumping all week. Booboo and distance/decay on the beat. Excited to hear more from them!
booboo – "Fake"
Loving this new Big Sean and Metro Boomin single from their surprise release last week. Not a huge fan of the album as a whole, but this track definitely bangs hard.
Big Sean & Metro Boomin – "Pull Up N Wreck" (ft. 21 Savage)
Amped to see producer London On Da Track go big time and put out a new single featuring a who's who of popular artists. The beat for "Whatever You On" is the best and Young Thug and Jeremih sound perfect on it.
London On Da Track – "Whatever You On" (ft. Young Thug, Ty Dolla Sign, Jeremih, and YG)
Bam! That's all I got for this post. I hope you all have a wonderful week getting all that holiday shopping in. Make sure you check back here for more big-time news much sooner than later. See you soon!
— Beak
Twitter: @_LAZERBEAK_
Instagram: @lazerbeak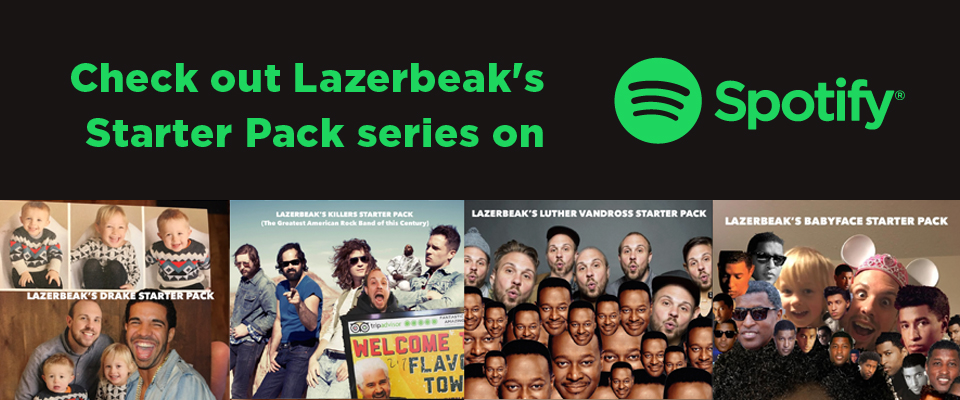 SUPPORT THIS BLOG LYFE. TUESDAYS WITH LAZERBEAK SHIRTS AND POSTERS AVAILABLE NOW!!!