O! M! G! The time is nigh. Dessa's brand new full-length album Chime is going to be released in just THREE DAYS (Friday 2/23) and things are full-on nutzo/bonkers/turnt/buck over here at Doomtree Headquarters. That's the super rad album cover below. A collaboration between photographer Billy Phelps and designer Andy Lund.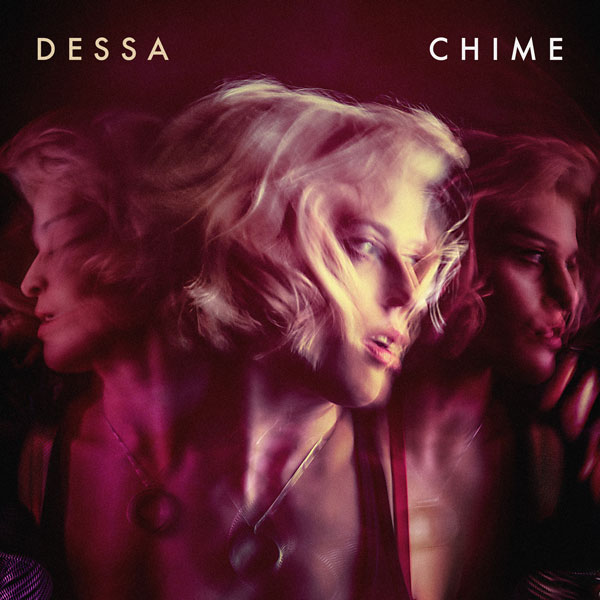 And these are the three smoking hot singles that we've released from the project over the last several months to whet your appetite. Give em a listen below and GET. AMPED.
Dessa – "5 out of 6" (produced by Chance Lewis, Lazerbeak, Andy Thompson, and Dessa)
Dessa – "Fire Drills" (produced by Andy Thompson and Lazerbeak)
Dessa – "Good Grief" (produced by Paper Tiger, Lazerbeak, and Andy Thompson)
BAM! Straight heat knockers. I cannot wait for you to hear the other eight tracks from the album. This is beyond any doubt in my mind the best album Dessa has ever created (and that's saying something). We've been running a totally over-the-top Chime Pre-Order over at the Doomtree Webstore since December and we're finally getting ready to ship everything out today. Check out this shot of the Webstore garage this morning when I stopped by to drop off the last of the Deluxe bandanas. DAAAAAAANG!
Here's a picture of Grace (Stef's mom!), who makes it all happen over at the Webstore, along with her husband Doug. I cannot thank these two enough for their endless hard work in getting everything together and ready to ship out. DREAM TEAM.
On this note of thanks, I want to say an absolutely enormous thank you to everyone who has already placed their pre-order for Chime. You've heard me speak ad nauseam about why the pre-order concept is so important to a small indie label like Doomtree, and I've been consistently overwhelmed by the support you've shown this project since Day 1. Team The Best Team forever and ever. On the slight chance that you've for some reason been holding out on all this extra and exclusive pre-order goodness, there's still a little time left before we run out of it all for good. Check out all the crazy Deluxe Pre-Order items below and grab your copy right HERE while the gettings good.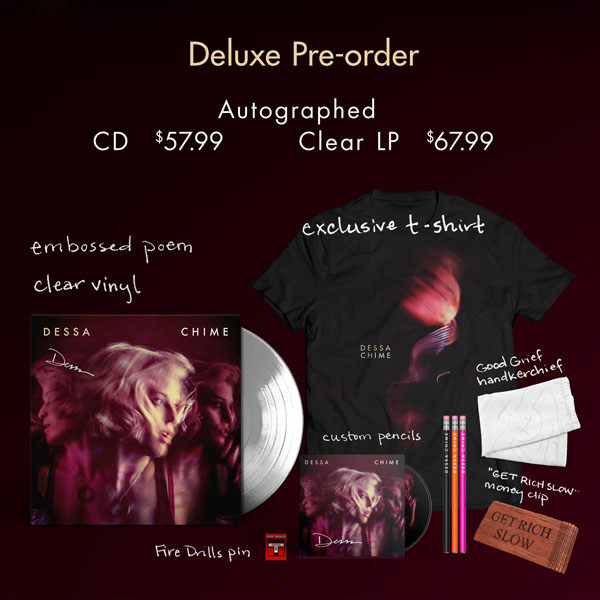 Knowing that the album release is only a few days away, Dessa surprised us all last night by announcing a huge hometown run of Chime events and programming throughout the great state of Minnesota. Check out all the sweet deetz on the "Ten Days of Chime" below and come on out and celebrate with Dessa.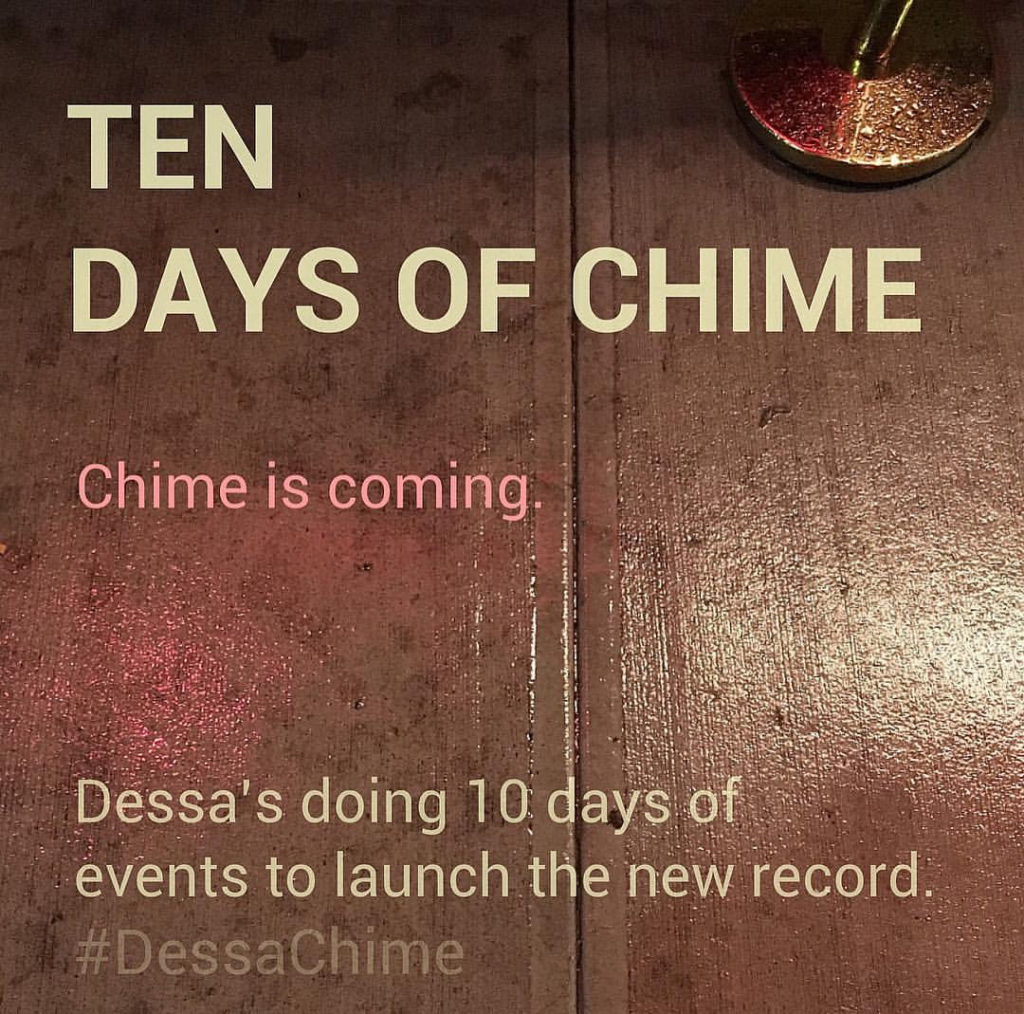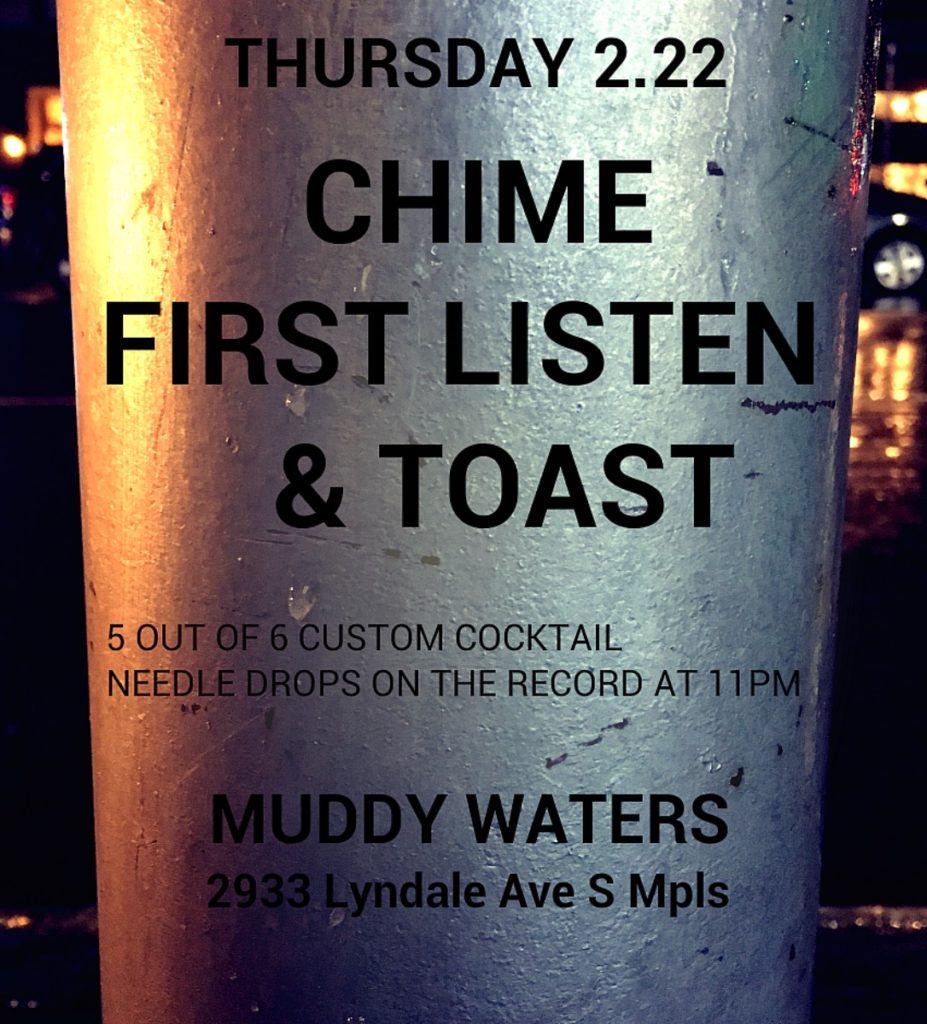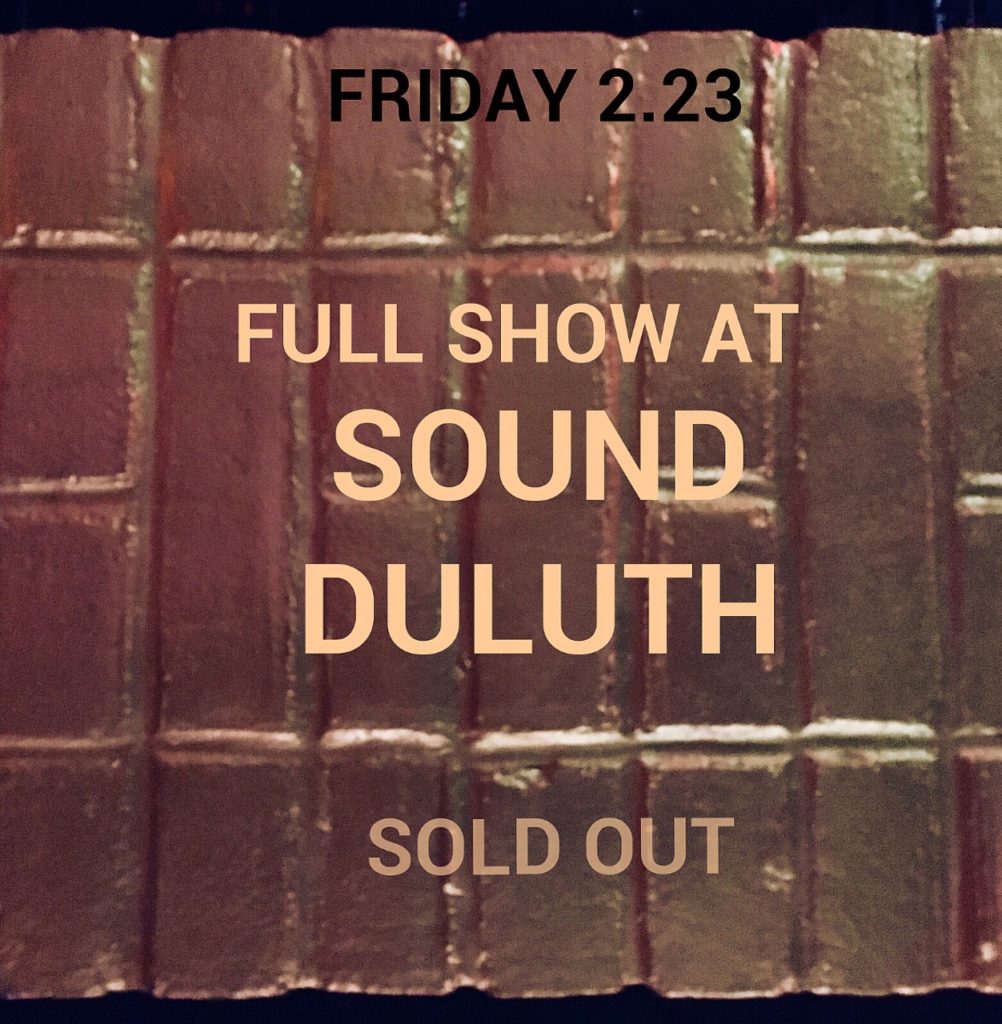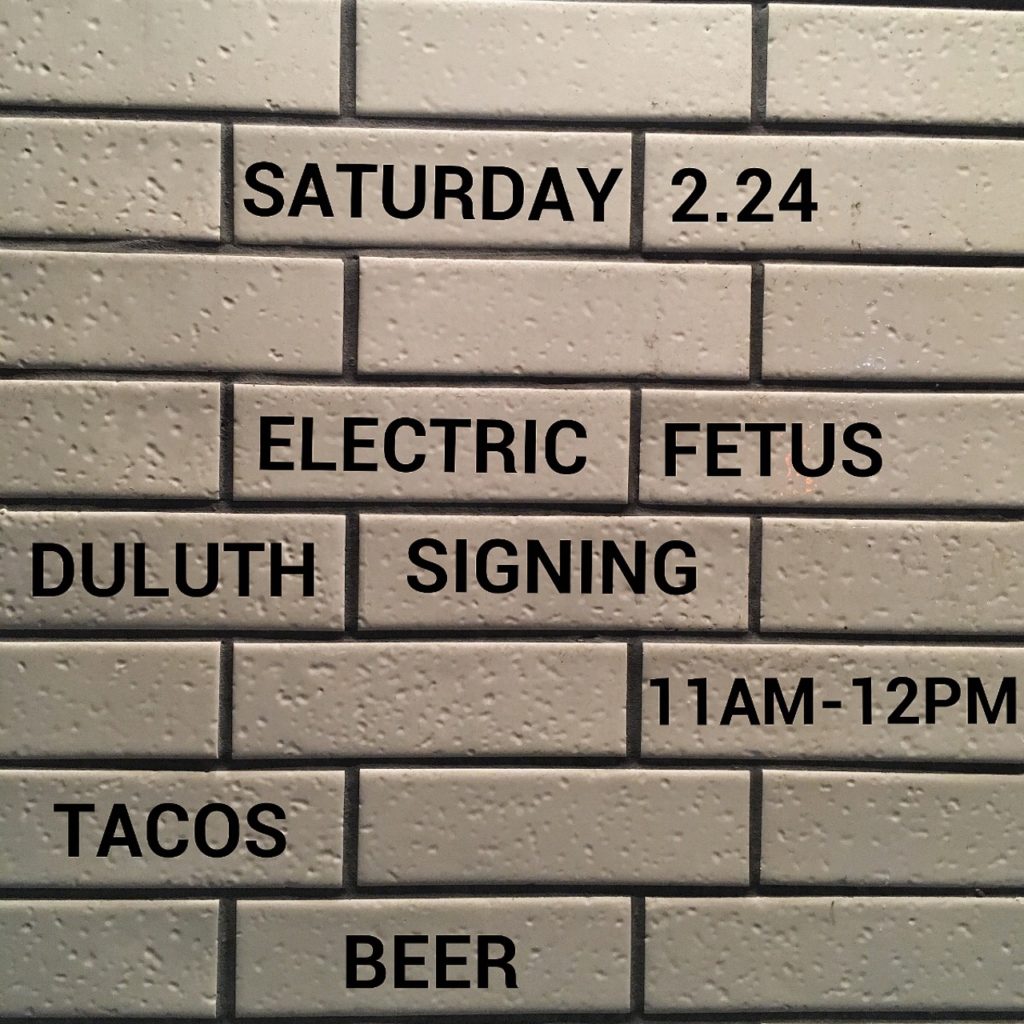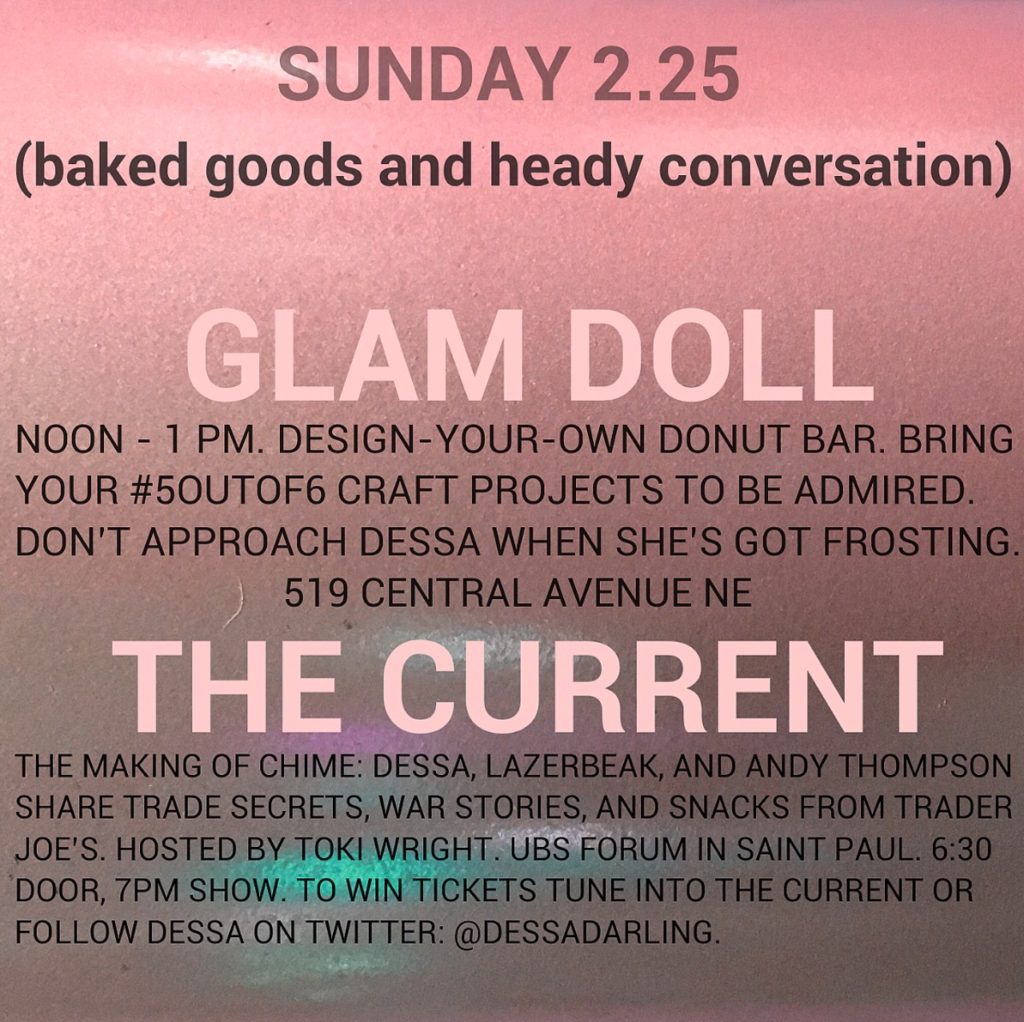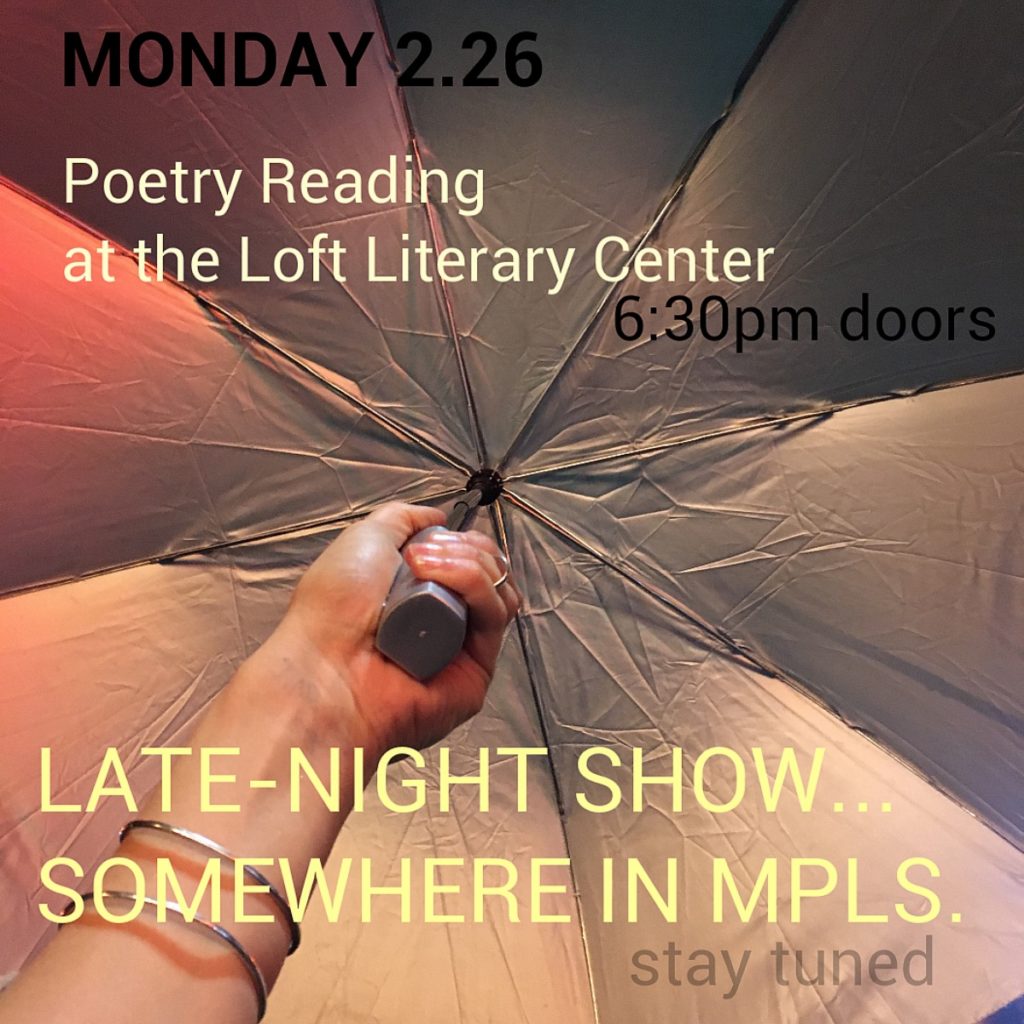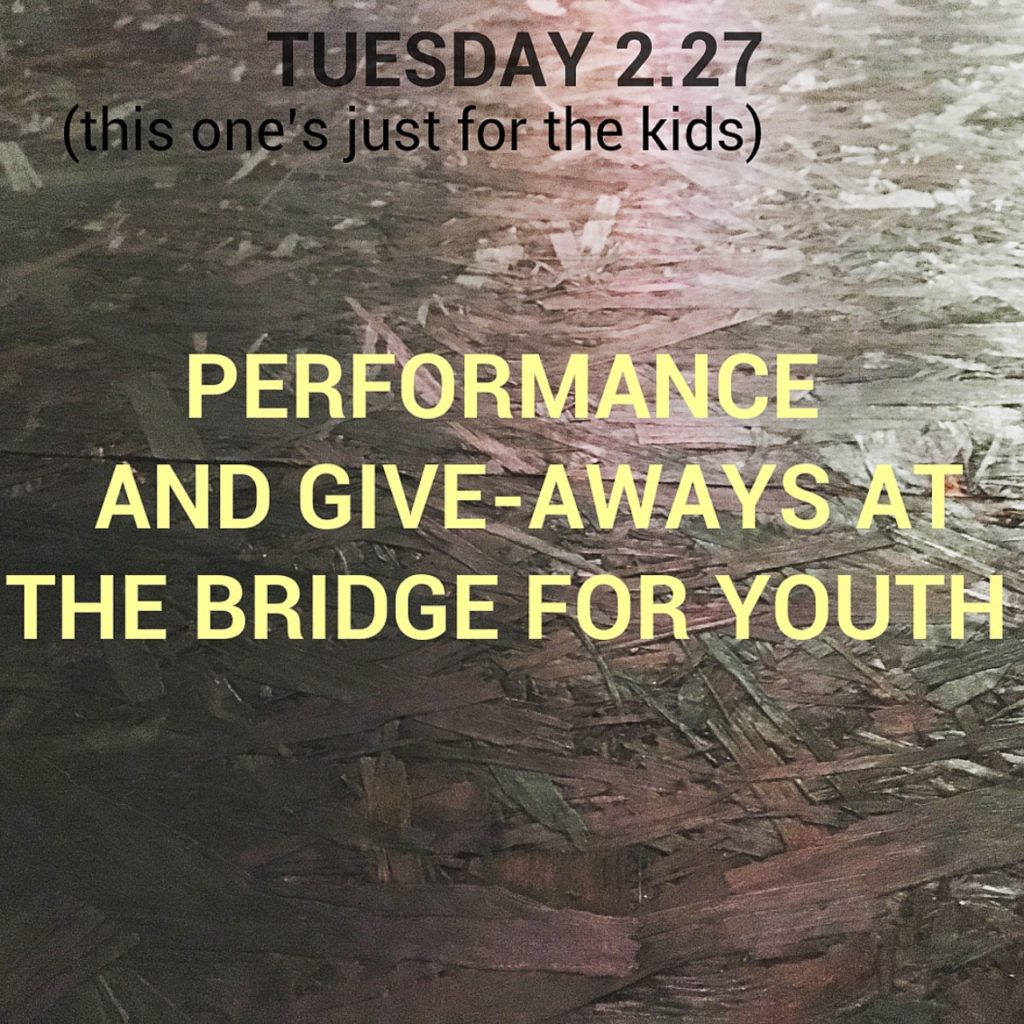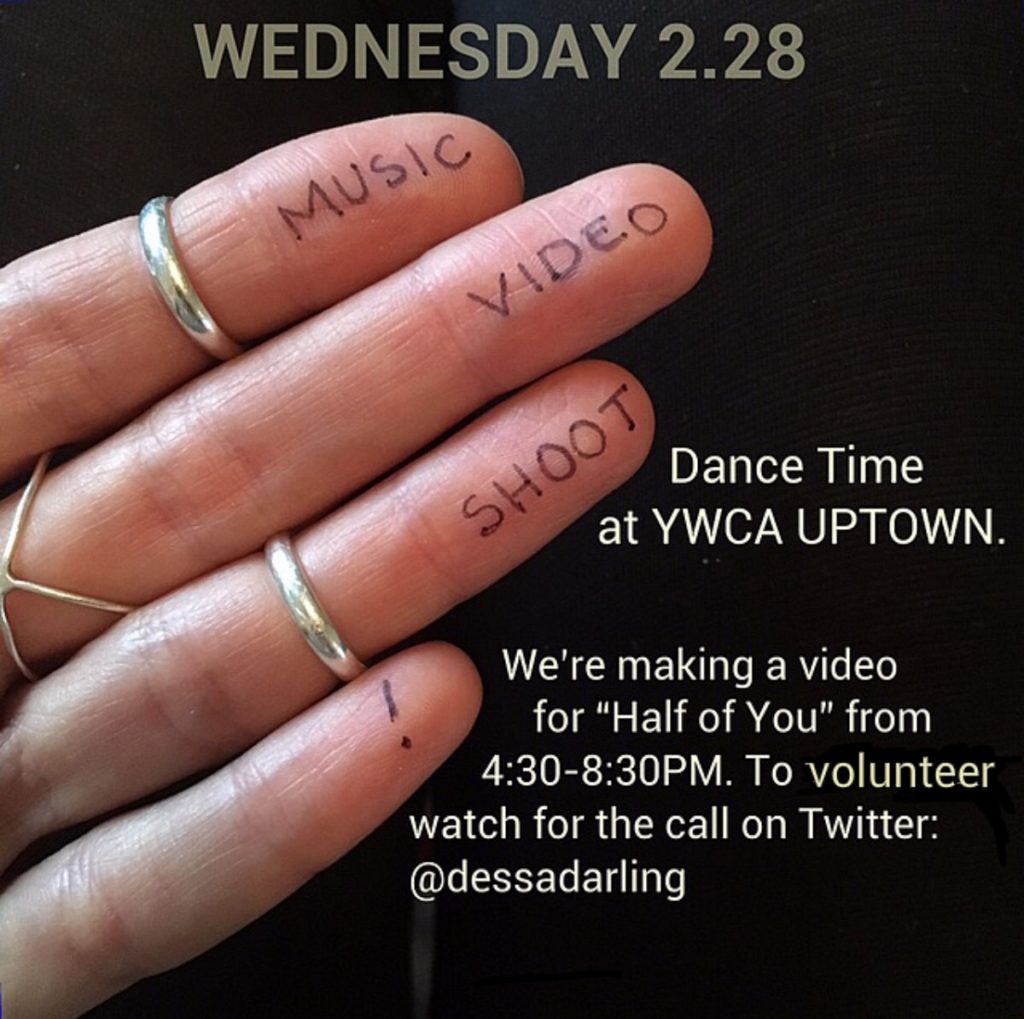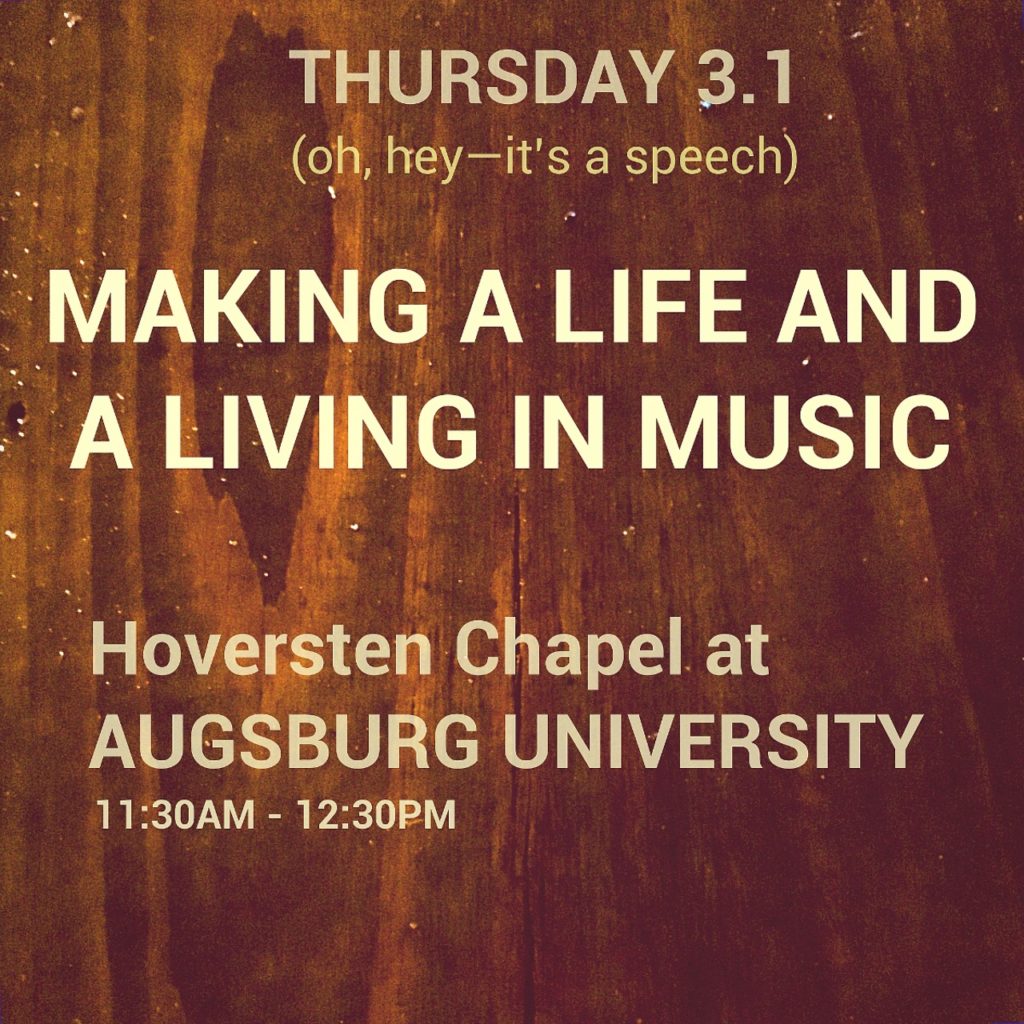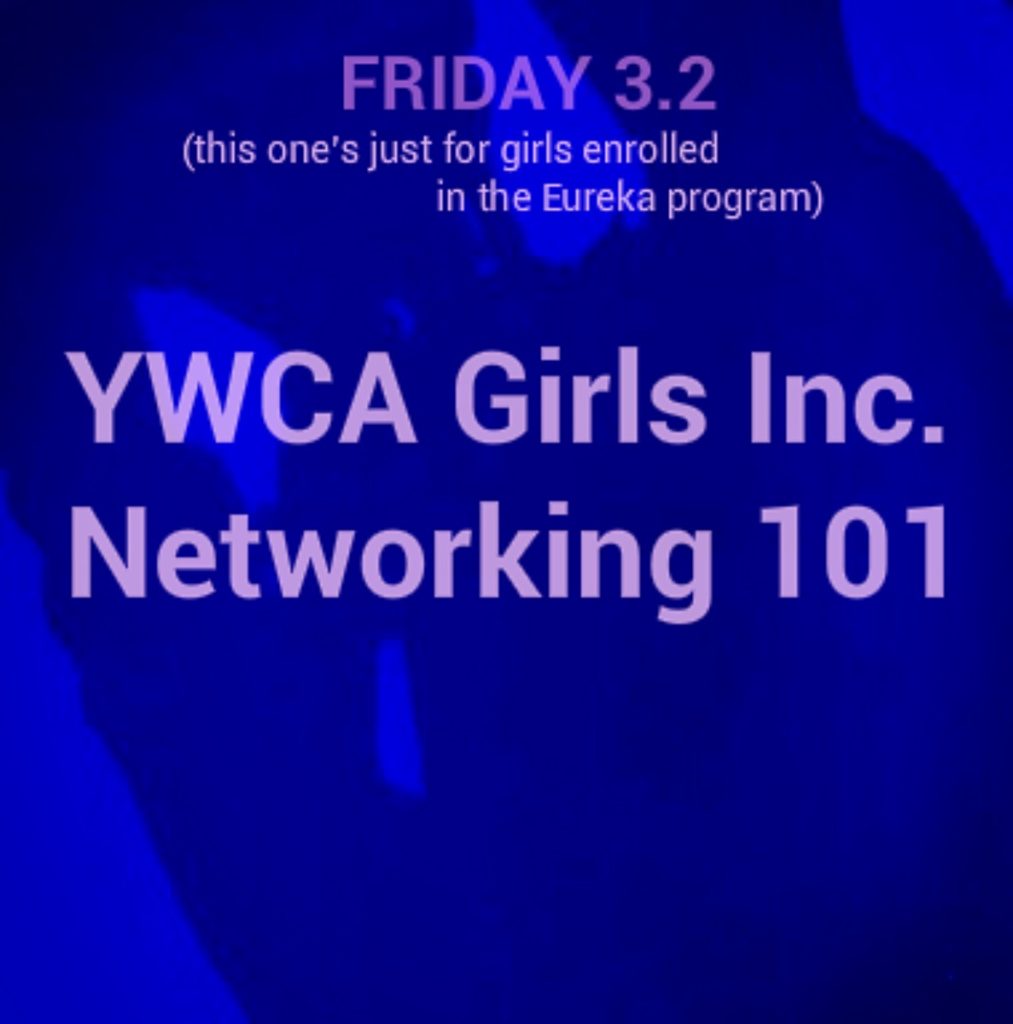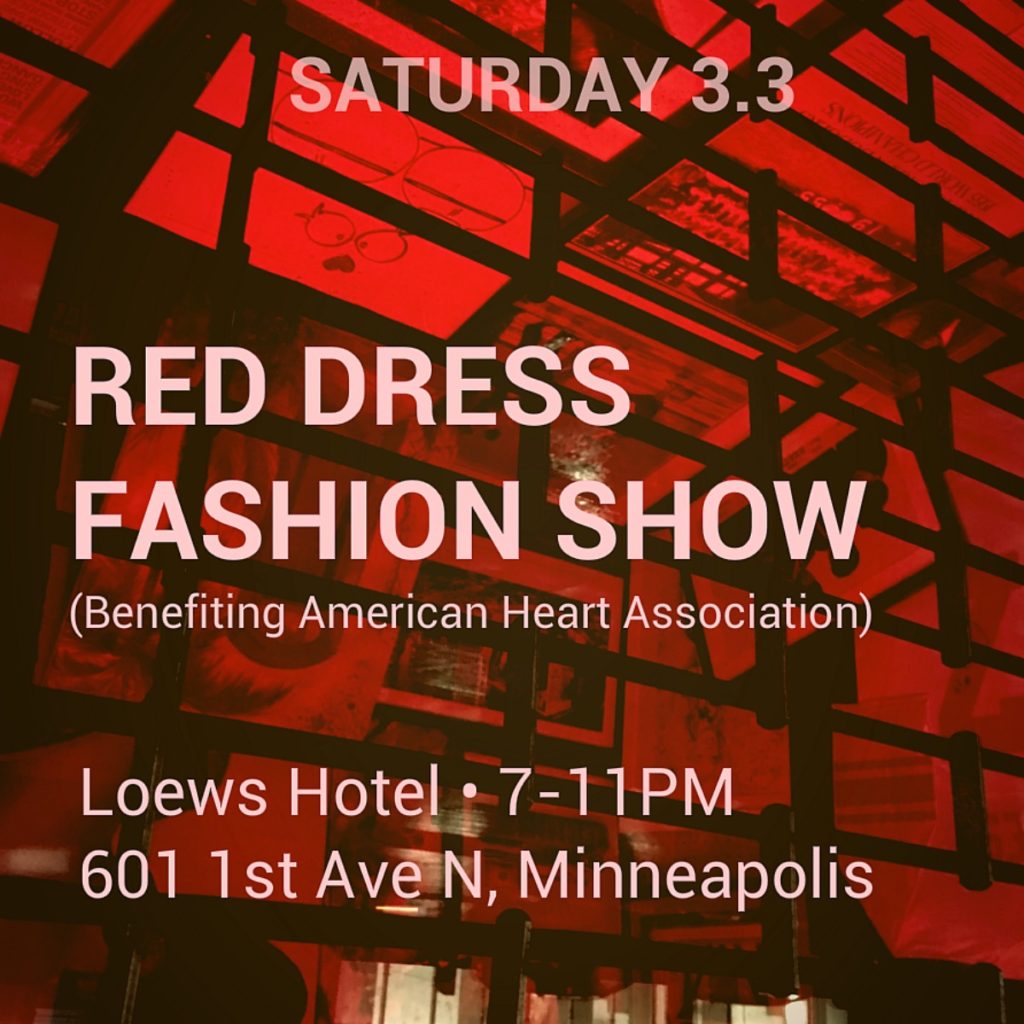 SO WILD! On a final Dessa note, today is the last day to send in your awesome artwork to be included in Dessa's "5 out of 6" lyric video project (which ends on Wed the 21st). We've been absolutely loving everything that's come in so far. Check out the details below and send something in if you can!
ARTS (AND RAP) AND CRAFTS
Are you good at cross-stitch? Chalk art? Calligraphy? Writing in frosting?
We're aiming to make a lyric video for the song "5 out of 6" with your images. If you'd like to participate, here's the plan:
1. Pick a line or two from the lyrics. (You can find those HERE)
2. Render that line in your medium of choice and take a hi-res, well-lit photo of your handwork.
3. Submit the photo to [email protected], using the lyric as the subject line.
4. Post the pic to the social media platform of your choice (Twitter, Facebook, Instagram, Pinterest—or LinkedIn for you professional types) with the hashtag #5OutOf6 and tag @dessa (IG) or @dessadarling (Twitter/Facebook) or @dessadoomtree (Pinterest).
We'll pull from these images to create the lyric video for the song. To be considered for inclusion, please submit and post your work by midnight Central Time on February 21st.
Ready, set, QUILT.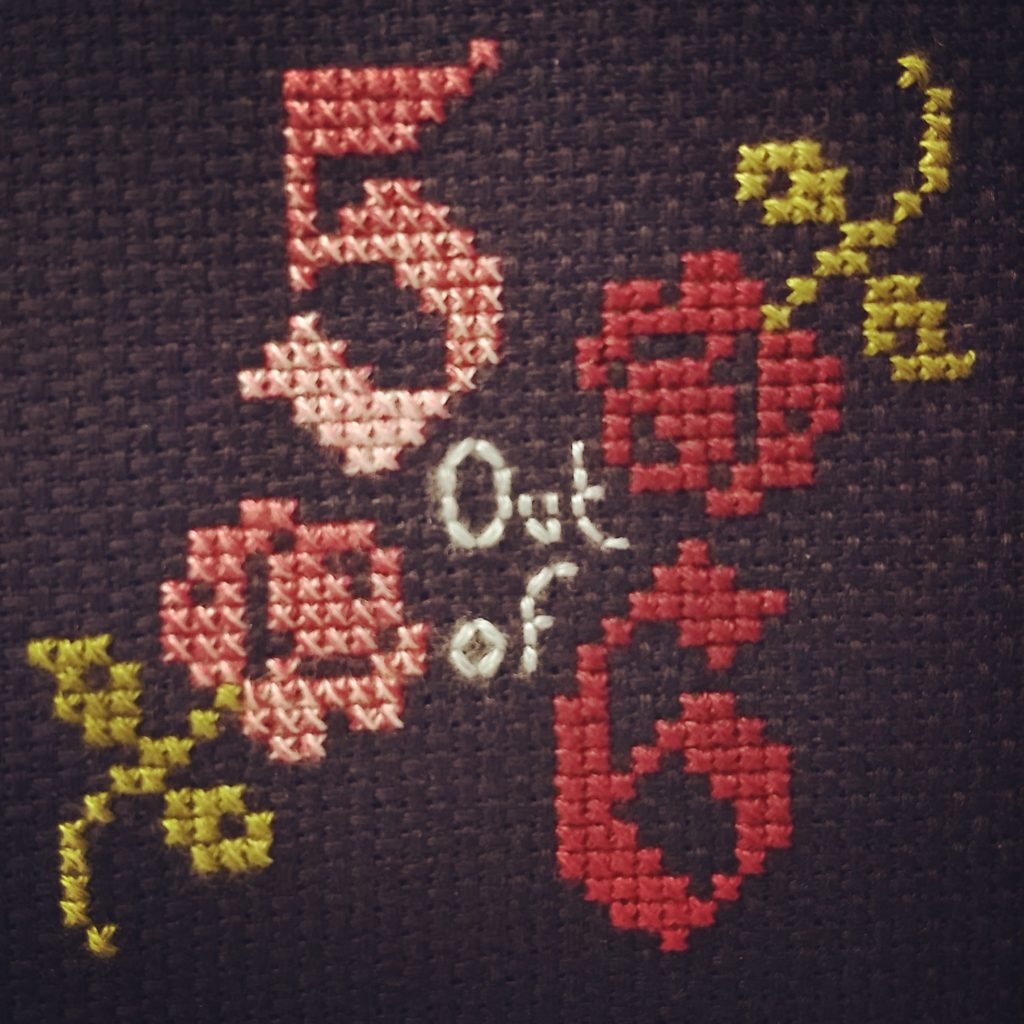 And speaking of submissions (SEGUE STREAK!), we're ramping up this Shredders Remix Contest something fierce right now. The tracks that have come in so far from all sorts of different producers, rappers, and singers have been straight heat, and there's still twelve days left before we start the public voting process. If you know anyone you think might be good for this, make sure to tag them or hit them up with this info. See all the details and schedule below. You've got until March 2nd, so get to it!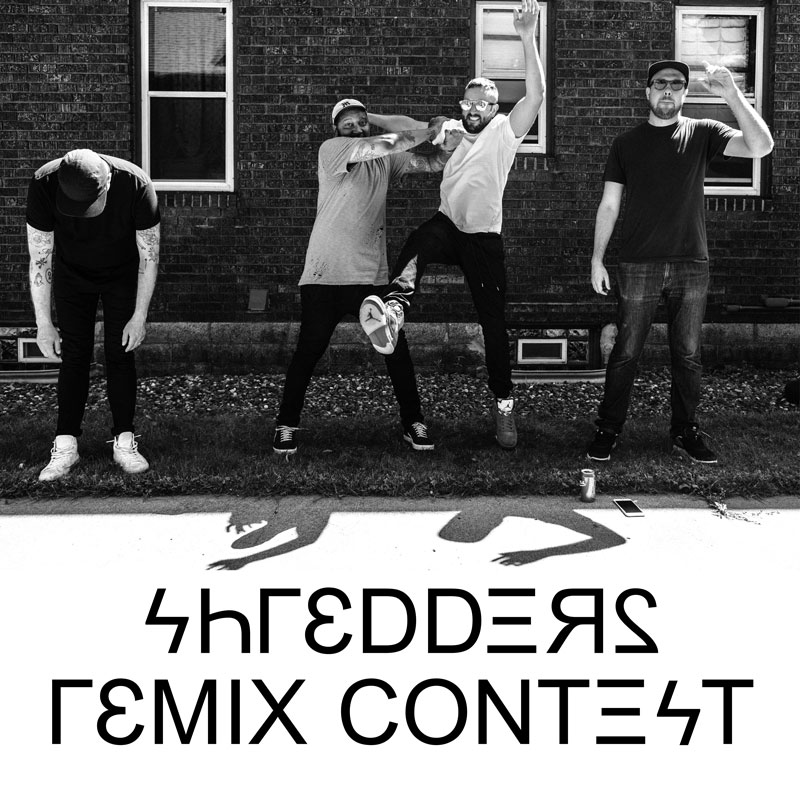 SHREDDERS REMIX CONTEST DETAILS
Download the Dangerous Jumps instrumental/acapella pack from Shredders right HERE.
PRODUCER/DJ DIRECTIONS
Pick one of the DANGƐΓOUϟ JUMPϟ acapellas and create your own remix with new backing music. Bounce out your song and email the file or download link to:
-> [email protected] <-
by the deadline of Friday, March 2nd (no attachments over 15 MB please).
RAPPER/SINGER/VOCALIST DIRECTIONS
Pick one of the DANGƐΓOUϟ JUMPϟ instrumentals and record your own song over it. Bounce out your song and email the file or download link download link to:
-> [email protected] <-
by the deadline of Friday, March 2nd (no attachments over 15 MB please).
PUBLIC VOTING AND TOP 10
On Monday, March 5th we will post all of the submissions in two separate categories: vocalists and producers. The public will be able to vote through Monday, March 12th, at which point the Top 5 most voted submissions in each category will be decided. All 10 winners will receive a very special Shredders merch care package courtesy of the Doomtree Webstore.
SHREDDERS GRAND PRIZE WINNERS
On Tuesday, March 20th we will announce Shredders' top pick for best vocal remix and best production remix. The grand prize vocalist winner will receive an exclusive unreleased collaborative beat from Lazerbeak and Paper Tiger for use on a future song of their choice, free of charge. The grand prize production winner will receive an exclusive unreleased verse from P.O.S and Sims for use on a future song of their choice, free of charge. Both winners will receive lots of social media love from Doomtree and a special artist spotlight on an upcoming edition of Tuesdays With Lazerbeak, and each completed new song will be released digitally on Doomtree Records.
HAVE FUN!
For those that just want to bump the Dangerous Jumps instros and vibe out, you can download them from iTunes or stream them from Spotify.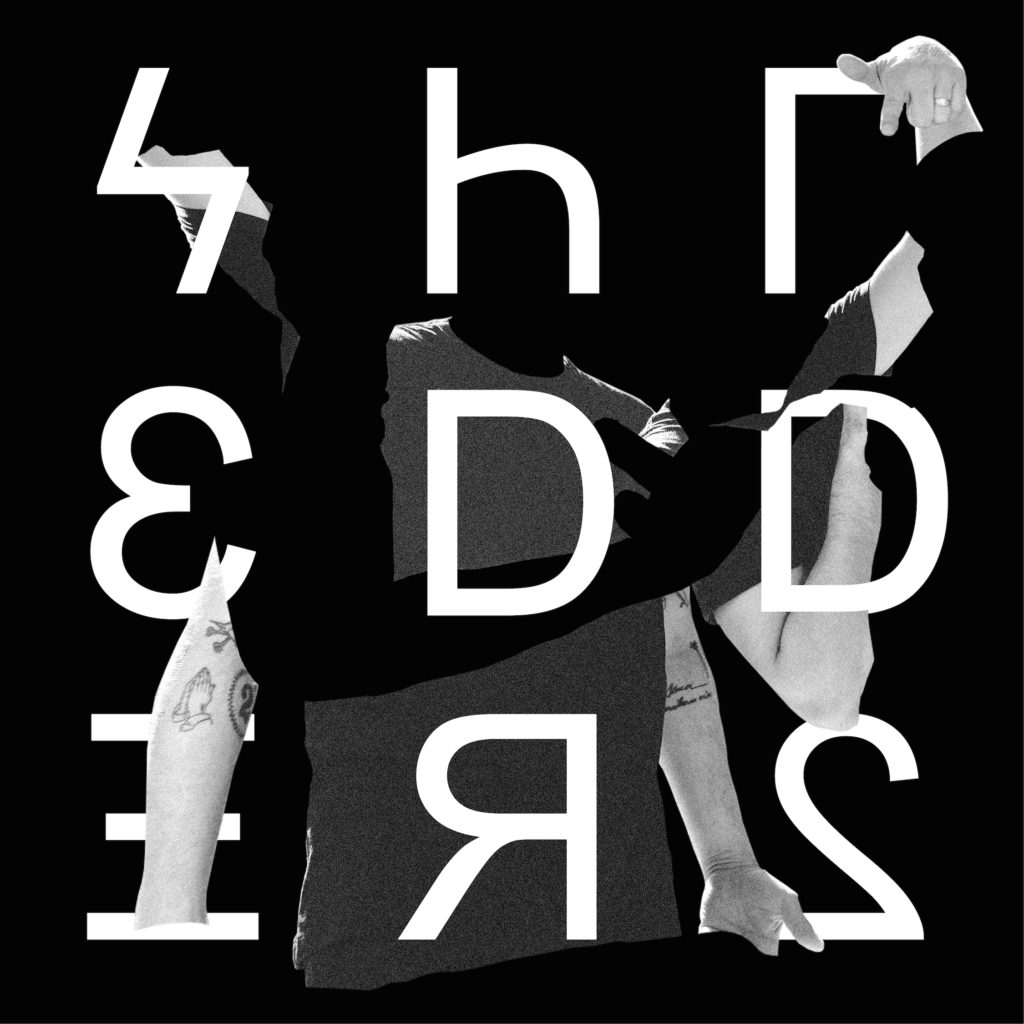 P.O.S, Sims, Paper Tiger, and myself are enjoying our first week off since Shredders tour kicked off at the start of the year. Our good bud and excellent FRIENDTOGRAPHER Chad Kamenshine was on hand in NYC before our sold-out show at Brooklyn Bowl last week to take some before-hand hang shots. We've worked with Chad for a ton of years now, and he always crushes it. Such a blast. Check out some of the footage below and read his whole post about the day HERE.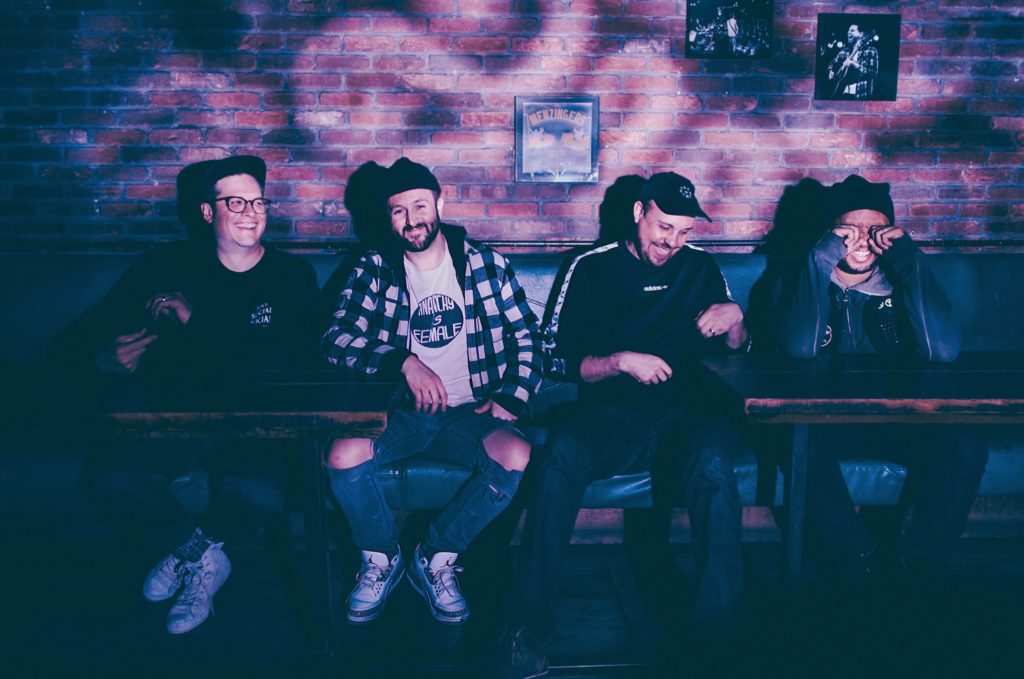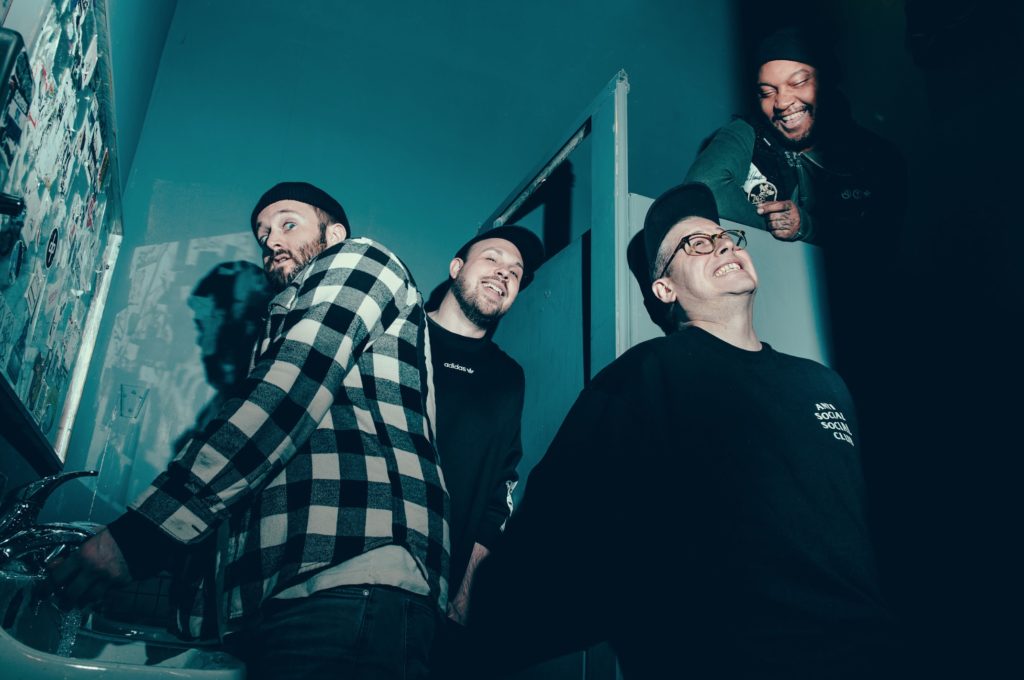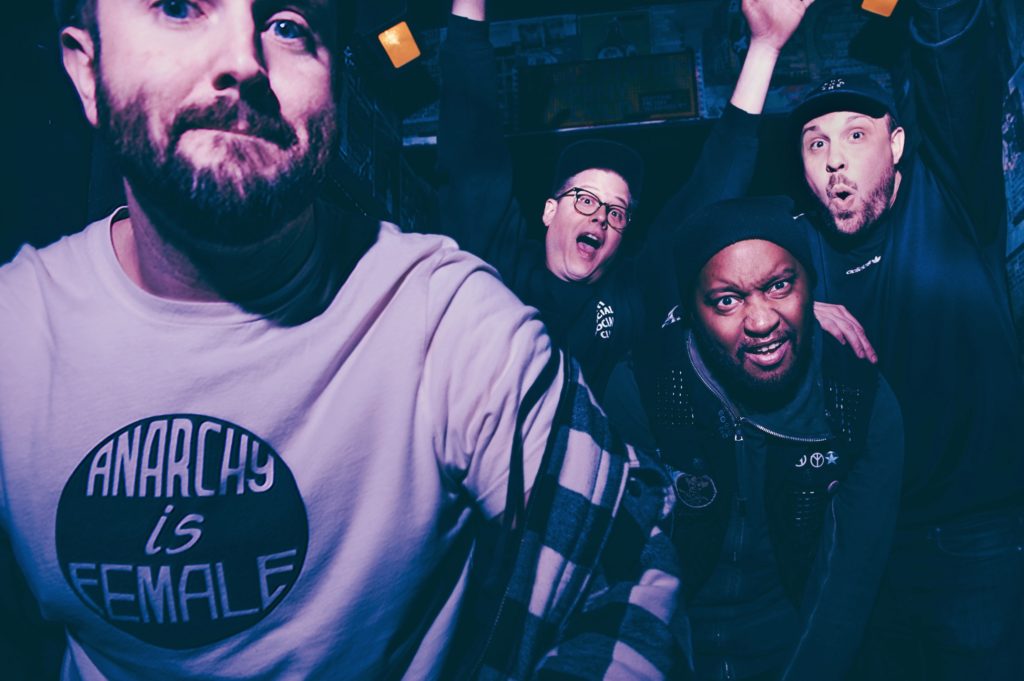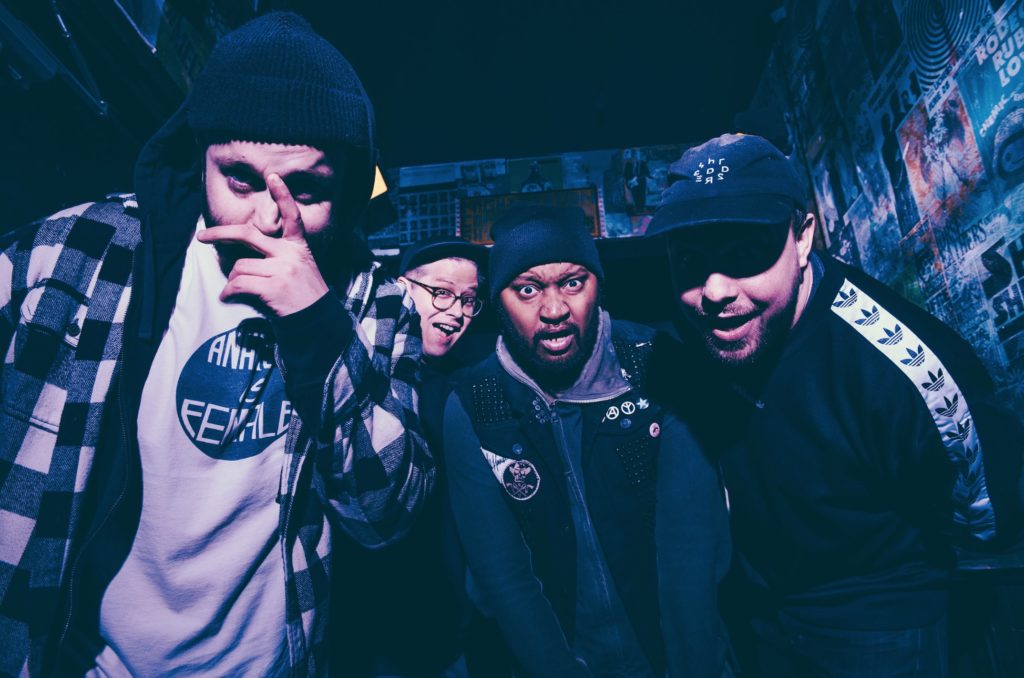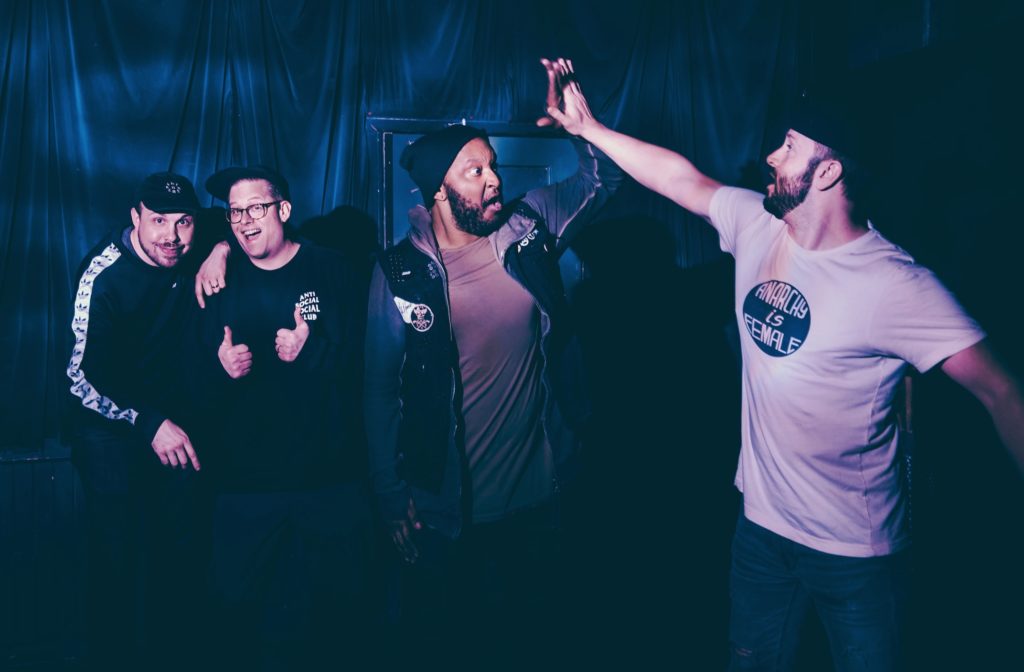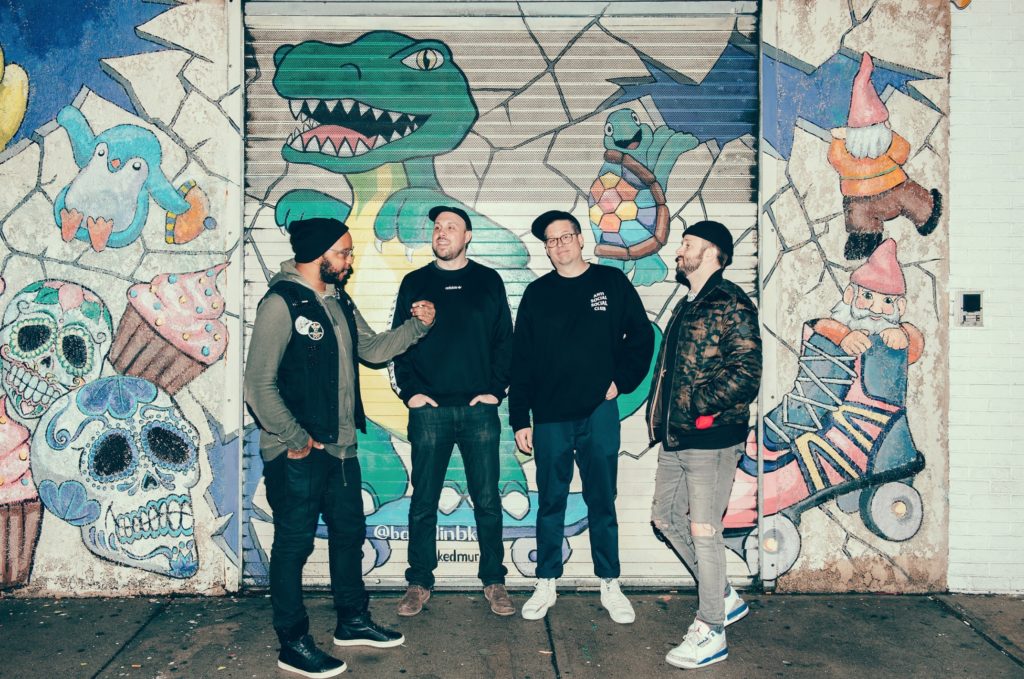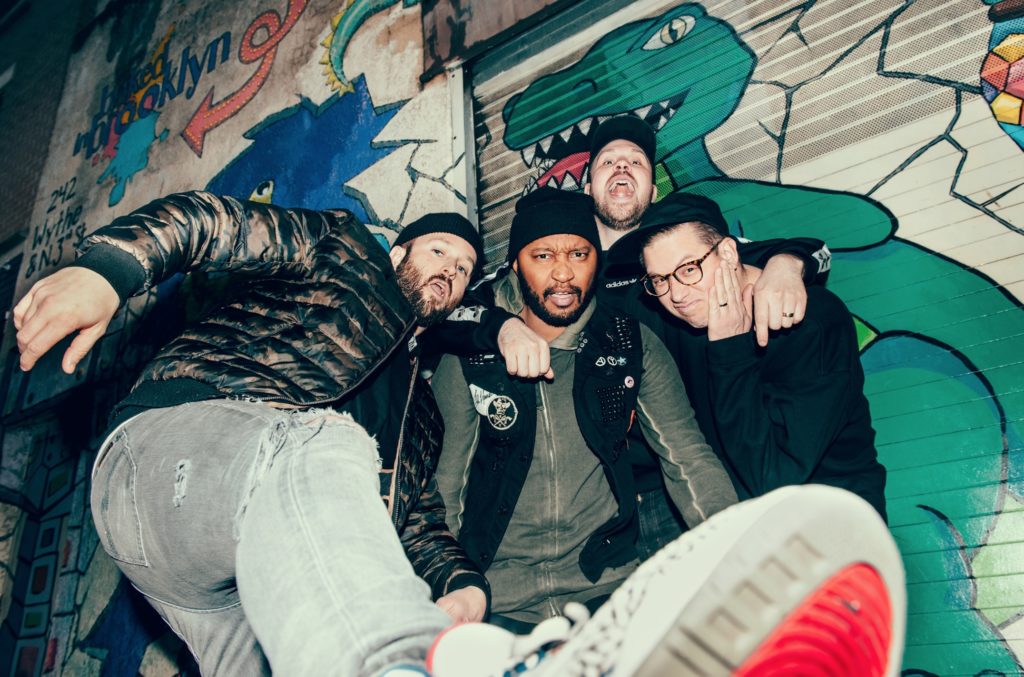 And lastly, here's a bunch of performance shots that Chad took during the Brooklyn show. Man that was so much fun. Thanks Chad!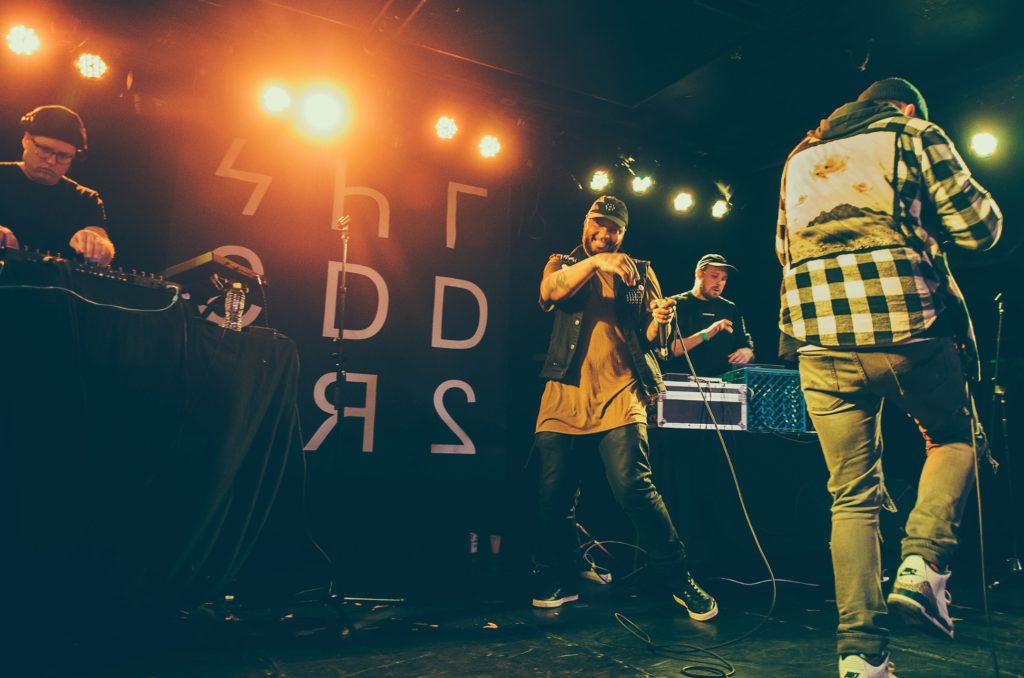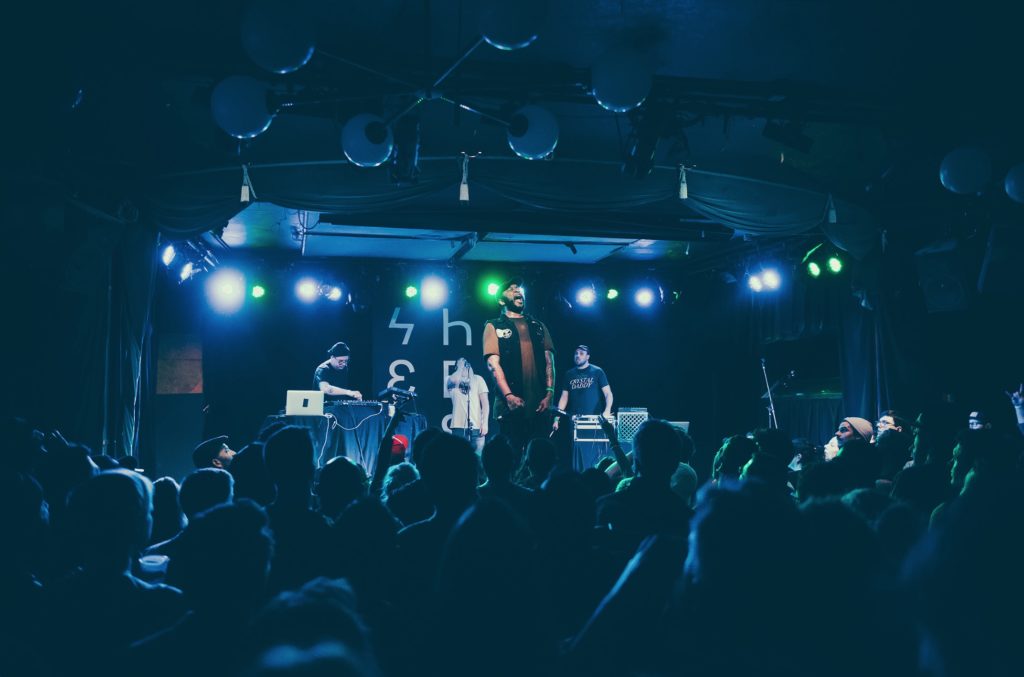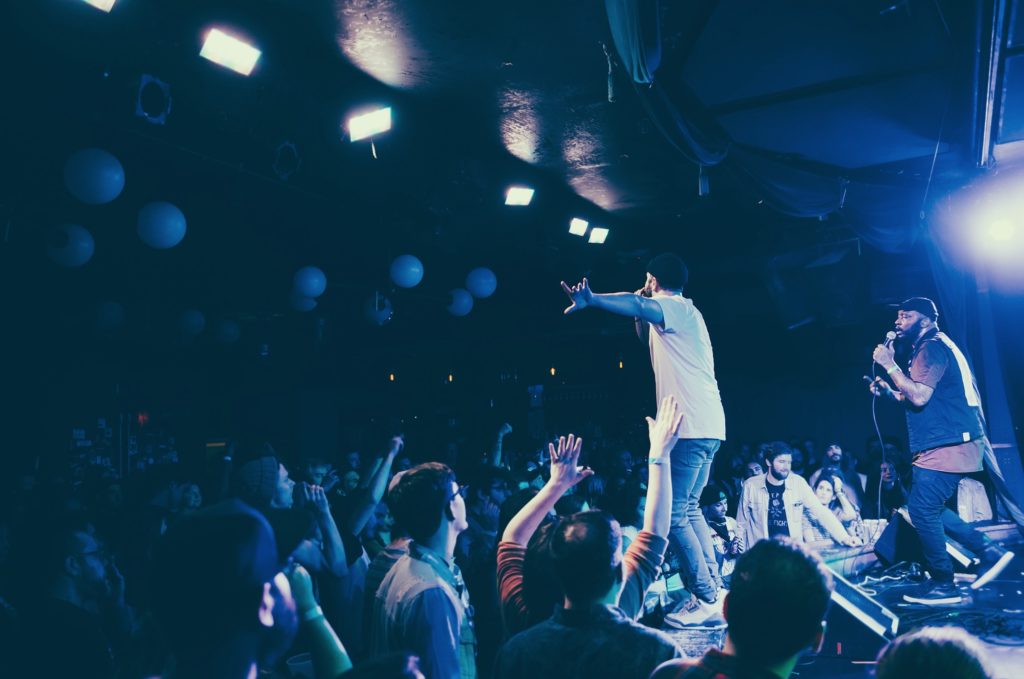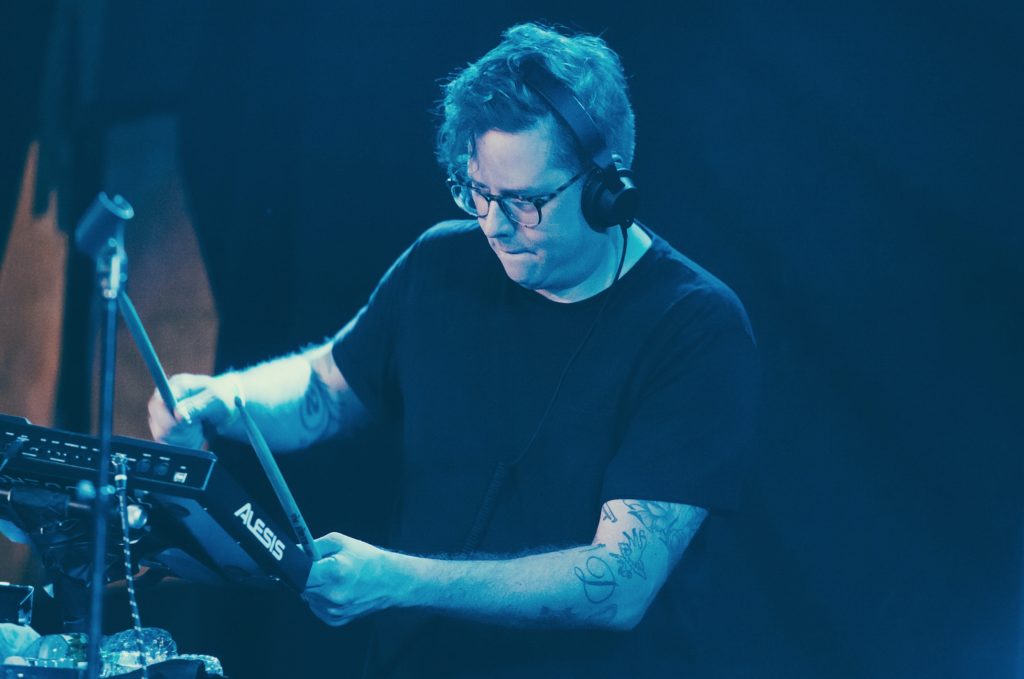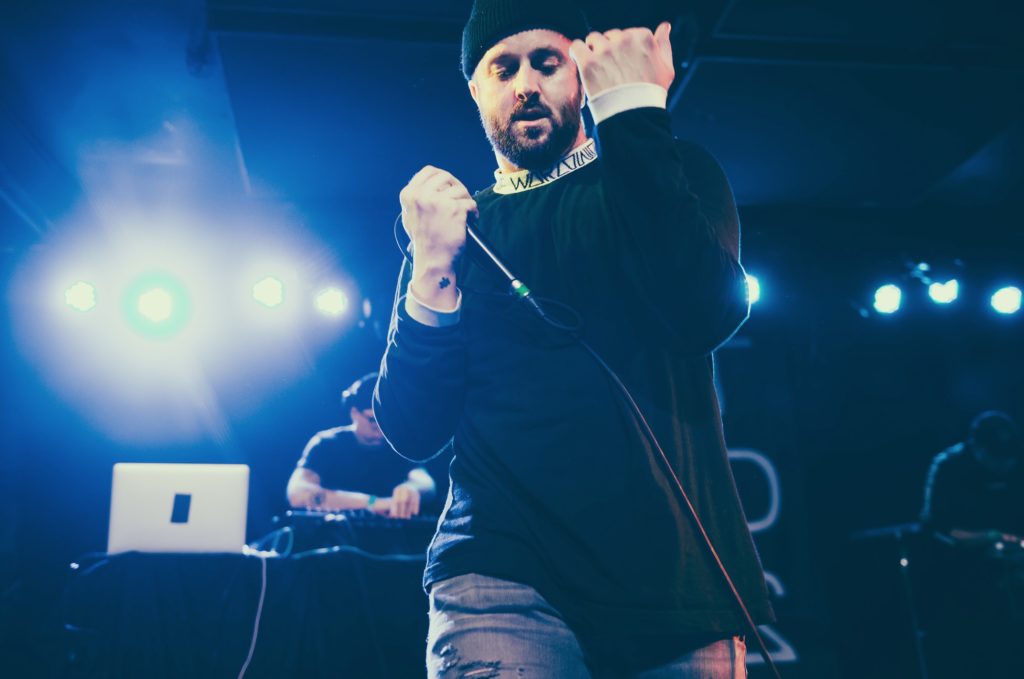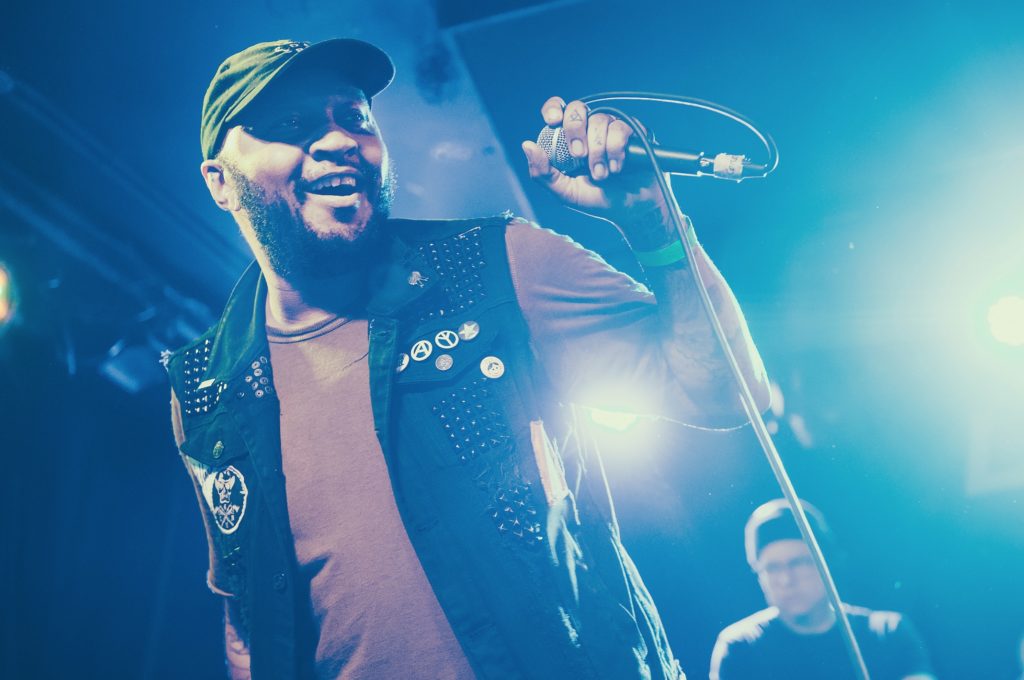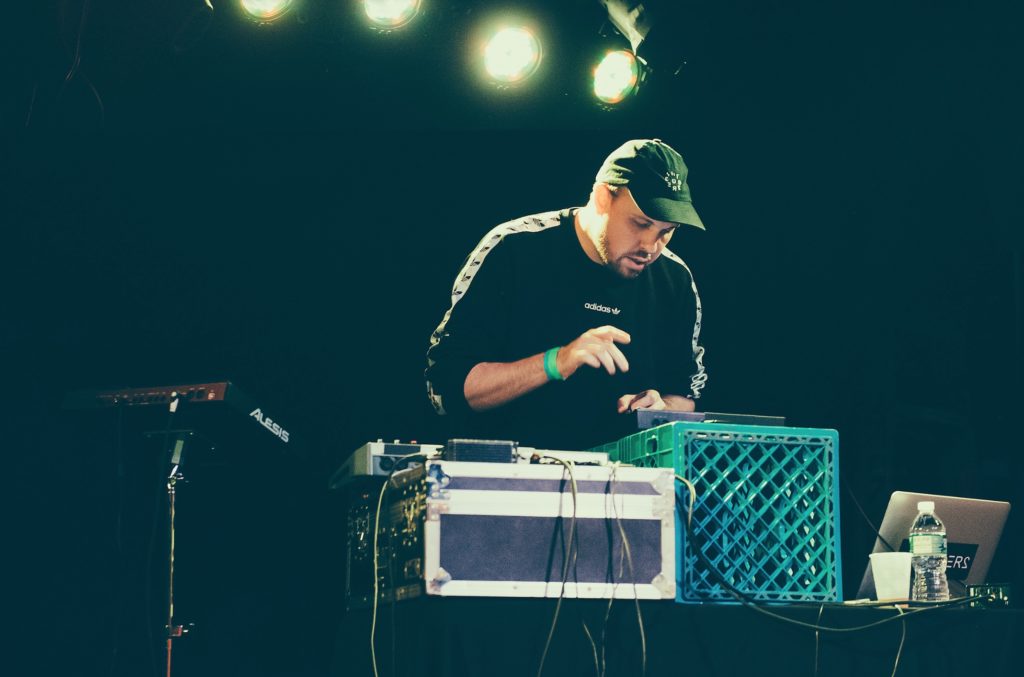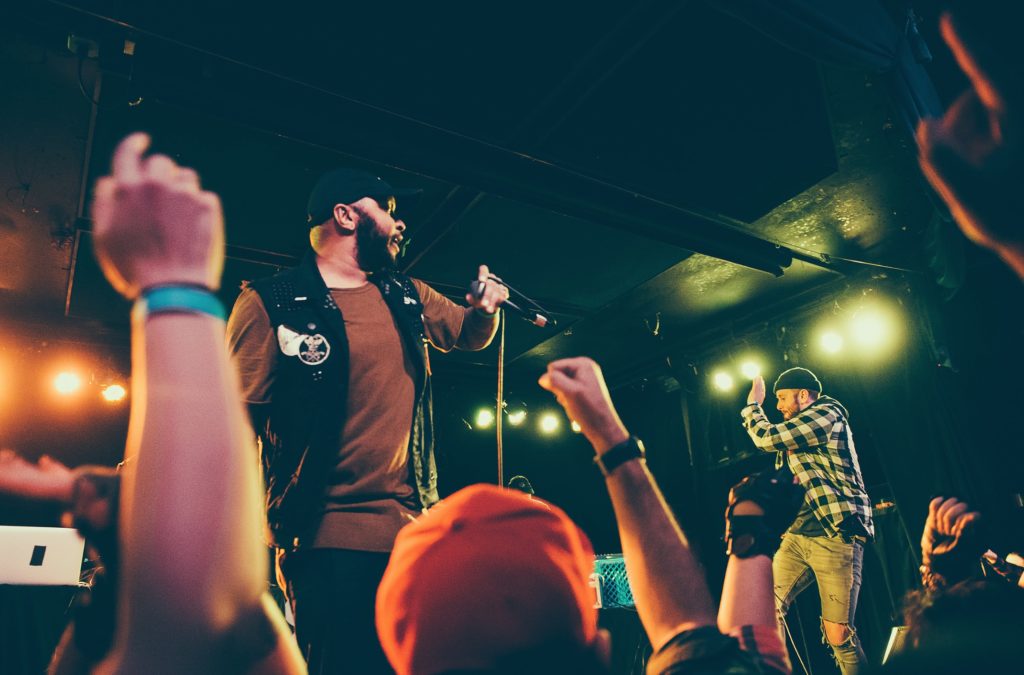 BING BING BING. That does it for this post. I hope you all have a truly wonderful week gearing up for the release of Chime. You can stream, purchase, and spread the word far and wide about the album with this link right HERE (smarturl.it/DessaChime). So excited to celebrate with everyone on Friday once this thing gets launched into the world. And then I'll see you back here next Tuesday before I take a real-deal week off and go to DISNEY WORLD! Dont tell my kids yet, it's a surprise.
— Beak
Twitter: @_LAZERBEAK_
Instagram: @lazerbeak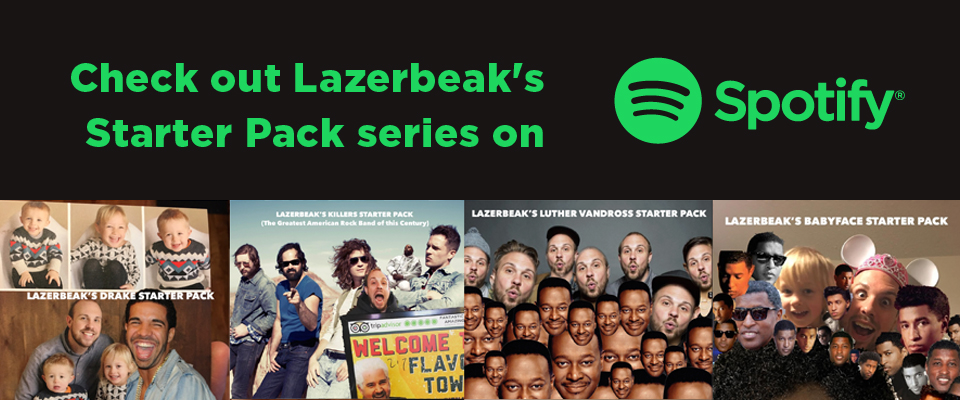 SUPPORT THIS BLOG LYFE. TUESDAYS WITH LAZERBEAK SHIRTS AND POSTERS AVAILABLE NOW!!!