Welcome back to a brand-spanking-new edition of Tuesdays With Lazerbeak! I'm back in the office after my #UmbilicalHerniaSurgery last week, and there's all sorts of stuff to catch up on. First up, Dessa just released maybe the greatest lyric video of all time for Chime standout "5 out of 6." The visual was compiled from hundreds of handcrafted images sent in from all over the world and then edited down by director Adam Dunn. Watching this brings such a huge smile to my face just thinking of how many people collaborated to bring this idea to life. Shouts to the American Craft Council for premiering and highlighting the video on their site, and extra shouts to every single one of you who contributed to make this happen. Check out the video below and help us spread the word!
Dessa – "5 out of 6" Lyric Video
In other big Dessa news, today we're making a limited quantity of new Dessa merch available exclusively at the Doomtree Webstore. We were able to save 50 copies of the Record Store Day "Quinine" 7″, and we also have some of the new pencil bags, windbreakers, and t-shirts from the road. First come, first served. Check it all out below and go to the Webstore right HERE to grab yours before they're all gone.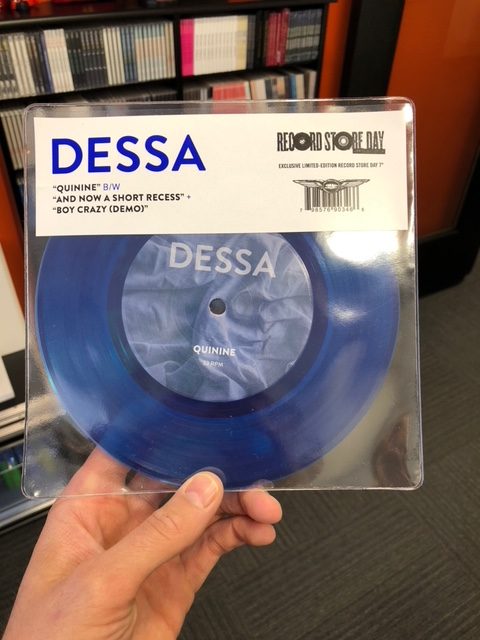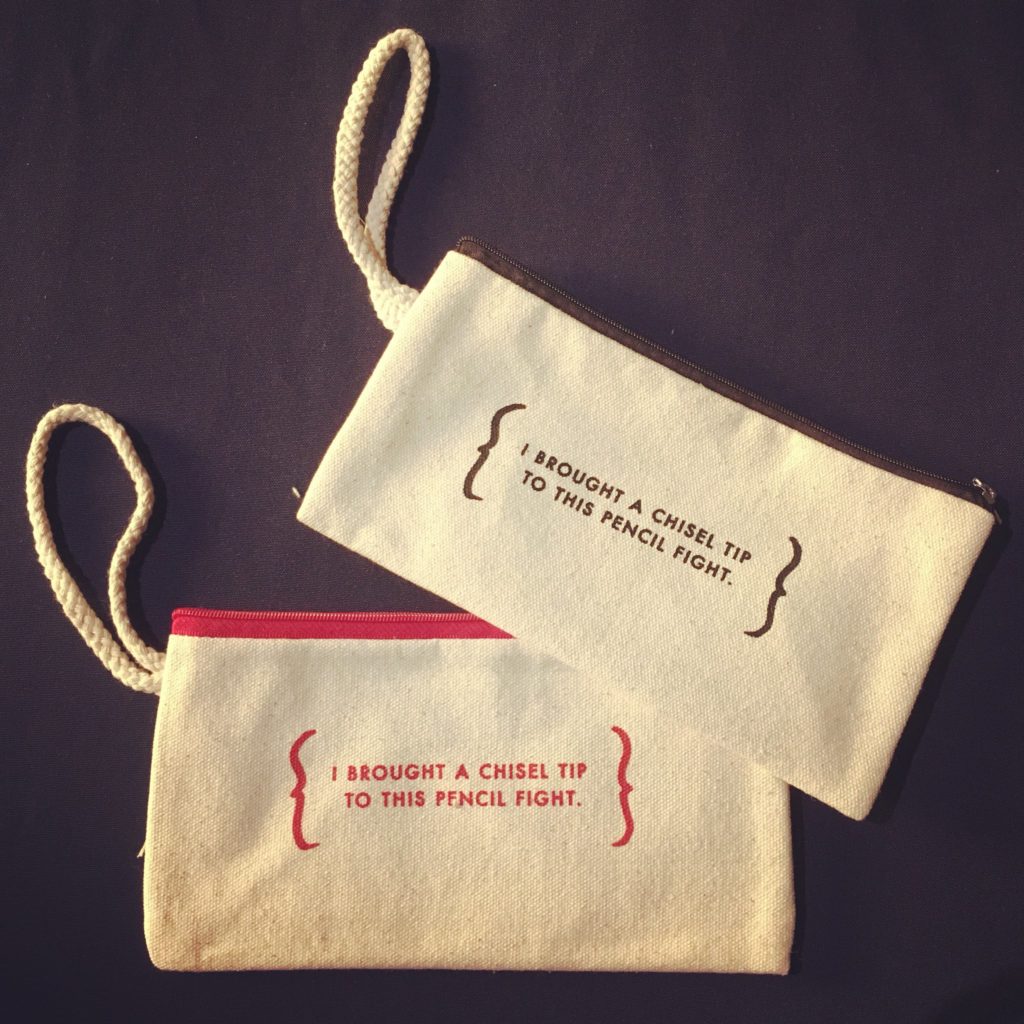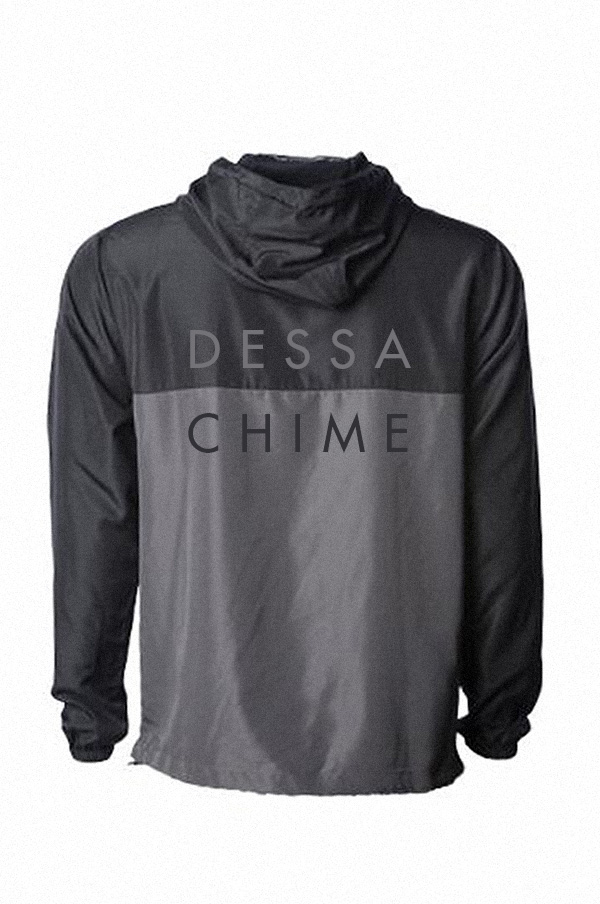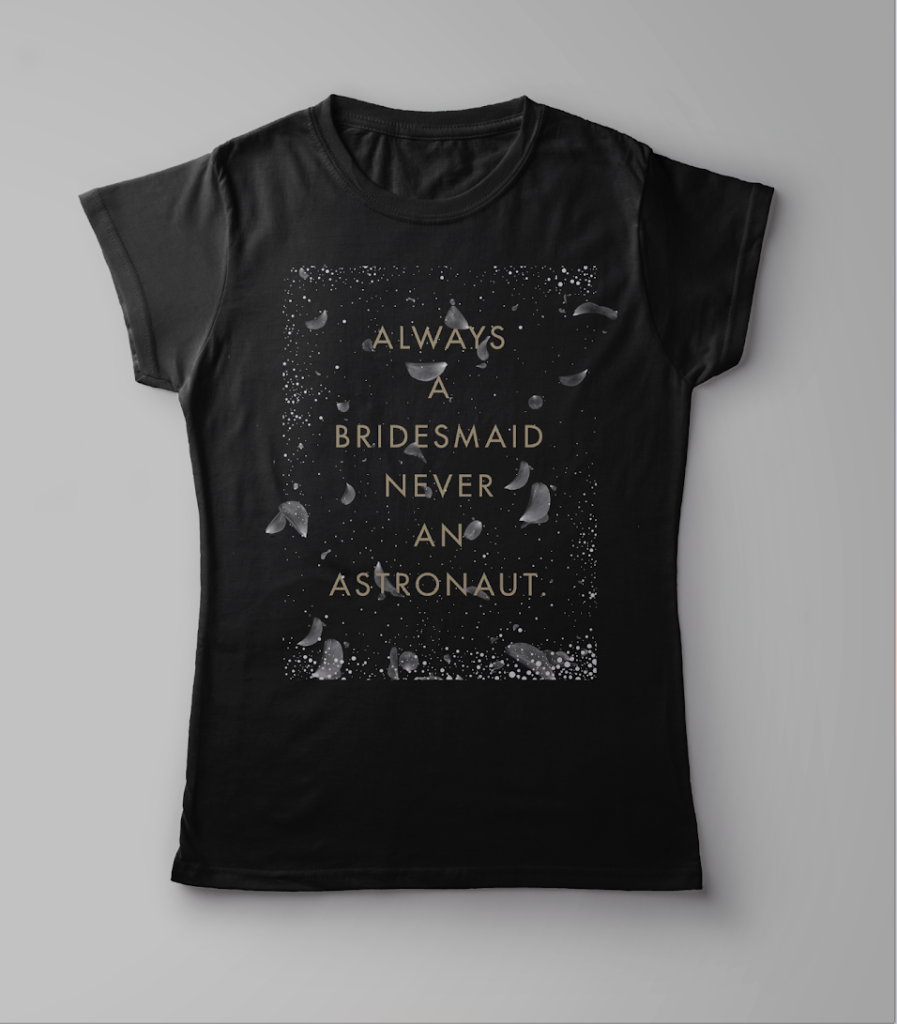 Speaking of the road (SEGUE), Dessa and her band are back out on tour headed down the West Coast as we speak. Here's the gang posted up after the first show in Seattle last weekend.
And here's Dessa practicing the old-as-time adage "Rise and Grind."
The window seat view from a 15-passenger van.
Aaaaaaaand Dessa posted up with a cutout of her new book (which just happens to feature a similar picture taken out of the window of a moving van – SEGUE STREAK!)
Future's looking bright.
The guys stopped by the Audiotree studios while in Chicago earlier last month and taped an entire live session. Check out the full half hour performance below. If you've yet to see the show up close and personal this will serve as a great indicator of how cool the studio versions transition into live pieces.
Dessa and the squad will be in Denver tomorrow (5/2) and Vegas on Thursday (5/4) before hitting beautiful California for a five-show run that will take them into the middle of next week. Check out all the upcoming dates below and grab your tickets HERE before they sell out.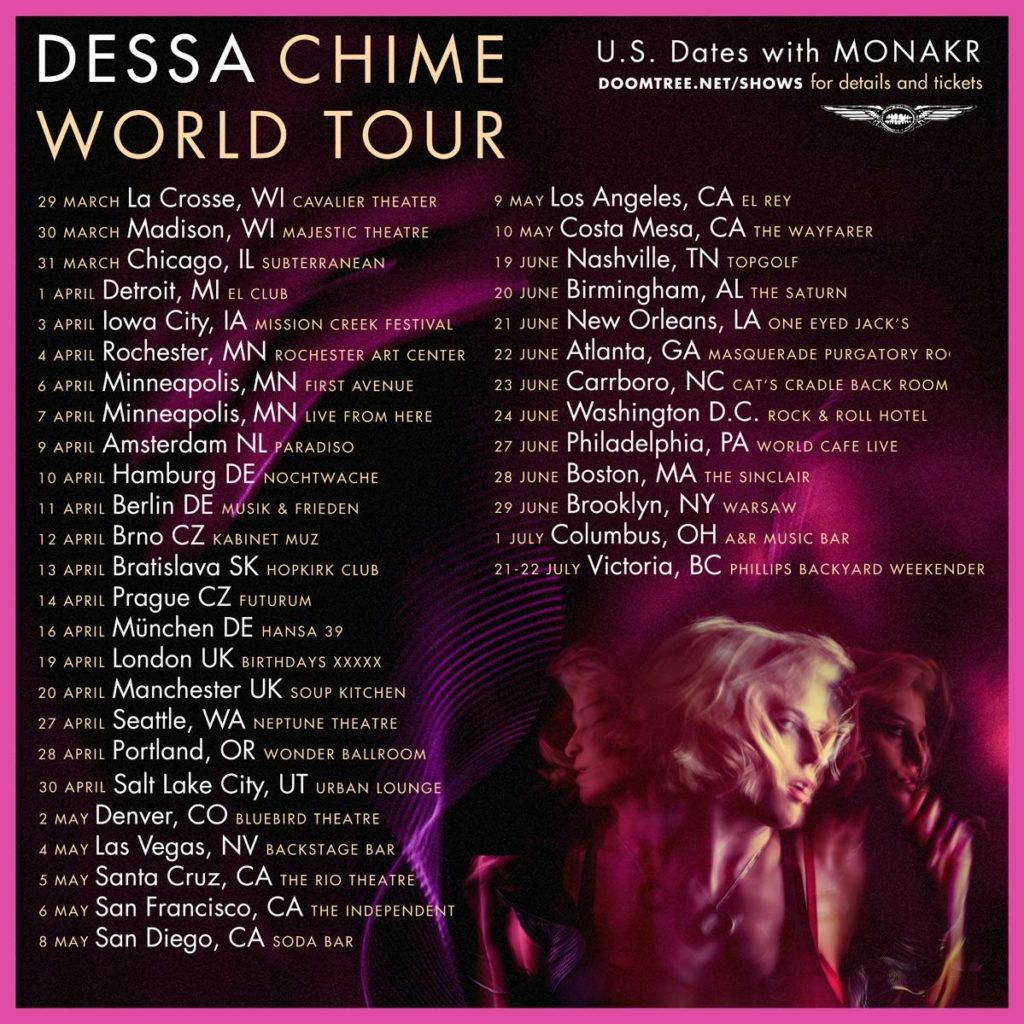 Speaking of awesome tours (SEGUE STREAK FOREVER!), Shredders just announced another epic mini-run taking place in June. This time around P.O.S, Sims, Paper Tiger, and myself will be headed down south to one of my favorite regions in the entire country. Jacksonville, Chapel Hill, Atlanta, and New Orleans are all on the docket this time around and I could not be more excited. FLORIDA! Finally. Check out all the June dates below and please tell all of your peoples to grab tickets right HERE. We're still working to prove and solidify our rep in this part of the US, and nothing shows promoters and clubs that we mean business like a bunch of people in the room.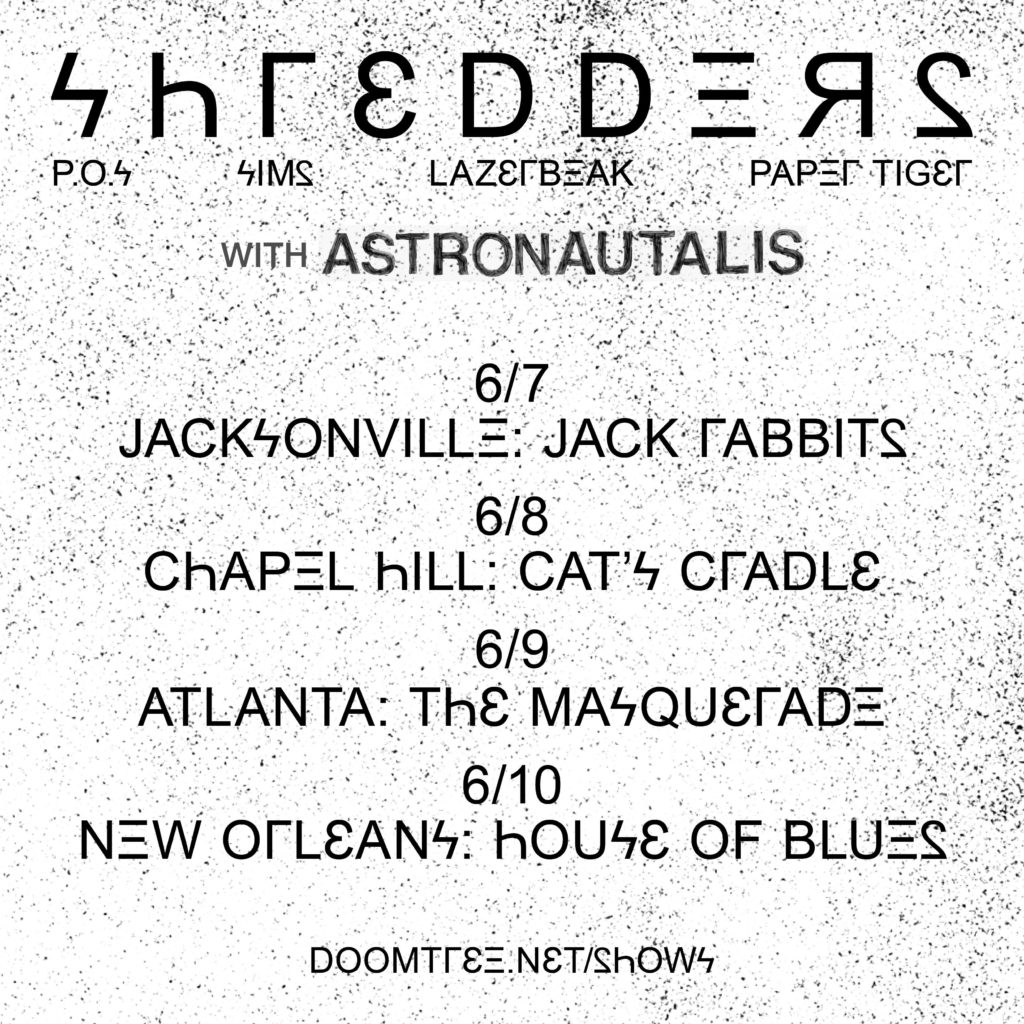 For those of you closer to the Midwest, Shredders will be playing a rare hometown show on May 19th at Bauhuas Brew Labs' bonkers outdoor Art-A-Whirl party. Completely FREE.99 plus sets from our buds Har Mar Superstar and Nooky Jones to boot. Definitely gonna be one for the ages. Check out the full lineup below and go right HERE for all the sweet deetz.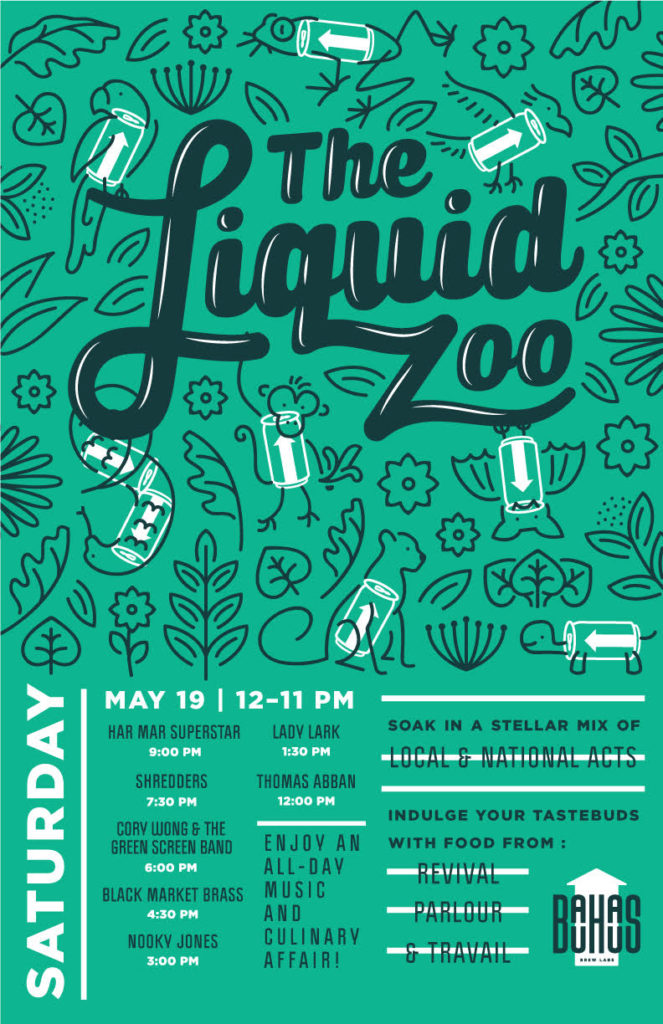 While we're on the touring subject, don't forget to check out this string of solo P.O.S dates next week. He'll be teaming up with DJ Rowsheen and Serengeti for five Midwest shows from May 8th to the 15th. Details below, grab those tickets right HERE.
And of course, there's this year's Rock The Garden on June 16th if you wanna catch P.O.S doing a solo performance in Minneapolis. Insanely stacked lineup. Tickets HERE.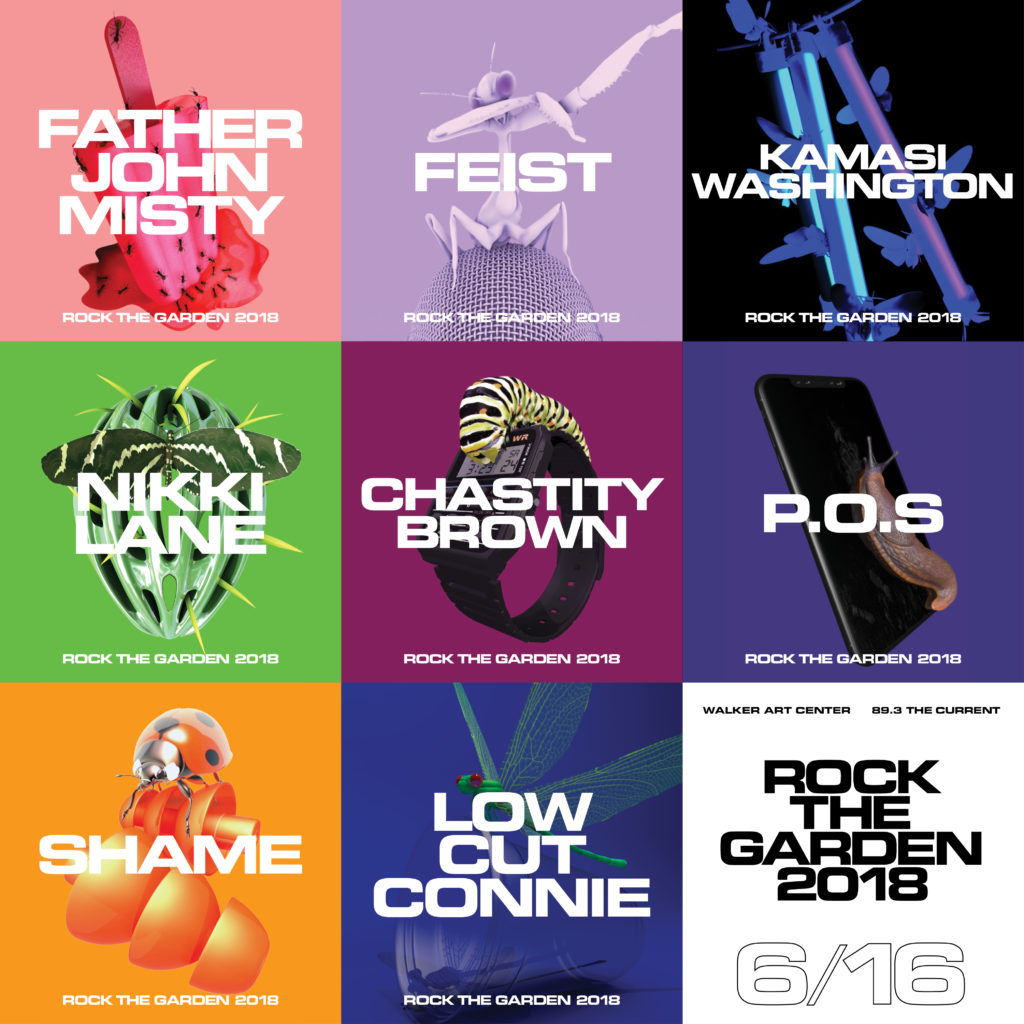 And this just announced Sioux Falls show too. Info HERE.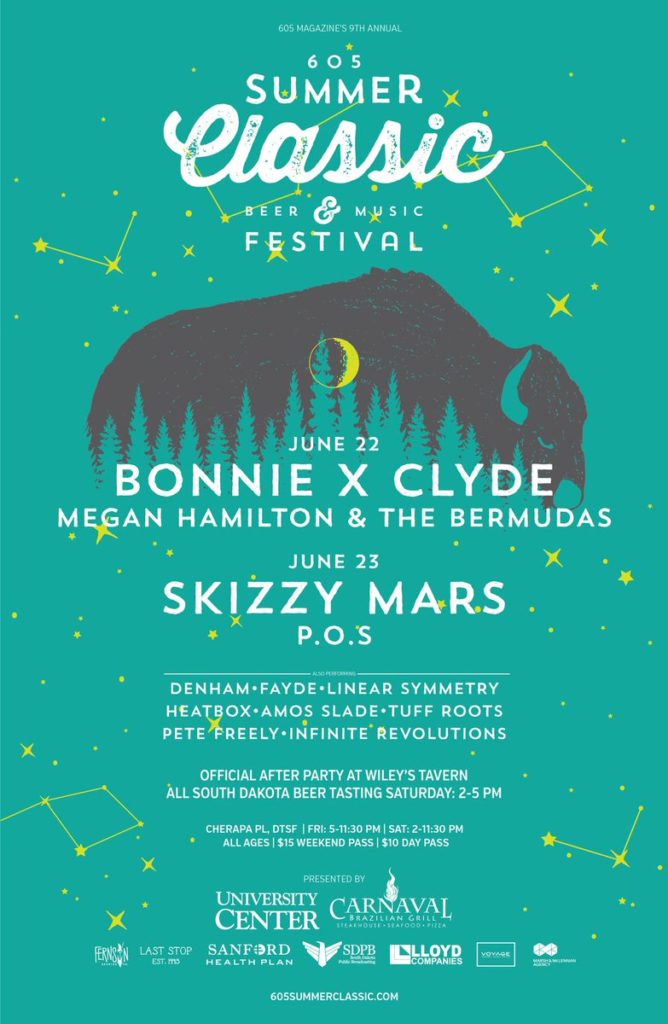 B
AM! That does it for this week's Doomtree-related news. I'll leave you with a grip of Bonus Jams that I've been bumping in my car with the windows down for the first time all year. First up is Ella Mai. This new "Boo'd Up" song and video combo feels like a true summer anthem. Loving it.
Ella Mai – "Boo'd Up"
Really excited about this new Brittish artist Zilo. This is my first time hearing her and I'm all about this "Don't Waste My Time" song. Shout to Lophiile on the beat, killing it as always.
Zilo – "Don't Waste My Time" (produced by Lophiile)
Epic indie rock is back with a vengeance lately and this new album from Forth Wanderers is definitely gonna be a contender for best of the year. The whole thing wails so hard. Absolutely crushing. Highly recommended.
Forth Wanderers – "Nevermine"
I'm getting way pumped for the new album from Snail Mail to drop. They just released the second single "Heatwave" and it comes with this bonus rad hockey video. Super tight.
Snail Mail – "Heatwave"
Now, Now continue to drop monster singles in anticipation of their next full-length. The streak continues with "AZ." So excited for this record. These guys are on a whole nother level right now.
Now, Now, – "AZ"
Shouts to the god Paper Tiger for putting me up on Maggie Rogers. This "Alaska" song and her other recent singles are the best. V amped to hear what she does next.
Maggie Rogers – "Alaska"
Now for an extremely beautiful and important Twin Cities collaborative project. Executive producers Chaka Mkali and Resmaa Menakem have put together a truly incredible compilation album called Dismembered and Unarmed. It's a companion piece to Menakem's upcoming book My Grandmother's Hands, and the album features 30+ prominent Twin Cities artists reflecting on intergenerational healing, trauma, and the realities of America's current racial divide. Check out the single "Processions" below, featuring an all-star cast of Metasota, Greg Grease, I Self Devine, Afrokeys, and Alicia Steele. This is powerful stuff. Album drops June 15th. Learn more about the project right HERE.
Metasota, Greg Grease, I Self Devine, Afrokeys, and Alicia Steele – "Processions"
Here's the first single from the upcoming Homeboy Sandman & Edan collabo album. "Never Use The Internet Again" is maybe the greatest song title and chorus combo I've ever heard. These two are a perfect fit together. Loving the artwork as well.
Homeboy Sandman & Edan – "Never Use The Internet Again"
And lastly, our good friend and producer-extraordinaire Budo just put out his collaborative EP with Kris Orlowski last week. It's called Astronauts, Divided and you can check out the whole thing below. I'm really excited to dig into this one. Always a huge fan of anything Budo touches. Shouts to that man.
Kris Orlowski & Budo – Astronauts, Divided EP
Alright! That does it for this post. I hope you all have a wonderful week enjoying this beautiful Spring weather and rooting on whichever NBA team you prefer in the playoffs. I'm personally pulling for a Philadelphia/Golden State finals, but that's just me. See you back here next Tuesday for another round of TWL!
— Beak
Twitter: @_LAZERBEAK_
Instagram: @lazerbeak
SUPPORT THIS BLOG LYFE. TUESDAYS WITH LAZERBEAK SHIRTS AND POSTERS AVAILABLE NOW!!!