OH HAPPY DAY!!! It brings me outrageous joy to announce that my good friend Longshot and I will be releasing our debut collaborative album this summer. It's called Parades and it officially drops on June 8th. YES!!!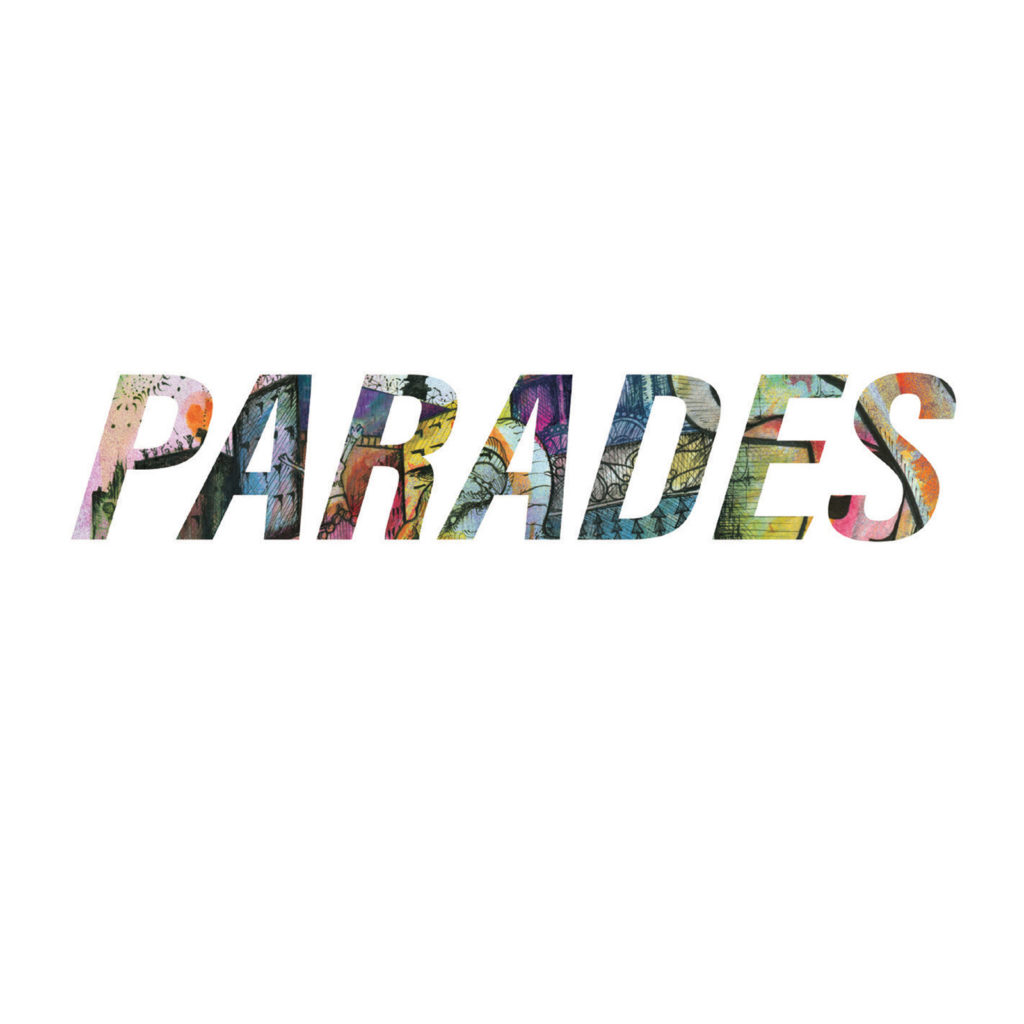 Parades is jam-packed with 14 upbeat heat knockers just in time for cookout season. Enormous shouts to Kyle Eustice and the good folks at HipHopDX for world premiering the album announcement and our first single earlier today. You can read all about that right HERE and then check the Soundcloud player below to be one of the first to bump "Just Dance." As always, we would be v grateful if you'd share this with your peoples and help us get the word out about the project. ENJOY!
Longshot and Lazerbeak – "Just Dance"
In case you couldn't tell, I'm super pumped about this album. Longshot and I met years back when he would come through town on tour with Psalm One. I've been kicking him beat tapes for various solo projects ever since and we slowly started compiling a vault of tracks over time.  Last year we finally had our big eureka moment, like "Oh man, we've got a legit cohesive full-length album here!," and THE REST. IS. HISTORY!!! (We are admittedly in desperate need of some new collabo press pics, but for now here is what we both look like individually.)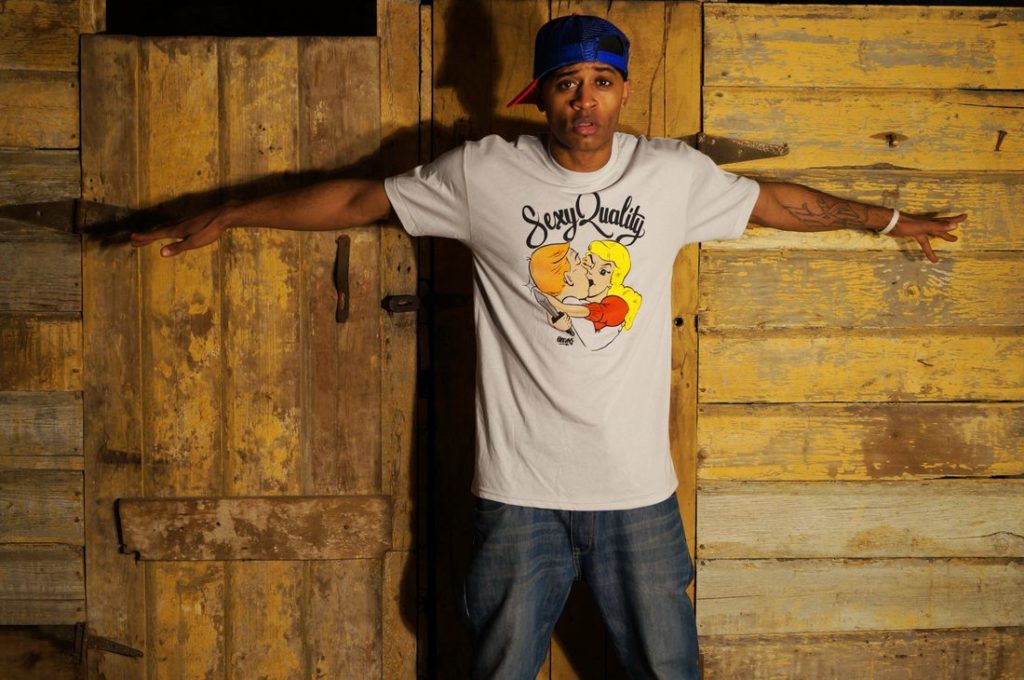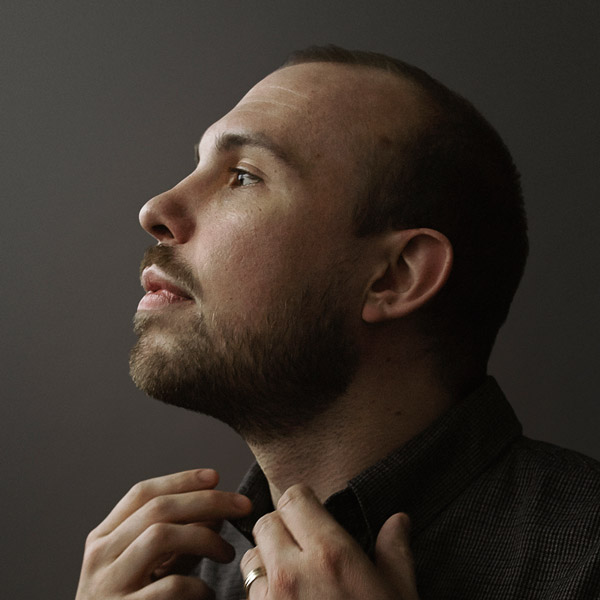 You can pre-order the Parades album digitally through Bandcamp right HERE, and of course we've got a sweet physical pre-order package exclusive to our very own Doomtree Webstore if you're more into that sort of thing. We're keeping it super simple this time around, but you still get all sorts of extras with the Parades Standard Pre-Order……
Copy of Parades CD signed by both Longshot and Lazerbeak
Immediate digital download of first single "Just Dance"
Access to an Instagram Live Q&A with Longshot and Lazerbeak on album release week
Three bonus tracks upon release ("On A Mission," "Hope," and "Talkin Bout")
BLAMMO! All for the price of a super-sized combo meal at Arby's. Get your physical pre-order from the Webstore right HERE.
In addition to the album release news, we've also just announced a super festive album release party taking place on the FOUTH OF JULY (!!!) at 7th St Entry in downtown Minneapolis. Our good friends HOLIDAE, Angel Davanport, and Purple Orange Beach (new P.O.S techno project), and Metasota will all be throwing down and we've got a bunch of surprise special guests as well. Grab your tickets right HERE and come celebrate with us!
Speaking of awesome shows (SEGUE STREAK!), P.O.S is on the road as we speak heading to the first date of his weeklong Midwestern run. He's got most excellent buds DJ Rowsheen and Serengeti with him this time around and the gang will be hitting Columbia, St. Louis, Des Moines, Kansas City, Wichita, and Madison over the course of the next week. Check out all the dates below and grab your tickets right HERE.
And speaking of rad tours (SEGUE STREAK II!), Dessa and her band continue the Chime World Tour this week over on the West Coast. Here's a quick photo recap of the previous week spent cruising down the coast. We'll start with this candid pic of Dessa wearing a plastic bag over her head in the rain.
The brand new Record Store Day "Quinine" 7″ in the flesh.
Various picturesque views from the van window.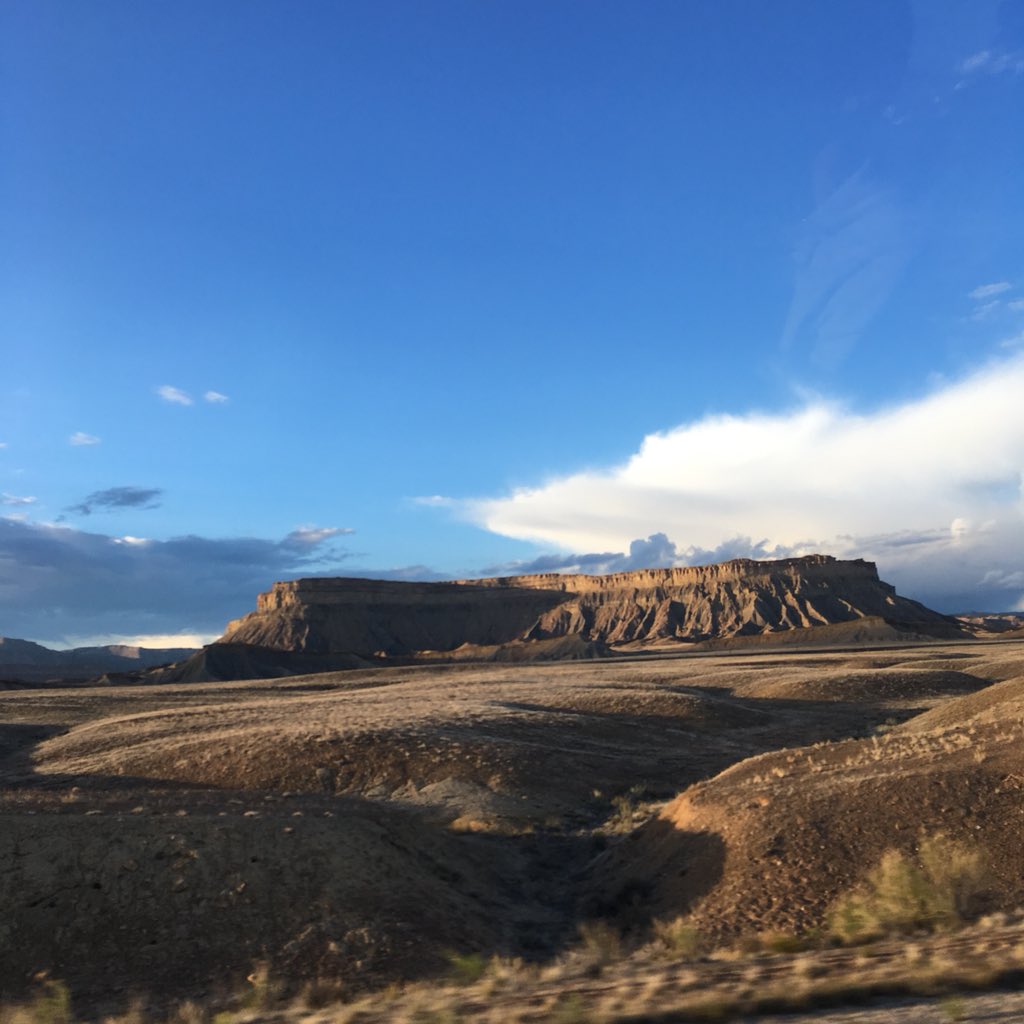 An old SXSW picture of Saam and Jonathan just because.
Dessa eating a Subway sandwich inside of a Micro Center. Now it's a tour!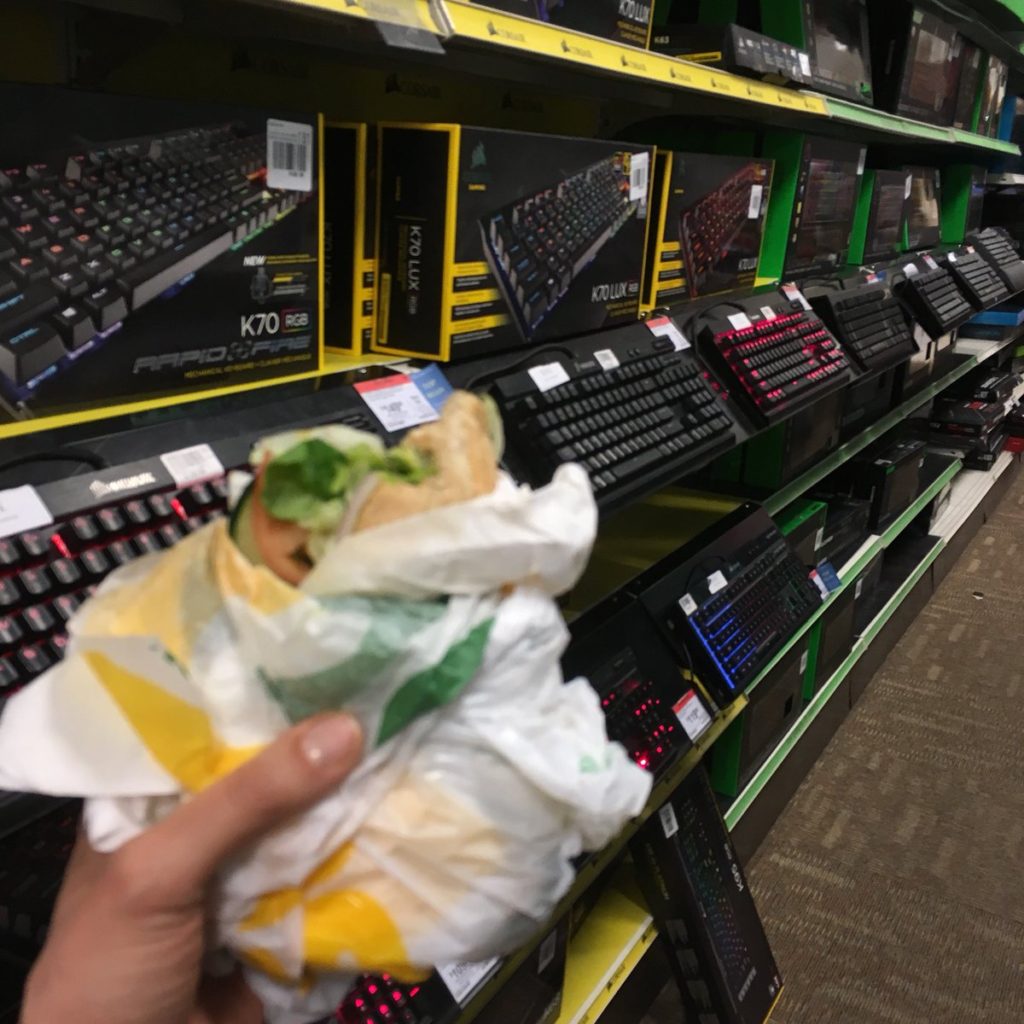 Sweet shot from the first show in Seattle (courtesy of Dave Endicott from Amazon Music).
And lastly, ALL THE SNACKS. Pro tip: Nothing makes a touring musician happier than being surprised with snacks while far away from home. It is the ultimate in gift giving.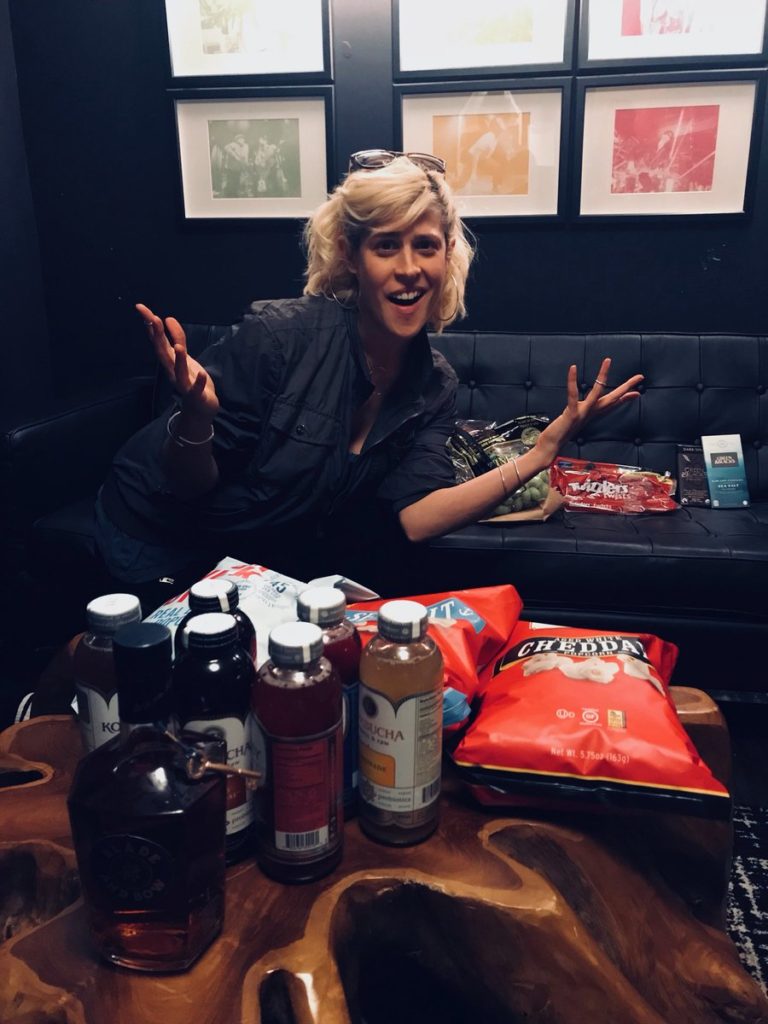 Dess will be wrapping up the West Coast chunk of the Chime Tour this week with shows in San Diego, Los Angeles, and Costa Mesa. Then the southern and East Coast legs start up next month. Check below for all the dates and grab your tickets right HERE.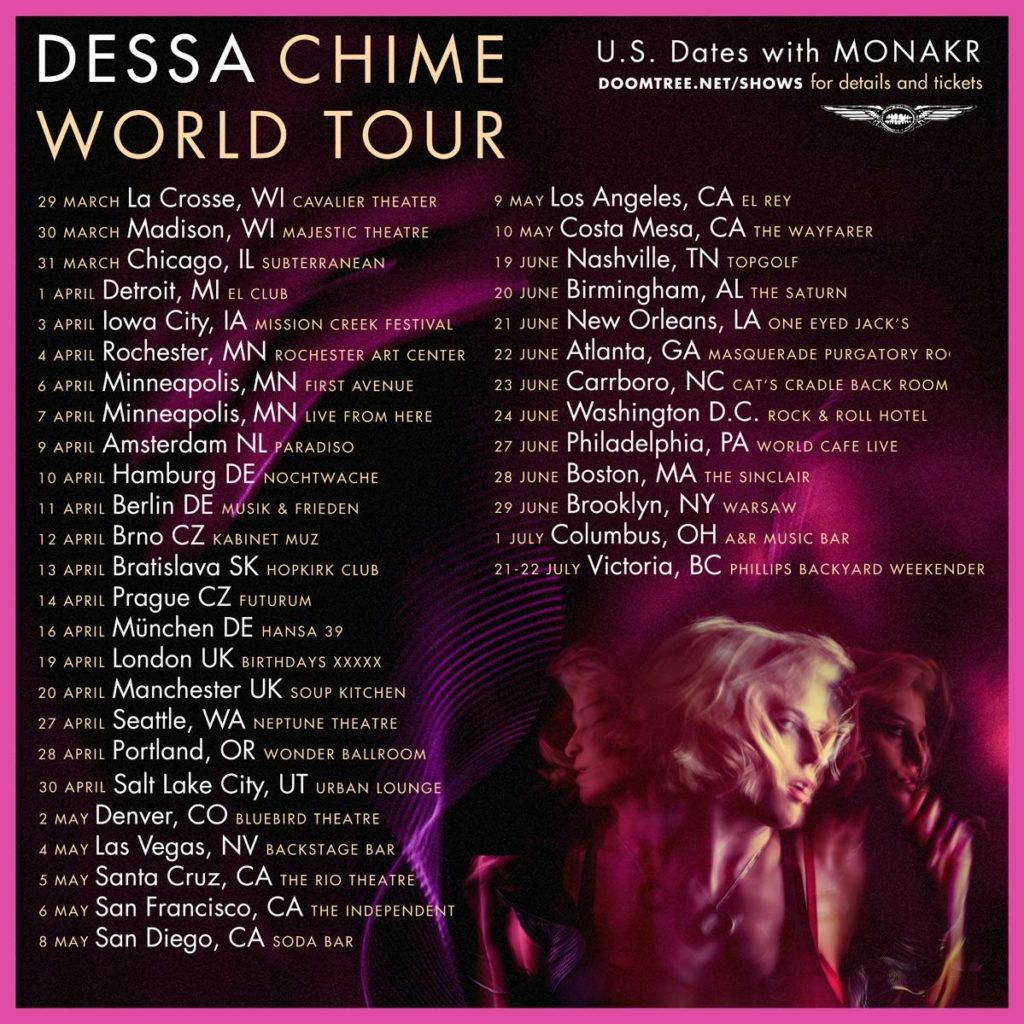 I'm super amped to announce that Shredders will be playing at this year's annual CrucialFest in Salt Lake City alongside Neurosis, Chelsea Wolfe, and Russian Circles. It all goes down the last weekend in September and you can grab your tickets right HERE. Excited to get back to SLC. Always a blast.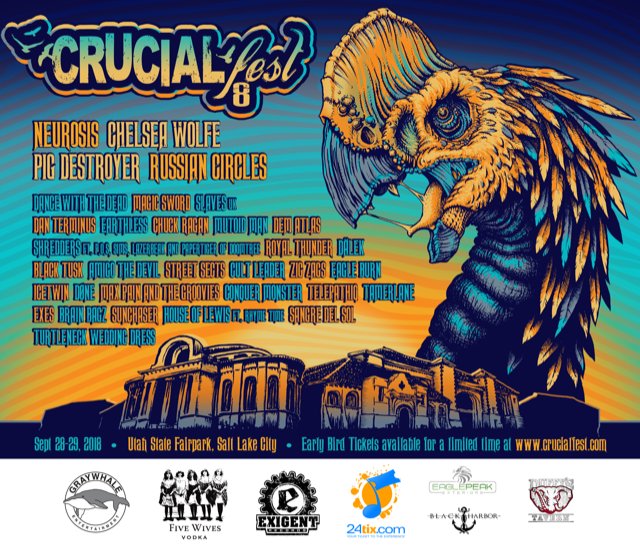 Next weekend Shredders will be kicking off festival season with a huge outdoor block party at Bauhaus Brew Labs for FREE.99!!! Gonna be a wild one for sure. Check out this sweet recap video from last year for a taste of what's in store. See you on the 19th!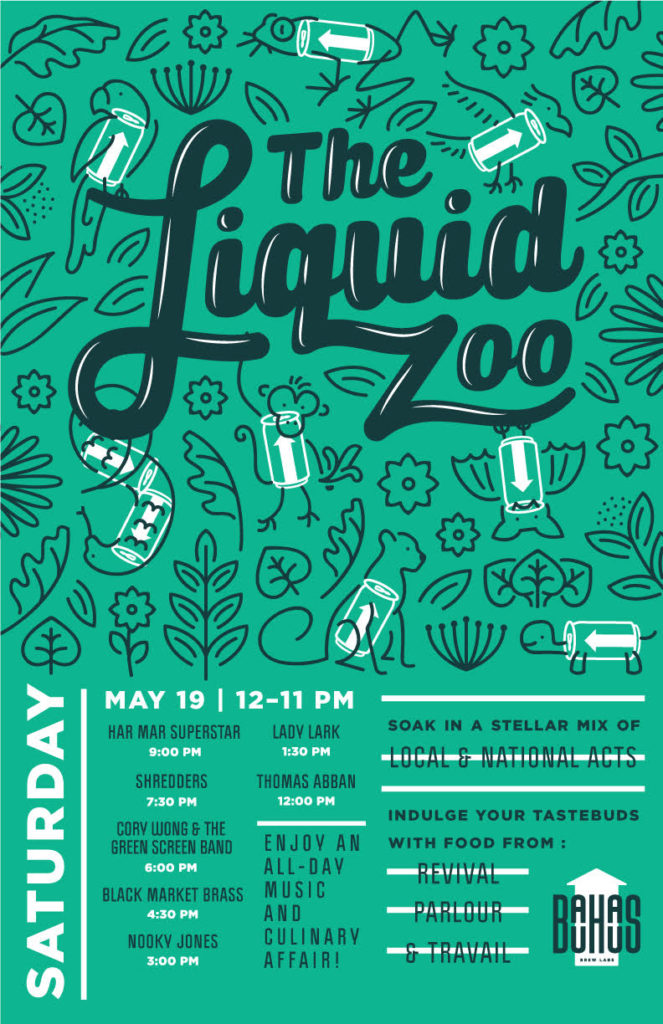 And in case you missed it last week, P.O.S, Sims, Paper Tiger, and myself are headed down south at the start of next month to rock Jacksonville, Chapel Hill, Atlanta, and New Orleans for the first time as Shredders. We're bringing Astronautalis along for the ride again in the main support slot and I absolutely cannot wait for these shows. Some of my favorite parts of our great country. Check out the dates below and please tell everyone you know about this run. We need all the help we can get in these markets to ensure we're able to continue coming back. Grab your tickets right HERE. Let's do this!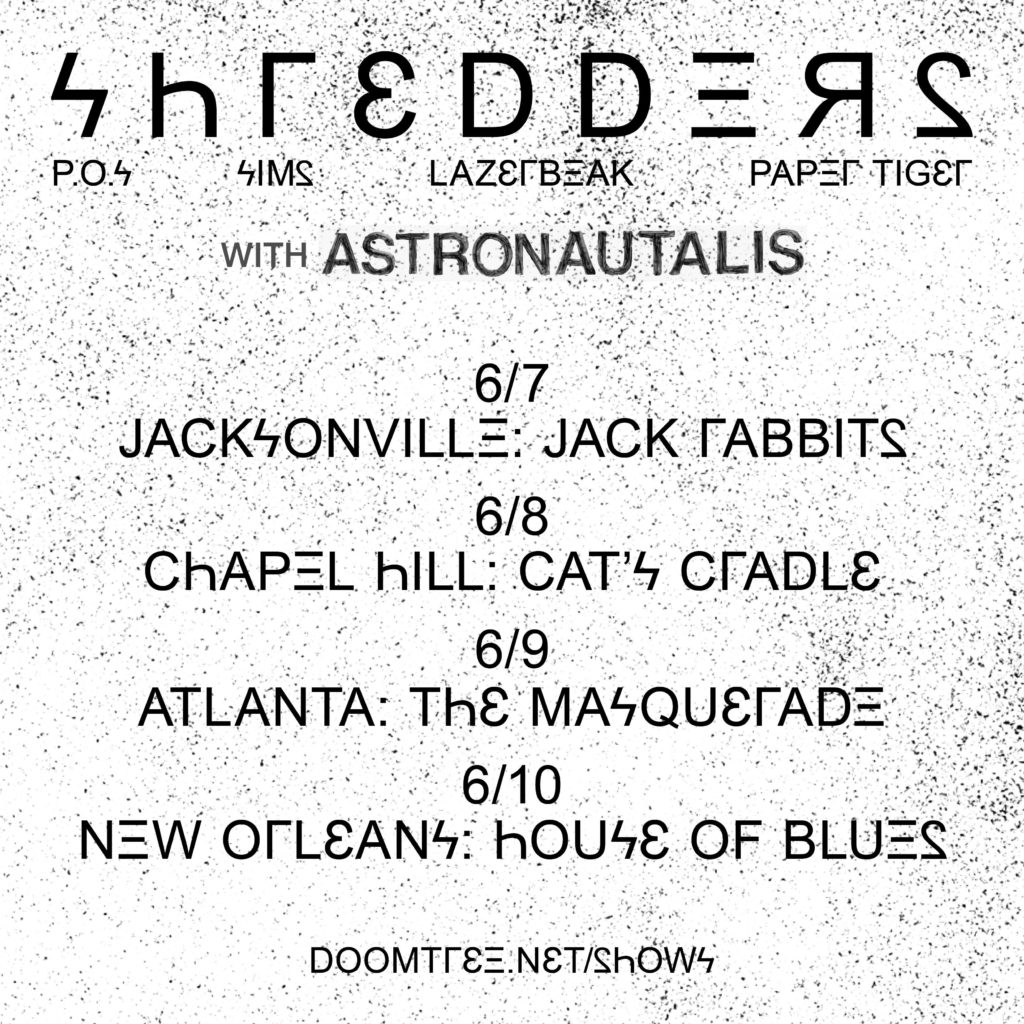 While we're on the whole Shredders catchup, here's a few pics of what we've all been up to lately. This is Sims sharing his hat with the greatest dog on earth, Superbowl Champion.
Stef and Lincoln raging out with some T-Rex's at the May Day parade last weekend.
Paper Tiger still doing an absolutely spot-on impression of Lazerbeak.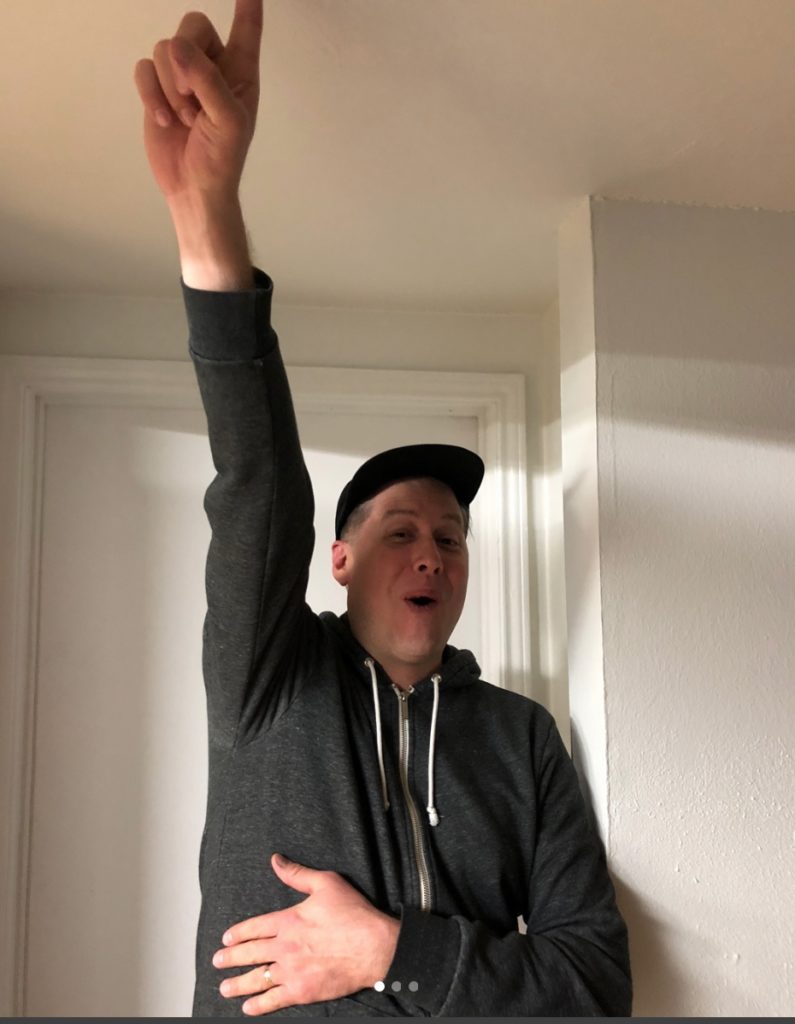 So much so that I had to switch the style up on em. Here are a couple outfit contenders for what I'm prepared to rock all summer long. Hit me on Twitter and weigh in with your top pick.
Lastly, for anyone around the Twin Cities this weekend I'm going to be posted up at the Downtown Minneapolis Public Library on Saturday the 12th for Shake, Rattle, and Read. It all goes down from 3:00-4:00pm. I'll be reading some of my favorite childrens books out loud and then setting up the MPC and Maschine for all the little kiddos to freak out on. We'll crush books and beats. It's a win/win. Check out all the details right HERE and I hope to see a bunch of you down there!
BOOM! That does it for today's post. I'll leave you with the Bonus Jam of the Week in case you skimmed past it up at the top. Here's the first single off the upcoming Parades album from Longshot and Lazerbeak. Crank this at obnoxiously loud volumes, grab a pre-order copy right HERE, and help us spread the word far and wide. Thanks for the support and I'll see you next Tuesday with another round of TWL!
Longshot and Lazerbeak – "Just Dance"
— Beak
Twitter: @_LAZERBEAK_
Instagram: @lazerbeak
SUPPORT THIS BLOG LYFE. TUESDAYS WITH LAZERBEAK SHIRTS AND POSTERS AVAILABLE NOW!!!