Hey hey! Welcome back to another round of Tuesdays With Lazerbeak. I want to give a huge shout to everyone that participated in this past week's Webstore Flash Sale. Thanks to you my office now has room for a HOT TUB. Look at these empty shelves!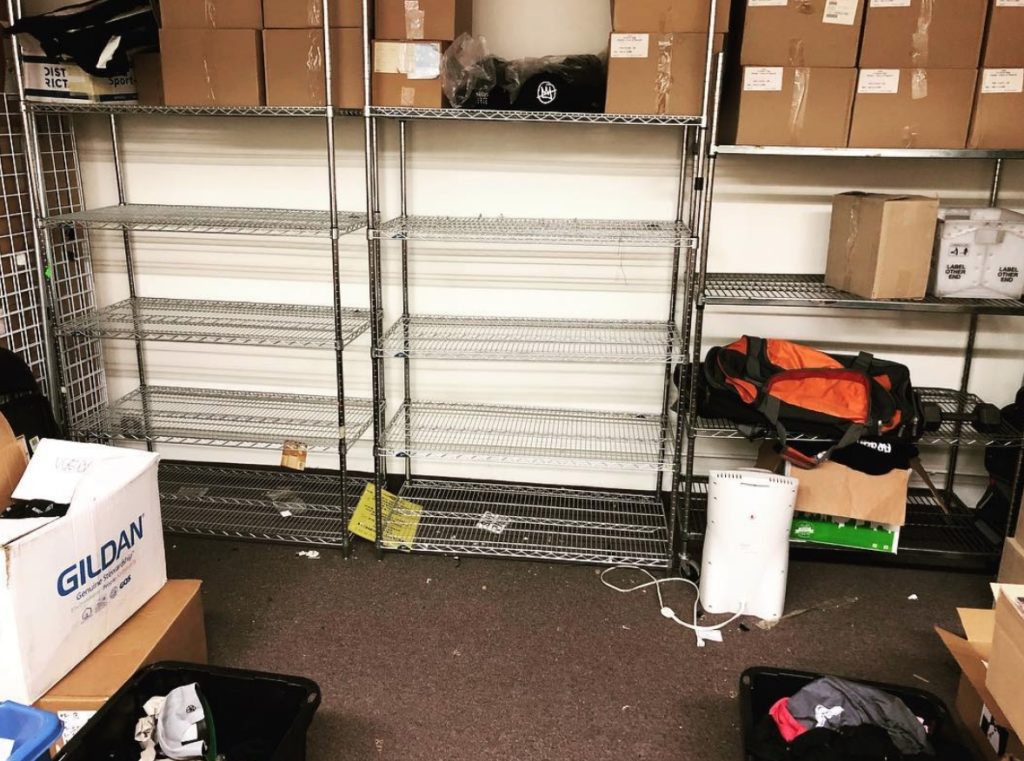 P.O.S's mom and the heart and soul of the Doomtree Webstore, Grace, is working as hard as possible to get all your items boxed up and shipped off quickly, but due to the overwhelming response of the sale things will be taking a bit longer than usual. Thanks for your patience and your support, as always. And just for reference, here's the before shot from a few weeks ago.
Dessa hits the road once again this week and will be rolling through the eastern half of the United States over the next few weeks. Things kick off tonight (6/19) in Nashville, and the gang will work their way through Birmingham, New Orleans, Atlanta, Carrboro, and DC in just this week alone. Check out all the dates below and grab your tickets right HERE.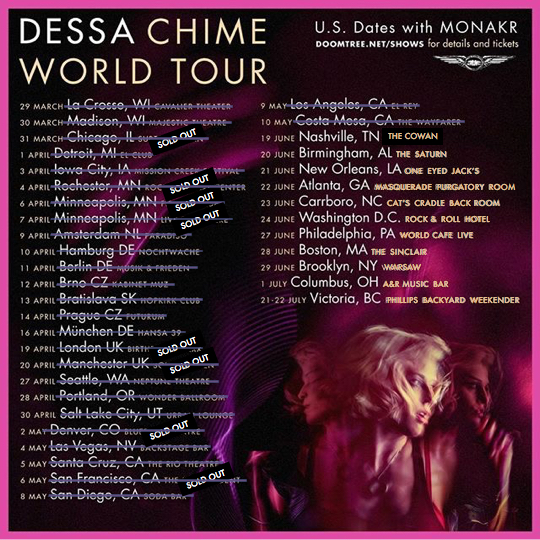 P.O.S just wrapped up a crazy hometown show last weekend at Rock The Garden and now travels to Sioux Falls this weekend for the annual 605 Summer Classic. Stef will be co-headlining Saturday night with Skizzy Mars. Check out the full lineup below and grab your tickets HERE.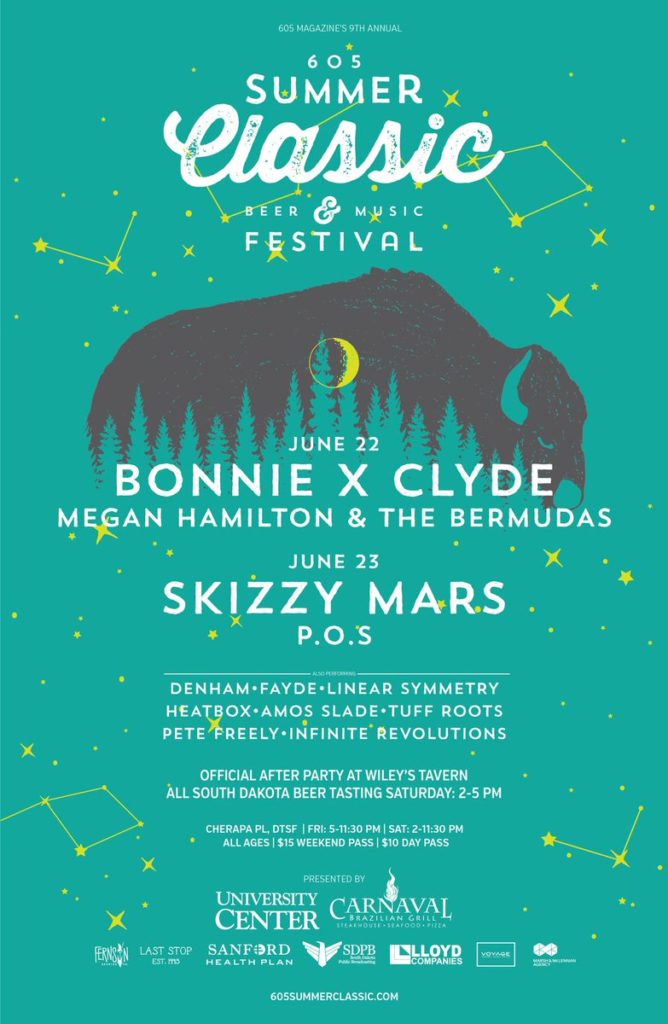 And speaking of super rad upcoming shows (SEGUE!!!), we're getting closer to the mammoth Longshot and Lazerbeak Parades Album Release Party at the 7th St Entry in Minneapolis on July 4th. Huge shouts to everyone that has supported this project so far (and extra shouts to the pre-orderers that jumped on the Q&A live stream last night). If you live anywhere near the state of Minnesota, I strongly encourage you to come check this show out. Our good friends HOLIDAE, Angel Davanport, Purple Orange Beach (P.O.S side project), and Metasota will be in the mix rocking with us. Plus we pushed doors back so that everyone can still catch the fireworks. Dooooooooit. Grab your tickets right HERE.
And if you haven't yet, make sure to check out the Parades album. You can stream it from the Soundcloud player below and grab it physically HERE or digitally HERE if you feel like supporting independent music.
Tonight, Tuesday the 19th, we continue the Surly Brewing Summer of Sound residency with Channy Leaneagh from POLIÇA playing her favorite jams from 7-10pm in the Beer Hall. As always, this is free and open to all ages. Come through!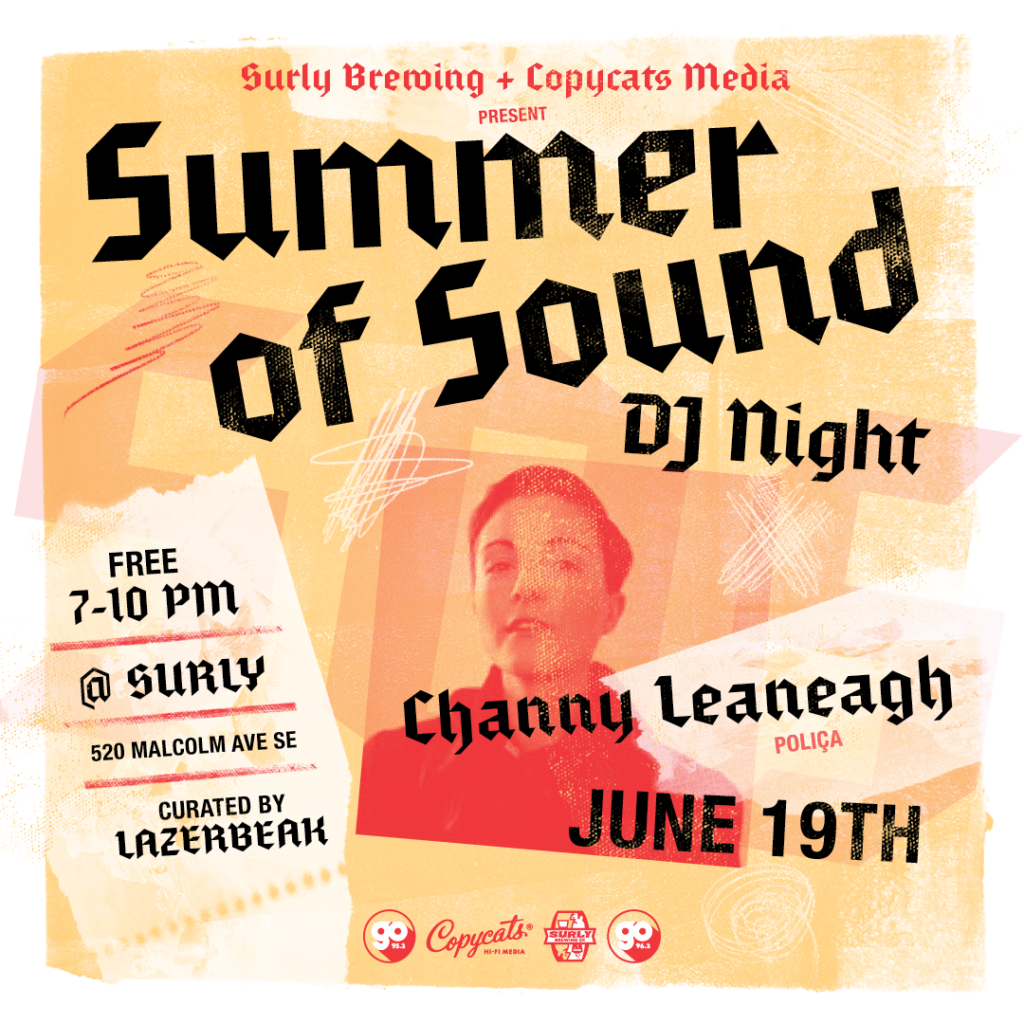 Alright, that does it for Doomtree-related news this week. Time to get into some Bonus Jams! Gonna start things out with this insane new Swamp Dogg song and video. I can't say enough about this project. Swamp is an absolute living legend and getting to watch producer Ryan Olson go nutz with the sessions has been a real treat. Shouts to Isaac Gale on another totally bonkers vizual. Video of the year. Can't wait for Love, Loss and Auto-Tune to drop later this year.
Swamp Dogg – "I'll Pretend"
One of my favs, NAO, has just dropped a new single and excellent video for "Another Lifetime." So excited to hear she's been hard at work in the studio working on the follow-up to her instant classic For All We Know album. Love this!
NAO – "Another Lifetime"
This Ella Mai EP has been out for awhile now, but I've only recently gotten to fully dive into the project outside of massive hit single "Boo'd Up". Every track on this thing is phenomenal and DJ Mustard crushes the production per usual. Check out "Anymore" below.
Ella Mai – "Anymore"
To me Black Thought is still Top 5 Rappers Dead Or Alive. The Roots are the reason I got back into rap music from my indie rock high school days, and Things Fall Apart has been a severely major album in my life. Seeing Black Thought pop back up on the pop culture radar last year with that epic Funk Flex freestyle was a total joy, and this new solo EP with producer 9th Wonder is a whole lot more of that. So many bars it is impossible to even keep up. Check out highlight "9th vs. Thought" below.
Black Thought & 9th Wonder – "9th vs. Thought"
Kamaiyah continues to tease out singles leading up to her inevitable major label debut. This new "Addicted To Ballin" song with ScHoolboy Q is a summer anthem. Hurry up and drop the album already!
Kamaiyah – "Addicted To Ballin" ft. ScHoolboy Q
I'm loving this new Big Freedia EP that dropped a few weeks back. This has been my 6:00am workout music ever since it came out. Highly recommended.
Big Freedia – "3rd Ward Bounce" ft. Erica Falls
Man, this whole surprise album thing is reaching crazy new heights. I can't keep up with anything anymore. I still have yet to hear the new Jay and Bey album that dropped last Saturday night, but I do know that this "Apesh*t" song and video are absolutely incredible. ICONIC. Time to renew my Tidal subscription I guess.
The Carters – "Apesh*t"
Major shouts to Craig Finn for putting me up on this band Culture Abuse and their brand new album Bay Dream. I don't listen to too much music like this, but there's something about this that grabbed me instantly and hasn't let go. It's got a crazy Weezer/Strokes/Ramones/Beach Boys vibe without being derivative of any of those groups at all. Huge fan. Can't wait to see them live.
Culture Abuse – "Calm E"
One of my favorite current producers, Lophiile, just announced a new project called Radiant Children. The trio released this excellent "Life's A Bitch" song and video last week and it rules. Big things for these guys, I can already tell. Excited to hear more.
Radiant Children – "Life's A Bitch"
Just recently got put up on Rex Orange County, mainly because he somehow convinced the GOAT Randy Newman to record a new duet version of "You've Got A Friend In Me" with him. MAJOR MOVES. This "Loving Is Easy" song is a smash hit though and definitely has my full attention as of late.
Rex Orange County – "Loving Is Easy"
Getting super into OVO UK artist Octavian lately. His string of recent singles have been great and  this new collabo with Mura Masa kills it. Hopefully there's a full-length album in the works.
Mura Masa & Octavian – "Move Me"
And lastly, here's a new single and video from songwriter Maggie Rogers. I still don't know a ton about her, but all of the singles she's released over the past year have been outrageously good. This vid is great too. Check out "Fallingwater" below.
Maggie Rogers – "Fallingwater"
That does it for Bonus Jams this week. As always, you can subscribe to the Lazerbeak Bonus Jams Spotify Playlist right HERE to take the music with you wherever you go. I update it every Tuesday moring with all the latest heat.
It's been a minute since I've posted some Bonus Baby Pics, so let me catch you up to date with my crazy Party of Five. Penny, Cammy, and Lou are in serious summer mode and loving the outdoors. We've got a bunch of camping and cabin weekends coming up these next few months – anything to try and tire them out enough to actually sleep at night. Here they are riding a giant plastic frog.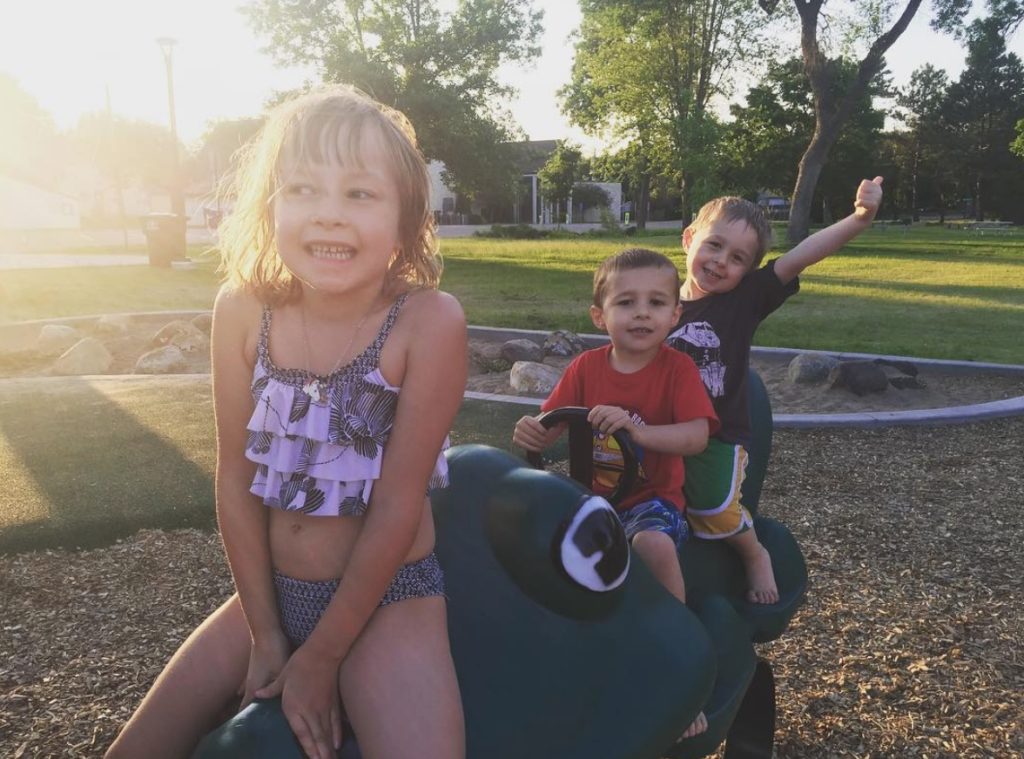 Laid Back Lou continues his deep dive into fashion. Recently he's taken to wearing this hat 24-7 and rocking a Tinkerbell fairy skirt with a rotating cast of elaborate necklaces. Looking good!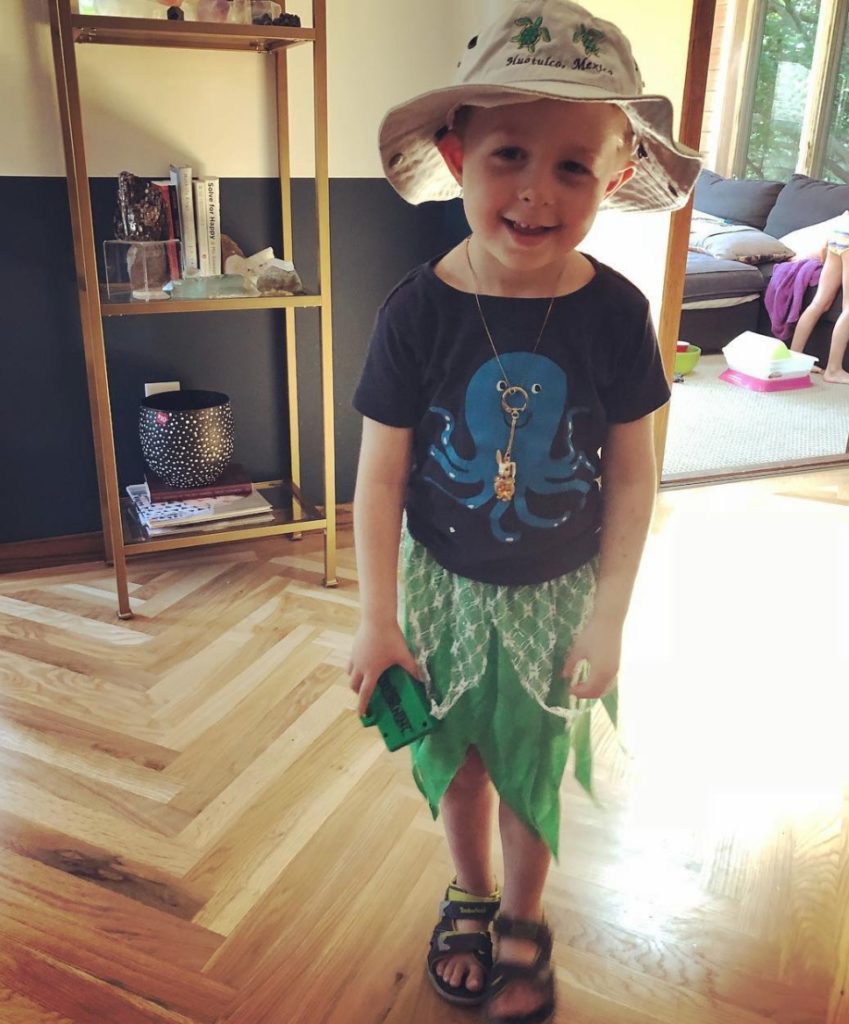 Penny celebrated her SIXTH birthday last month and has officially graduated kindergarten. Here she is with the birthday cake she picked out all by herself. Something that I am still very confused about.
Cammy is a non-stop talker who only takes verbal breaks when crushing chocolate milk and chicken fingers. Here we all are out on a Dad Date getting into both.
I had a phenomenal Father's Day last weekend. Got a brand new #FilaDad jumpsuit, had a great family brunch feast, caught a matinee of Incredibles 2 (so good), and capped things off with a pizza party at my favorite restaurant of all time, the Green Mill. Here I am in all my glory with my beloved squad. Huge shouts to all the fathers raising up these youths worldwide. I salute you.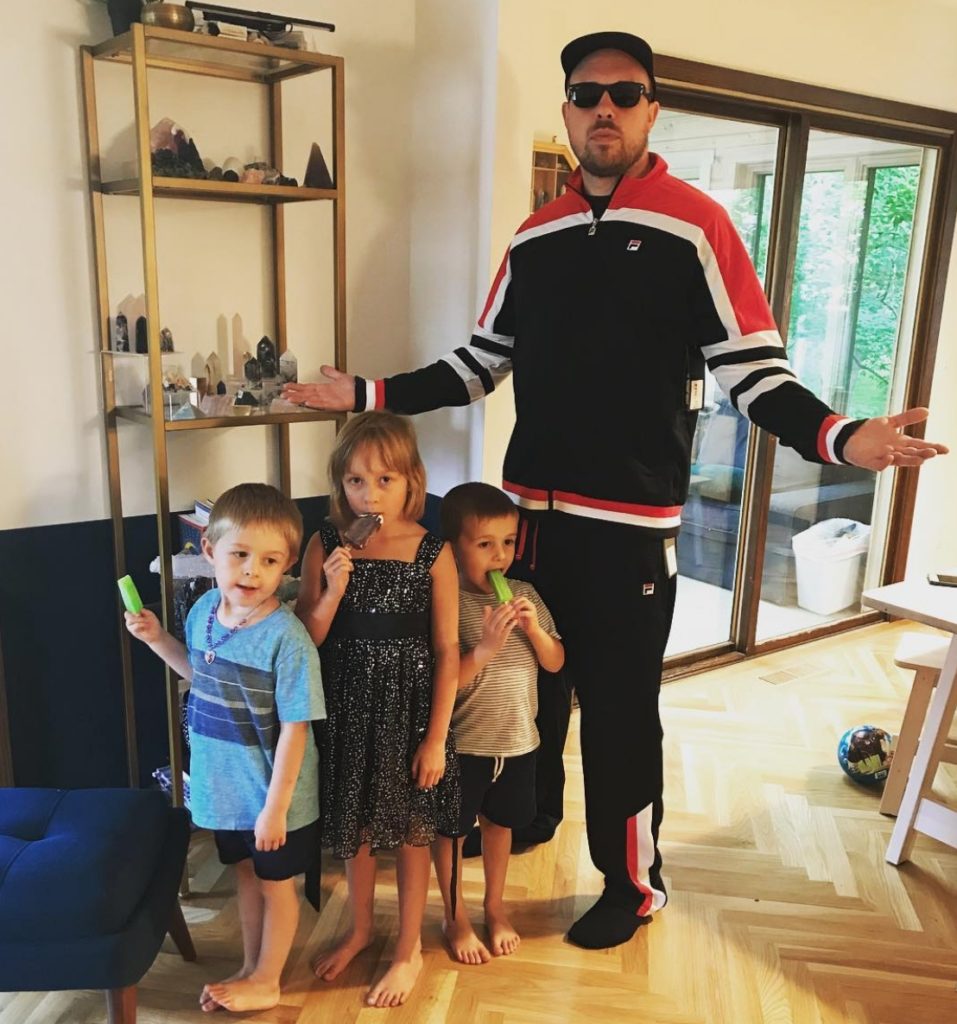 Oh and here's a bonus pic courtesy of @mdotcom40, who graciously photoshopped me into this amazing Doug E Fresh album cover. The Year of the Endorsement Deal is in full swing and I will not stop until I have officially broken bread directly with FILA. Holler if you have any leads.
BAM! That's it for this post. I hope you all have a great week out in the sun. I'll see you back here next Tuesday for another big-time round of TWL and some exciting new annoucements.
— Beak
Twitter: @_LAZERBEAK_
Instagram: @lazerbeak

SUPPORT THIS BLOG LYFE. TUESDAYS WITH LAZERBEAK SHIRTS AND POSTERS AVAILABLE NOW!!!