Whoooooooboy! Welcome back to yet ANOTHER outrageously-packed edition of Tuesdays With Lazerbeak. Yesterday we linked up with Red Bull Music to announce a brand new pop-up event called DOOMTREE FOREST, taking place this September 7th at Familia HQ's indoor skate park in northeast Minneapolis. Aaaaaaaaand it sold out in eight hours. Thank you so much to everyone who grabbed a ticket.
UPDATE: Just got word that Red Bull Music will be releasing a limited amount of extra tickets based on initial demand, so if you missed out, follow the event page and RSVP for a chance to grab yours right HERE. 
This night will be all about celebrating the various side projects, solo records, and permutations of the Doomtree crew, along with the only full-crew Doomtree performance of the year, and will highlight all the albums released on Doomtree Records in 2018. Check out the sweet deetz below, and if you missed out on a ticket, fear not. We're currently scheming on how to give away a few more. Stay tuned.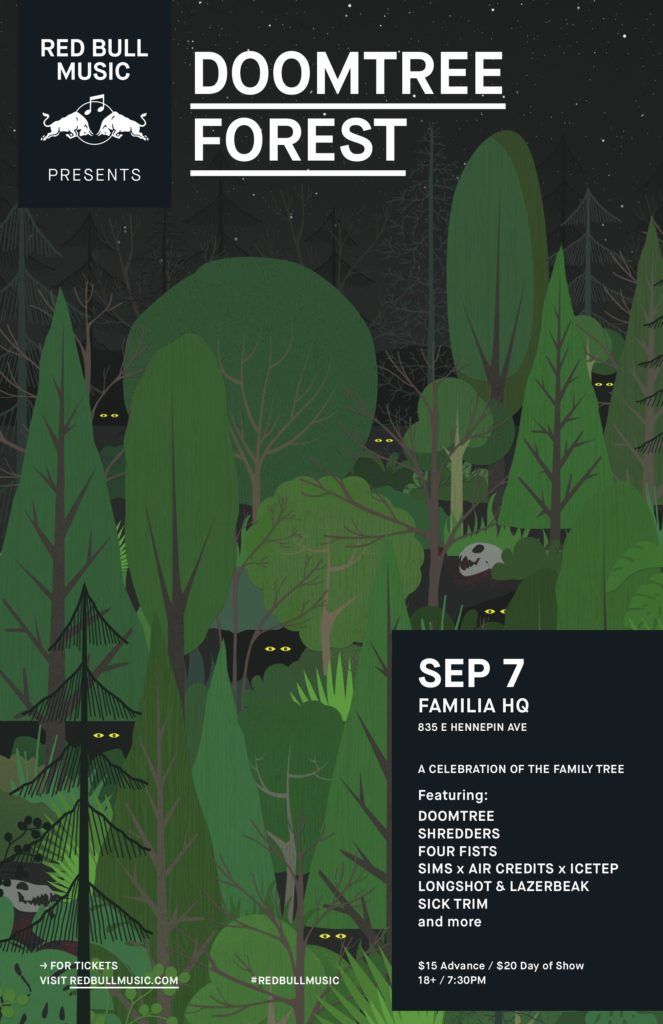 Last week the good folks at PBS and TPT premiered a cool mini documentary on a day in the life of Lazerbeak. A film crew ended up following me around for a few days this past winter, going from a big Shredders show at The Palace to a normal day in the office at Doomtree HQ, a studio session at the Hideaway mixing down my upcoming solo album, and back home for dinner with my crazy Party of Five. I'm usually more of a behind the scenes guy, so I was a little nervous about how this would all play out with me in front of the camera the whole time, but I'm really happy with how it turned out. If you ever wanted to know what it looks like to see me type out this very blog in real time, here's your chance to break the third wall. Go HERE to check out the full ten-minute piece or just click the player below. Big shouts to the crew at TPT for putting this together and shedding a light on all sorts of Minnesota artists.
And here's a quick little Q&A thing I did with TPT in conjunction with the video. Gives you a little more insight into my musical tastes, which if you've been following the blog for any amount of time, shouldn't be much of a shock to you.
Last week we rolled out the insanely awesome news that P.O.S and Astronautalis will be releasing their debut album as Four Fists later this fall. It's called 6666 and will be released on Doomtree Records this October 12th. That's the badass album cover below, photographed by Graham Tolbert and designed by Andy McAlpine.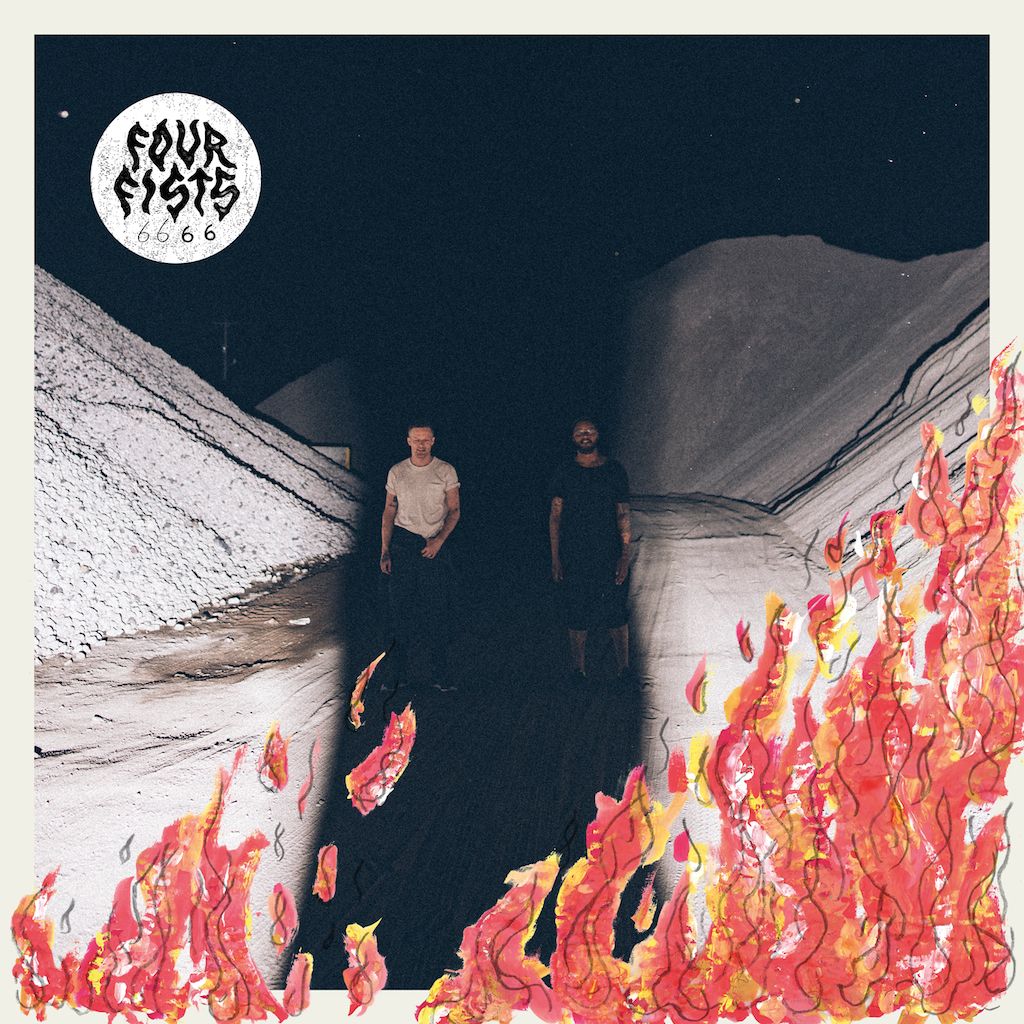 In conjunction with the album announcement, Stef and Andy also released a third single from the project. "Dork Court" is one of my favorite songs either of these guys have ever done. I'm so into it. Shouts to Breakmaster Cylinder on the beat.!Check out the "Dork Court" 360 VR video below and pass it along.
You can listen to all three 6666 singles and pre-order the album digitally right HERE, OOOOOR you can pre-order a crazy limited-edition physical copy of the album from the Doomtree Webstore right HERE. We've got packages for all budgetds and price points (Standard, Deluxe, and Collectors). See below for the super wild Collector's Bundle, which is limited to 200 copies and already halfway sold out. Get yours now!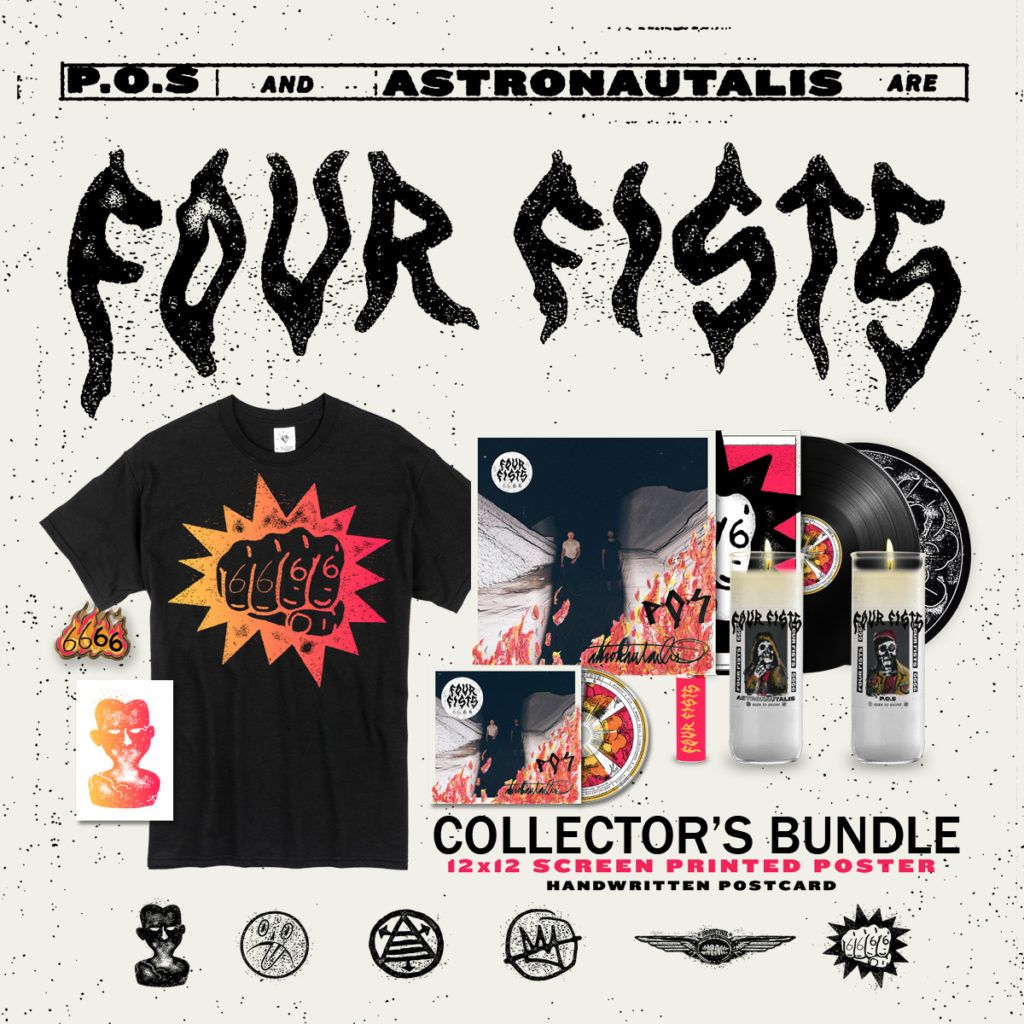 On top of the new album, new song, and new pre-order, the guys have also announced their first-ever Four Fists WORLD TOUR. P.O.S and Astronautalis will be running all over the US and Europe throughout October, November, and January spreading the 6666 word. Check out all the dates below and grab your tickets right HERE.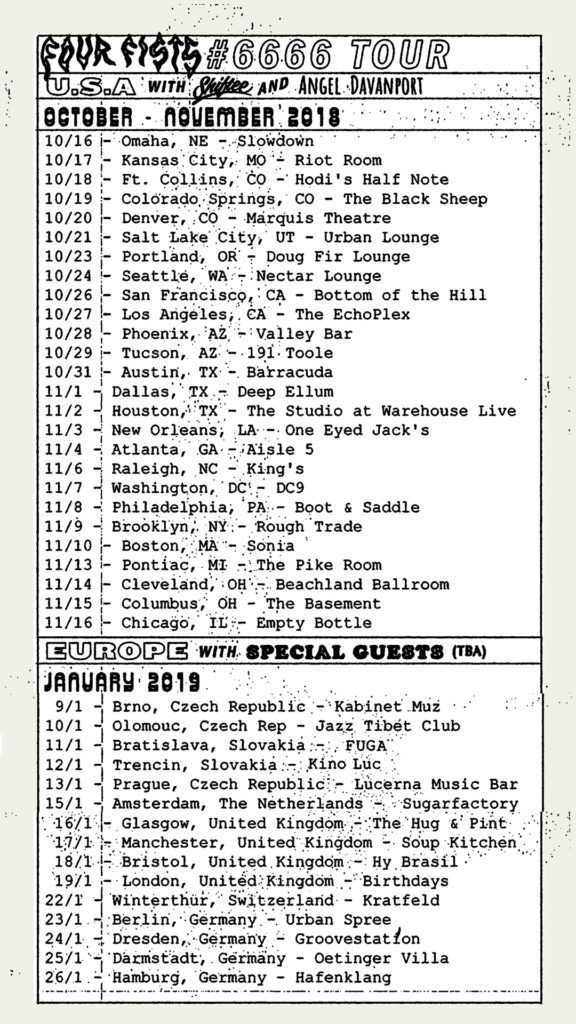 And speaking of outrageous rap tours (SEGUE!!!!), Sims and Air Credits will be headed out on the Artería Verité Tour in support of their awesome new album of the same name. You can catch the dudes in major markets throughout the US in September and October, performing solo and collaborative sets. Check out all the dates below and grab your tickets right HERE.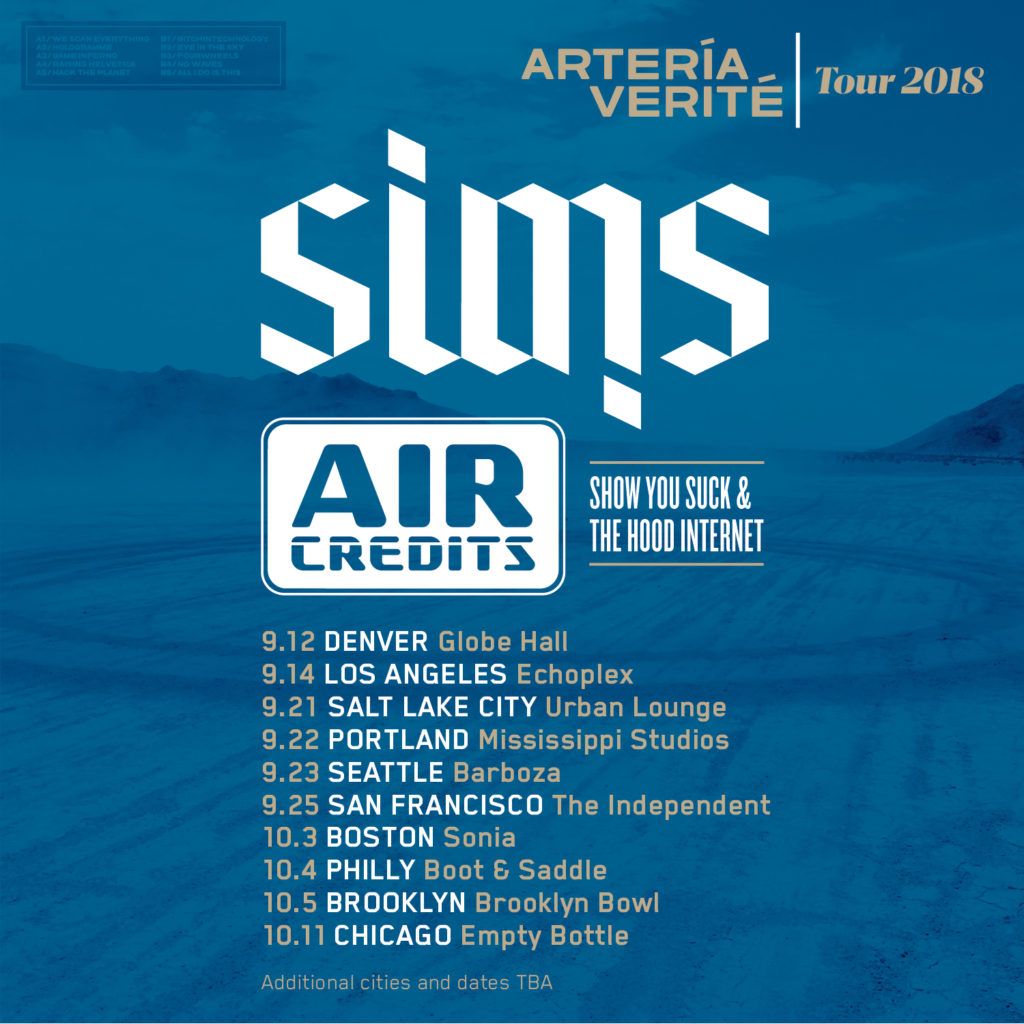 And if you haven't checked out Artería Verité yet, you can immediately remedy that problem by grabbing it right HERE.

If you're anywhere near the Twin Cities metro area, come down to Boyd Park in St. Paul this Friday (8/24) to catch a rare performance from myself and Longshot. We'll be headlining the free outdoor Beats In Boyd series and getting into a bunch of songs from our recent Parades collabo album. FREE.99 and very family friendly. The event goes from 5-9pm and we hit the stage at 7:30pm sharp. Hope to see some of you down there. More details HERE.
Surly Brewing's Summer of Sound series is winding down after an awesome inaugural run. I can't tell you how much fun it was to curate the guest DJ's every week for the last three months, and I'm super excited about tonight's guests. Paddy Costello and Billy Morrisette of the legendary Dillinger Four will be in the Beer Hall from 7-10pm tonight (8/21) playing whatever the hell they want. The event is FREE.99 and totally open to all ages. Come through, grab a beer or pizza, and listen to some JAMS.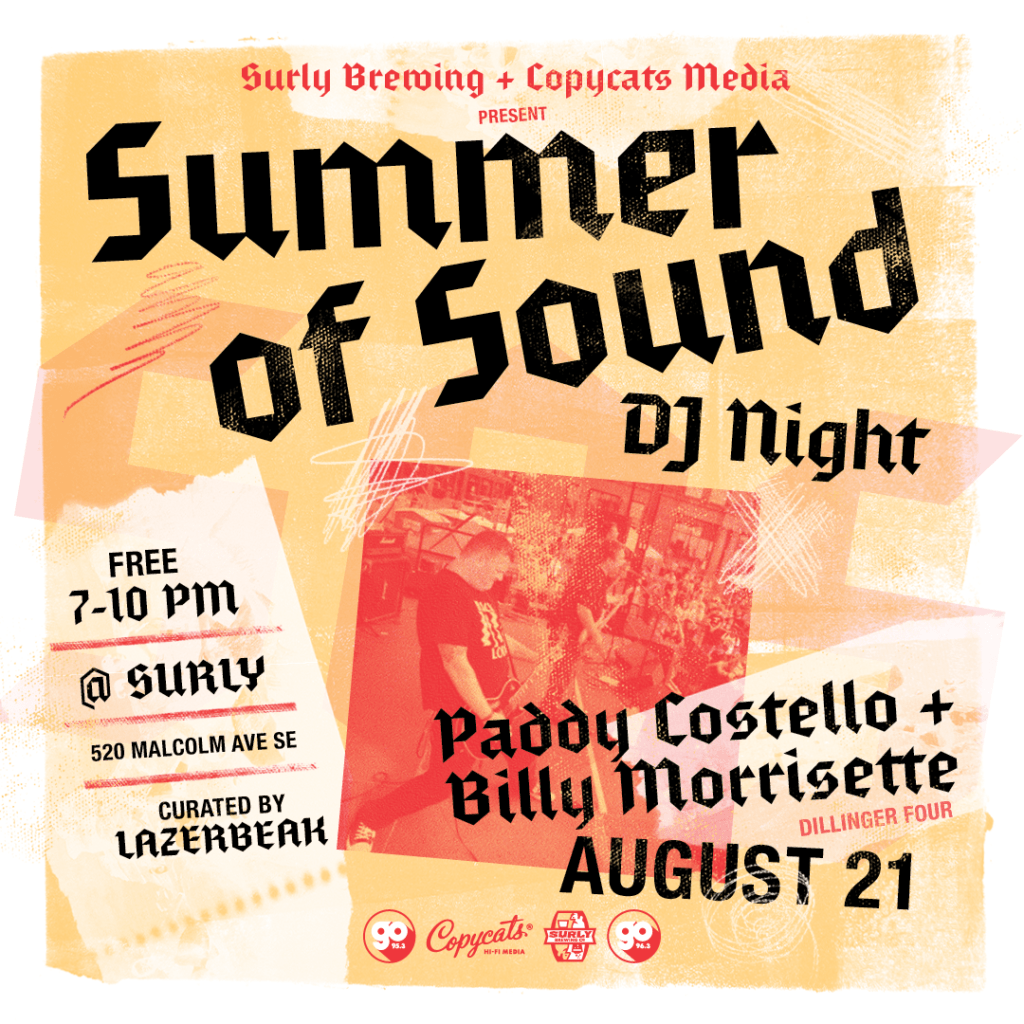 And speaking of JAMS (segue II), it's once again time for another edition of Tuesdays With Lazerbeak Bonus Jams. This week I'll be highlighting recent songs from our great state of Minnesota. Again, it is nearly impossible to keep up with the amount of mind-bending music coming out of the Twin Cities these days. I know we talk a lot about musical golden eras around here, and we've had so many great ones over the years, but right now it really feels like creativity and collaboration are at an all-time high and the next generation of artists and bringing it suuuuuuuuper tough. I could go on for days about how proud I am to be a part of the music community here, but I'll spare you and try to just let the music do the talking. First up, we've got a brand new loosie from Dizzy Fae who is still riding high from her recent Free Form mixtape. Check out "Lifestyle" below, which was a definite highlight from her Pizza Luce Block Party set. So happy to hear new music from her.
Dizzy Fae – "Lifestyle"
Indie rock group Bad Bad Hats released their sophomore album Lightning Round last week and it is phenomenal front to back. Check out the new video for album standout "Nothing Gets Me High" below. Love these guys.
Bad Bad Hats – "Nothing Gets Me High"
Minneapolis transplant Spank Rock released the first song under his born name Naeem last week and it is sooooooooo good. Listen to "Sway(e)d" below and get ready for his upcoming album on Boys Noize Records. Everything I've heard from it this past year has been next level.
Naeem – "Sway(e)d"
Psymun just announced he'll be dropping a compilation album of B-sides and unreleased tracks later this month and let go of first single "NIGHT OWL" featuring none other than longtime collaborators Chester Watson and deM atlaS. Psymun is definitely one of my current favorite producers out there period. Very excited for this release. Also huge shouts to him and Bobby Raps for landing production credits on that new Young Thug album!
Psymun – "NIGHT OWL" ft. Chester Watson and deM atlaS
Now for maybe the best basketball-reference chorus in a rap song that I've ever heard. Huge shouts to Rich Garvey and Nsikak for making Milwaukee Bucks all-star Giannis Antetokounmpo the inspiration for their new collabo track. I love this song and the video is great too. Highly recommended.
Rich Garvey x Nsikak – "Antetokounmpo"
Destiny Roberts has been out here on an absolute tear as of late. Earlier this year she dropped the ultimate lava banger "The Jungle" and now she's back with "Outta Here | Lunar Vibes" to keep the streak going. One of the most exciting artists from the Twin Cities right now. Can't wait to hear what she does next.
Destiny Roberts – "Outta Here | Lunar Vibes"
I gotta give a huge shout to the homies Franz Diego and Mike the Martyr on the release of their collaborative Glistening album. Heaters for days, plus that Alexander O'Neal flip is just too real. Check out the whole project below, highly recommended.
Franz Diego x Mike the Martyr – Glistening
Chance York and Big Cats! are heating up and getting ready to drop their new collabo album later this year. They just released this Deep Dark Hope collage video which gives us a little glimpse of each track, along with a ton of great cameos. Super dope idea and everything on here thumps majorly. Can't wait to hear the full thing in September.
Chance York x Big Cats! – Deep Dark Hope Sampler
And speaking of Big Cats!, he's also just announced a reunion with rapper and spoken word artist Guante. The two will be releasing their first project in over six years later this fall, and dropped the lead single "Fight of Flight" last week to celebrate. This one slams.
Guante x Big Cats! – "Fight or Flight"
I'm getting way into the new music I've been hearing from songwriter JØUR lately. This "American Nightmare" track is excellent.
JØUR – "American Nigthmare"
And lastly, here's a brand new song and video from Kara Laudon, who you may recognize as the keyboardist and vocalist in the current version of Dessa's live band. She's been working on her own solo music recently and this "Leave You Alone" track crushes. Pumped to hear more.
Kara Laudon – "Leave You Alone"
BAM! That does it for the local Bonus Jams this week. As always, you can follow my Tuesdays With Lazerbeak Spotify playlist right HERE to stay up-to-date on everything I've been listening to. I update it every Tuesday morning with all the latest heat so you can take the Bonus Jams with you wherever you go.
Alright, that does it for this post. I hope you all have an excellent week rooting on the MN Lynx in the WNBA playoffs. See you next Tuesday for another crazy round of TWL!
— Beak
Twitter: @_LAZERBEAK_
Instagram: @lazerbeak

SUPPORT THIS BLOG LYFE. TUESDAYS WITH LAZERBEAK SHIRTS AND POSTERS AVAILABLE NOW!!!