Hey hey hey! Welcome back to another absolutely mammoth news edition of Tuesdays With Lazerbeak. We're cruising into the end of 2018 at top speed and there's a whole lot to crazy info to cover today. First off, it's officially been 10 whole years since P.O.S release his epic third full-length album Never Better. My mind is seriously blown at how fast time flies. To honor the big double-digit birthday, Rhymesayers Entertainment is releasing a deluxe vinyl reissue of the album, with expanded artwork, three color LPs (including a screen-printed Side F), and four bonus tracks. Go pre-order your copy right HERE, and check out some of the crazy packaging below.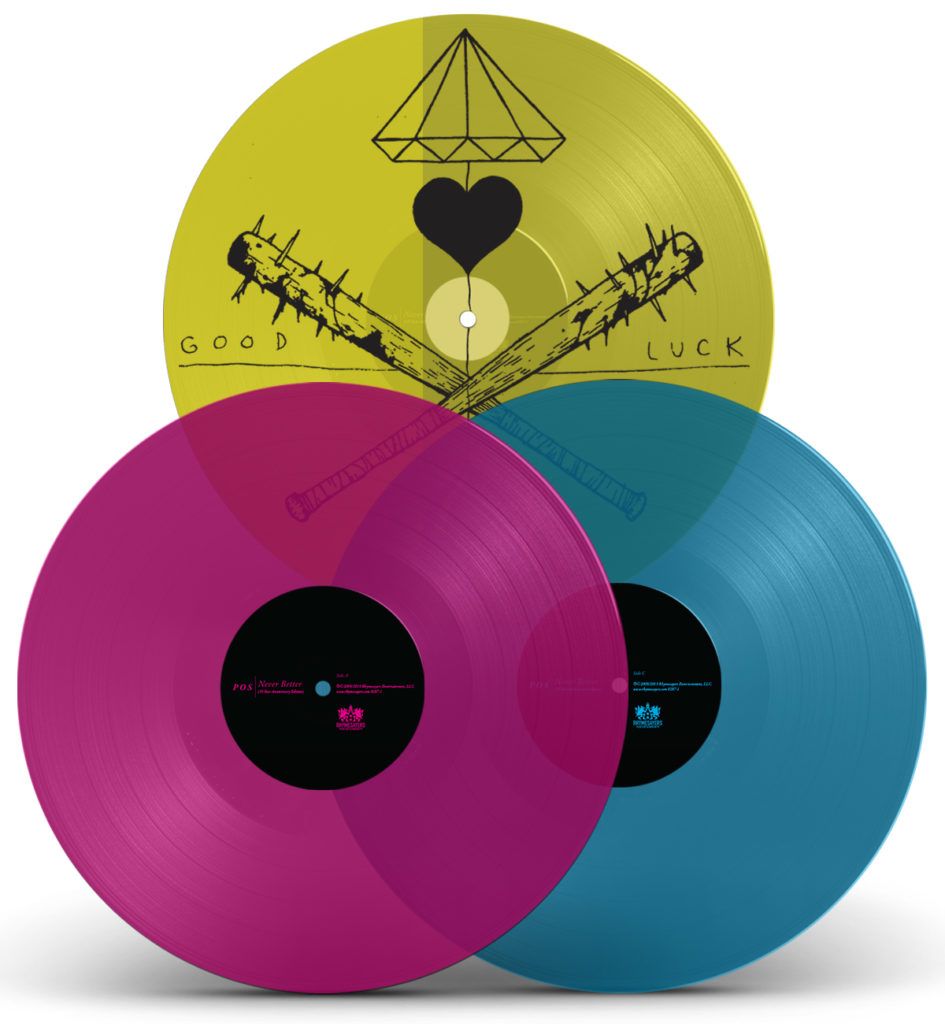 In celebration of the vinyl being back in stock, Stef will head out on the road in February to play a handful of very special Never Better shows, performing the album in its entirety. Chicago, Minneapolis, Brooklyn, Denver, Seattle, San Francisco, and Los Angeles are all on deck and you can check out all the ticket info and details right HERE. Several shows have already gone on sale, and the rest will be available for purchase this Friday.
And speaking of 10-year anniversaries (SEGUE!!), don't forget about the Doomtree S/T and False Hopes vinyl reissues dropping in less than TWO WEEKS. There are only a handful of the super limited Collectors Edition pre-orders left. If you've been eying those at all, now is the time for action. There's lots of other smaller bundles available as well to fit every price range. Grab your copy HERE.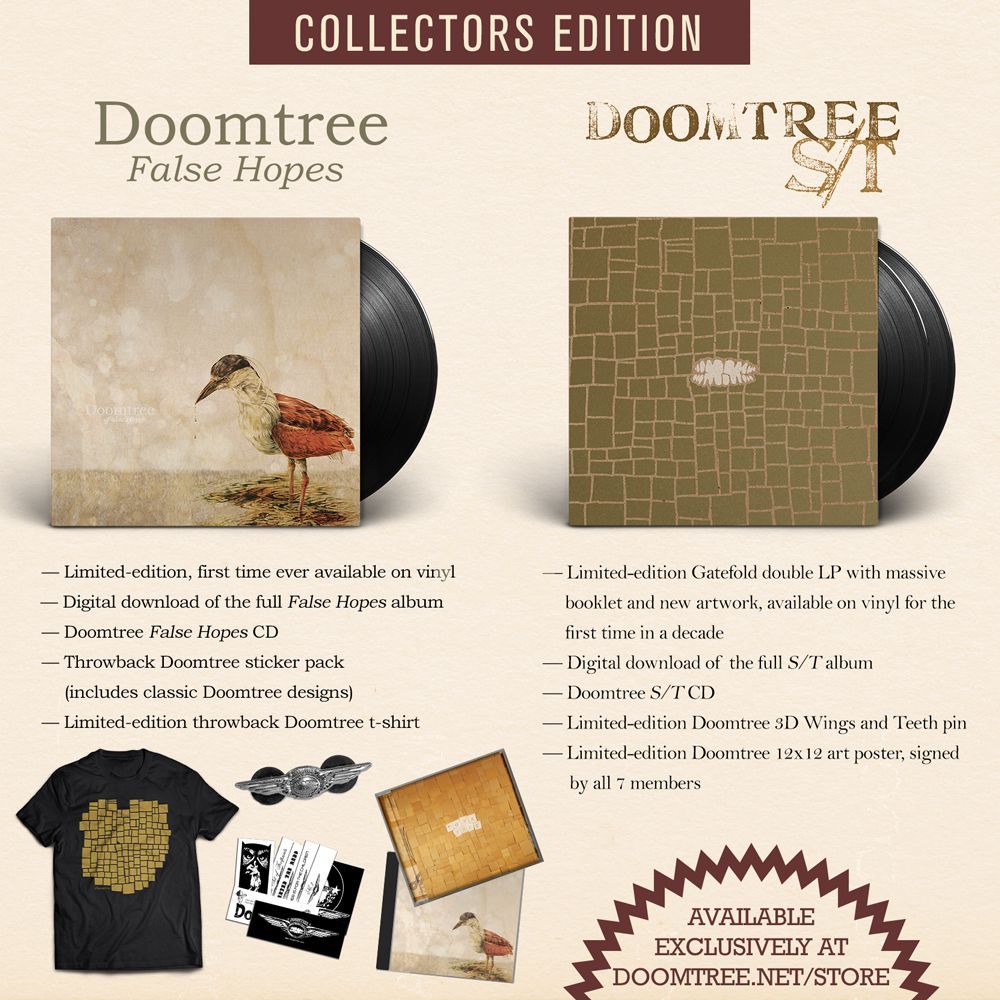 And while you're perusing the merchandise, don't forget that the annual Doomtree December Blowout Sale is in full effect over at the Webstore. There are all sorts of insane discounts going on, plus the return of the legendary Mystery Grab Bags. Check out all the details below and happy shopping right HERE.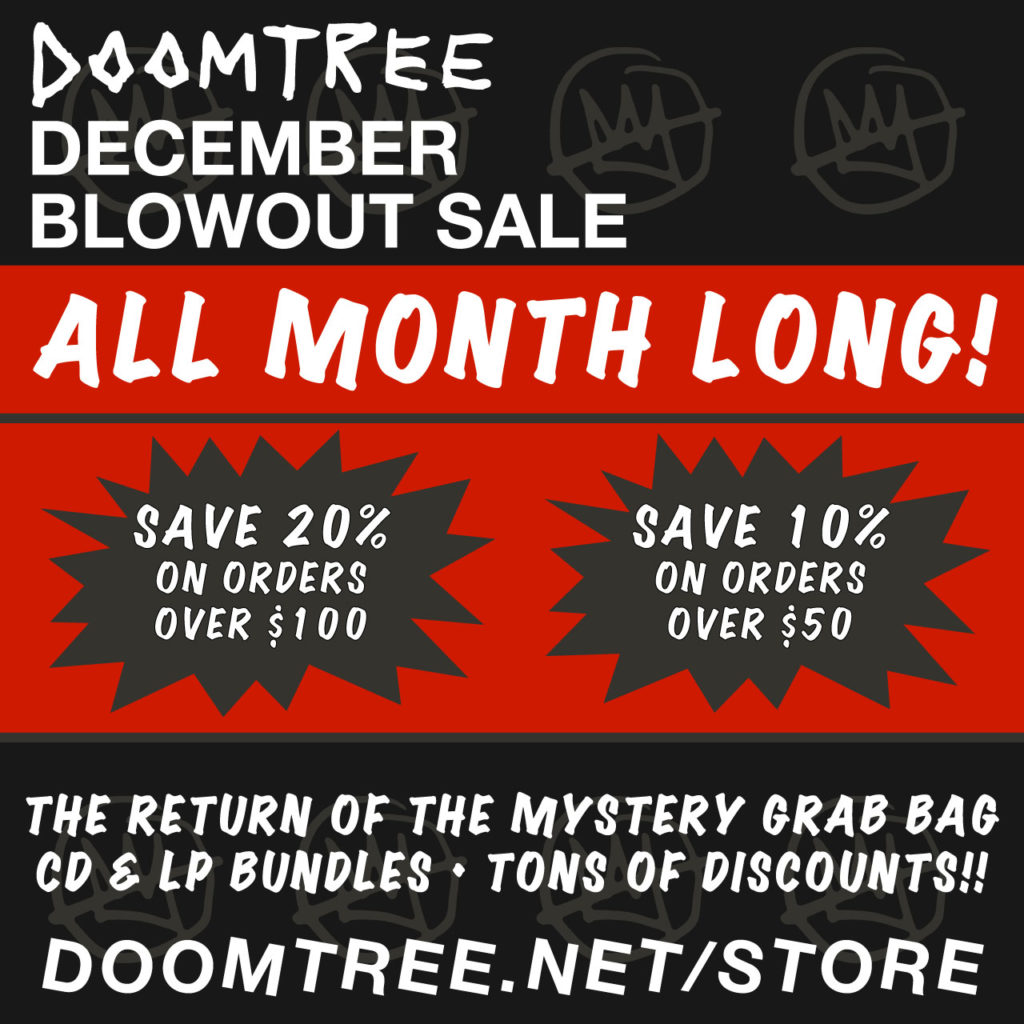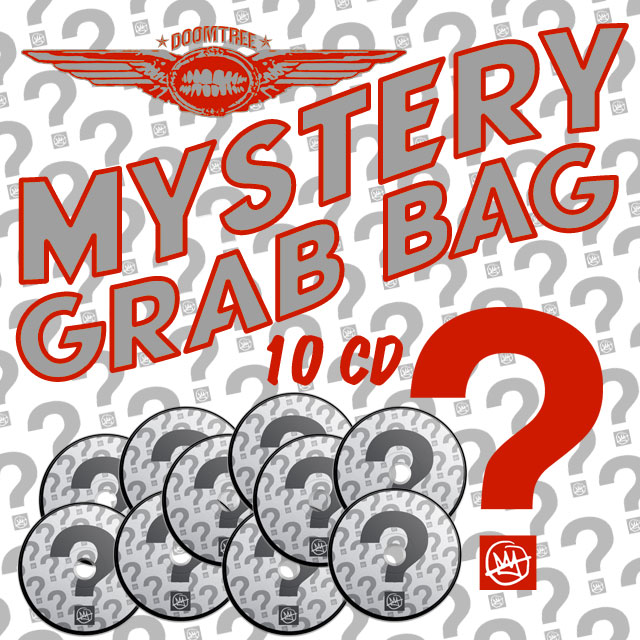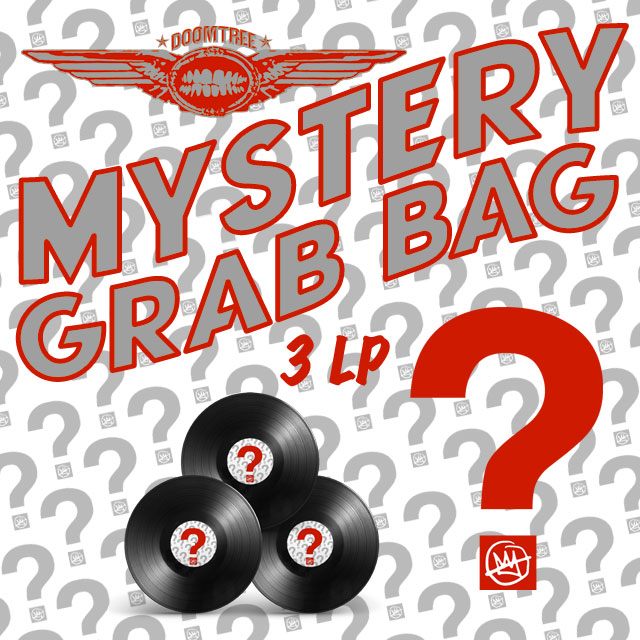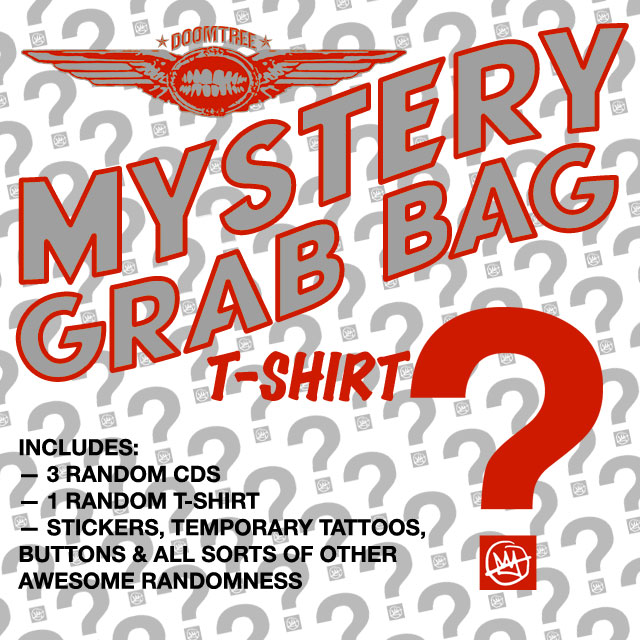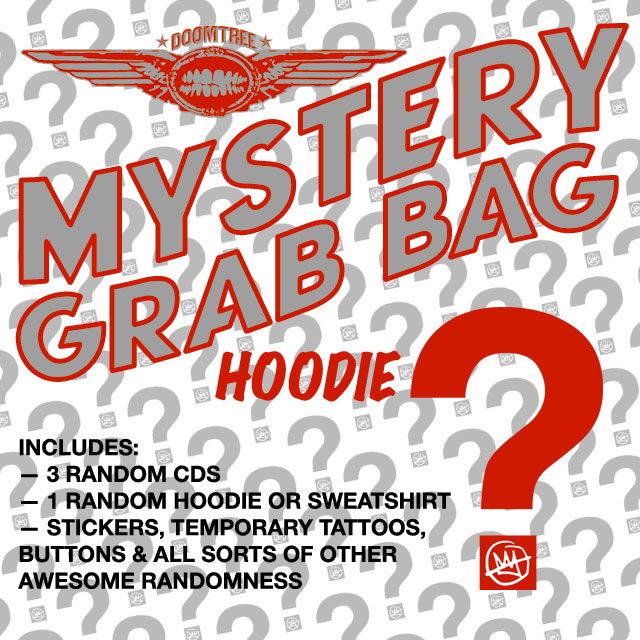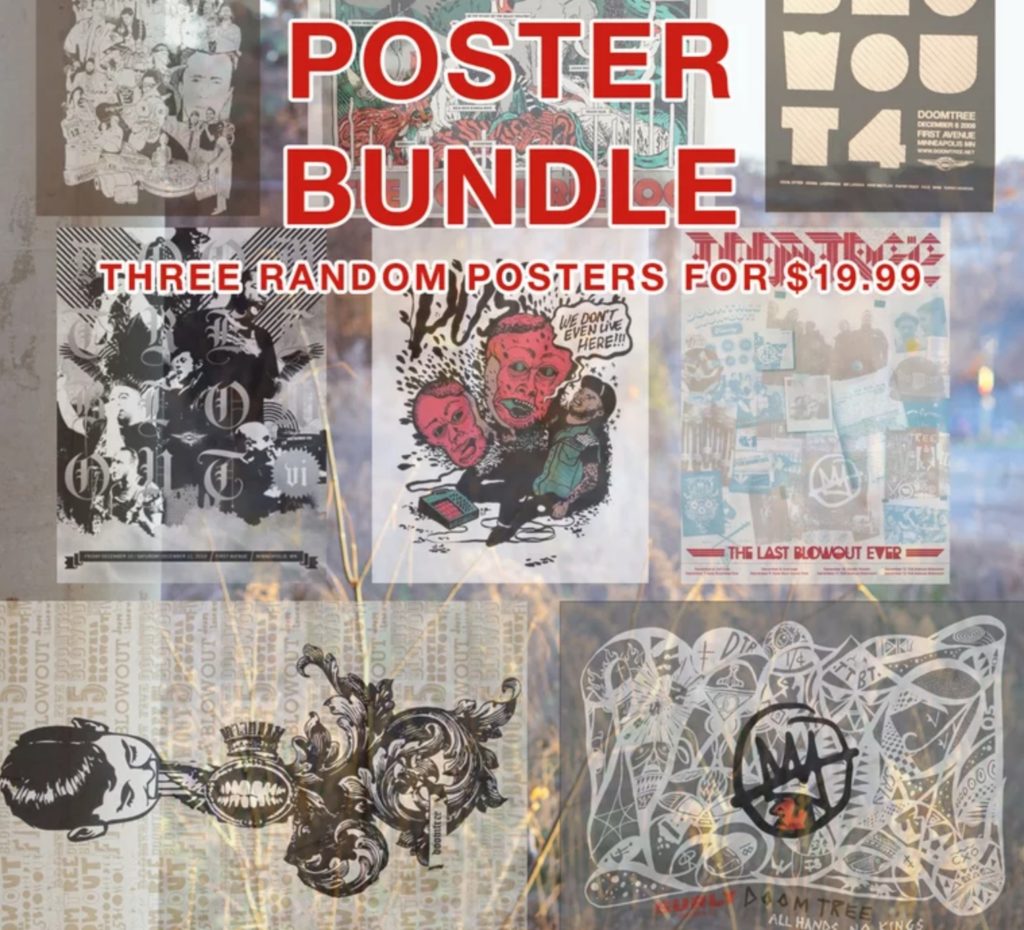 Alright, how about some brand new music to bump? Yesterday our good friends Ultra Suede (the production crew of DJ Fundo, MAKR, and AJAB) released another banging single from their upcoming debut full-length. This one is called "Unwelcome Stranger" and features the ultimate trifecta of Mina Moore, Sophia Eris and RONiiA's Nona Marie Invie on vocals. Check out the song below and help us spread the word!
Ultra Suede – "Unwelcome Stranger" (ft. Nona Marie Invie, Mina Moore, and Sophia Eris)
Loving that one. Doomtree Records is extremely proud to be releasing the Ultra Suede album digitally this Friday, December 7th. If you're just getting caught up, you can check out these three previously released singles below to get properly amped for release day. This album SLAYS.
Ultra Suede – "Diamonds" ft. ShowYouSuck, Sims, and J. PLAZA
Ultra Suede – "Who The Hell Am I?" ft. Dwynell Roland
Ultra Suede – "Caldera" ft. Sims
On a book-related note, I gotta give a quick shout-out to NPR for naming Dessa's My Own Devices memoir in their 2018 Best Books Of The Year list. Check out what they had to say about it below.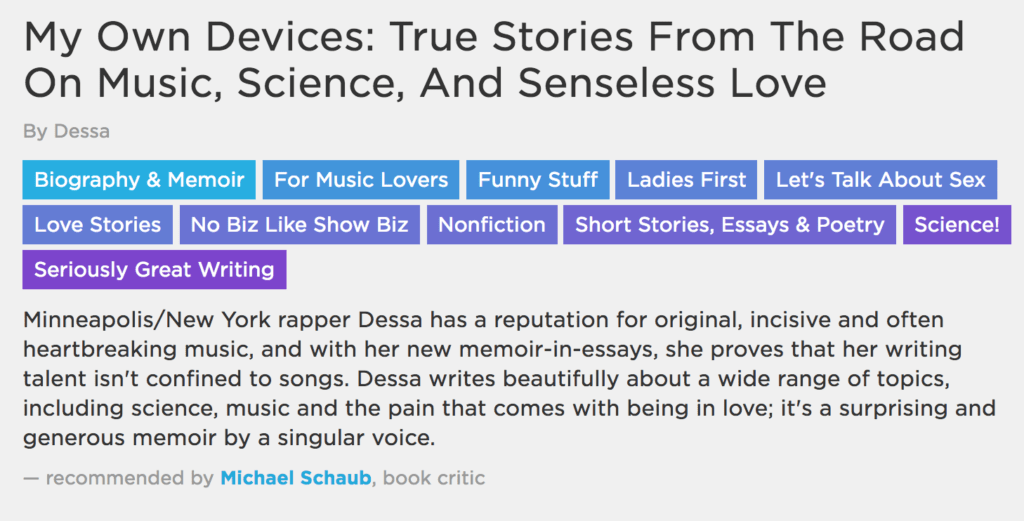 So cool. If you've yet to check out My Own Devices, you can grab your very own copy right HERE. That's the sweet cover below.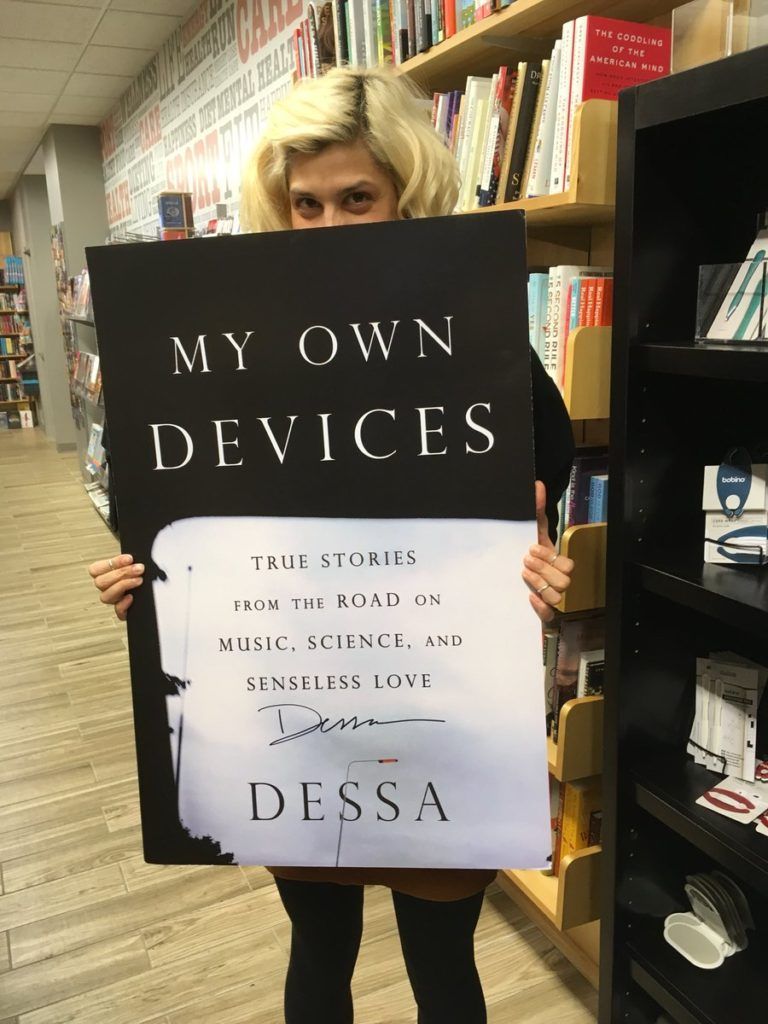 I'm just getting back into town and catching up after an epic Shredders Cabin writing retreat (verrrrrry productive), so no Bonus Jams this week. Promise to make up for it in next week's post though. I hope you all have a great first full week of December. Make sure to grab that Ultra Suede album on all digital platforms this Friday and I'll see you back here next week for another round of Tuesdays With Lazerbeak.
— Beak
Twitter: @_LAZERBEAK_
Instagram: @lazerbeak

SUPPORT THIS BLOG LYFE. TUESDAYS WITH LAZERBEAK SHIRTS AND POSTERS AVAILABLE NOW!!!