OH. MAN. The week is finally upon us. Tonight Dessa will take the stage at Orchestra Hall for her first of two nights recording a live album with the Grammy-winning Minnesota Orchestra. Holy moly.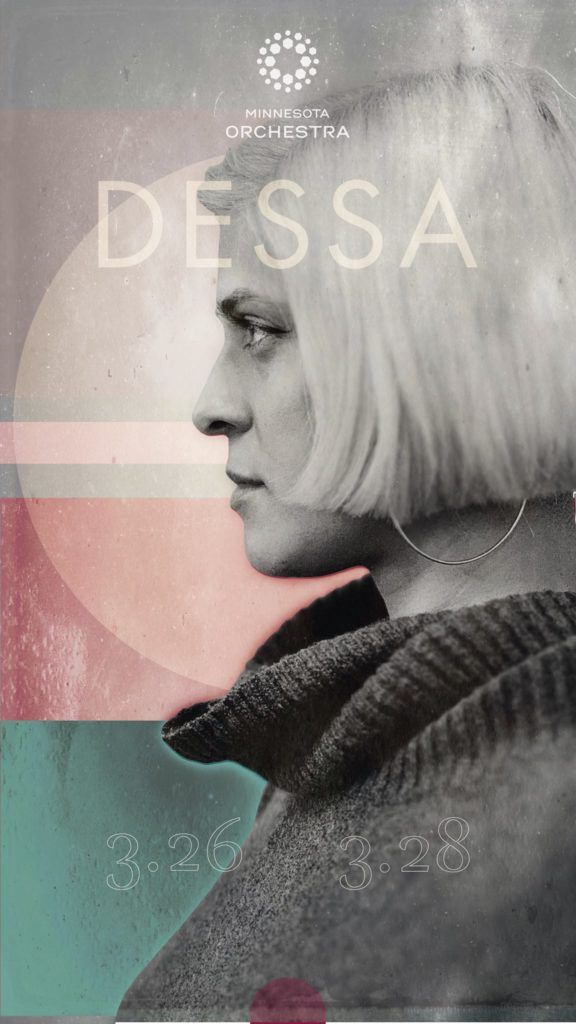 Tickets are officially sold out for both nights, but the good news is that if you missed out on attending the concerts this week you'll be able to hear the whole thing in gloriously recorded audio when Doomtree Records releases the live album later this year. Still can't believe we're going to release an album by the Minnesota Orchestra. So cray. Dessa has been posted up at Orchestra Hall this past week getting things just right for the big shows. Here she is working out the visuals with lighting wizard extraordinaire Paul "Arlo" Guthrie.
Vocal warmups are no joke. Having spent a good amount of my life on the road with rappers and vocalists, I can tell you that the warmup game is different for everybody, and taken out of context it can look and sound incredibly strange. Here's Dessa pulling back the curtain a little on her warmup techniques.
And here's Dessa with insanely talented vocalists Ashley DuBose, Cameron Kinghorn, Matt Santos, and VOCAL DIRECTOR Aby Wolf making sure those harmonies are TIGHT.
.@abywolf, @AshleyDuBose, @CDKinghorn + @MatthewSantos. BOSSES. pic.twitter.com/lYk5nkKSqa

— Dessa (@dessadarling) March 25, 2019
Hard to fully express the amount of hard work and human beings that go into pulling off a performance like this. From the meticulous charts created by our go-to guy Andy Thompson, to the vocal arranging, lighting, and now audio capture for the live recording. Absolute pro level all around. Here's a glimpse into the vocal arranging of Dessa's brand new single "Grade School Games," which will be performed and recorded this week for the album.
I can't wait to hear this new version. If you missed the studio version that dropped earlier this month, you can check it out below or stream/buy from any of your favorite digital platforms right HERE. This is the first new song that Dessa has released since Chime came out last year, and it's one of my favorite things she's ever done. Co-produced once again by Team Triple Threat (Dessa, Andy Thompson, and myself).
Dessa – "Grade School Games" (produced by Dessa, Andy Thompson, and Lazerbeak)
And speaking of myself (NARCISSISTIC SEGUE STREAK!!!), I've been riding high on these good Luther vibes ever since the album dropped last month. Enormous shouts to our local CBS-affiliate WCCO and anchors Jason DeRusha and Heather Brown for having me on their Mid-Morning Show last week to talk about the making of Luther and my deep dive into mental health. Check out the full clip below. Really happy I figured out how to work my new steamer in time to iron my good shirt.
By now the album has had a chance to get a little bit of press and a few reviews here and there, which I'm very grateful for. At the end of the day though, you win or lose by the opinions of you closest family members, and unfortunately my dumb idiot kids could pretty much care less. Here they are proving on camera that they have literally zero idea what a CD is. Expect many more Official Luther Reviews and hot takes from Crab Man Cam, Laid Back Lou, and Young Nelpz as the album rollout continues. At least they give it to me straight.
Alright! That does it for this week's Doomtree-related news. Let's jump right into some Bonus Jams since it's been a few weeks. Loving this new "Boasty" joint from Wiley, Sean Paul, Stefflon Don, and a killer cameo from the one and only Idris Elba. The video is amazing as well. Some serious OGs on this one, all flexing super hard.
Wiley, Sean Paul, Stefflon Don – "Boasty" ft. Idris Elba
We're less than three weeks out until Lizzo completely takes over the entire world, and things are heating up super crazy with this new single FEATURING MISSY "MISDEMEANOR" ELLIOTT!!! I remember talking with Lizzo about Missy six years ago when we were just starting to make Lizzobangers and now she's on a track with her. Incredible. Check out "Tempo" below.
Lizzo – "Tempo" ft. Missy Elliott
Really feeling the latest Tierra Whack singles that have been dropping as of late. I know everyone loved her one-minute songs, but I always felt like things were just getting good when they cut off. Happy to see these new ones get a chance to breathe and grow a bit. "Wasteland" is a definite standout.
Tierra Whack – "Wasteland"
The new album from Brittish rapper Little Simz is great and this collabo with Little Dragon is truly outrageous. Dream pairing for sure. Check out "Pressure" below.
Little Simz – "Pressure" ft. Little Dragon
Super feeling this new "Bittersweet" single from newcomer Semma. Kingdom absolutely crushed the production. Here's to hoping the two have a whole project in the works together. Can't wait to hear more.
Semma – "Bittersweet" (prod. by Kingdom)
Channel Tres continues his flawless single streak with this new "Brilliant N*gga" track. I love the hybrid of house music and West Coast funk that goes into these tracks. Can't wait for a full album.
Channel Tres – "Brilliant N*gga"
Peggy Gou is back and ready for the dance floor with an excellent new single called "Starry Night." Check it out below.
Peggy Gou – "Starry Night"
Tame Impala shut down the internet with the announcement that they've got a new album on the way. Here's lead single "Patience." Not gonna lie, this one took me a few listens to fully get into but now I'm way on board. Excited to hear more.
Tame Impala – "Patience"
I've never been a big Vampire Weekend guy in the past, but all the new singles I've been hearing off their upcoming album have been really charming and carefree. This "Harmony Hall" joint especially. Maybe I'm just like 10 years late to the party?
Vampire Weekend – "Harmony Hall"
Loving the new album from Helado Negro which does an incredible job of mixing indie, pop, and Latin American rhythyms into a totally new sound. This "Running" song is great.
Helado Negro – "Running"
Now for a few hometown hits. My good friend Mark Mallman just released an incredible new book called The Happiness Playlist. I cannot begin to tell you how excellent it is or how positively it impacted me while reading it. It is hands down the best book you'll read in 2019 and I implore you to grab a copy right HERE. The whole thing is about how Mark learned to battle grief and anxiety by listening to nothing by happy music, and he's shared his actual Happiness Playlist with us all on Spotify. Check out the whole thing below. Some serious jams in there. And stay tuned because Mark is going to be the next guest on the Tuesdays With Lazerbeak podcast dropping next week!
Mark Mallman – The Happiness Playlist
Producer Travis Gorman continues to churn out heaters at breakneck speeds, and he's recently linked back up with fellow Rotation crew member Devon Reason for this new "R.Y.H.T.D." single. Check out the full video below.
Devon Reason – "R.Y.H.T.D." (prod. by Travis Gorman)
Really excited about the upcoming album from Minneapolis band Graveyard Club, who collaborated with Andy Thompson in the studio for this one. Lead single "Witchcraft" is phenomenal and the video is great too. Check it out below.
Graveyard Club – "Witchcraft"
And lastly, big shouts to my man Sam Cassidy on releasing his excellent new album Running Blind this past week. It's an extremely thoughtful and intricate concept album that still totally ROCKS (not an easy feat to pull off). Congrats, Sam. You can grab the full album and support great independent music right HERE.
Sam Cassidy – "Tired of Running"
BOOM! That's it for Bonus Jams. As always, you can subscribe to my Bonus Jams Spotify Playlist to take these songs with you everywhere you go. I update it every Tuesday morning with all the latest hits. You can save it to your playlists right HERE.
OK, I'm headed off to Orchestra Hall for rehearsals as we speak. Big week getting this live album tracked! Looking forward to seeing a bunch of you down there for these two big Dessa shows, and if not, I'll see you right back here next week for another round of Tuesdays With Lazerbeak!
— Beak
Twitter: @_LAZERBEAK_
Instagram: @lazerbeak