Welcome back to a brand spanking new edition of Tuesday With Lazerbeak. Hope you all had a nice long weekend. We've been doing a bit of spring cleaning over at the DTR Headquarters and I'm very excited to now offer a few new items up for sale at the Doomtree Webstore. We've got Lazerbeak Gratitude Journals and T-Shirts, Tuesdays With Lazerbeak coffee mugs, Four Fists slipmats and santeria candles, and a brand new hooded long sleeve Dessa shirt.  Check out all the new items below and go grab yours right HERE before they're all out.
And speaking of Dessa (SEGUE!), she'll be heading overseas next week to knock out her second European run on this Chime cycle. This time around she's hitting Austria, Switzerland, Luxembourg, England, and Ireland. Check out all the dates below and holler at your peoples if they live anywhere in the vicinity. Should be a total blast. Tickets available HERE.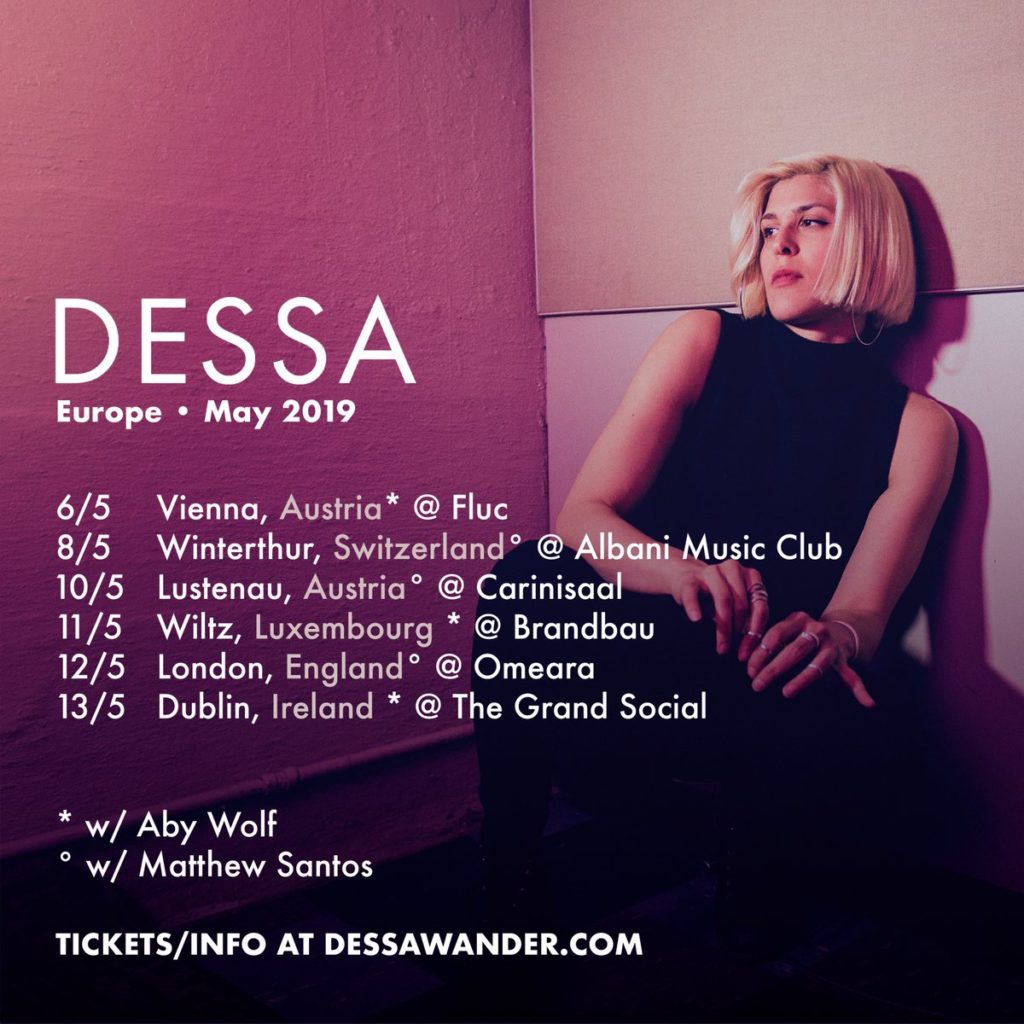 Big time shouts to our local weekly paper City Pages for naming Dessa the Best Songwriter of 2018. Check out the full blurb below. I know I'm a little biased, but I couldn't agree more!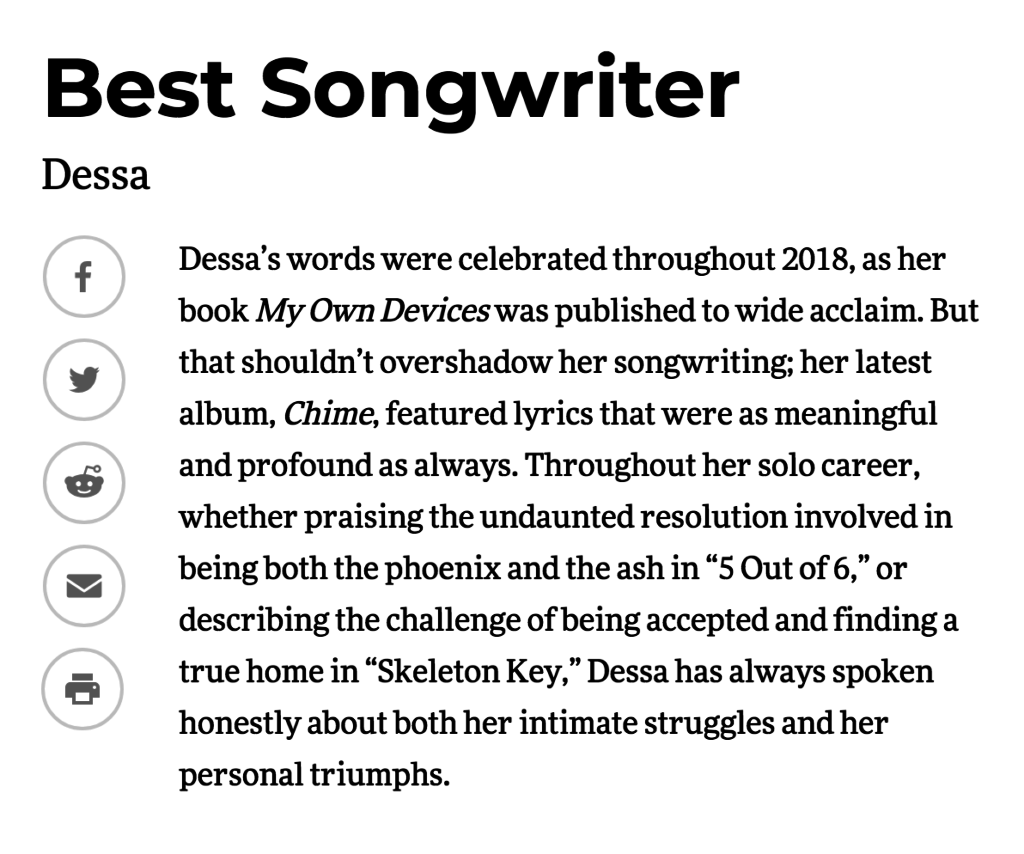 And more shouts go out to our Minnesota public radio station The Current for featuring my new single "Valley Low" as their Song Of The Day last week. You can download the song for FREE.99 right HERE for a limited time.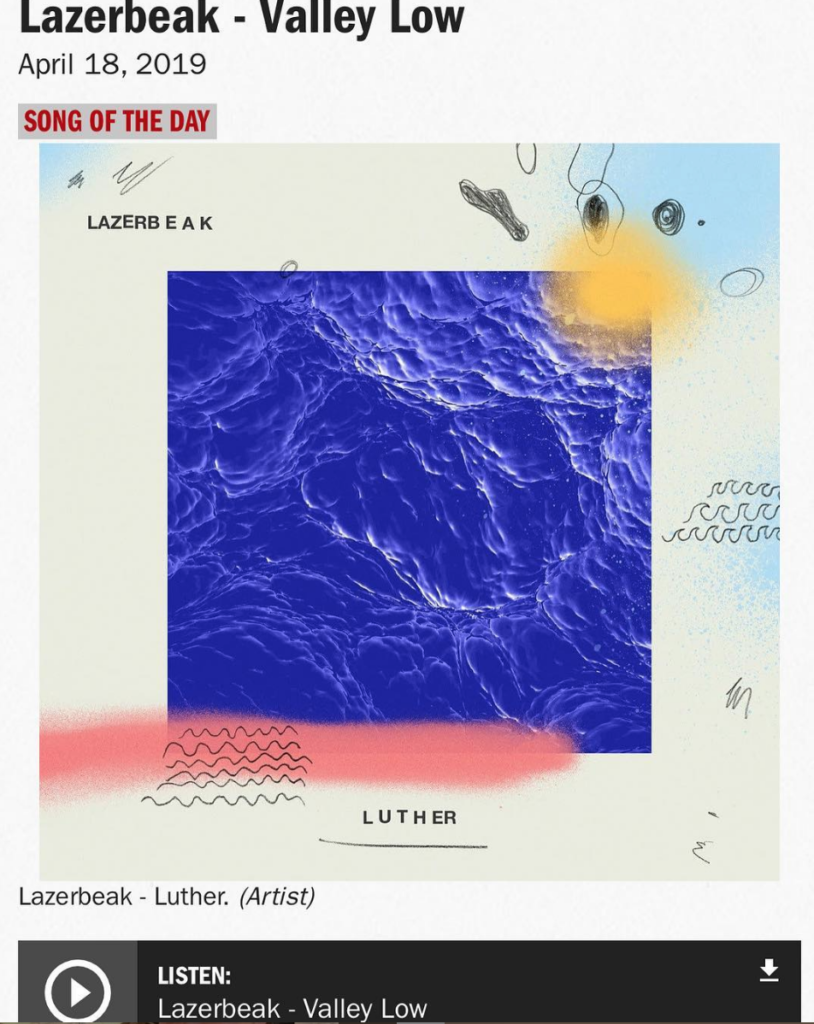 And of course if you missed the music video for "Valley Low" earlier this month, here it is one more time. Directed by the always crushing Mercies May. ENJOY!
LAZERBEAK – "Valley Low"
My good friend Longshot just released a brand new music video before taking off on his first national headlining tour. Check out new banger "Crack" below, produced by Von Doe. The video marks the directorial debut from the homie Rich Garvey.
Longshot – "Crack" (prod. Von Doe)
You can catch Longshot all across the US performing tons of material from our collaborative album Parades that I produced last year. Check out all the dates and cities below and make sure to go out and support. He puts on one of the best one-man-show performances I've ever seen.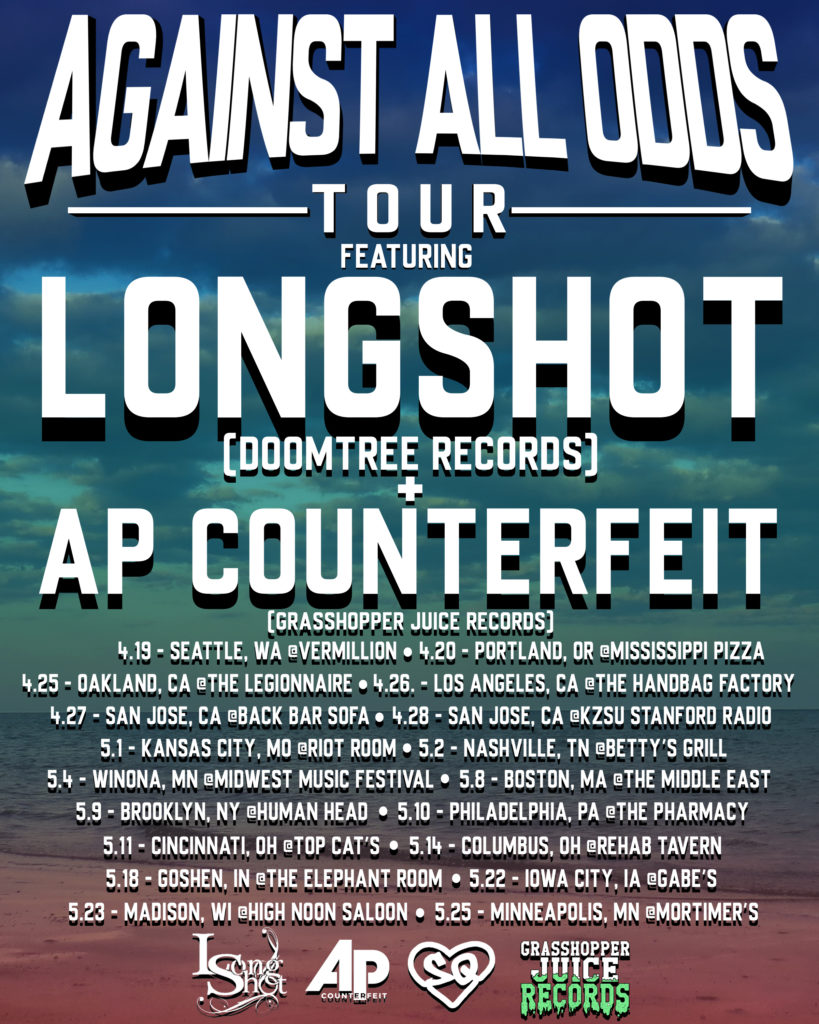 Shot will be splitting off from the tour for one night only on Saturday, May 4th to link up with me in Winona, Minnesota for Mid West Music Fest 2019. This is currently the only Longshot & Lazerbeak performance we have on the books, so make sure to check it out. Full lineup below and you can grab your tickets right HERE.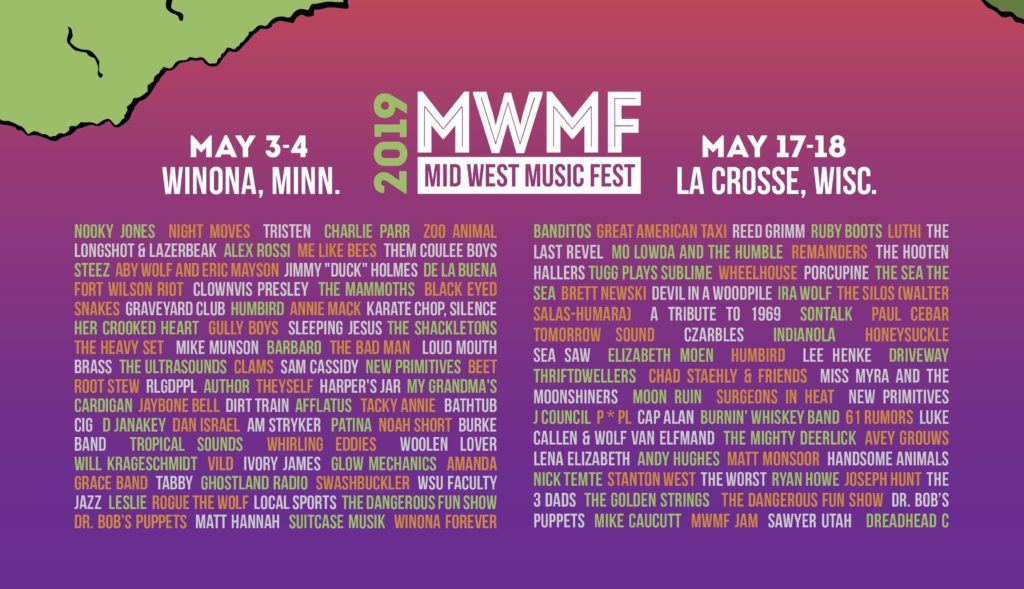 Earlier that same day, May 4th, I'll be posted up at the Minnesota History Center celebrating the opening of their brand new 50 Years of First Avenue exhibit. You can catch me playing my favorite local jams from 2-3pm. I can guarantee you do not want to miss this exhibit. It contains the long-awaited return of MOUNTAIN, Doomtree's steadfast touring van. Grab your tickets HERE.

Alright, that pretty much does it Doomtree-related news, so let's kick off another round of Tuesdays With Lazerbeak Bonus Jams! So proud of and happy for Lizzo, who just released her major label full-length debut on Friday before burning Coachella to the ground this past weekend. Check out "Soulmate" below and go support this woman. Crazy to look back at the last five years and see how far she's gone since Lizzobangers.
Lizzo – "Soulmate"
I loved nothing more than to see Lizzo and Beyoncé at the top of the iTunes charts on Friday. So fitting. And you definitely need to check out Bey's new cover of "Before I Let Go," the timeless classic from Frankie Beverly and Maze. The best.
Beyoncé – "Before I Let Go" (Maze Cover)
I'm just catching up on the new Anderson .Paak album, which dropped only four months since his previous Oxnard full-length with Dr. Dre. Looks like this one takes more of a soulful route, and lead single "Make It Better" features the one and only Smokey Robinson. Loving it.
Anderson .Paak – "Make It Better" ft. Smokey Robinson
Kehlani just dropped a new video for her collaboration with 6lack off of her recent While We Wait mixtape. This one was definitely a highlight of that project for me.
Kehlani – "RPG" ft. 6lack
Just got put onto singer Col3trane and I'm very much enjoying everything I've heard so far. Plus he has a song named after my daughter, so he's really tugging at my heartstrings here. Check out "Penelope" below.
Col3trane – "Penelope"
Salvatore Ganacci has released the best music video of 2019, a feat I really did not think would be possible after watching that most recent Tierra Whack vid. Huge shouts to Becky Hoffmann for dropping this in the Dessa group text and thoroughly rocking my world.
Salvatore Ganacci – "Horse"
Getting way pumped for the new Tame Impala album. Second single "Borderline" is a total damn jam.
Tame Impala – "Borderline"
Huge congratulations to Open Mike Eagle and Baron Vaughan on the debut of their new Comedy Central show The New Negroes. Absolutely killing it. Check out this latest musical sketch from Mike and Danny Brown, with production by our good friend Bionik, and make sure to check out the show every Friday night on Comedy Central.
Open Mike Eagle and Danny Brown – "Unfiltered"
Psalm One just blessed us with a brand new EP called Don't Get Lazy Now (best title ever). It's got the previously released banger "Non-Binary" plus two new joints. Check out the whole thing below. So happy to have her back!
Psalm One – Don't Get Lazy Now EP
Allan Kingdom is back with another loosie. This one's called "Jet" and features a pretty great music video to boot.
Allan Kingdom – "Jet"
Davis and Erick from BAIN just released a new remix from their standout single "Around The Sun." Shouts to Nicolay on the production, and Lady Midnight with the guest vocals.
BAIN – "Around the Sun (Nicolay's Sunrise Remix)" ft. Lady Midnight
V pumped about the possibilities of a new Night Moves album. This most recent single "Strands Align" is a total heater.
Night Moves – "Strands Align"
And lastly, here's a new song from composer and banjo player Michael Rossetto, who just released his new album Intermodal Blues. Check out the title track below.
Michael Rossetto – "Intermodal Blues"
BLAMMO! That does it for the Bonus Jams this week. Don't forget to subscribe to my Bonus Jams Playlist on Spotify right HERE so you can take these jams with you and play them anywhere you go. I update this thing every Tuesday morning with the latest HITS.
That does it for this post. I hope you all have an incredible final week of April. I'll see you back here next Tuesday for another edition of TWL!
— Beak
Twitter: @_LAZERBEAK_
Instagram: @lazerbeak