Hey hey! Welcome back to a quick little post-holiday Tuesdays With Lazerbeak. I hope you all had a wonderful long weekend and are easing back into the work week. I'm playing some pretty serious catchup, so this post is gonna be short and sweet. Memorial Day Weekend always seems to kick things into high gear as far as festivals, block parties, and summer concerts are concerned, and this year is certainly no different. Dessa and her band pulled off a super impressive triFESTa by playing festivals in Napa, Boston, and Minneapolis all in the same weekend. Here's the gang getting ready for their set at Bottlerock.
View this post on Instagram
And here they are bringing down the house at Boston Calling about 18 hours later. Shouts to all those flights that landed and took off on schedule, and to Sarah Fish for the rad photo.
That same night I performed a super rare show with my Mixed Blood Majority brothers Crescent Moon and Joe Horton at the Memory Lanes Block Party. Soooooo much fun.
To close things out, Dessa made her way back home to perform at the 12th-annual Soundset festival. Big thanks to Keegan Burckhard for snapping all these great shots.
View this post on Instagram
I myself skipped Soundset this year in favor of taking the fam to the Minnesota Zoo. Too bad my kids are completely inept at posing for pictures. You know you're in trouble when a llama clearly understands you better than your own children.
Shouts to everyone that it made it out to any of the shows over the last week. What a way to put an exclamation point on the end of May. We're just getting warmed up now, and June is gonna be full-on show mayhem. Things start off in the Southwest as Dessa performs in Las Vegas, Tijuana, Phoenix, Santa Fe, and Austin over the next few weeks. Check out the full run below and grab your tickets HERE.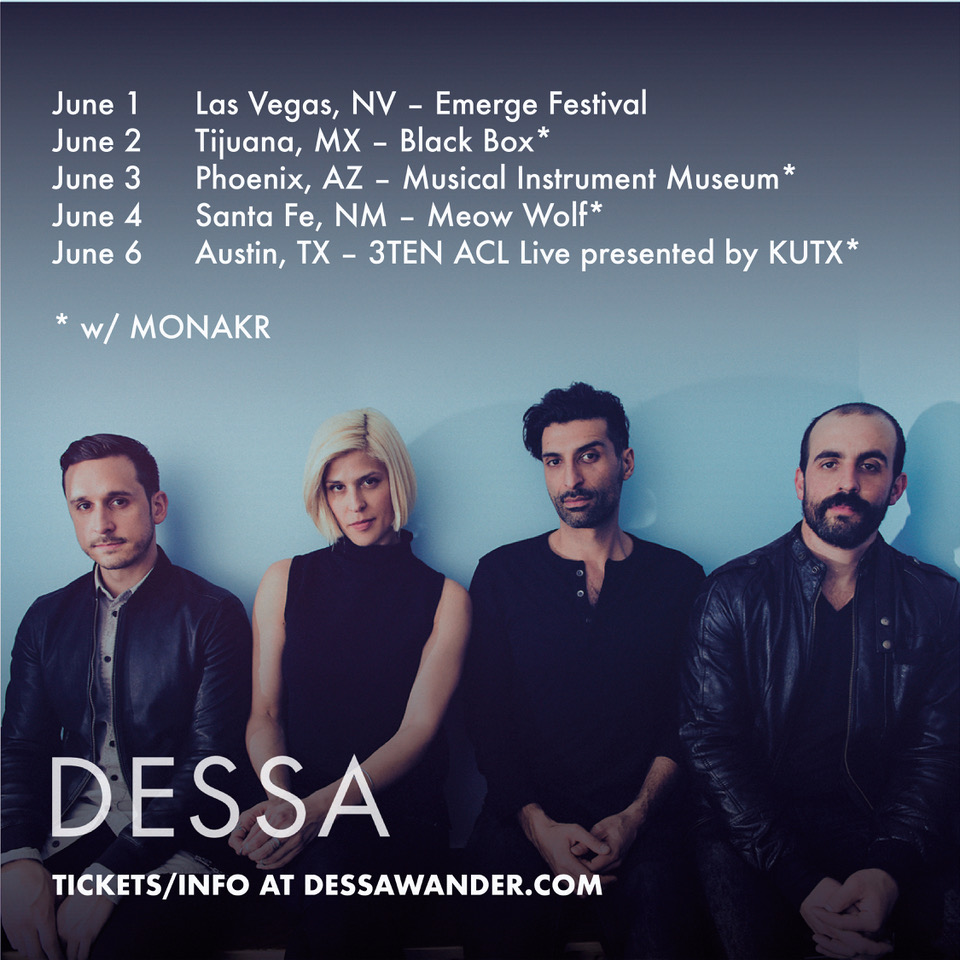 On June 11th, Jeyca and I will premiere the first ever live taping of the Tuesdays With Lazerbeak podcast at The Parkway Theater in south Minneapolis. Could not be more excited about this first one. We've got St. Paul's own María Isa as our special guest and musical entertainment for the night, and nutritionist Jesse Haas from Wellness Minneapolis will also be in the building to teach us simple ways to take better care of our bodies and minds. Should be an absolute blast of positivity. Grab your tickets HERE.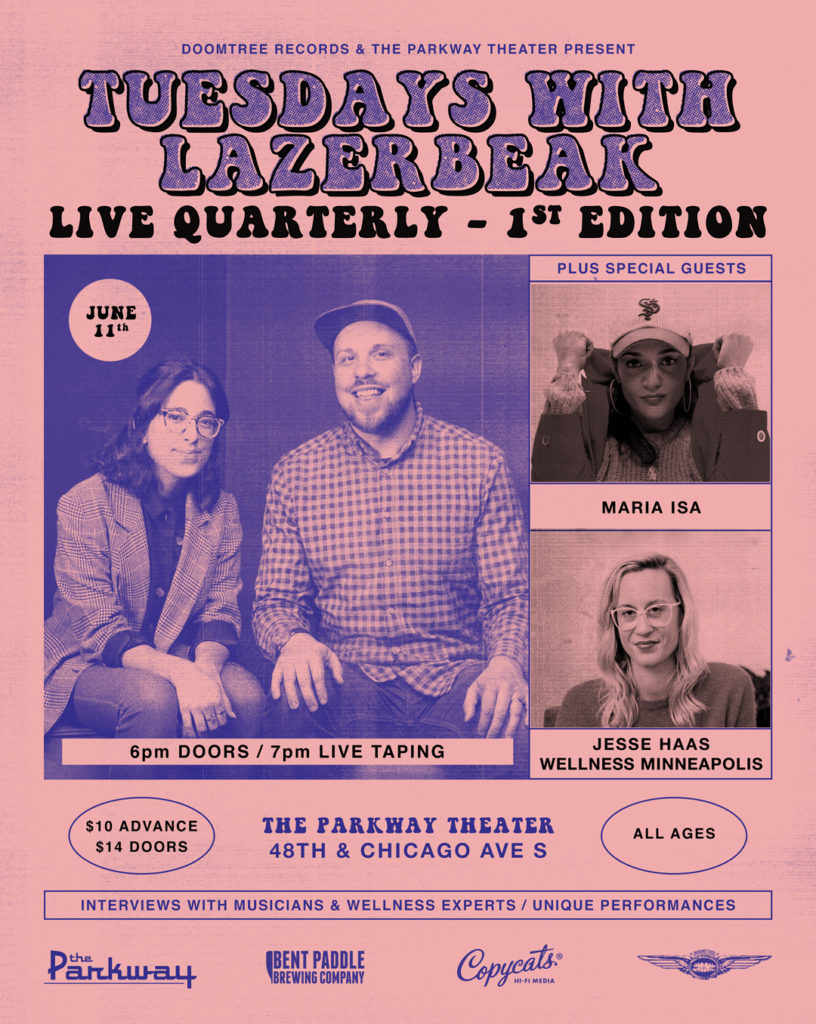 Oh and speaking of Wellness Minneapolis (SEGUE!!!), last week I announced a personal partnership with them. I'll be partaking in a different wellness activity each month until the end of the year and sharing my journey along the way via social media. I'm really excited for this opportunity to learn and grow on a personal level, and also hopefully shed some light on mindfulness and mental health in general. I'm actually going to be posted up at Wellness Minneapolis this Sunday, June 2nd for their annual Open House Summer Celebration party. There will be all sorts of self care vendors on hand, mini healing sessions, and guest speakers. The party goes from 1:00-4:00 and I'll be there speaking about my own self care journey and playing a few songs from Luther live. Fun for the whole family. Learn more about it all right HERE and I'll see you on Sunday!
P.O.S will be headed out on a crazy little run with hardcore legends Touché Amoré later in June. The dudes will be hitting shows in Chicago, Cleveland, Lansing, and Toronto. Check out the details below and grab your tickets HERE.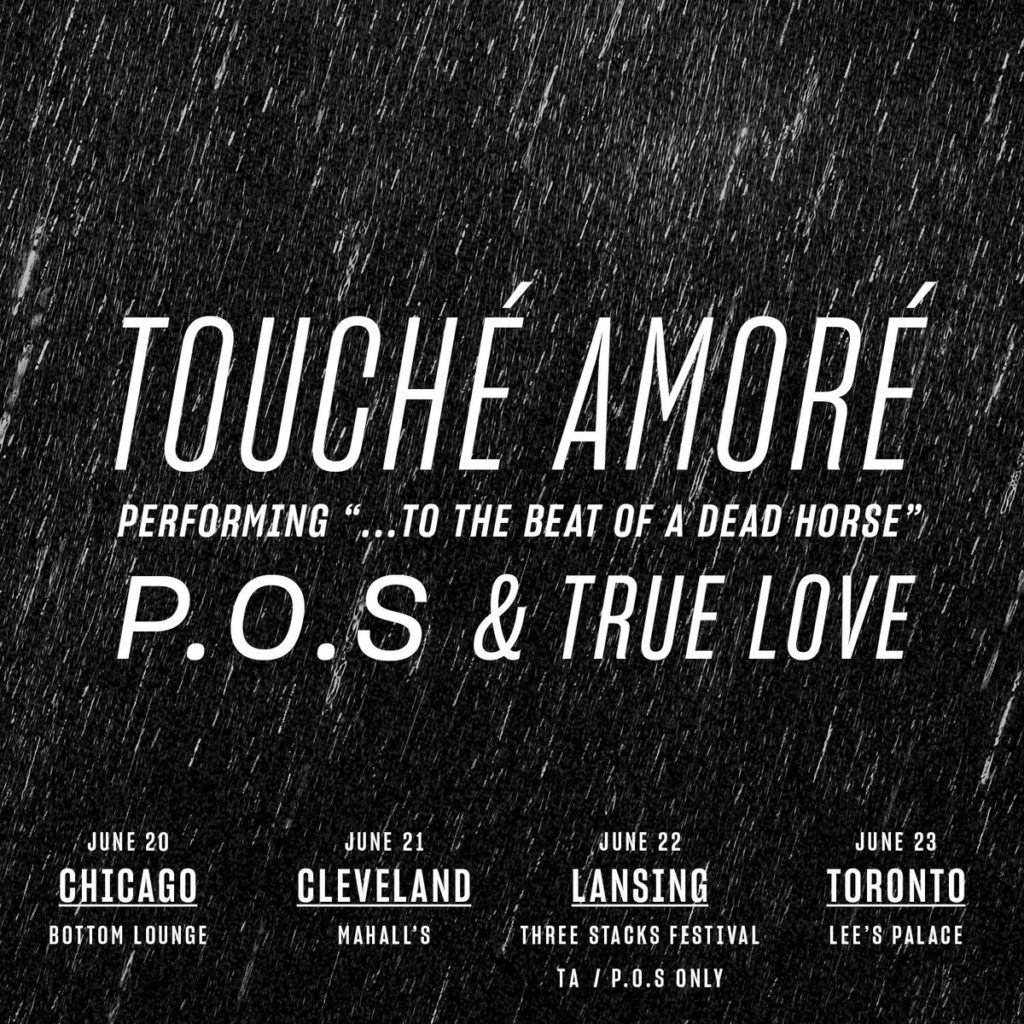 And to close things out we've got the first full-crew Doomtree show of the year!!! That's right, all seven of us will join forces once again on June 30th outside of Beth El Synagogue for the second-annual Common Sound Music Festival. Our good friends jeremy messersmith and KOO KOO KANGA ROO will also be on hand. Grab your tickets now for an awesome early-bird discount right HERE. Can't wait!!!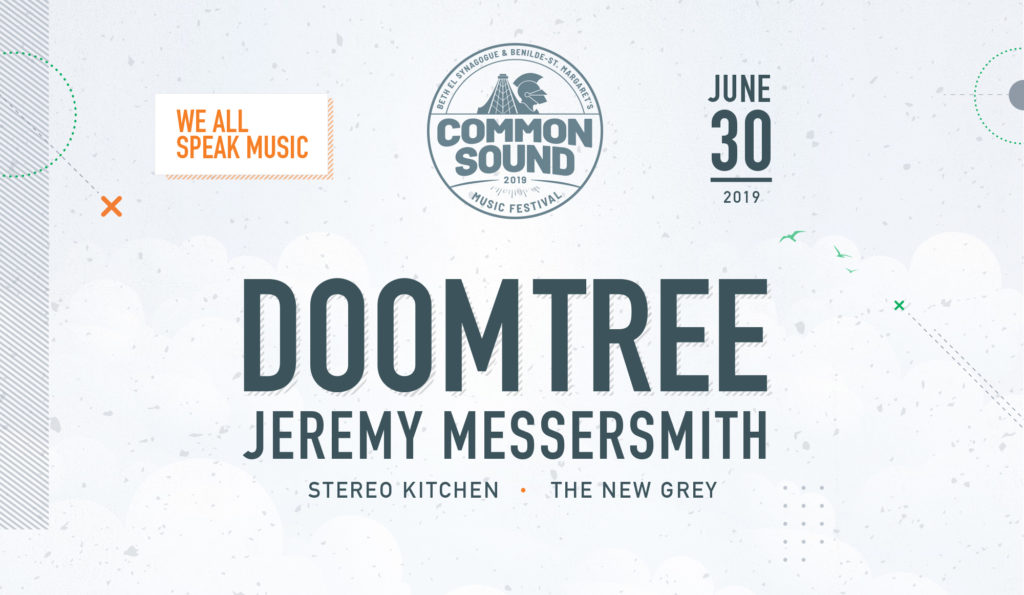 And lastly, just a reminder that Surly Brewing Company's Summer of Sound DJ Night series is going down every Tuesday night all summer long. I've come in once again to curate all the guests and I couldn't be more excited about this year's lineup. Make sure to come down every Tuesday from 7-10pm to hear your favorite local artists spin their favorite music. Things kick off next Tuesday with Doomtree's own SIMS!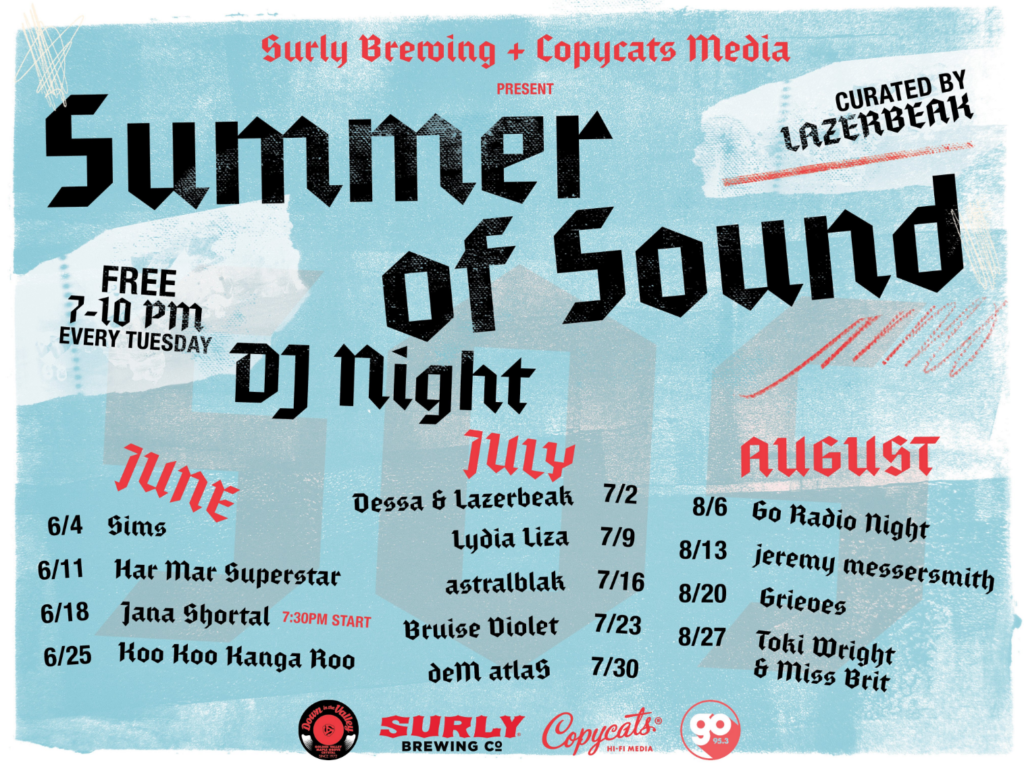 Alright, that does if for the June Show Rundown. I'm gonna hold off on a full-blown round of Bonus Jams until next week, but I'll leave you with this timeless classic from my main man Luther Vandross, as the lyrics are pretty much the secret to the universe. Closest that I've found so far at least.
Luther Vandross – "Power of Love / Love Power"
I hope you all have an absolutely fabulous week and I'll see you back here next Tuesday for another edition of TWL!
— Beak
Twitter: @_LAZERBEAK_
Instagram: @lazerbeak