Hello and welcome back to another big time edition of Tuesdays With Lazerbeak. I'm just returning from a little Father's Day camping trip with the fam and on my way to mix the upcoming Dessa Minnesota Orchestra album, so I'm gonna keep this post short and sweet. Let's kick things off with some brand new music though, just in time for the start of summer. I could not be more happy to share with you this new ultimate banger from Sophia Eris, produced once again by Bionik and myself. It's called "Feel The Burn" and that's the sweet single cover below courtesy of dynamic duo Sammy Figgz and Mark Brendale.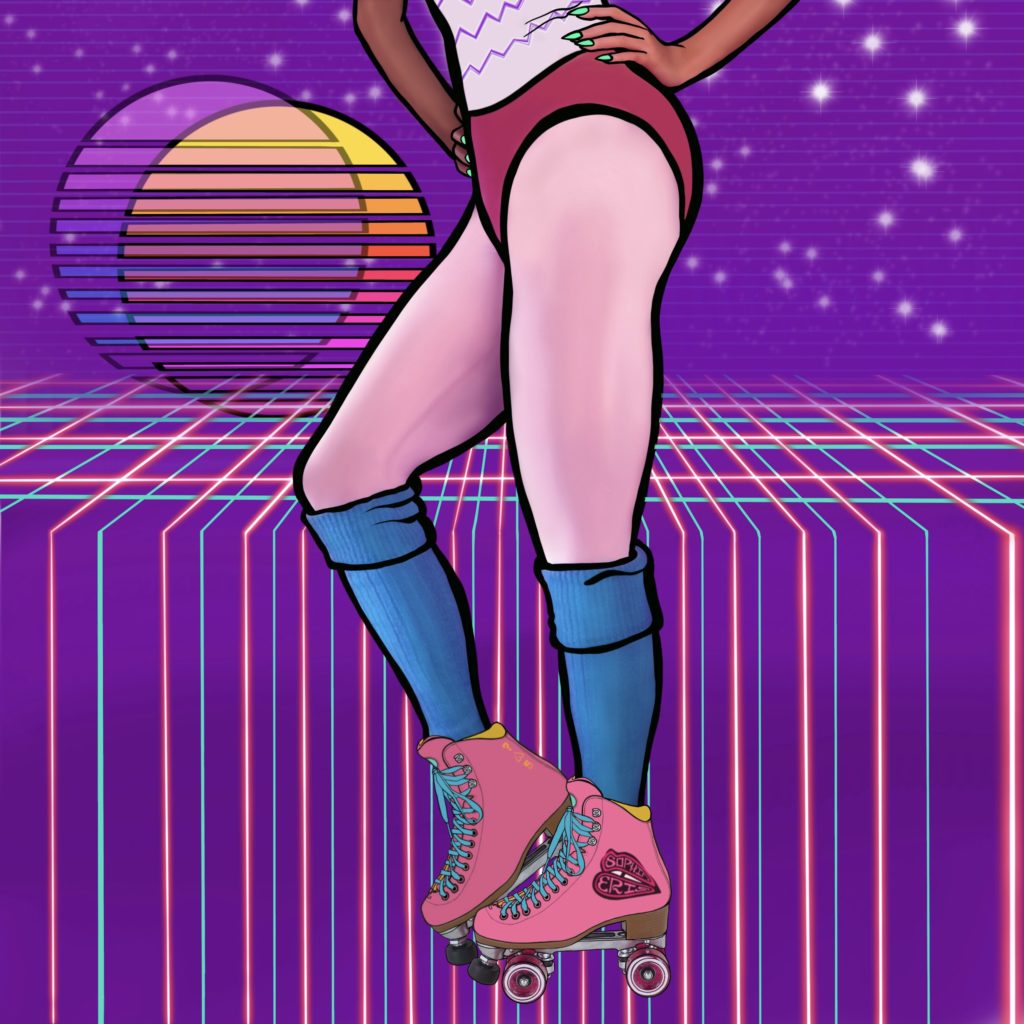 Check out the song below or grab it anywhere you enjoy listening to music at right HERE. It's personally my favorite thing that Sophia has done so far, which is saying quite a bit actually. Play it as loud as possible and please help us spread the word. We've got lots more music coming before the year is done!
Sophia Eris – "Feel The Burn" (produced by Lazerbeak and Bionik)
And if you're just getting familiar with Sophia, make sure to check out her excellent previous singles (also produced by Bionik and me). Here's "Fanny Pack" and "Who's Go The Boom" below.
Now for some awesome new show updates. P.O.S is packing his bags and heading out this week for a little mini tour with post-hardcore legends Touché Amoré. The gang will be hitting clubs in Illinois, Ohio, Michigan, and Ontario later this week. Check out all the details and grab your tickets right HERE.
We're only a few shorts weeks away from the first full-crew Doomtree performance of the year. Common Sound Festival takes place on June 30th in St Louis Park, and to celebrate the occasion we've linked up with local brewery Steel Toe to make a brand new one-off Doomtree beer. It's called All Hands Pale Ale and it is absolutely delicious. If you'd like to be the first to try it out, head down to the Steel Toe tap room this Thursday, June 20th. I'll be posted up all afternoon guest bartending and slanging pints, plus you can get some discounted Common Sound tickets if you're looking to kill two birds with one stone. Check out the details below and I hope to see a bunch of you on Thursday!
All that leads up to next weekend when all seven members of Doomtree will headline the second-annual Common Sound festival. We've been polishing up on the entire catalog and coming up with a slamming setlist for this one. Can't wait to be reunited with everyone and share the stage together again. Been too long! Grab your tickets right HERE and come party with us on the 30th!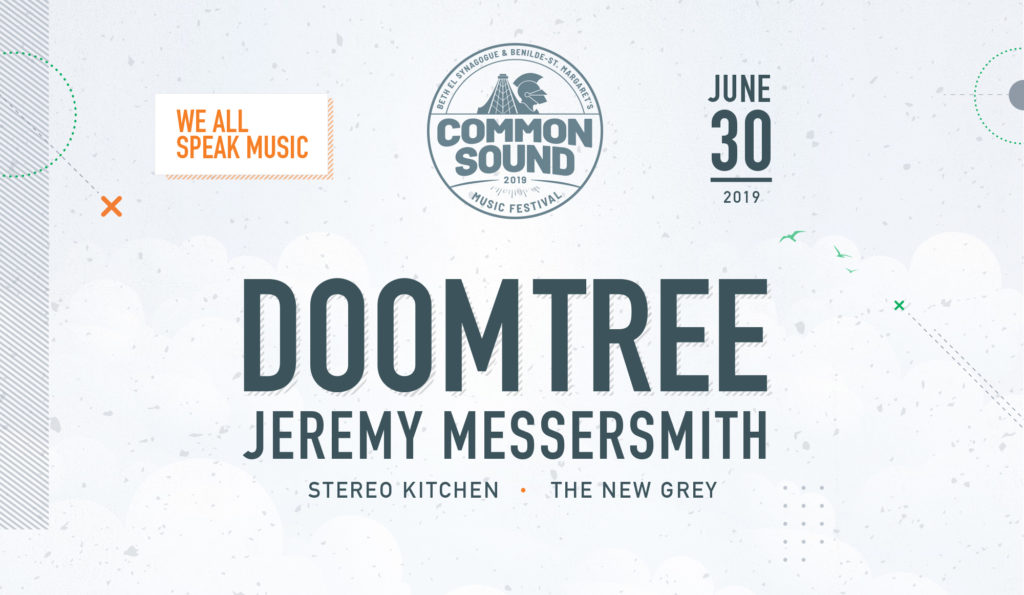 And if you're looking for something to do tonight and every Tuesday night all summer long, I have definitely got you covered. I'm pumped to be partnering once again with Surly Brewing Company and Copycats Media to curate the Summer of Sound weekly DJ series at the Surly Beer Hall. This year Copycats has made up a limited run of awesome CD samplers highlighting a track from every guest DJ. You can grab a copy for FREE.99 at Down In The Valley, Fifth Element, Electric Fetus, and Surly. Check out the great artwork below courtesy of designer extraordinaire Alexis Politz.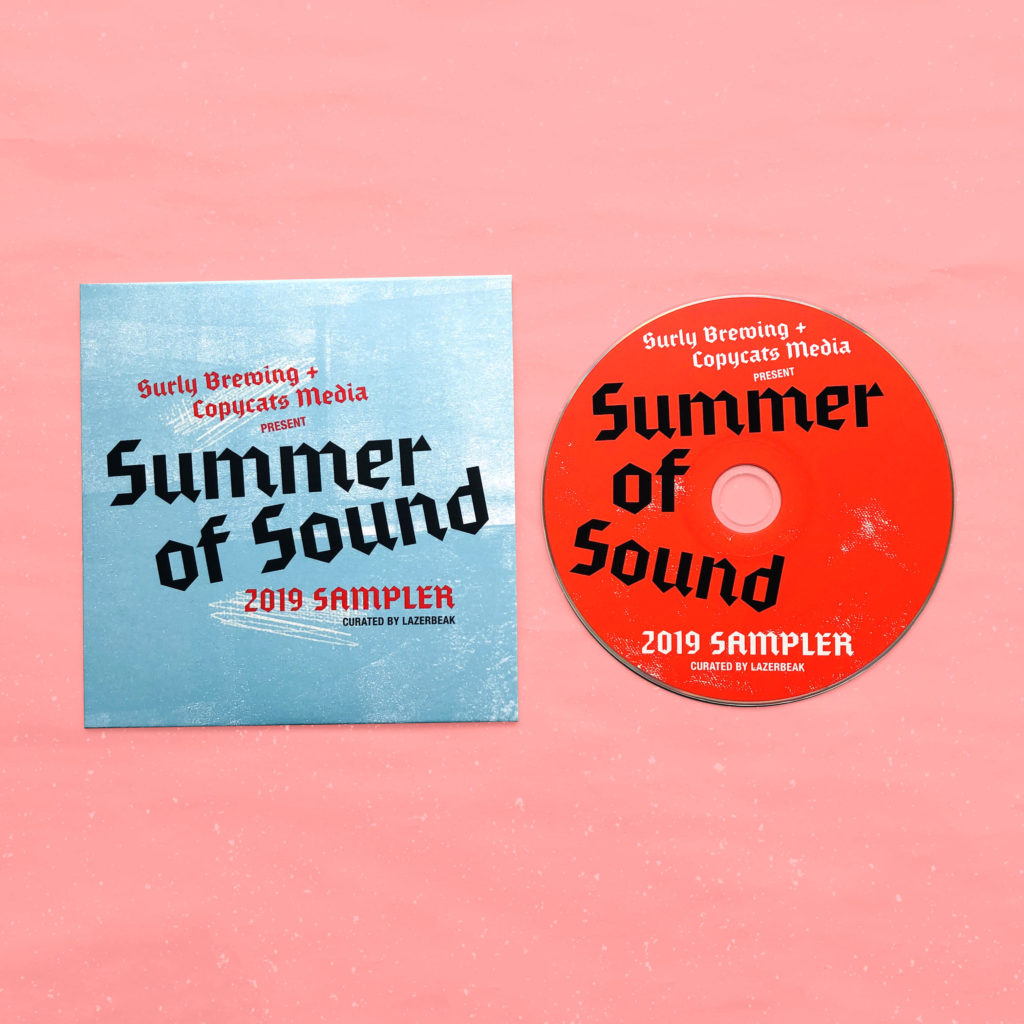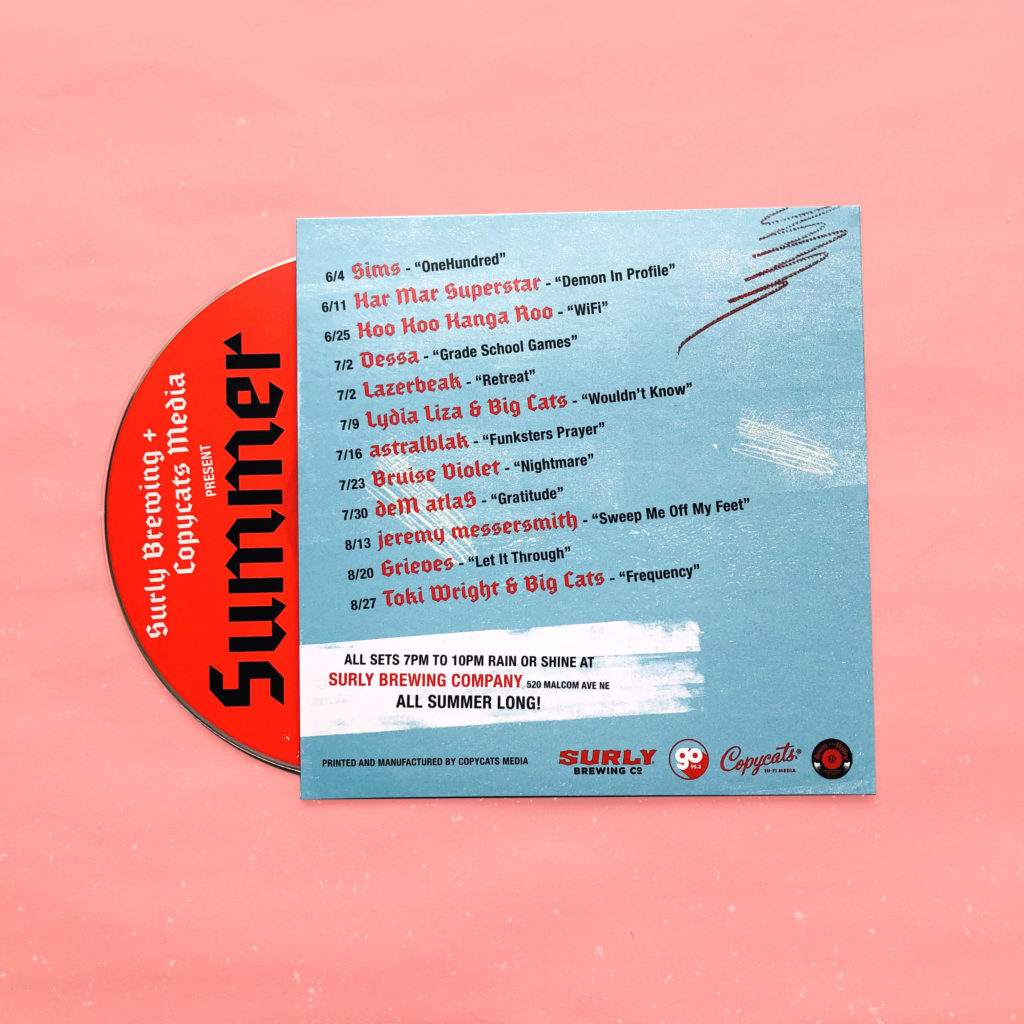 And check out the full lineup of guests below. We've got KARE 11's very own Jana Shortal grabbing the aux cord tonight to play her favorite heaters for one and all. Things go down from 7-10pm every Tuesday night in the Surly Beer Hall. Dooooooooooit!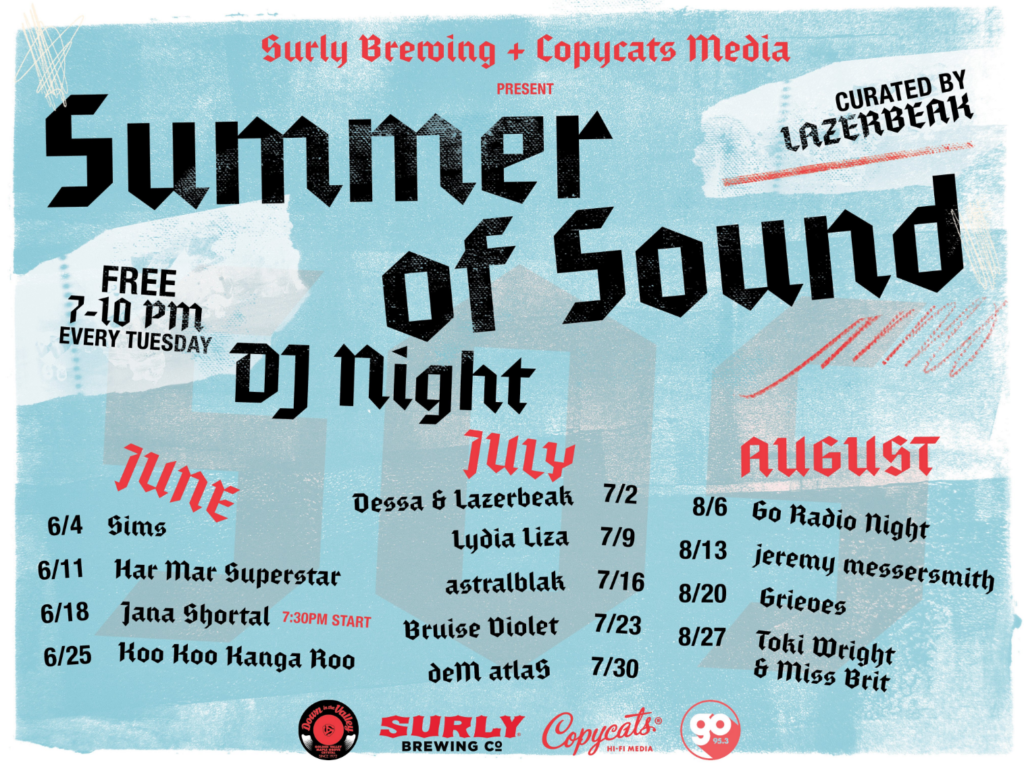 I recently sat down with writer Peter Diamond over at Minneapolis St Paul Magazine to open up more about my ongoing wellness journey outside of music these past few years. Most of you know that I've begun speaking more publicly about my experience with anxiety, stress, and mental health, and this profile goes all the way in on my rock bottom a few years back and the things since I've implemented in my life that have brought much more calm, peace, and joy to my day-to-day. We all experience this stuff in some form or another and I'm hoping that in speaking up about my personal story we can all begin to share more openly with one another and come together around this truly universal experience. Check out the full interview right HERE. Thanks for reading and sharing!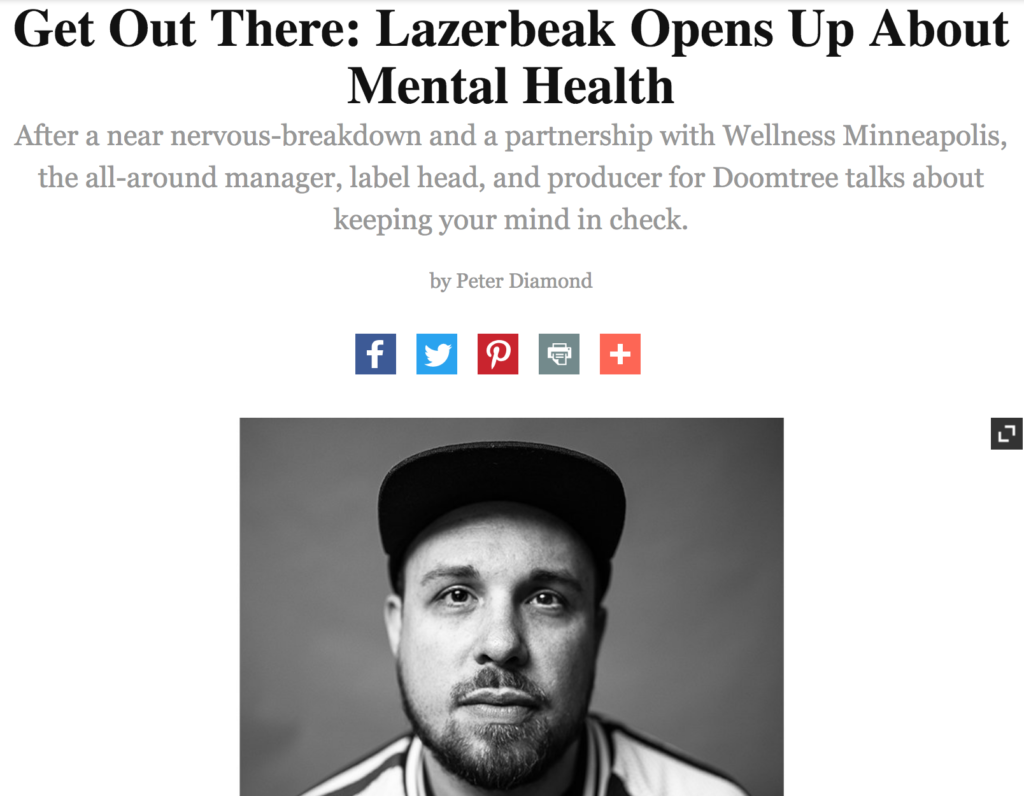 BAM! That does if for the Doomtree-related news this week. I'm gonna fire off a few Bonus Jams that I've been bumping all week long before I hit the studio with Andy and Dessa. First up is the excellent new album from south Florida's Denzel Curry. I gotta admit, I had never really checked to hard for his previous work, but this new ZUU album is absolutely fantastic. Especially loving this "RICKY" single.
Denzel Curry – "RICKY"
One of my all-time favorite current artists is Oakland's Kamaiyah, and I couldn't be happier about the fact that she's finally gearing up to release her major label debut. Check out first single "Windows" below with some guest verses from Quavo and Tyga.
Kamaiyah – "Windows" ft. Quavo and Tyga
It's been hard to admit publicly, but I'm finally coming around on J. Cole. He's been killing his guest features this year, and the squad he's put together over at his Dreamville label are some of the best spitters in the game right now. I'm getting very excited for this upcoming Dreamville compilation, especially after hearing lead single "Down Bad" featuring JID, Bas, Cole, EARTHGANG, and Young Nudy. This song is perfect.
Dreamville – "Down Bad" ft. JID, Bas, J. Cole, EARTHGANG, and Young Nudy
Super into the new album from GoldLink and I love that he got WizKid for a feature. Check out "No Lie" below.
GoldLink – "No Lie" ft. WizKid
Burna Boy just dropped an absolute smash with this "Anybody" song. Really hope this means he's got a new album on the way. Love everything he's put out to date.
Burna Boy – "Anybody"
Big time shouts to our friend Dizzy Fae who continues to make moves out in LA these days. She just dropped a new single called "Company" and it's one of my favorite songs from her yet. Shouts to Psymun once again on the production. Highly recommended.
Dizzy Fae – "Company"
My guy Dwynell Roland just unleashed a brand new EP with Minneapolis producer vet Big Cats and it is phenomenal. Check out "The Road" below.
Dwynell Roland & Big Cats – "The Road"
Big shouts to my man LeekThough who has been making a ton of noise lately with a bunch of cracking singles. Check out the video for "Drip Up" below.
LeekThough – "Drip Up"
So excited for this new album from Malian band Tinariwen. First single "Taqkal Tarha" is fantastic and features some guest vocals from Willie Nelson's son Micah.
Tinariwen – "Taqkal Tarha" ft. Micah Nelson
North Carolina's Hiss Golden Messenger is gearing up to release their next project and dropped this excellent new single "I Need A Teacher." I was a huge fan of their last album, can't wait for this one.
Hiss Golden Messenger – "I Need A Teacher"
Super into this new album from Cate Le Bon, especially this "Daylight Matters" single. So good.
Cate Le Bon – "Daylight Matters"
Rock legends Sleater-Kinney are rolling out a few new songs from their highly aniticpated upcoming St Vincent-produced album. Loving this "Hurry On Home" song. I swear these guys just keep getting better and better. One of the most consistently awesome music careers that I can recall.
Sleater-Kinney – "Hurry On Home"
And lastly, shouts to Minneapolis' own Graveyard Club who just released another single from their upcoming record. Check out the video for "It Hurts" below. Big fan of these guys.
Graveyard Club – "It Hurts"
OK! That does it for the Bonus Jams this week. As always, make sure to follow my Bonus Jams playlist on Spotify right HERE to listen to these songs and a million more whenever you want. I update it every Tuesday morning with the latest heat.
Alright, I'm off to Andy Thompson's Instrument Landing studio to dive into these Dessa mixes. I hope you all have a truly incredible week and I'll see you back here next Tuesday with some MAJOR NEWS that you won't want to miss.
— Beak
Twitter: @_LAZERBEAK_
Instagram: @lazerbeak