Hey hey! Welcome back to another edition of Tuesdays With Lazerbeak. Last week we announced the full monumental details of this upcoming Dessa and the Minnesota Orchestra live collaborative album. Sound the Bells: Recorded Live at Orchestra Hall officially drops on the mighty Doomtree Records this November 8th, but while we wait you can listen to the first audio sampling below RIGHT NOW. "Call Off Your Ghost" was originally produced by Paper Tiger for Dessa's Parts of Speech album. Flash forward six years and the song has been completely reimagined by arranger Andy Thompson and over 70+ Grammy-award winning orchestral musicians. INSANITY. Check it out below and GET. AMPED.
Last week we also announced the crazy Sound the Bells pre-order packages. I'll spare you the full details two weeks in a row, but consider this your reminder that the limited-edition Collector's Pre-Order packages are running out fast. There are only 300 of these babies available and we've already moved over 200. Check out all the outrageous stuff that comes with this one below, and grab your Standard, Deluxe, or Collector's pre-order from the Doomtree Webstore right HERE before they're all gone.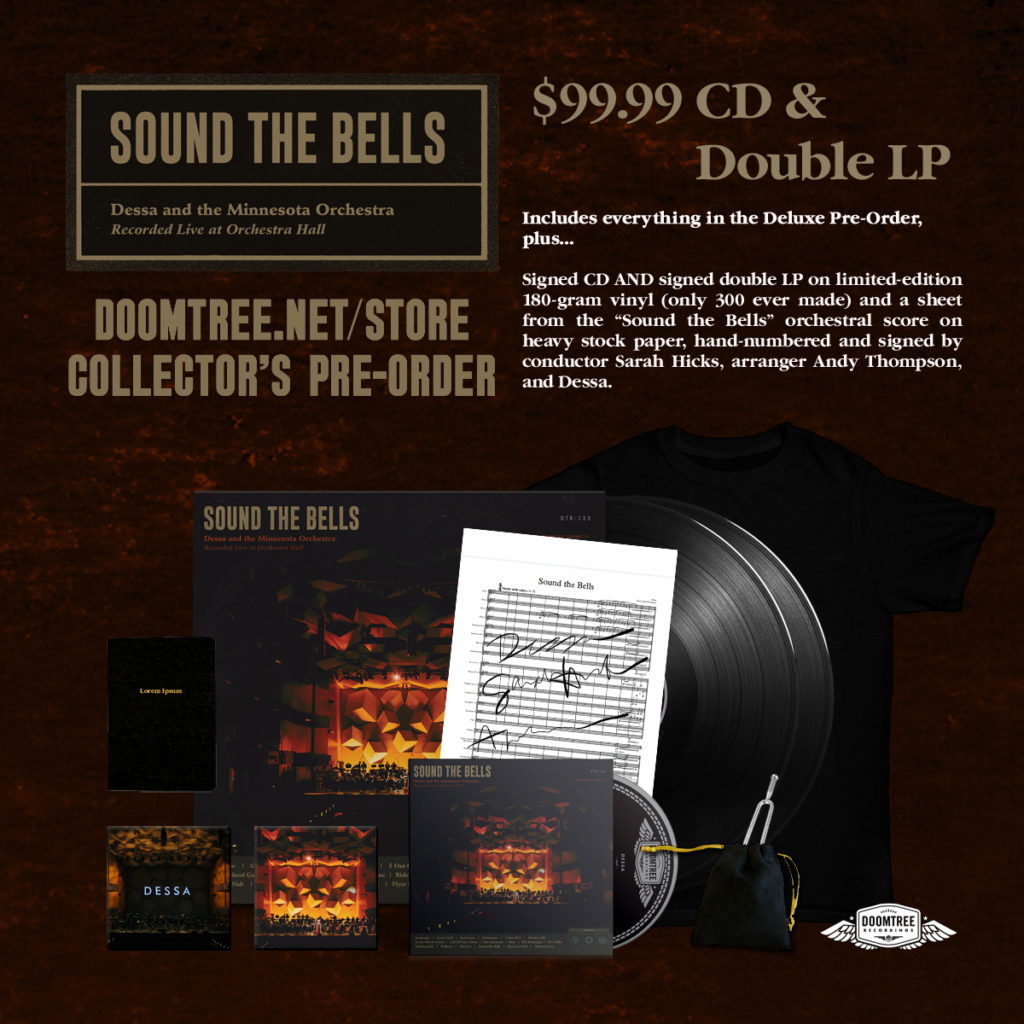 And if that wasn't enough to entice you, we're also doing a weekly pre-order drawing that can win you one of seven signed Sound the Bells vinyl test pressings. Anyone who pre-orders at any tier will be automatically entered each week, so the earlier you pre-order the more chances you have to get one. Congratulations to our first week's winner, Rebecca Mitchell. Check out the signed goods below and go get your pre-order placed HERE.
Speaking of Dessa (SEGUE!!!), she'll be hitting the road accompanied by a string quartet and her MONAKR bandmates for a very special small run of Sound the Bells East Coast tour dates. Check out the full schedule of November dates below and grab your tickets HERE.
In other music news, Sophia Eris just dropped another absolutely fire single into the world a few weeks back. "Arrogant" was once again produced by Bionik and myself (Pool Boys 4 Lyfe), and it's one of my favorite songs that the three of us have done yet. Check it out below and stream it from any of your favorite platforms right HERE.
You can catch Sophia out on the road with Lizzo all Fall long. She's DJing and dancing her ass off during the Lizzo set and also opening up the shows with an official solo slot. Check out all the dates below and go see one of the funnest shows of the year.
In Shredders news, all four of us Shred Dogs hit up the Minnesota State Fair on our Great Hits release day last month to perform some new songs live and try out a selection of the many culinary treats that The Great Minnesota Get Together has to offer. We got so into it that we decided to curate this Great Hits Pre-Fixe Menu, pairing a different State Fair food item with each song from our new album. You can check out our picks for leadoff tracks "Suburban Base" and "Vanilla Isis" below. Many more to follow, stay tuned!
https://www.instagram.com/p/B2pcAnCnC8H/
https://www.instagram.com/p/B2ukfSjnueR/
And don't forget that P.O.S, Sims, Paper Tiger, and myself will be hitting the road shortly for the first dates of the Great Hits Tour. Chicago, Eau Claire, Iowa City, Philadelphia, DC, Boston, NYC, and St. Paul are all among the first stops. Grab your tickets and please spread the word to any friends you might have in any of these cities. We can't wait to try out these new songs live. Get your tickets HERE.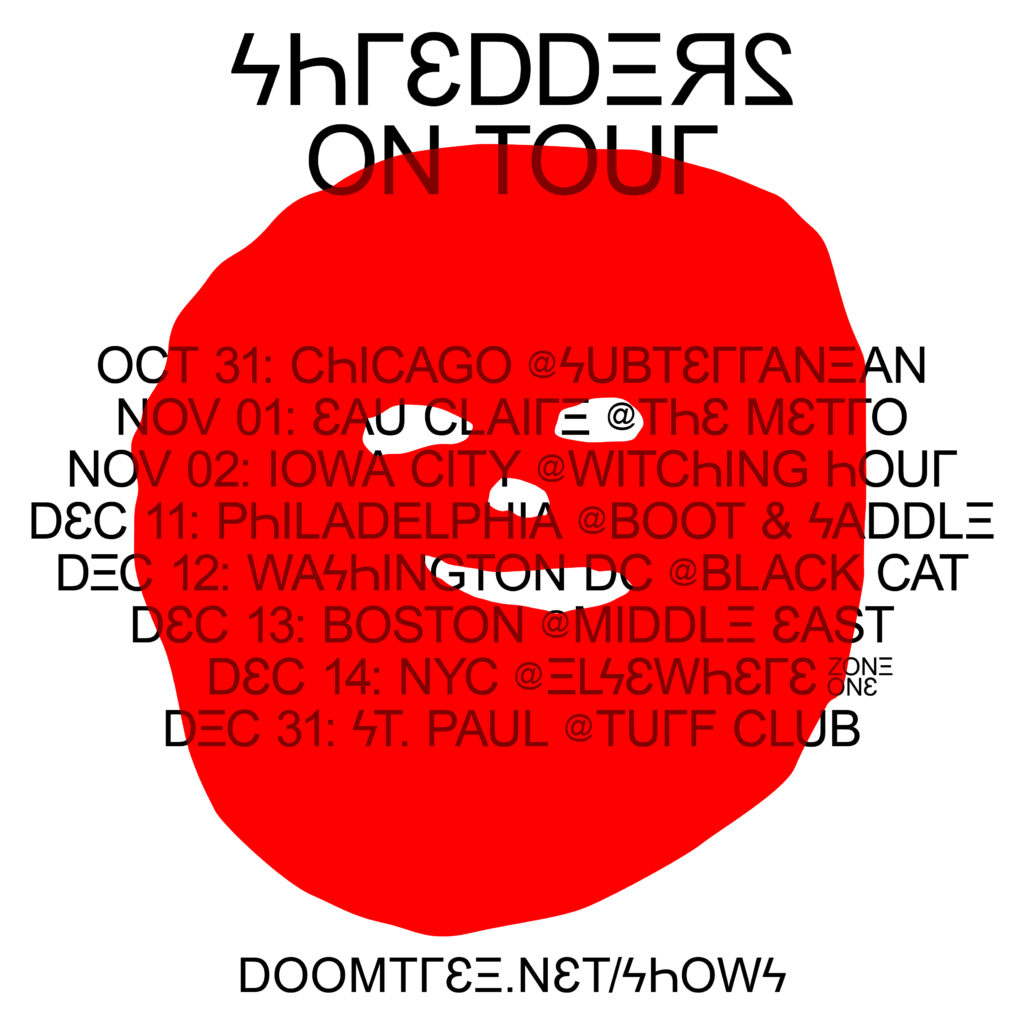 And speaking of rad shows (SEGUE II), I'm heading down to Rochester, MN on October 10th for a very special event with the Rochester Art Center. I'll be leading a discussion on mental health and a life in the arts, alongside members of local groups My Town My Music and Fires of Denmark. If you're in the Rochester area, we'd love to see you. Check out the details below and grab cheap tickets HERE.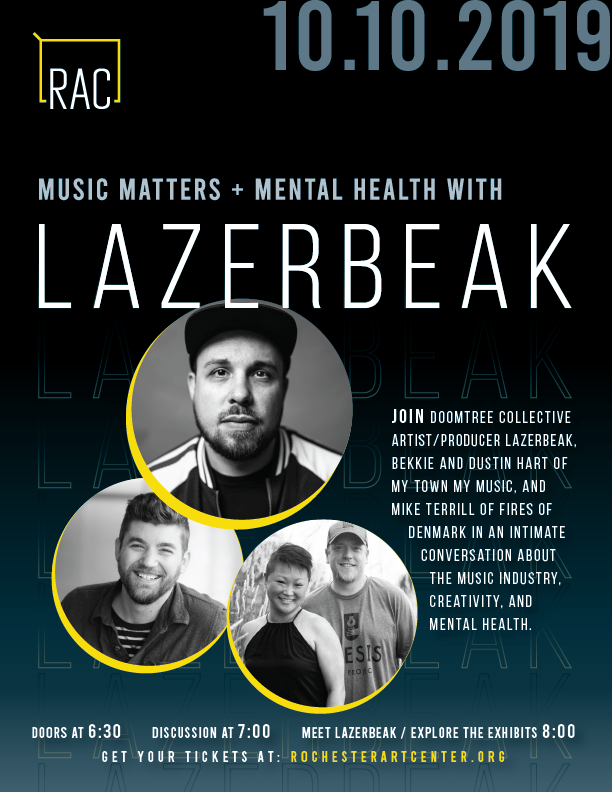 Alright! That does it for Doomtree-related news this week, so let's get caught up on some awesome new Bonus Jams. I am getting soooooooo excited for this new Angel Olson album. The first single from All Mirrors was incredible and this follow-up song "Lark" is just as good. Plus the video is fantastic. I'm all in.
Angel Olson – "Lark"
Super digging this new single from Chairlift's Caroline Polachek, who's releasing a solo album on Columbia later this year. It's got all the catchiness and production techniques that made me immediately fall in love with HAIM. Really pumped to hear more.
Caroline Polachek – "So Hot You're Hurting My Feelings"
Just starting to dig into the new solo album from Alabama Shakes' leader Brittany Howard and everything I've heard so far is phenomenal. What a bold artistic leap. Especially loving this "He Loves Me" song.
Brittany Howard – "He Loves Me"
My guy Lucky Daye, who's still in my personal running for Album of the Year, just dropped a new one-off single last week. It's called "Buying Time" and it is great.
Lucky Daye – "Buying Time"
I'm all about this new Jacquees, Young Thug, and Gunna "Verify" collabo. The perfect R&B jam to ease us all into Fall.
Jacquees – "Verify" ft. Young Thug and Gunna
Big time shouts to the guys in Nooky Jones who just released this new single and music video for "Like Candy." You'll recognize lead singer Cameron Kinghorn as one of the four backing vocalists from Dessa's Minnesota Orchestra performances. If you haven't heard Nooky Jones yet, definitely check them out. Doing it right for the grown and sexy crowd.
Nooky Jones – "Like Candy"
This next one is a musical update to what is, in my opinion, one of the Top 10 Greatest Songs of All Time. Our friend Serengeti unknowingly made the ultimate Chicago anthem over a decade ago with his track "Dennehy" and now things come full circle as he reimagines the song, with help from Jenny Lewis, FOR THE ACTUAL CHICAGO BULLS. I think this is actually the definition of life imitating art. Haven't wiped the smile off my face since seeing this. Enjoy!
Serengeti – "Dennehy Bulls"
Speaking of good friends AND Serengeti tie-ins (TRIPLE SEGUE), another good friend of ours, Andrew Broder, just surprise released his excellent new techno-inspired Arena of Dust EP and you can get the whole thing from his Bandcamp right HERE before it's released on all streaming platforms next week. Broder has been an absolute force in the Twin Cities community for over two decades and I'm constantly inspired by the new work he puts out. GET THIS.
Andrew Broder – Arena of Dust EP
Yet ANOTHER good friend (so many friends), Lydia Liza, just self-released her excellent new album Crow on a Branch and it is truly fantastic. Check out the title track below featuring Motion City Soundtrack's Justin Courtney Pierre. This song ROCKS.
Lydia Liza – "Crow on a Branch" ft. Justin Courtney Pierre
Canadian songwriter Phöenix Lazare has been dropping some excellent chill singles as of late and I'm especially into how calming this new "Salt" track is. Really excited to hear more from her.
Phöenix Lazare – "Salt"
The homie MaLLy is BACK. He just dropped his brand new project The Journey to a Smile today and you can check out the lead single "Anymore" below. Big shouts to producer PC and engineer Medium Zach on completing such a cool project. Dream team for real. Grab the whole thing right HERE.
MaLLy – "Anymore"
And lastly, I'll leave you with a brand new video from Royal Family Music Group's Prince Riley. I'm a huge fan of his recent album Northside Baby and all the collabos he's been doing with another Northside great as of late, Mac Turner. Check out "My People" below and stay on the lookout for both of these guys. Big things.
Prince Riley – "My People"
BOOM! Another round of Bonus Jams comes to a close. As always, make sure to add this Lazerbeak Bonus Jams Playlist to your personal Spotify playlists if you get a second. I update it every week with the latest heat so you can take these tracks with you everywhere you go. Subscribe right HERE.
That does it for this post. Make sure to bump the new "Call Off Your Ghost" and "Arrogant" singles as loud as humanly possible and I'll see you back here next Tuesday for another round of TWL. Hope you have a phenomenal week!
— Beak
Twitter: @_LAZERBEAK_
Instagram: @lazerbeak