Welcome back to a glorious new edition of Tuesdays With Lazerbeak. We are exactly one month away from the release of Dessa and the Minnesota Orchestra's live album Sound The Bells, so what better time than now to release a little more audio from the project? Extremely happy to present you with this "Velodrome (Live)" single as the second offering from this truly genre-bending record. Check out "Velodrome" on the Soundcloud player below or click right HERE to stream or purchase from any of your favorite streaming sites.
Dessa and the Minnesota Orchestra – "Velodrome (Live)"
And if you missed it last month, make sure to check out first single "Call Off Your Ghost" below for the perfect one-two punch.
Dessa and the Minnesota Orchestra – "Velodrome (Live)"
We've got another name to announce for this Sound the Bells signed test pressing contest. Congratulations to Michael Schultz of Carlsbad, New Mexico on being this week's lucky winner. As you probably know by now, we'll be picking one winner a week to receive a signed test pressing of Sound the Bells. Make sure to grab your pre-order now right HERE to be entered. Less than 50 of the Collector's Edition remain!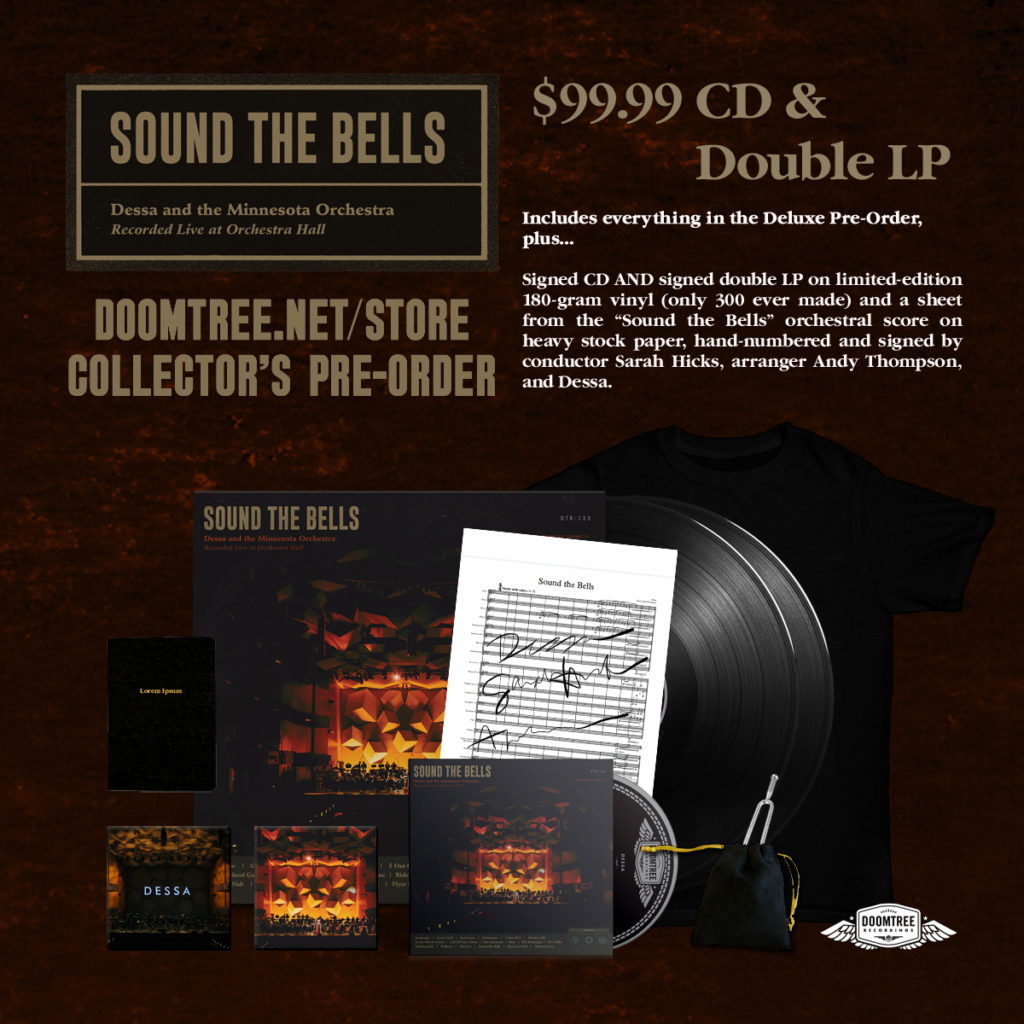 Speaking of new music (SEGUE), our main man Paper Tiger just crushed out an excellent remix for Minneapolis via NYC band Tiny Deaths.  You can check out Paper's sweet flip of "Stop the Stars" below and listen to the entire Tiny Deaths Magic – The Remixes EP right HERE. Love this one!
Tiny Deaths – "Stop the Stars" (Paper Tiger Remix)
And speaking of Paper Tiger (DOUBLE SEGUE), the Shred Dogs continue to roll out clips from our special Great Hits Pre-Fixe tasting menu. We hit up the Minnesota State Fair on release day to try out a bunch of crazy foods and pair them each with a different song from our sophomore album. We've now made all seven songs available in one easily DIGESTABLE (pun intended) YouTube video for your entertainment. Huge thanks to our friend Zeke Salo for shooting and editing these all together. ENJOY!
SHREDDERS – Great Hits Pre-Fixe Menu (COMPLETE)
Paper Tiger, Sims, P.O.S, and yours truly will be hitting the road in less than a month for some awesome Shredders shows. Check out the list of cities and dates below and grab your tickets HERE.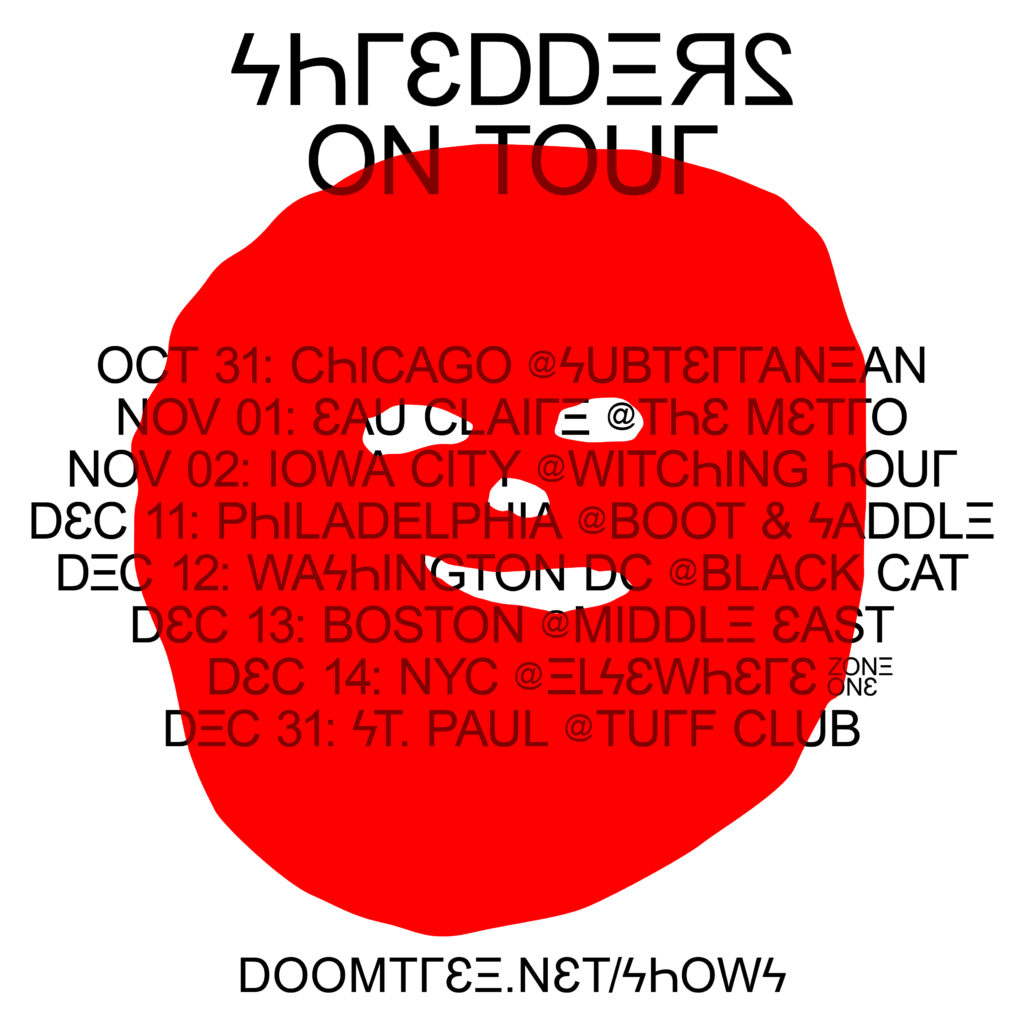 And speaking of shows (TRIPLE SEGUE), this Thursday the 10th I'll be down in Rochester, MN leading a discussion on mental health and the music industry with several other prominent Rochester voices. Should be a great night of sharing, supporting, and opening up about a lot of the internal struggles and challenges we all face on a day-to-day basis. Hope to see some of you down there. You can grab more information and super cheap tickets right HERE.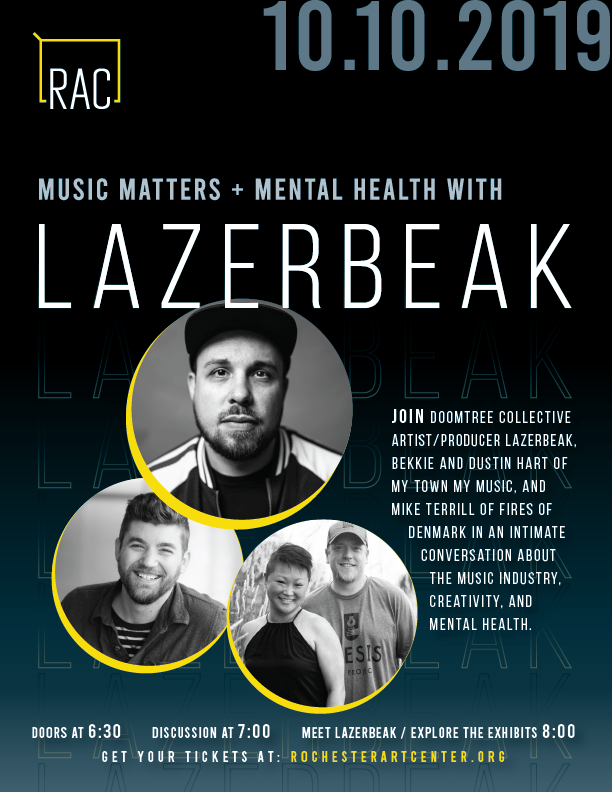 Speaking of Lazerbeak and talking (sorry, had to go for the fourth segue), here's a link to the October episode of the Tuesdays With Lazerbeak podcast in case you missed it last week. Our guests this month were Greg Grease and the Domestic Abuse Project. You can stream the episode from any of your favorite podcast places right HERE.
Alright, it's officially time for another round of Bonus Jams. I know I say it all the time, but if you ever feel like listening to these curated jams away from the blog all you have to do is add my Tuesdays With Beak Bonus Jams playlist onto your Spotify. Just go HERE and click that little heart button by the playlist and you can magically take these tracks with you wherever you go. Updated every Tuesday morning!
First up this week is the new surprise-released album from Chromatics. It's been seven years since a proper full-length and this still isn't the Dear Tommy album they've been teasing forever, but it doesn't really matter because this Closer To Grey album is AWESOME. Super vibey and insanely well produced. I love the whole thing so much.
Chromatics – "You're No Good"
Angel Olson has dropped her new album at long last and it is a MONSTER. So cool to hear 12 string players going absolutely nuts all over this thing, plus the overall songs and her voice sound better than ever. I gotta check this show out when it comes through town. Word is she's traveling with the string section on this first tour.
Angel Olsen – "New Love Cassette"
I'm really feeling this new Wilco album too. V chill and perfect for the dumb transition into Fall. Especially into this "Everyone Hides" song.
Wilco – "Everyone Hides"
Loving everything Jessie Reyez has been releasing lately. Her last collab with 6lack was a smash and now there's this new "Far Away" single which is equally as good. Can't wait for the album!
Jessie Reyez – "Far Away"
Pumped to dive into this new Summer Walker album. Last year's "Girls Need Love" was up there for song of the year even before Drake hopped on the remix, and this flip of Usher's "You Make Me Wanna…" WITH USHER ON THE TRACK is phenomenal.
Summer Walker – "Come Thru" ft. Usher
Way into this new single from OVO Sound's own Majid Jordan. Their first EP is still an instant classic in my opinion. "Superstar" is fantastic too.
Majid Jordan – "Superstar"
Our good homies The Hood Internet are BACK with an absolutely insane mega-cut celebrating 1979 and its truly crazy year in popular music. The guys have somehow crammed fifty songs from '79 into this three-minute blaster and it is so flawless that I'm not sure I even know what is what anymore. Best three minutes you'll spend today.
The Hood Internet – "1979"
Lastly, I'd like to take a little time to spotlight the work of Minnesota legend Ed Ackerson who passed away on Friday after battling pancreatic cancer. Ed was a true pillar of the Twin Cities music community, not only playing in tons of bands, but running an indie record label and operating Flower Studios in Uptown. As a producer and studio owner he gave opportunities to so many young and upcoming artists. I never knew Ed super well, but his band Polara was really big here when I first started playing guitar in junior high and the second show I ever went to at First Ave was an all-local lineup with Polara and Balloon Guy (another band Ed produced). I'll never forget how inspiring that was to see two local bands on the Mainroom stage – made it feel POSSIBLE. Years later Ed sold us his van for super cheap so that Doomtree could start touring more regularly around the country. Yes, MOUNTAIN was originally Ed's. Sending tons of love to everyone that's hurting from his absence right now and I'd like to close these Bonus Jams with a couple of my fav Ed Ackerson-helmed songs. First from his excellent group BNLX with wife Ashley, and second from way back in the old Polara days. There's been a GoFundMe set up to help support Ed's family through this difficult time and you can donate to that right HERE if you're able. LOVE.
BNLX – "1929"
Polara – "Transformation"
Alright, that does it for this post. I hope you all have a wonderful week and I'll see you back here next Tuesday for another round of TWL.
— Beak
Twitter: @_LAZERBEAK_
Instagram: @lazerbeak