Welcome back to another edition of Tuesdays With Lazerbeak! I'm posted up at the airport about to head out West with my Shreddogs, so let's jump right into things. Cannot wait to knock out another round of Shredders shows this week in Portland (Tue), San Fran (Wed), Seattle (Thurs), and Denver (Fri) with my guys P.O.S, Sims, and Paper Tiger. If you happen to live anywhere near those cities, or know people that do, please come through or spread the word. We'd love to party with you. Here are a few promo videos to convince you to come. Grab your tickets right HERE.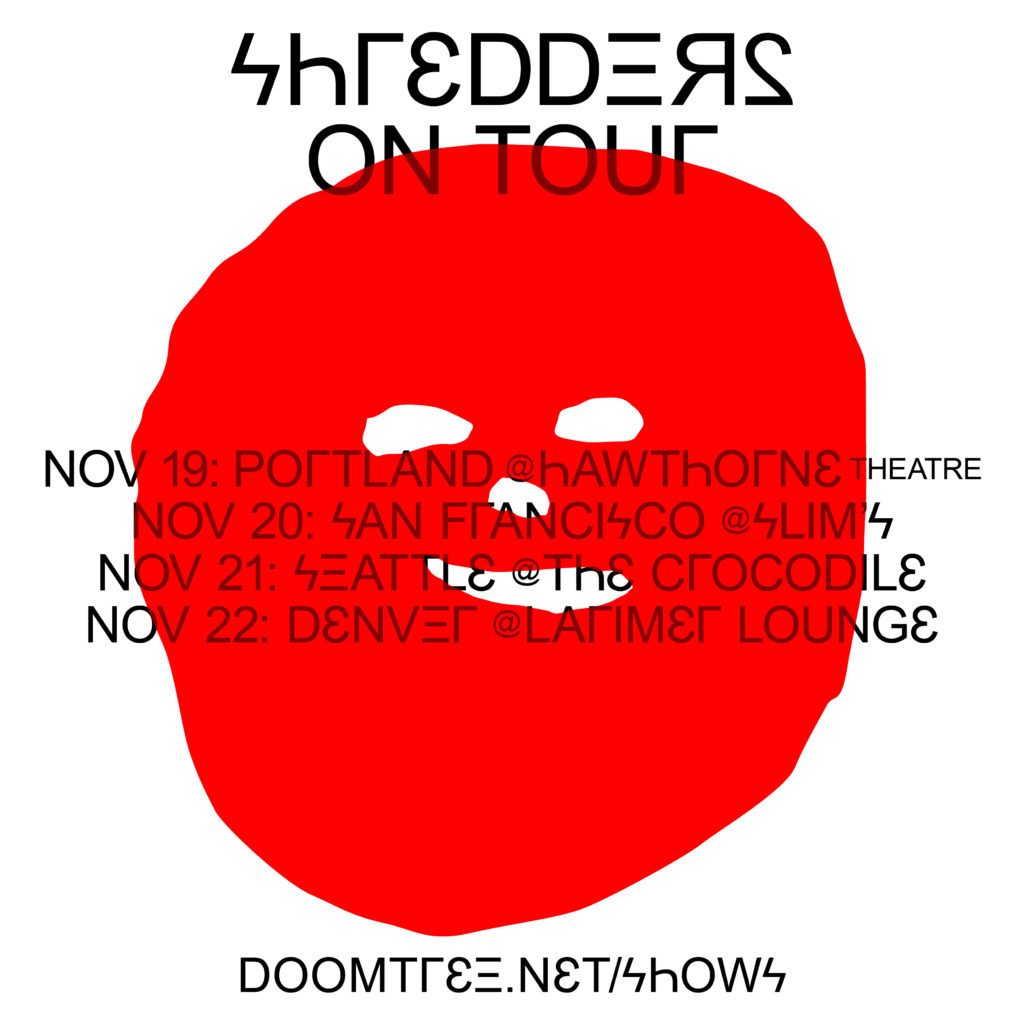 And here's an amazing picture of Stef and Sims at Flat Black Studios a few weeks back, working on the next Shredders album. Should be a real wild one.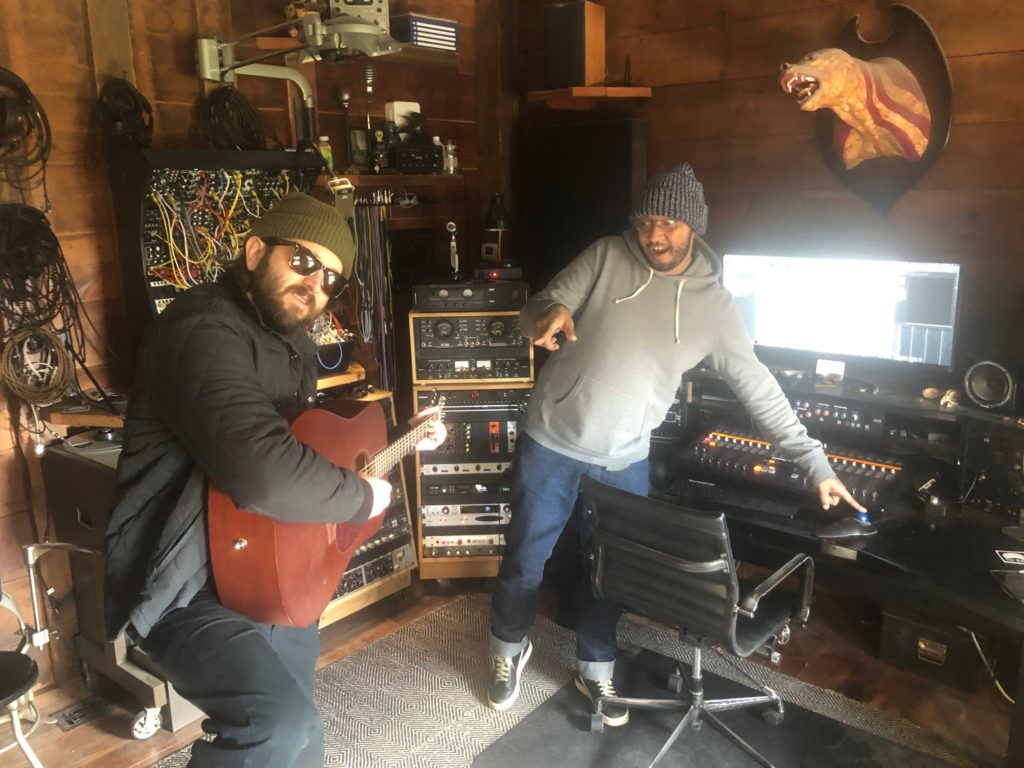 Just in case it got buried in all the crazy Halloween festivities, please enjoy this brand new Shredders music video for "Ayeyayaya" created by our main men Isaac Gale and Joe Midthun. It is easily the greatest music video that Doomtree Records has ever released to date, and I am absolutely in love with it. If you're feeling it, please do us a favor and spread the word about it too. Thanks!
SHREDDERS – "Ayeyayaya" (Directed by Isaac Gale and Joe Midthun)
And if you liked that video, make sure to commemorate it with this insanely limited and highly incredible bootleg "Ayeyayaya" shirt from the Doomtree Webstore right HERE. These are almost gone and will not be printed again.
Dessa has returned from Wales after performing with the Welsh BBC orchestra on the release day of Sound the Bells. Holy hell, still hard to believe that actually happened. Here's a hilarious video of Dessa trying to speak Welsh for proof that it really went down.
View this post on Instagram
Dessa is now gearing up for the Sound the Bells Tour, kicking off this week on the East Coast. You can catch her backed by the Monakr guys and a STRING QUARTET in New York (Wed), DC (Thurs), New York again (Fri), Boston (Sat), and Philly (Sun) all this week. Grab your tickets right HERE and do not miss these extra special shows.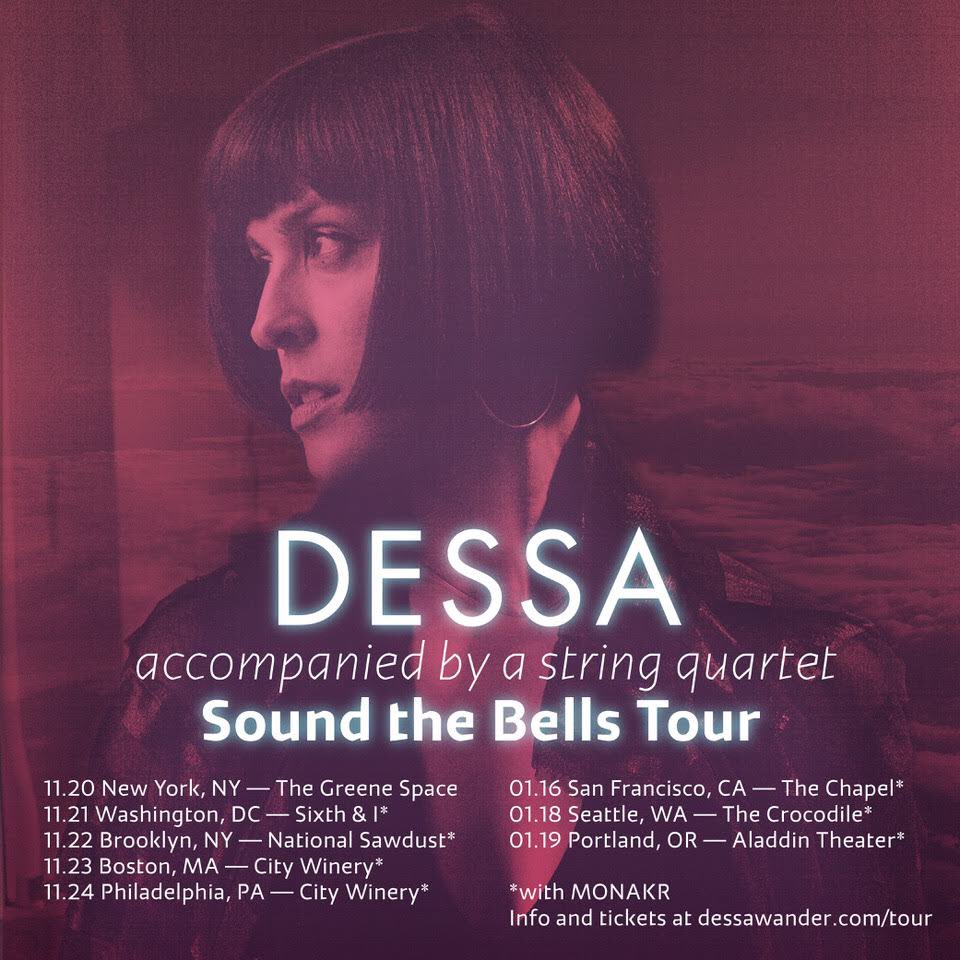 There have been a couple of great Dessa features that came out after Sound the Bells was released. Check out a sweet interview with New Sounds right HERE.
And read a cool review from Salon right HERE.
Don't forget to check out the Sound the Bells album in its entirety if you haven't yet. Available on all streaming platforms and physically from the Doomtree Webstore HERE.
In new music news, I recently contributed a production to the upcoming HBO documentary Moonlight Sonata. It's a collaboration with August Von Trapp called "Quasi Una Fantasia" and you can check it out below on the Spotify player. The film will debut on HBO on December 11th, and after seeing the theatrical premiere a few months back I can guarantee that you'll love it. Learn more about the film right HERE.
August Von Trapp and Lazerbeak – "Quasi Una Fantasia" (from the HBO documentary Moonlight Sonata)
And speaking of myself (SEGUE STREAK), I recently sat down with the Money In Real Life podcast to talk about my musical history and how I've cobbled together a career as a musician and behind-the-scenes guy. We go deep on this one, hope you enjoy it!
And finally, wanted to remind you of a couple end of the year shows going down in December. The Tuesdays With Lazerbeak live podcast taping is going down once again on December 11th at the Parkway Theater, and this time around we've got none other than Doomtree's own P.O.S as our very special guest and performer. We'll also be joined by Jesse and Sara Jean from Wellness MPLS, who will break down the partnership I've got going with them plus perform acupuncture on Jeyca and I for the first time ever in front of a live audience. Should be totally bonkers. Grab your tickets HERE. Can't wait for this one.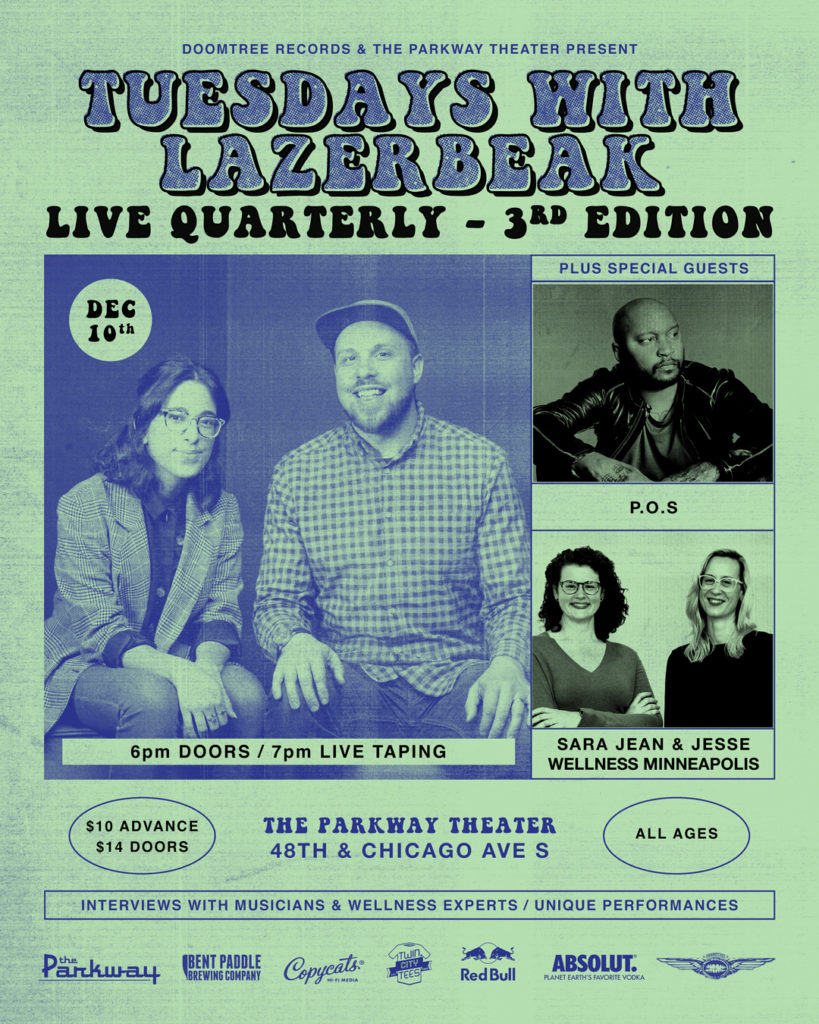 And of course, SHREDDERS will be closing out 2019 with an absolute bang. We're playing our first hometown show since the release of Great Hits at the Turf Club on New Years Eve, and bringing our friends Lunch Duchess and The Bad Man along for the ride. Should be a total sweaty blast and a night to remember or remember very little of. Come party hard with us!!! Grab your tickets right HERE.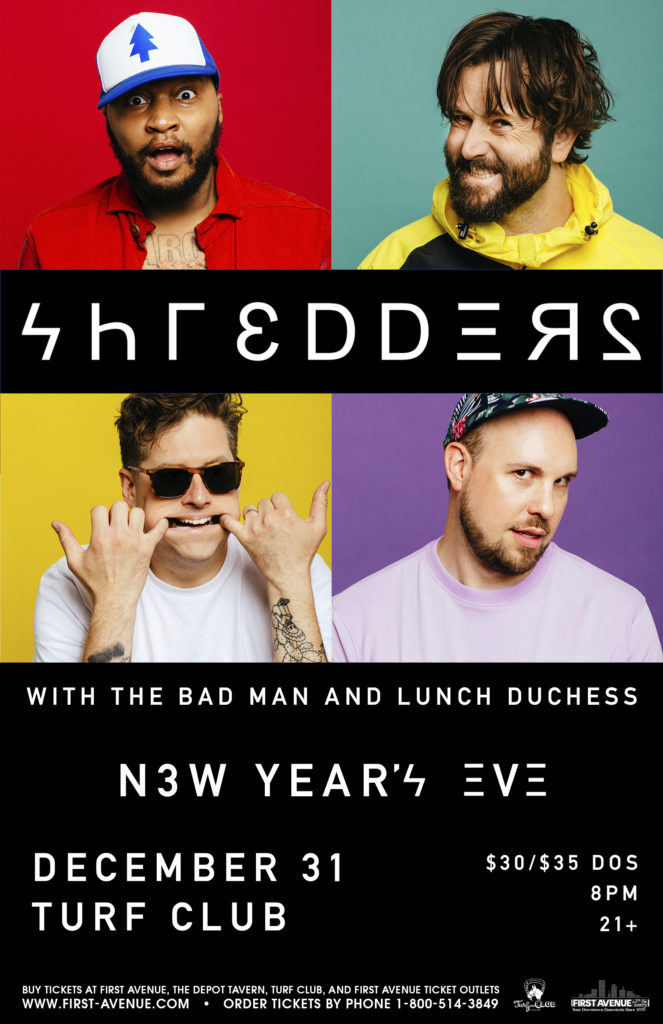 BOOM! That does it for this post. Can't wait to see a ton of you out at the Shredders shows this week. And if not, right back here next Tuesday for another round of TWL. Have a killer week!
— Beak
Twitter: @_LAZERBEAK_
Instagram: @lazerbeak