Welcome back to a brand new edition of Tuesdays With Lazerbeak! Today we have some major news that is making me feel real sentimental and reeeeaaaal old at the SAME. DAMN. TIME.  Dessa's debut full-length album, A Badly Broke Code, officially turned 10 years old this past weekend!!!! Holy moly what a trip. To celebrate, Doomtree Records is releasing A Badly Broken Code on vinyl for the FIRST TIME EVER. Check it out in all its glory below.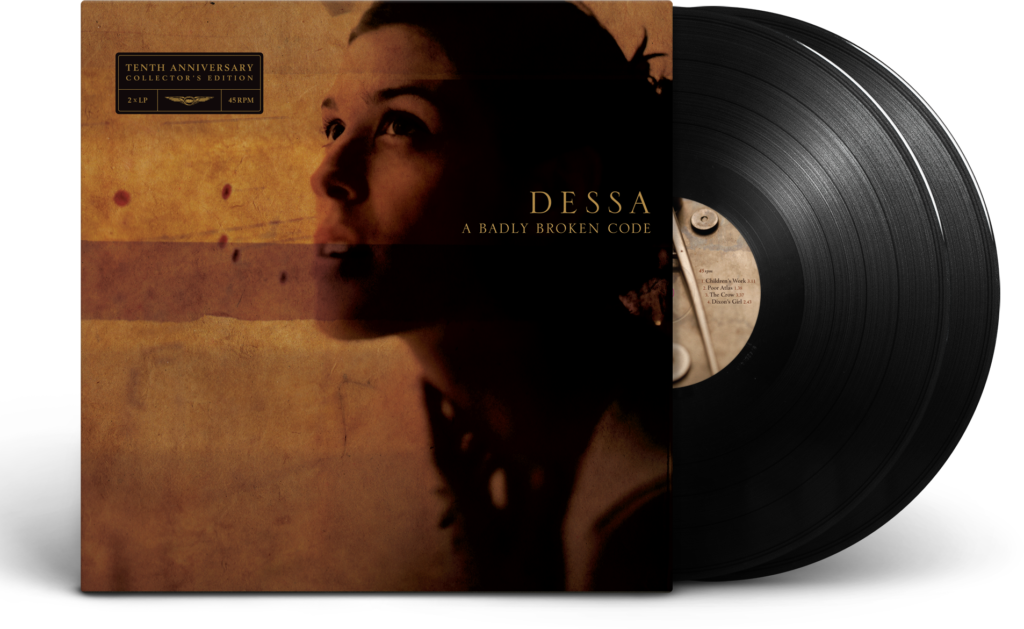 We've only made 1,000 copies of this bad boy, so grab yours now while you still can. The pre-order includes double LP vinyl, gatefold packaging, lyric sheet, and a digital download card. All pre-orders should begin shipping in early March and you can grab your right HERE. And since I'm feeling all nostalgic, here's a few decade-old music videos from the project so you can take a trip down memory lane with me.
Dessa – "Dixon's Girl" (Directed by Todd Cobery)
Dessa – "Into The Spin" (Directed by Isaac Gale)
Dessa – "Alibi" (Directed by Maria Juranic)
In other announcement news, I'm thrilled to be partnering with the Parkway Theater in south Minneapolis once again to bring you live quarterly tapings of the Tuesday With Lazerbeak podcast all throughout 2020! We're kicking things off with a bang on March 9th (yes, I know that's technically a Monday) with our very special guest Dave Simonett of Trampled By Turtles and Dead Man Winter fame. Cannot wait to talk to Dave about his life and musical journey, and hear him play some stripped down versions of new songs from his upcoming solo album. We'll also have our good friend Longshot along as a guest. We're going to world premiere his extremely powerful music video for "Parades" which was shot and directed by Mercies May, and then have a group discussion about some tough topics like race and police brutality. Check out all the details below and grab your tickets right HERE. Can't wait for this one!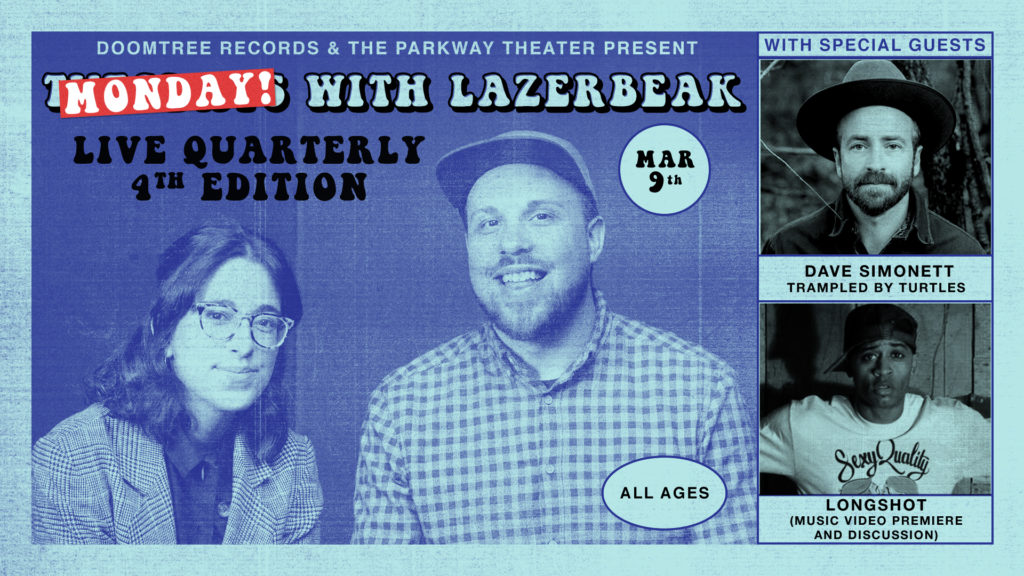 Speaking of cool shows (SEGUE), Dessa just wrapped up the final leg of the Sound the Bells Tour this past week. Huge shouts to Becky, Monakr, and all the string quartets for pulling these shows off – and to everyone that made it out. Here's some shots from the road.
And here's the Keegan Burckhard-directed music video for "Jumprope (Live)" one more time in case you missed it or are just in need of a big dose of adorableness this morning.
Dessa and the Minnesota Orchestra – "Jumprope (Live)" (Directed by Keegan Burckhard)
Shredders had a wild weekend too. P.O.S, Sims, Paper Tiger, and myself were all in Minneapolis for the big Call of Duty League kickoff weekend at The Armory and the unveiling of Minnesota's new eSports team ROKKR. Totally wild. Check out a few pics below. Shouts to Jeyca for being our impromptu social media content manager).
https://www.instagram.com/p/B7yRr35nuyM/?utm_source=ig_web_copy_link
Shoutout to @ROKKR and @CODLeague for having us at #CDL2020Launch. pic.twitter.com/TSJ8tAUjMo

— ϟ Һ Γ Ɛ D D Ξ Я S (@SHREDDDDERS) January 25, 2020
And in case you missed it, here's that crazy Shredders "Ayeyayaya" music video one more time. Honestly my favorite music video that I've ever been involved with.
SHREDDERS – "Ayeyayaya" (Directed by Isaac Gale and Joe Midthun)
While we're on the subject of heat knockers, let's jump right into the Bonus Jams for this week. I'm so excited about the new POLIÇA album coming out on Friday. Check out third single "Steady" below. One of the best songs they've ever made in my humble opinion.
POLIÇA – "Steady"
Heart Bones just dropped a new single off their upcoming Hot Dish album and it is a banger! Check out "Don't Read the Comments" below.
Heart Bones – "Don't Read the Comments"
Loving this new Soccer Mommy song too. Can't wait for the album to drop in a month. Their last one was my fav of 2018.
Soccer Mommy – "Circle the Drain"
The best Minnesota band ever have just released a new project. astralblak are back with the Space & Time EP and they continue their absolutely punishing dominance of all things funk, soul, rock, R&B, and every other genre under the sun. Love these guys. Grab the EP HERE.
astralblak – Space & Time EP
I'M ALL CAPS EXCITED ABOUT THE NEW dvsn ALBUM! This new single is on par with their debut album (which happens to be a Top 5 Album of the 2010s for me). Soooooooo gooooooood.
dvsn – "A Muse"
Loving this new collabo between The Blaze and Octavian. Perfect match. Hoping this means more new music coming from both of them real soon.
The Blaze – "Somewhere" ft. Octavian
I missed this new Alec Ness song last month in the blur of the holiday madness, but super glad I stumbled upon it again this week. Alec and Dizzy Fae together is a dream come true. This song rules.
Alec Ness – "Meal" ft. Dizzy Fae
Way into this "Up Close" single from producer Roland Tings. Excited to give the whole album a spin later this week.
Roland Tings – "Up Close"
Ditto with this new single from Amtrac, featuring the ever-elusive Totally Enormous Extinct Dinosaurs. Great song.
Amtrac – "Radical" ft. Totally Enormous Extinct Dinosaurs
And lastly, to bring it all full circle, here's the first single from Dave Simonett's upcoming solo album. It's called "In The Western Wind and The Sunrise" and it is absolutely gorgeous. Such a slow burn. Enjoy!
Dave Simonett – "In The Western Wind and The Sunrise"
As always, you can follow my Bonus Jams Playlist on Spotify right HERE to listen to these tunes anywhere you are. I update it every Tuesday with the latest heat.
Ok that's it for this post! I hope you all have a truly wonderful week. Make sure to grab a pre-order copy of that Dessa 10-year anniversary LP and I'll see you back here next Tuesday for another round of TWL!
— Beak
Twitter: @_LAZERBEAK_
Instagram: @lazerbeak