Welcome to an extra jam-packed edition of Tuesdays With Lazerbeak!!! It's officially the first Tuesday of February and that means it's time once again for a new episode of the Tuesdays With Lazerbeak podcast. Our incredibly special guest this time around is none other than Channy Leaneagh, co-songwriter and lead singer of Minneapolis electro-pop legends POLIÇA. Channy stopped by to talk all about growing up and finding a path in the arts, traveling abroad, how the new POLIÇA album came about, healing from a devastating fall that left her with a broken back, wearing sweatpants indoors, and so much more. You can listen on the Soundcloud player below or anywhere you listen to podcasts right HERE. Also, the new POLIÇA album came out last Friday and it is an instant classic. Listen, stream, buy, and share it right HERE.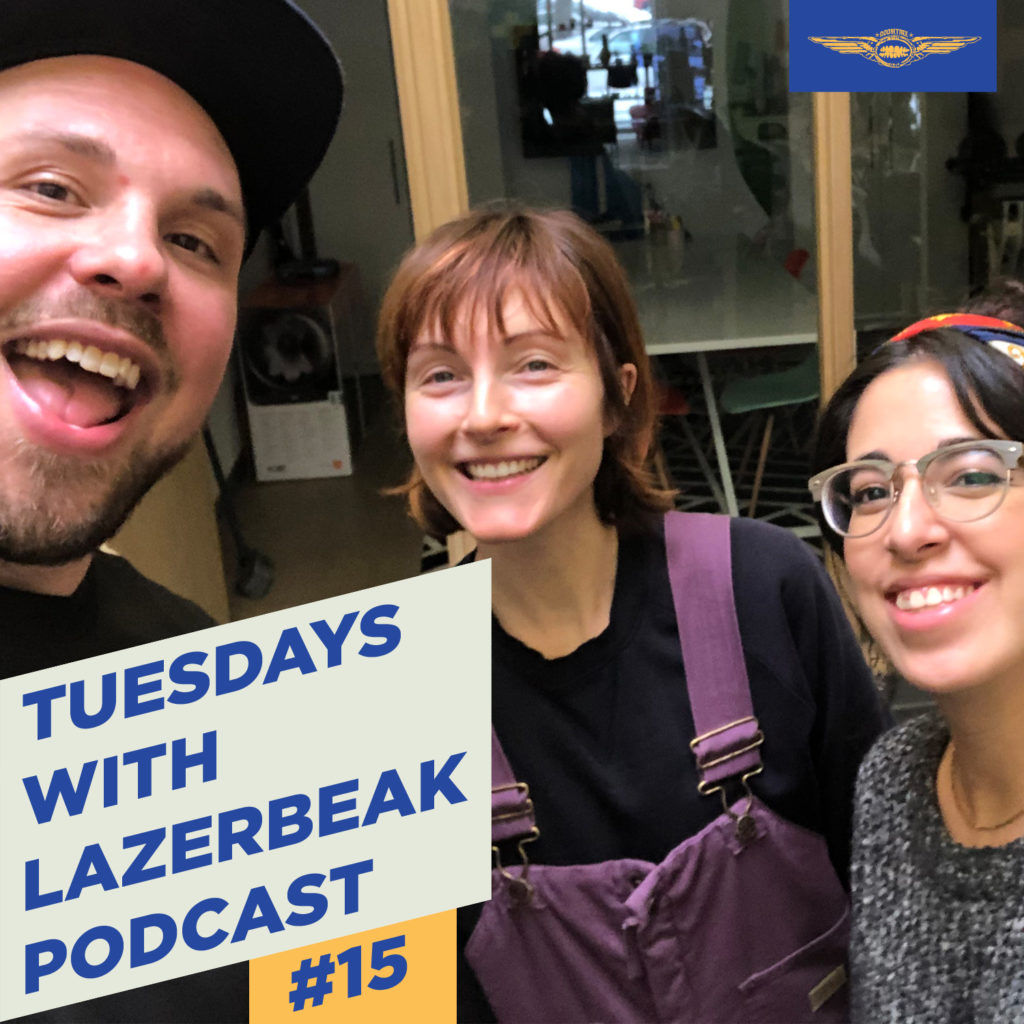 If you're a fan, please help us spread the word far and wide about the podcast and post a comment on our iTunes page. Those two things go a long way to helping us break through all the noise. And if you're just catching up, you can listen to all 15 episodes below. Thanks so much!
Speaking of POLIÇA (segue streak), check out the fantastic new music video for "Steady" that the band just released this morning. Shot and directed by our dear friends Lauren Josephine and Zoe Prinds-Flash. So good!
POLIÇA – "Steady" (Directed by Lauren Josephine and Zoe Prinds-Flash)
And speaking of the podcast (DOUBLE SEGUE!!!), I'm very excited to bring another Tuesdays With Lazerbeak live taping to the Parkway Theater in south Minneapolis on March 9th. We've got not one but TWO very special guests this time around. Dave Simonett of Trampled By Turtles and Dead Man Winter fame will swing by to talk about his new solo projects and play some unreleased stripped-back songs. Then the homie Longshot will premiere his brand new video for our song "Parades," and we'll follow it up with a heartfelt and important discussion on police brutality and race relations in the Twin Cities and beyond, and what we can all do to educate ourselves on both. Grab your tickets right HERE and come through!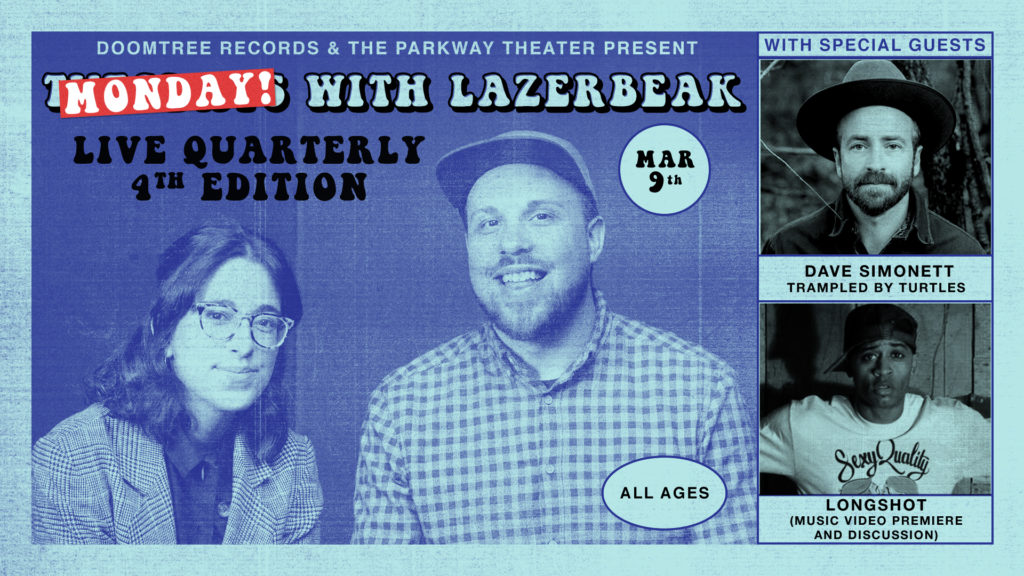 In music news, our excellent buds Lydia Liza and Big Cats just released a phenomenal new collaborative album and Doomtree's own Sims pops in for a standout guest verse on the project. Check out "Life in Here" featuring Sims below and listen to the whole dang album right HERE.
Lydia Liza & Big Cats – "Life in Here" feat. Sims
Last week we announced the news of Dessa's 10-year-anniversary A Badly Broken Code reissue. This special gatefold double LP is limited to a first-time run of 1,000 and includes a full lyric insert. We've already moved through the first 500 in just one week's time, so if you're hoping to get your hands on this collector's item make sure to hit up the Doomtree Webstore with a quickness. You can grab yours right HERE. Pre-orders begin shipping in early March!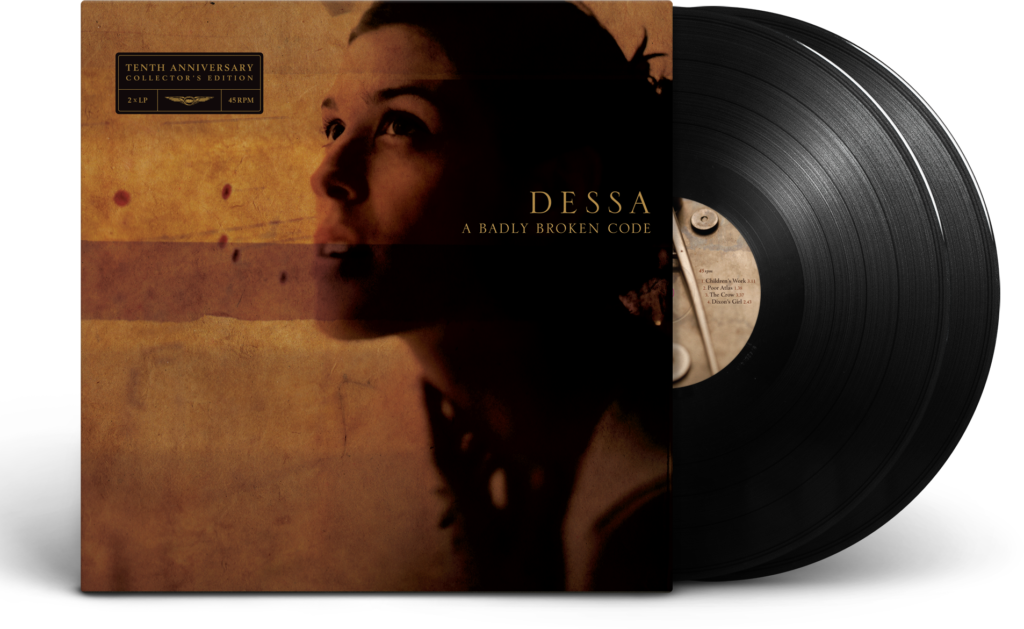 Alright, that's it for this post. I hope you all have an excellent week. Make sure to listen to the new episode of the podcast and I'll see you back here next Tuesday for another edition of TWL!
— Beak
Twitter: @_LAZERBEAK_
Instagram: @lazerbeak