Welcome back to a brand new edition of Tuesdays With Lazerbeak! I'm fresh off a glorious week-long vacation in beautiful Miami celebrating the Wifepiece's 40th born day. I cannot tell you how much I now am in love with the city of Miami. Here's a glimpse at what my week looked like (not trying to rub it in, I swear).
I'm feeling super re-energized and very excited to hit you with a new episode of the Tuesdays With Lazerbeak podcast today. Jeyca and I are now doing two podcasts a month, which means we won't be having a special guest on every single episode. I dig this format because it allows the two of us to just catch up every once and awhile and talk about ridiculous things like the Super Bowl halftime show and our hot takes on all the various hard seltzer drinks that have entered the market. Check out Episode 16 below for insights on both those things and more, and please help us spread the word if you can. You can listen on the SOundcloud player below or on any and all podcast streaming services right HERE.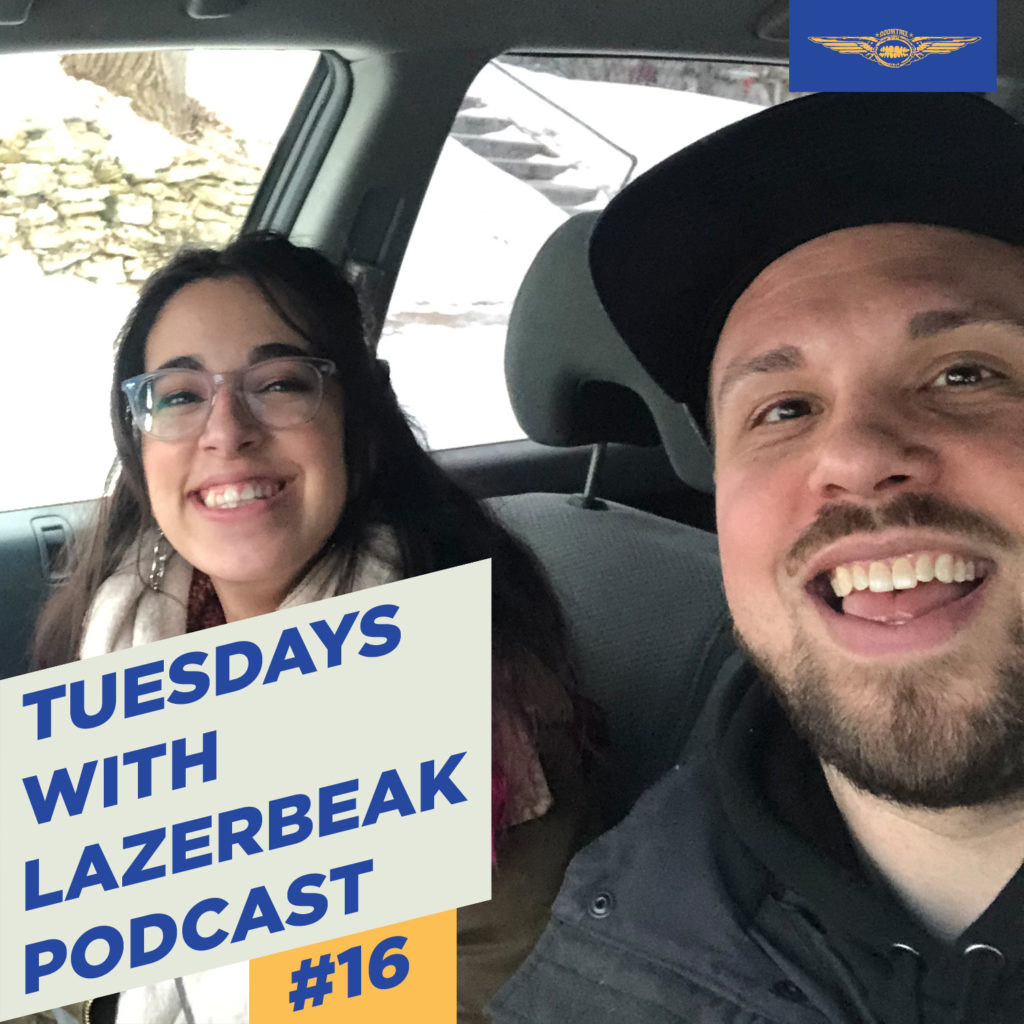 We've got our next big Tuesdays With Lazerbeak live podcast taping coming up at the glorious Parkway Theater on MONDAY, March 6th (I know, we're really keeping you on your toes with the whole day of the week thing). Could not be more amped to welcome our special guest Dave Simonett from Trampled By Turtles and Dead Man Winter. Dave will be releasing a solo album at the end of March and this will be a first chance to hear some stripped down songs performed live, as well as learn about the creation process. On top of that, we'll also be premiering an incredible new music video our good friends Longshot and director Mercies May on the Parkway's big movie screen. The video and song delve deep into the topic of police brutality, racism, and classism, and we'll be having a round table discussion about all of those things following the premiere, so that we can all learn from one another and build each other up. I really hope you can make it. Grab your tickets HERE.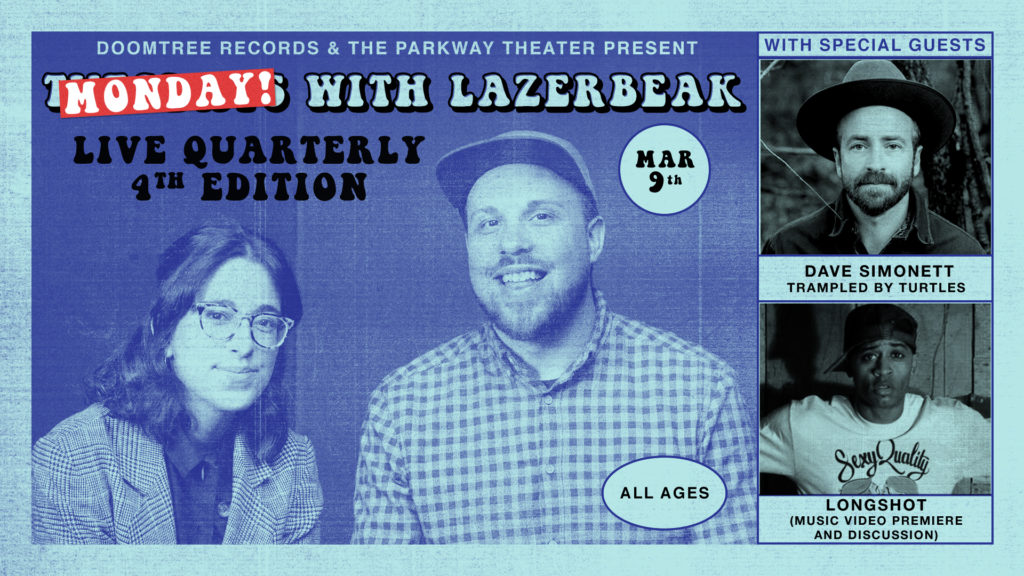 In other Lazerbeak news (very self-absorbed SEGUE!!!), I recently sat down with the Hennepin County Public Library for an interview and artist spotlight. Read all about that HERE and make sure you check out the library's awesome MNspin endeavor which is shining tons of light on all sorts of up-and-coming talent across our great state of Minnesota. You can check out this year's participants and even sign up to be selected next year right HERE.
Hard to believe it, but my most recent solo album Luther has now been out in the world for a FULL YEAR. I got a little into my feels on the flight home from Miami thinking about all that's happened since last February and all the support and encouragement that's been shown to me on this new and very different musical path. Thank you to everyone for bumping this album, sharing it with a friend, and generally making me feel welcome in whatever musical realm I choose to create in. It means a lot to me to have the freedom to explore a bunch of different genres without the fear of losing listeners. Anyways, huge shouts to YOU. Below are a handful of music videos from the Luther project if you'd like to stroll down memory lane with me. I've officially wrapped up Luther's follow-up album Penelope and that will definitely be coming out this year on Doomtree Records. Stay tuned!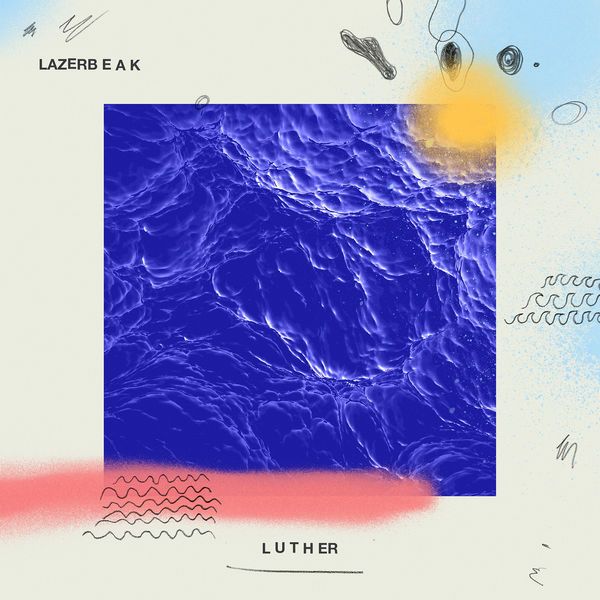 Lazerbeak – "Valley Low" (Directed by Mercies May)
Lazerbeak – "Retreat" (Directed by Adam Dunn)
Lazerbeak – "Ready" (Directed by giaw)
The Life of Doomtree's Lazerbeak (PBS Documentary)
Alright! That does it for the news this week. It's been a minute since we dove into some Bonus Jams, so let's get right into it. I'm gonna kick things off with a new Valentine's Day kiss-off anthem from the one-and-only Carly Rae Jepsen, who just keeps getting better with every single song. I love her so much. Check out "Let's Be Friends" below.
Carly Rae Jepsen – "Let's Be Friends"
Really loving this new single from Christine and the Queens, whose last album was a serious highlight of 2019. Bump this!
Christine and the Queens – "People, I've Been Sad"
The Strokes are one of those bands that I will always love no matter how long they go away for or how crazy their new musical direction gets. I'm way into this new "At the Door" song and cannot wait to hear what they attempt on the upcoming full-length.
The Strokes – "At the Door"
Huge fan of the new Chromatics single (and their most recent Closer to Grey album). So impressed with the heavy vibe they can create in just three minutes.
Chromatics – "TOY"
Caribou's highly anticipated new album drops in less than two weeks and every single teaser song from it has been total fire. Check out the latest one, "Never Come Back," below.
Caribou – "Never Come Back"
I was an absolute superfan of Justin Bieber's last solo album, so I gotta admit that it's been a little tough getting into this new Changes one. There's definitely still some great stuff on here though, and of course I love the Kehlani duet because she is the absolute greatest in the entire world.
Justin Bieber – "Get Me" ft. Kehlani
Speaking of Kehlani (SEGUE TWO), she's hitting the road with the Biebs later this year and has been dropping some excellent singles of her own. Here's hoping that means a new album is imminent. If you're in the Twin Cities, I'll see you at First Avenue tomorrow night (Wed 2/19) for the big Lexii Alijai tribute show that Kehlani and Sophia Eris are headlining. Should be a a beautiful night of healing and honoring.
Kehlani – "All Me / Change Your Life"
Kamaiyah's new album drops on FRIDAY!!!! OMG I feel like I've waited a lifetime to hear the official follow-up to A Good Night In The Ghetto, one of the greatest albums of all time. This new single with the baddest b Trina is totally crazy. Video is great too.
Kamaiyah – "Set It Up" ft. Trina
I cannot keep up with the amount of music that J Balvin is steadily releasing. All I know is that I like all of it and he just doesn't miss ever. Check out "Morado" below.
J Balvin – "Morado"
And lastly, I'll leave you with a new one from Beach Bunny who just released their new album Honeymoon last week. I absolutely love this "Promises" song and can't wait to dive into the whole project. Right up my alley.
Beach Bunny – "Promises"
That does it for Bonus Jams this week! As always, make sure to add and save the Tuesdays With Lazerbeak Spotify playlist to your personal playlists right HERE so you can take these songs with you wherever you go. I update it every week with the latest heat.
Alright, that's it for this post. I hope you all have a truly glorious week. Bump that new episode of the podcast and I'll see you back here next Tuesday for some absolutely earth-shattering news. FOR REAL.
— Beak
Twitter: @_LAZERBEAK_
Instagram: @lazerbeak