Hey everybody, welcome back to the first Tuesdays With Lazerbeak of the quarantine. First off, I just want to say that I know these are trying times and we're all going through a whirlwind of emotions, fears, anxieties, and stress. I'm sending you love and strength and good health and sanity and encouragement in these difficult days. And as much and as quickly as things are changing, I also want to make sure to keep this weekly blog and the bi-monthly podcast going as a signal of something constant. Let's keep talking and listening and sharing with one other throughout all of this. In that spirit, I'm happy to present you with a brand new episode of the Tuesdays With Lazerbeak podcast! Thrilled to have our special guest Nadi from the outrageously good band Gully Boys on the show this time around. In this episode Jeyca and Nadi go down a serious and highly informative Tumblr rabbit hole, Nadi and I dig into our hard seltzer allegiances, and we all join forces together to ask the world for free My Chemical Romance reunion tickets. How could you say no to these faces?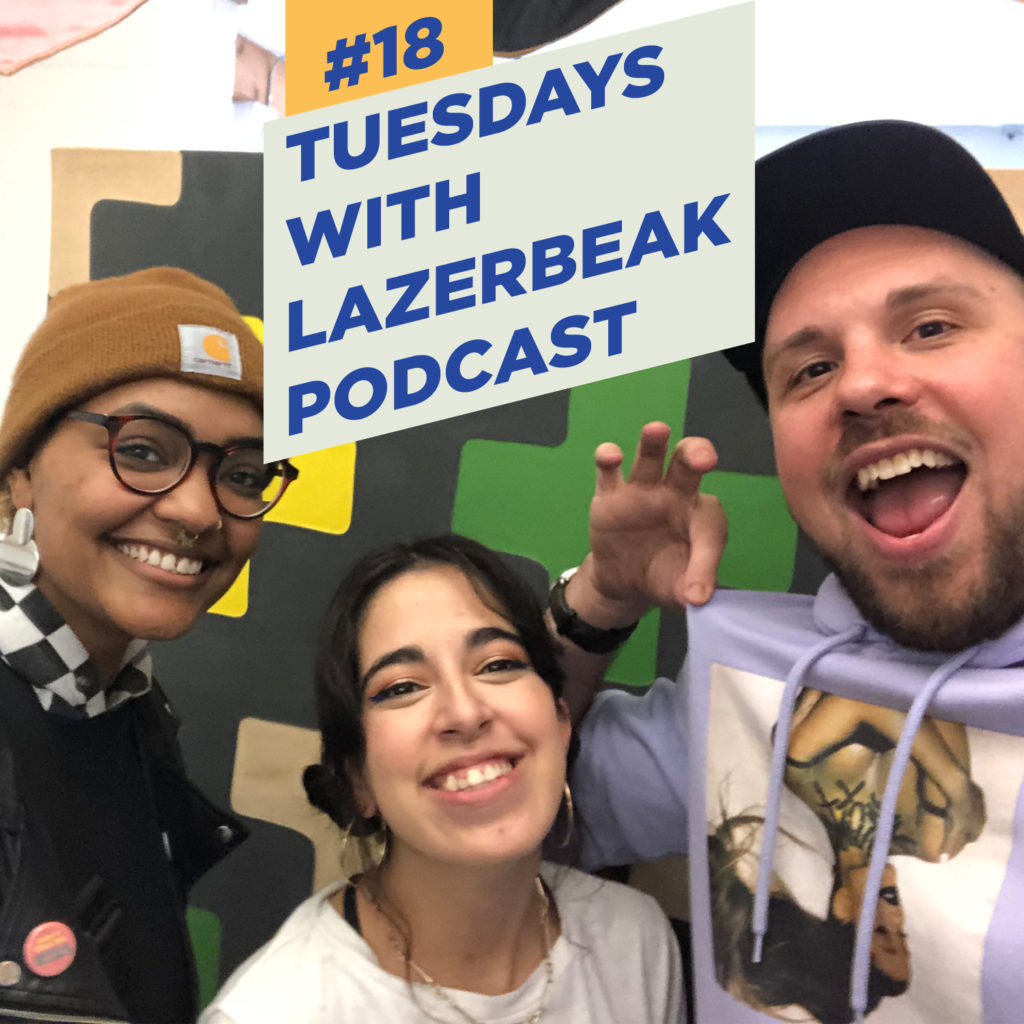 You can check out Episode 18 on the Soundcloud player below or anywhere you listen to your podcasts at this SmartURL link right HERE. Seriously, we've got you covered. Huge shouts to Nadi for joining us. Make sure to listen to Gully Boys and buy their merch right HERE.
Hard to believe if it was just over a week ago that P.O.S, Sims, Paper Tiger, and I descended upon the Minnesota Timberwolves NBA halftime show, rocking a Shredders arena set with a million dancers and the greatest sports mascot of ALL TIME. The Wolves just sent us the video footage from the entire performance and we're unveiling it right now! Check out the full three-song set and marvel at the fact that this seriously happened in real life. To quote Kevin Garnett, my favorite basketball player ever: "ANYTHING IS POSSIBLE!"
I know we're all cooped up inside for the foreseeable future, so I wanted to remind you of some great Doomtree-related playlists to keep your ears and mind happy. We've updated the DOOMTREE COMPLETE playlist on Spotify with every song we've ever released as a label. Over 450 tracks and 26 hours of music in chronological order, newest to oldest.
And if you want to do a deep dive on my own personal Lazerbeak catalog, I've got the Lazerbeak Discography Playlist with every song I've had a hand in producing, writing, or remixing over the last two decades. Again, chronological order newest to oldest. Enjoy!
Then there's also this Tuesday With Lazerbeak Bonus Jams playlist which I've been updating weekly for the past few years. It's all over the place and probably best to just put on shuffle and roll with it. 900 songs and 52 hours of music. That should tied you over for a bit!
Lastly, I want to share one album with you that has been bringing me a lot of comfort and joy over the past week. It's by Lisbon producer Bullion and it is seriously AMAZING. The EP is called We Had A Good Time and I've probably listened to it over 50 times in the last seven days. Super intricate and chill at the same damn time. I love it so much. Hoping that maybe it can bring you some calm as well.
I'll leave you with a few cute puppy and kiddo pics from home. This is all the stuff that has been bringing a big smile to my face lately in all this madness. I'm so grateful for this crew.
View this post on Instagram
View this post on Instagram
View this post on Instagram
View this post on Instagram
Alright, that's it for this post. I hope you all have a glorious week indoors. Remember to take it easy on yourself and reach out to your peoples to talk, text, FaceTime, and check in. Let them know you love them. We're gonna all need those reminders more and more as the days go on. Lots of love to you and yours and I'll see you next Tuesday for another round of TWL!
— Beak
Twitter: @_LAZERBEAK_
Instagram: @lazerbeak