Whooooooboy welcome back to the third Tuesdays of Lazerbeak of the quarantine. Home school officially started yesterday and if I'm being really real with you, I am feeling quite overwhelmed by the task of teaching three little ones from home. Here's a glimpse into the start of today's lesson plan.
Sooooooooo let's run through some positive and uplifting news to hopefully fight off all the stress and anxiety we're all feeling at this time. I'm extremely excited to present you with Episode #19 of the Tuesday With Lazerbeak podcast. This one is from our last live recording at the Parkway Theater and features the wonderful Dave Simonett of Trampled By Turtles and Dead Man Winter as our special guest. Dave runs down his life in music and so much more, and even performs a few stripped back songs. On top of that, we're also joined by my great friend Longshot who premiered his new "Parades" music video and talked to us about its themes of police brutality and racial profiling, while also catching us up on all the incredible things he's been doing as an activist, youth organizer, and artist. Both of these dudes are the absolute best and I really hope you enjoy listening.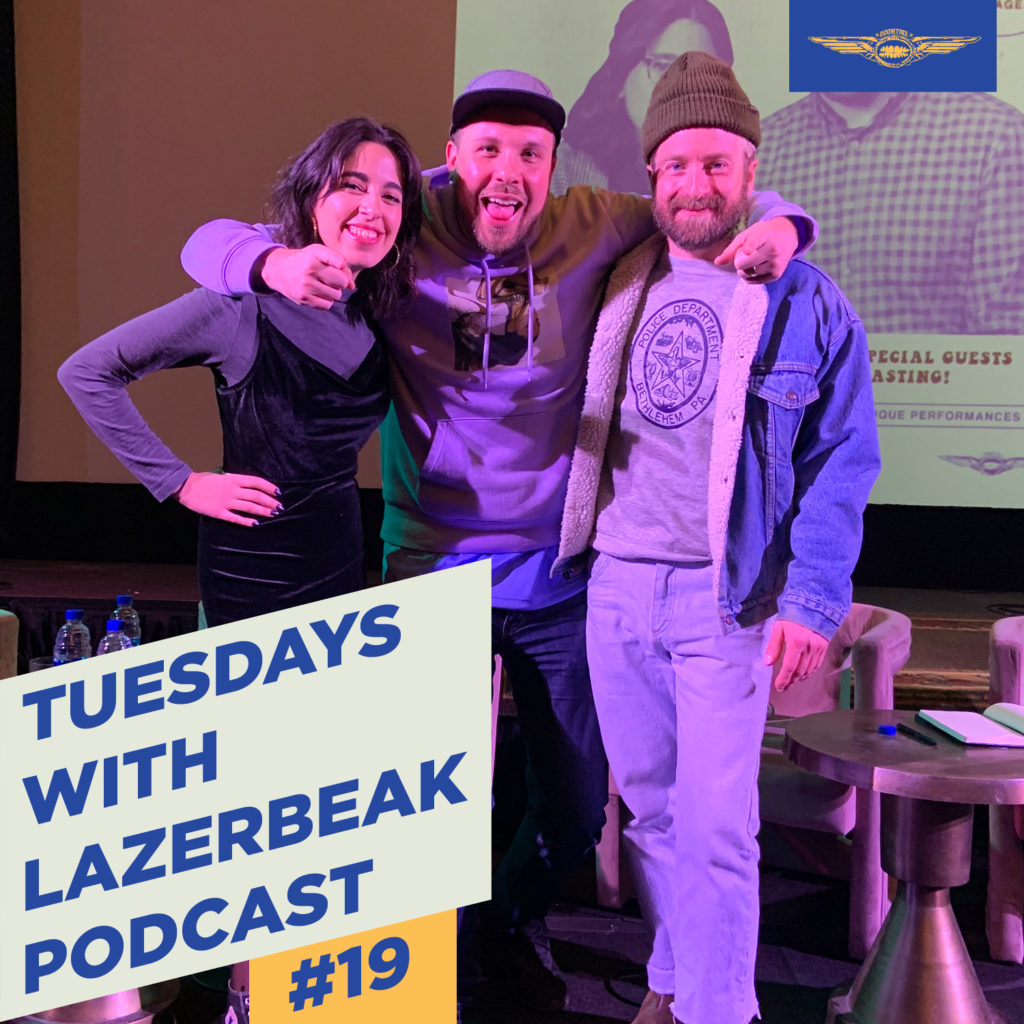 Here's a Soundcloud link below or you can listen on whatever podcast platform you prefer by clicking this link right HERE.
And speaking of Longshot and his music video premiere (DOUBLE SEGUE!!!), it is my great honor to now present you with the incredibly powerful visual for "Parades," the title track from Longshot and Lazerbeak's 2018 collaborative album. I cannot thank director Mercies May enough for all the work he put into shooting, photographing, editing, and organizing this touching content. The scenes in this music video are taken from Mercies upcoming short film "O'Sorrows" and I can't wait for you to see it. Please help us spread the word and share this link with anyone you think might enjoy it. Let's keep the conversation of racial profiling, police brutality, and overall societal prejudices alive. The more we talk about it and share, the more we actually become connected to one another and are able to feel empathy for all. It's the only way. LOVE.
Longshot and Lazerbeak – "Parades" (Directed by Mercies May)
As you know, Doomtree released our first all-crew song in over five years just last month. It's called "Five Alive" and we recently did a few interviews talking about the group's return and what everyone is up to right now. Check out this great Atwood Magazine interview with Sims, Paper, Dessa, and myself right HERE.
And here's an interview that Sims and I did with the weekly rap newsletter CABBAGES. Click this link right HERE and scroll to the middle for the full thing.
The good people at City Pages hit me up a few weeks back to check in with me at the start of this pandemic. Check out the full interview right HERE to learn about how me and my family are coping at home, along with what all this means for musicians and artists. I really appreciated the check-in and hope you enjoy it.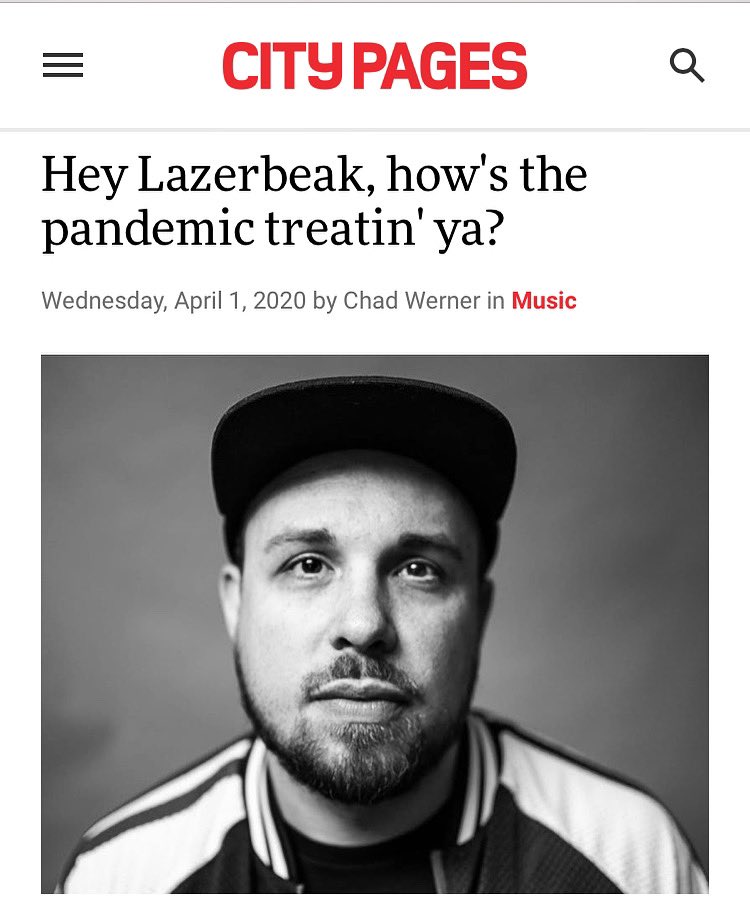 The Current's Andrea Swennson asked me to send in a little check-in video this past weekend for her awesome Local Show. Here's me saying what's up from my living room.
The kind folks at Minneapolis St Paul Magazine also reached out and asked me to kickoff their new Quarantine Sessions feature, which involves artists performing a song of their choosing from the comfort of their own home. I decided to round up my kiddos Penny, Lou, and Cam (and new puppy Cheesecake) for a stirring rendition of "Get Back Up Again" from the excellent Trolls Soundtrack. I hope it brings a bit of joy to your day. You can follow the rest of the Quarantine Sessions right HERE. I hope this brings a smile to your face and a little added joy to your day.
Thanks to @mspmag for asking me to kick off their #QuarantineSessions. Decided to cover "Get Back Up Again" from the Trolls soundtrack with the help of my kiddos. Have a great day! pic.twitter.com/QBcxIziJN5

— LAZERBEAK (@_LAZERBEAK_) April 5, 2020
Since we're on the topic of new music, let's jump right into a new edition of Minnesota Bonus Jams. Our great state continues to unleash incredible new tunes at an unrelenting pace. Here's my latest roundup. Let's start things off with my man Hard_R who has just put out an entire visual album for his Hate_R EP. Next level stuff and highly recommended.
Hard_R – "The Death Of Me" (Hate_R Short Film)
Medium Zach is one of my oldest friends and peers in the Twin Cities music community. We both started popping up on the scene around the same time in the early 2000's and it's been awesome to watch him grow and collaborate with so many greats. His Beat Story series has been one of my favorite music series around, and I'm pumped to learn that he'll be dropping a full solo project on us shortly. Check out this video for "All At Once" to get an idea of what he's working with.
Medium Zach – "All At Once"
J. PLAZA has been dropping some extremely fire singles as of late, and I think this "Back Down" song is my favorite thing that he's ever put out (which is def saying something). Enjoy!
J. PLAZA – "Back Down"
Ashley Gold surprised us all last week by dropping this unreleased EP from her synth-pop band HOLIDAE. So goooooood. Side note: Definitely stay tuned for some incredible new solo music from Ashley. She's been working on a crazy new project co-produced by The Hideaway's Joe Mabbott and myself. More on that soon.
HOLIDAE – Miles Away EP
Our friend Naeem (fka Spank Rock) just announced that he's signed with the new PEOPLE music imprint and will be releasing his solo album very shortly. To celebrate the big news he put out this crazy cover of Silver Apples' "You and I." Can't wait for this new album!
Naeem – "You and I"
tiny deaths, the duo of producer Grant Cutler and songwriter Claire de Lune, recently released this excellent "Stay" single. Some great 90s R&B vibes going on throughout. Way into it.
tiny deaths – "Stay"
Big shouts to the homie Izell Pyramid who just released a new single with the very talented Kamilla Love. I love this one.
Izell Pyramid – "Tell Me" ft. Kamilla Love
Just got put onto local artist Kokou Kah and I'm absolutely loving this "Dirty Hours" track. Very excited to hear more from him.
Kokou Kah – "Dirty Hours"
Shouts to my guy Leekthough who just popped up with a crazy verse on this new Tribe Mafia track "Follow Me." Smooth jams for my R&B Heads and Rap Heads alike.
Tribe Mafia – "Follow Me" ft. Leekthough
Mac Turner continues his hot streak with this new "AmeriKa" single and video featuring Lewiee Blaze and Royal Music Family's own Prince Riley. I've said it before and I'll say it again. Mac and Riley are making some of the craziest music out of Minnesota right now and it's only a matter of time before the rest of the world catches on. Get to know them.
Mac Turner – "AmeriKa" ft. Lewiee Blaze & Prince Riley
SYM1 is BACK with this great new "Hungry Eyes" single. I'm so excited for her upcoming project. It's a sound that hasn't been super represented here in a minute (or at least that I've heard), and I'm so happy that we've got this dark electronic vibe to kick it to.
SYM1 – "Hungry Eyes"
And lastly, I've gotta give a huge shout to our dear friend Steve Reidell of Air Credits and The Hood Internet. Steve lives in Chicago but hails from Minnesota, so he's definitely getting included in this roundup. He has truly done the unthinkable: Steve completely recreated Genesis' classic Duke album in its entirety on the 40th anniversary of its release. I don't really have the words to explain this level of dedication, musicianship, and tribute. Even if you're not familiar with the original, you will dig this. HIGHLY recommended.
Steve Reidell – Duke (40th Anniversary)
BAM! That's it for the jams. Make sure to check out this Spotify playlist where I update the Bonus Jams every week. Tons of tunes to keep your spirits up.
Alright, that's it for this post. I'm gonna leave you with the new Longshot music video again just in case you missed it up top. I hope you all have a wonderful week. Keep your head up as best you can. It's also ok to put your heads down every once and a while and feel the tough feelings. I cried naked in my infrared sauna on Friday night, and as ridiculous as that sounds, it really made me feel a lot better. Keep on checking in with one another and KEEP. ON. HANGING. IN THERE. See you next Tuesday with some really exciting new music!
— Beak
Twitter: @_LAZERBEAK_
Instagram: @lazerbeak