Hey everybody, welcome back to another edition of Tuesdays With Lazerbeak. I know the last few weeks have been incredibly painful and difficult all over the country, and especially here in Minneapolis, but I am encouraged by how much people are speaking out throughout the world about racial inequality, defunding police, and justice for not only George Floyd and Breonna Taylor, but all the countless Black men and women murdered by police before them. Here in Minneapolis it's been truly beautiful to watch the community come together and put the pressure on officials and council members to take action. It's just a start, but the conversations going on here – both externally and within our individual selves – brings me hope that this won't just be a weeklong blip in the timeline. Massive shouts to Black Visions Collective, Reclaim the Block, and MPD 150 for the tireless work they've been doing for years, and especially in this moment, to raise awareness and work towards a police-free future. For those of you feeling uncertain or overwhelmed by how best to be useful, I've found this new site from Black Lives Matter extremely helpful to stay in engaged and active even after your initial outrage has passed. Check it out right HERE to sign the latest petitions, learn about upcoming protests in your area, donate to excellent causes and organizations in your community, and learn more about white privilege and how to be e a better ally.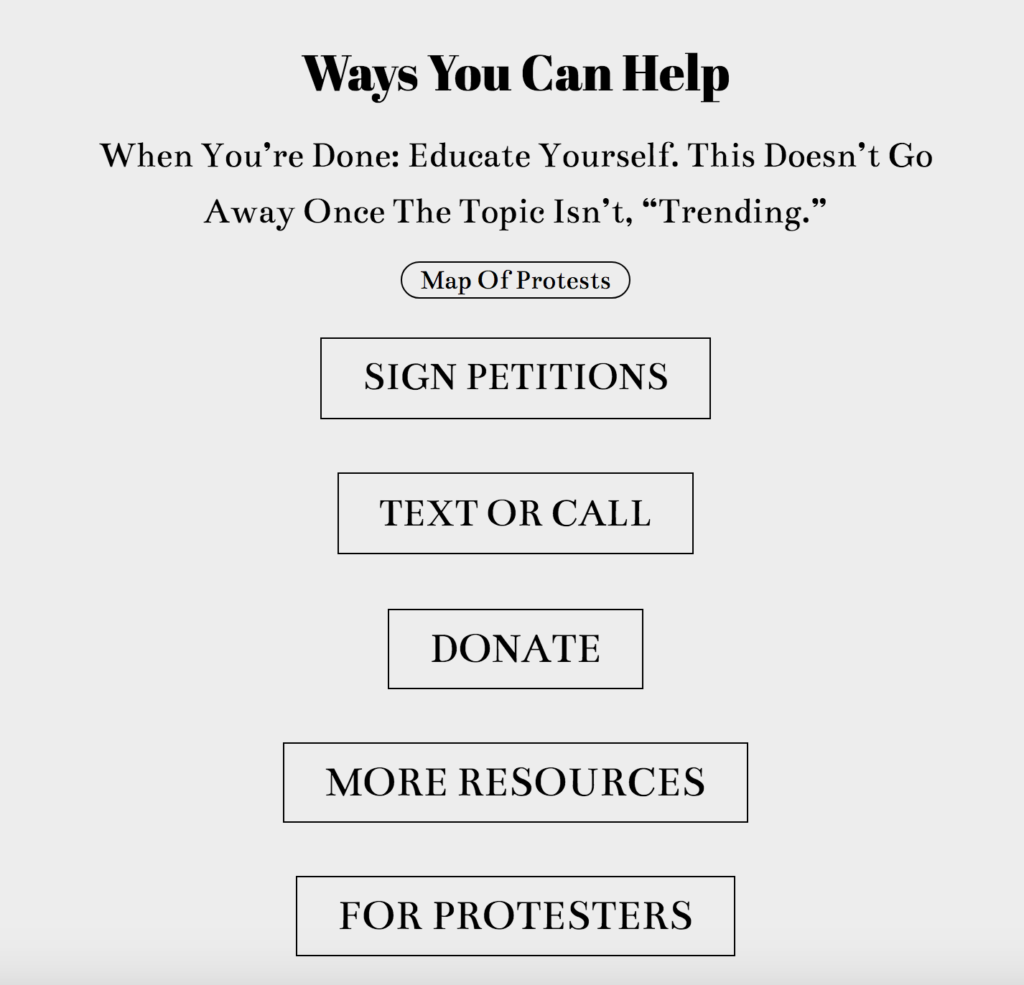 To echo what I've seen many leaders bring up this past week: the fight for social justice is a marathon not a sprint, and it's one that has been going on for centuries upon centuries. Please make sure to take some time to care for yourself in all of this. We need to keep recharging so we don't burn out in this struggle. In that spirit, we created another music-only episode of Doomtree TV last Friday, which you can listen to below if you'd just like to bump some tunes in solidarity. This one starts with an excellent unreleased Spoon cover from P.O.S. Really awesome. Moving forward we'll be rethinking the Doomtree TV model a bit. It was made to help us all get through those first few months of quarantine while we were all cooped up at home, but ultimately it isn't sustainable as a weekly show given the amount of time and energy it takes to create. We'll keep you posted every step of the way though, this definitely isn't the end.
Given everything that's transpired over the last two weeks we've decided to push the Cloquet album release date back a little bit to July 10th. If you missed the awesome news, Cloquet is the dynamic duo of Doomtree producer Paper Tiger and vocalist J.Gundersen. New Drugs is their recently announced second album, and what a fantastic album it is. Check out lead single "Breathing" below or anywhere you stream or purchase music right HERE. Soooooo goooooood.
You know we had to drop a sweet Deluxe Pre-Order to celebrate this release. You can grab the Cloquet album in CD or LP and get this crazy exclusive neon green shirt along with it. Pre-order yours direct from the Doomtree Webstore right HERE.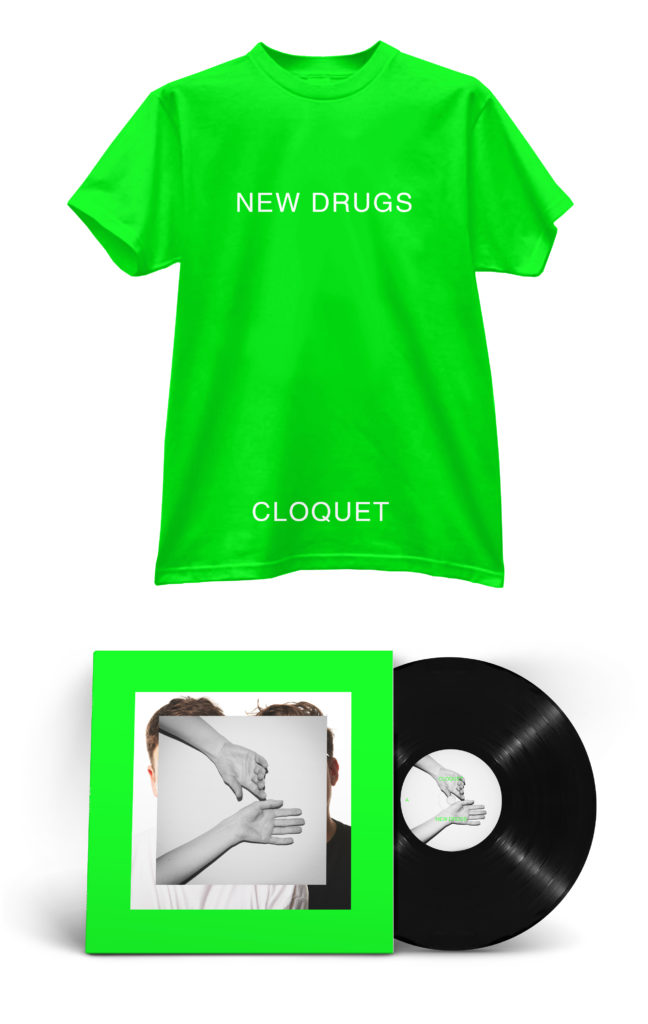 While we're at it, let's do a quick recap of all the Doomtree-related music that's come out over the last month. Night Stone, the new electronic project from me and producer ICETEP, was released just a few weeks ago. You can listen to the whole thing and purchase a copy for yourself right HERE. Here's one of my fav songs from the record, "Dreams Too," featuring vocals from the wonderful Lady Midnight and Sophia Eris.
Night Stone (Lazerbeak + ICETEP) – "Dreams Too" ft. Lady Midnight and Sophia Eris
I partnered up with my good friend Joe Mabbott from the illustrious Hideaway Studios to co-produce the upcoming project from singer/songwriter Ashley Gold. Here's lead single and title track, "Grown," which you can listen to on any platform right HERE. The EP will be dropping this summer and I can't wait for you to hear the whole thing. Ashley crushed it.
Ashley Gold – "Grown" (produced by Joe Mabbott and Lazerbeak)
We announced Dope Walker, a new rock band made up of myself and Jeff Allen from The Plastic Constellations, William Elliott Whitmore, Joel Anderson from Ten Grand, and Mike Schulte from Pork Tornadoes. We've got a full album in the works that I'll be able to tell you about very soon, but for now here's our first released song "These Freaks." Shouts to Luke Tweedy at Flat Black Studios and Tom Loftus at Modern Radio Record Label for making it all possible. Grab the song right HERE.
And if you haven't heard "Trap House" by Sophia Eris yet, you gotta fix that ASAP. Check out the awesome lyric video for the track below courtesy of that dude Phantom Sloth. We postponed the release of her Trapper Keeper EP temporarily but will keep you posted as soon as it feels right to drop this summer.
Sophia Eris – "Trap House" (produced by Lazerbeak and Bionik)
And here's a video that always brings a smile to my face: The quarantined live version of the latest Doomtree single "Five Alive," made for the first episode of Doomtree TV. Even though I haven't seen any of these folks in person for far too long, I'm really grateful for Doomtree TV and the Doomtree Patreon for allowing us to be in virtual contact and connected more than before.
Doomtree – "Five Alive" (Quarantine Version)
My old friend Camino, one of the first people that I ever made beats for way back in like 2000, just released a new project of unreleased tracks and our collaboration "Zom Bee Land" kicks the whole thing off. Check out the song below and grab the whole record right HERE. Man this is bringing me back.
EyeAmCamino – "Zom Bee Land" (produced by Lazerbeak)
While we're at it I'd like to include a few Bonus Jams from our home state of Minnesota that I've had on repeat this past week. Dua Saleh just released their new song "body cast," a track which mourns the lives of unarmed black people killed by police in recent years. Dua has not only been at the forefront of radical music these past few years, but it's been incredible to watch their work and activism directly with Black Visions Collective here in the Twin Cities. A strong and powerful young voice on lots of levels. All proceeds from this single will go straight to Black Visions Collective. Grab it on Bandcamp HERE.
Dua Saleh – "body cast"
The Northside's finest, Price Riley, Mac Turner, and Mac Irv, have all gotten together for the incredibly poignant "Black People," produced by the great King Ralio. The video shows some really powerful images and scenes from recent weeks and is a call to keep up the fight against racial injustice.
Prince Riley & Mac Turner – "Black People" ft. Mac Irv
This new one from Dj Advance and KV 7Wntrs is both a total banger and a really timely message. Vance has been holding the Twin Cities down for years.
Dj Advance – "Close To Me" (ft. KV 7Wntrs)
Really loving this new song from FPA. Shouts to my man Andrew Broder for putting me up on her (and for contributing to some of the production on this track as well). Very excited to check out more stuff.
FPA – "Baby"
And lastly, our dear friend Astronautalis just released the first single from his upcoming album, entirely produced by the homie Subp Yao (who oversaw the Four Fists project). I'm so excited for people to hear what these two have been cooking up. A totally new sound and a really nice way to unplug for a second and just chill.
Astronautalis – "The Way I Am" (prod. by Subp Yao)
Alright, that's it for this post. I'm sending you all the maximum love and supreme strength in the whole wide world. Keep on educating and taking care of yourselves, keep on contributing to your communities, and keep on fighting in the midst of this marathon. I'll see you next Tuesday.
— Beak
Twitter: @_LAZERBEAK_
Instagram: @lazerbeak