Posted by Lazerbeak on March 24, 2015
Oooooooookay, welcome back to another round of Tuesdays With Lazerbeak (huge shouts to Dessa for holding the blog down last week as I got caught up with work). The two-month U.S. run of Doomtree's All Hands Tour officially came to a close last weekend at SXSW in Austin, TX, and boy did things go out with a bang. Over the course of two-and-a-half days we played a total of NINE SHOWS, including the six-hour long Doomtree Records showcase, which definitely put quite the exhausting exclamation point on a truly incredible tour. Huge shouts to our FRIENDTOGRAPHER Ricardo Zapata for tagging along and capturing a ton of the sweaty and rainy footage.

Check out the SXSW Video Recap below, followed by some great pics of our time spent down in that circus.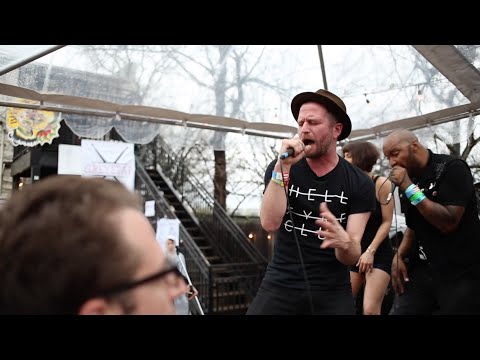 I will eternally be kicking myself for missing out on the family fun day that included bowling, mini golf, go-karts, batting cages, and LASER TAG! Possibly the definition of the best day ever. A huge congratulations and grown man salute goes out to Stef, Sims, Dessa, Cecil, Mike, Papes, Ander, Crista, and Snake for road warrioring their way through the last two months like a bunch of total champs. 16 out of 26 sold-out shows and an absolute SXSW takeover to close things out is no small feat. This tour was leaps and bounds above any previous run we've ever done, due in large part to the fact that so many of you came out and supported Doomtree all over the country. We really can't thank you enough for that. So here's the plan: Everyone is gonna chill out for a bit and work on their solo projects, and then we're taking the show on the road overseas for the ALL HANDS EUROPEAN TOUR!!!
New dates were just announced today in Bristol and Paris! YES! Tickets for Bristol are now on sale right HERE, and tickets for Paris will go live this Thursday right HERE, with a few more cities hopefully announcing over the next couple of weeks. Summer is shaping up to be 100% AWESOME.
Remember when I mentioned that everyone was gonna chill out for a bit and work on new projects? Everyone that is, but Dessa, who is completely out of her mind and heading out on two more solo tours before meeting up with the dudes in Europe this June. Check out all the dates for Dessa's Welcome To Night Vale Tour below, and grab your tickets HERE. Then underneath that, check out dates for Dessa's solo European tour this Spring (tickets right HERE).
Speaking of Dessa (SEG-WAY!), she recently sat down with our #1 dude Open Mike Eagle for a taping of his excellent Secret Skin podcast. They talked Doomtree, image, and (what else?) karaoke. Check out the entire thing right HERE, or click on the player below. We'll call it this week's Podcast Bonus Jam.
And speaking of Podcast Bonus Jams (seriously, Segue Streak on lock!), our very own P.O.S recently sat down with the good people at Kinda Neat and chopped it up about all sorts of cool stuff (including Gun N' Roses). Check out the whole thing right HERE.
Let's throw in one final Bonus Podcast Bonus Jam just to take this segment completely full circle: Check out Stef's old episode of Secret Skin with Open Mike Eagle right HERE, as they discuss parenting, Doomtree, kidneys, and the Last Blowout Ever.
Alright, that about does it for this week's post. Things have been pretty buck over here at the Mader household the past couple weeks, but I promise to get back on my Baby Bonus Pic grind next week. In the meantime, I want to send the hugest of shouts out to Laid Back Lou and Crab Man Cam for making it one whole year in this crazy world! Love these guys too much, even when they poop in the tub EVERY SINGLE NIGHT OF MY LIFE. Shouts to the wifepiece, Brittany "Killa Cam" Mader, for holding the entire household down this past year (even with a recent broken foot). And to our parents for the insane amount of hours put in wrangling little ones constantly. Not quite sure how we all pulled 2o14 off, but I'm thrilled to have one year under our collective belt. Love you all mucho and could not do this without you. Bring on the whole "it gets easier" thing that everyone keeps talking about!
OK, that for real does it. I hope you all have a wonderful weekend watching the Sweet 16, and I'll see you back here next Tuesday for another edition of TWL!
– Beak
Twitter: @_LAZERBEAK
Instagram: @lazerbeak
SUPPORT THIS BLOG LYFE. TUESDAYS WITH LAZERBEAK SHIRTS AND POSTERS AVAILABLE NOW!!!