Welcome back to yet another jam-packed Tuesdays With Lazerbeak. We have got a truly outrageous amount of ground to cover today, so let's just dive right in. First up, Shredders is making a crazy dog music video with our good friend and director extraordinaire Adam Dunn, and WE. NEED. YOUR. DOG!!! 
That's right, we're making a music video full of dogs. Go to the info page right HERE for all the details and where to send in submissions, but the gist of it is this: You take a 10-15 second video of your awesome dog looking straight at the camera and send it on over to us. Then we make your dog famous on the internet. JUST LIKE THAT! Cut off for submissions is Friday, May 25th so get to it!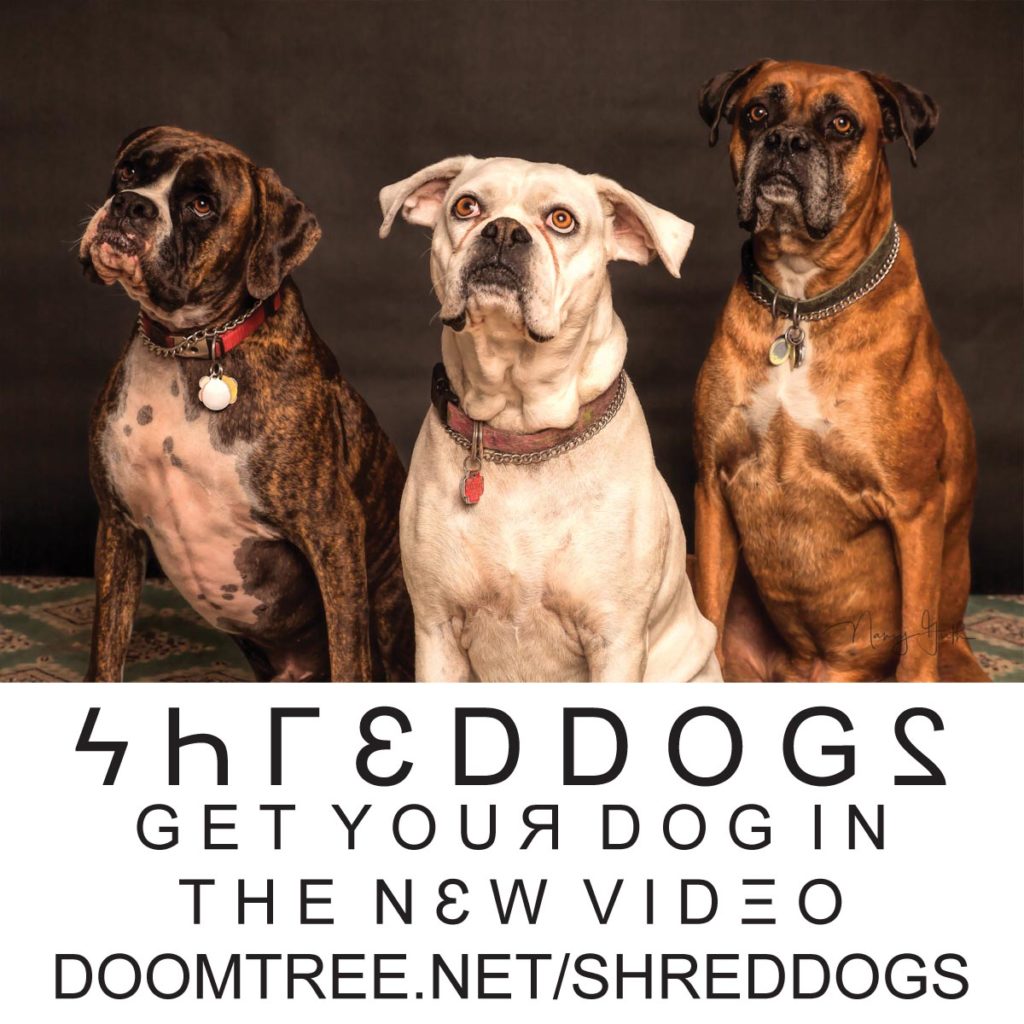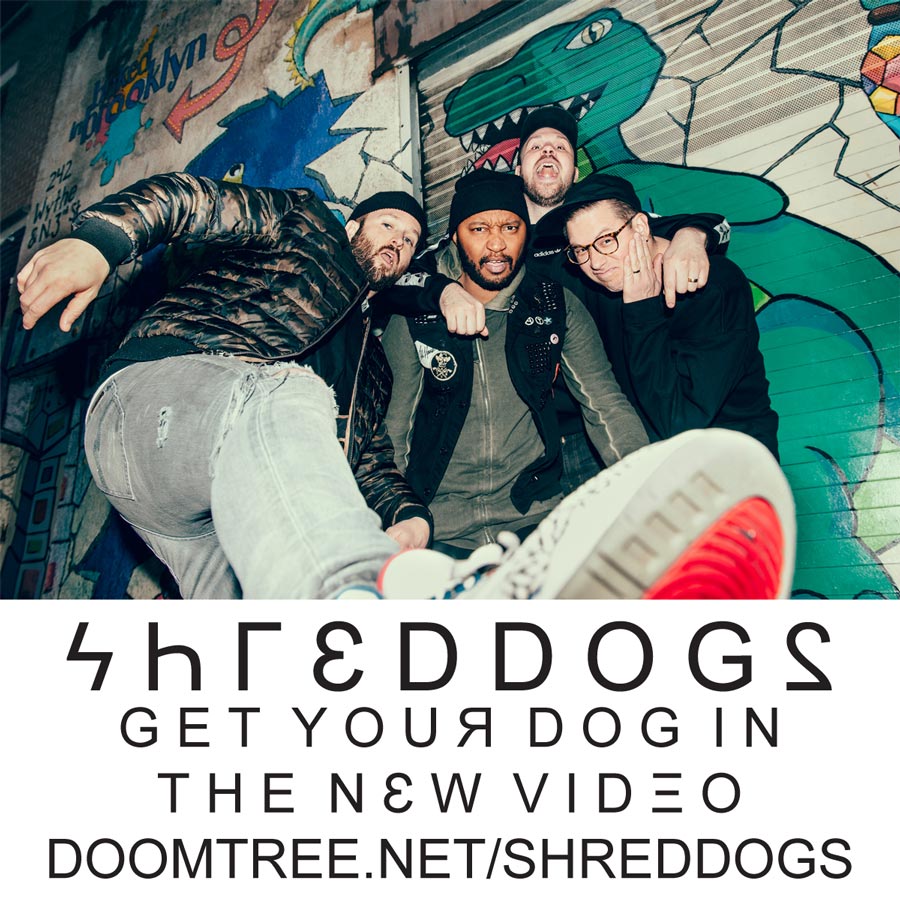 Speaking of Shredders (SEGUE!), we've got a gang of awesome shows coming up in the next month. Beyond pumped to announce that we're heading down south in early June to play some of my favorite cities in this country. Jacksonville, Chapel Hill, Atlanta, and New Orleans are all on deck, and we'll be joined once again by our dear friend Astronautalis in the main support slot. Please please please hit up your peoples if you have them in these areas. To be completely transparent, Doomtree has always struggled a bit with turnout in this part of the country, which is the main reason why we don't get down there too often. Strong ticket sales equals promoters and venues having us back without all involved losing money. There you have it, the grand curtain reveal. Anyways, if you're anywhere near one of these fine cities, grab a ticket, spread the word, and come party super hard with us. I promise it will be an absolute blast. Ticket details HERE.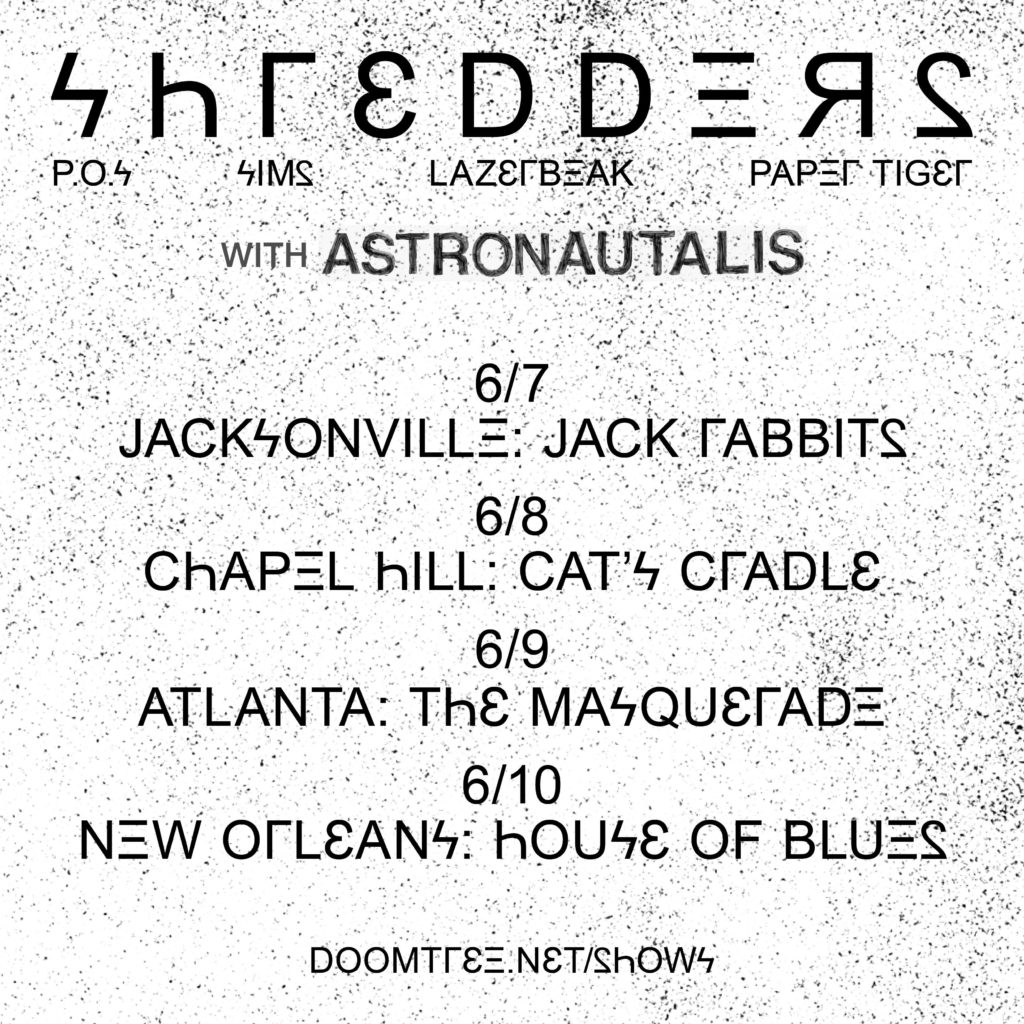 For those of you closer to our home state of Minnesota, we have got a serious party coming up this Saturday. It's Art-A-Whirl weekend in Northeast Minneapolis and our homies at Bauhaus Brew Labs are throwing a total outdoor rager for FREE.99. Shredders, Har Mar Superstar, Corey Wong, Black Market Brass, Nooky Jones, Lady Lark, and Thomas Abban. All day long and totally free, and with an abundance of delicious beer and food. What more could you ask for? Check out the full schedule below. We haven't played a full hometown Shredders set in I don't know how long. It's gonna be wild. Can't wait to see a bunch of you there!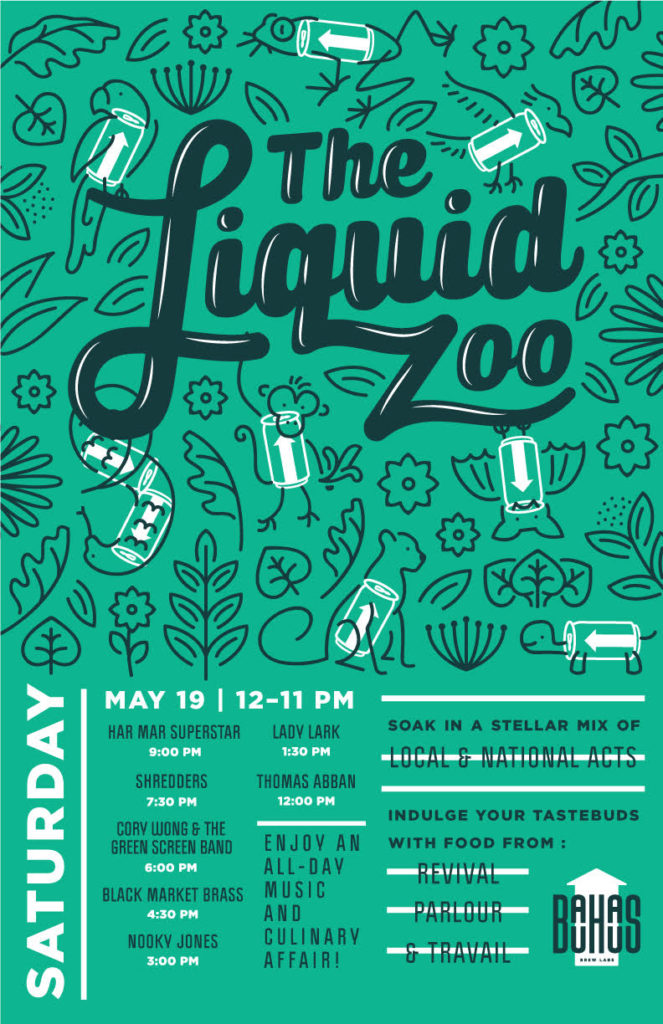 Speaking of Art-A-Whirl (DOUBLE SEGUE!), I just decided to throw a super last minute Doomtree Flash Sale on Saturday afternoon mere blocks from Bauhaus. Here's the deal: I am slowly being buried alive in boxes of merch at the Doomtree office. To help remedy this and ensure that I continue to have a desk with which to diligently type this blog every week, we're throwing a massive flash sale and clearing out some product. $5 CDs and DVDs, $10 LPs, $20 hoodies, and anything else I find in this place. Everything must go! I'll be personally posted up at the Doomtree office in the Thorp Building on Central Ave from 12-4pm this Saturday. Come through, say hi, buy some insanely discounted merch, and help clean up my workspace all at the SAME. DAMN. TIME. See you there!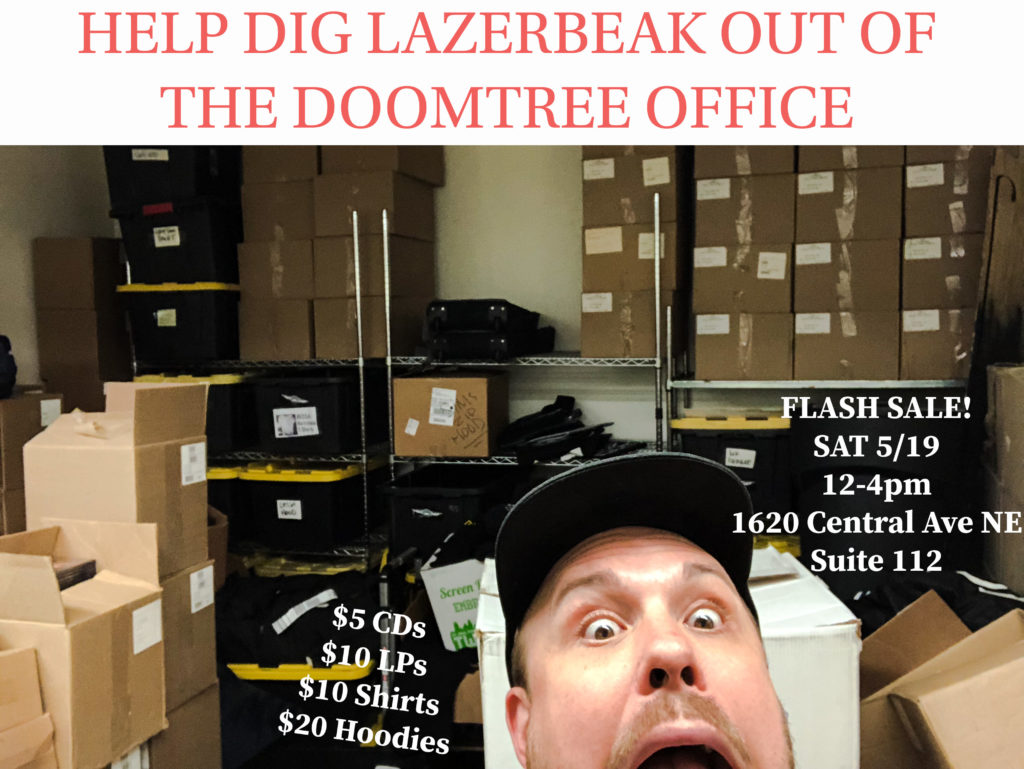 Now for a quick P.O.S tour update from the road. Stef, DJ Rowsheen, Serengeti, and merch man Tony the Scribe have been traversing the midwest and crushing out shows this past week. Here they are in the van, presumably listening to the latest Selena Gomez single and loving every second of it.
And here's an amazing collage of Serengeti selfies. This man is truly the best.
There's still one more stop on this short run. The gang will be in Madison TONIGHT (Tuesday 5/15) at High Noon Saloon. Make sure to grab tickets HERE and go throw down.
Speaking of sweet tours (TRIPLE SEGUE!), Dessa just wrapped up the West Coast leg of the Chime Tour this past weekend. Here she is holding one of the many incredible works of art that contributed to the "5 out of 6" lyric video.
And here's the full band hanging by some sort of strange flowy ocean backdrop, all looking pretty tough/sketchy. Kara, Saam, Dessa, Matt, and Jonathan. You do not want it with them.
Dessa popped into the Tune In offices for a quick hang with host Anthony Valdez.
Dessa also got her luggage swapped between flights and had to talk to customer service agents for several hours.
A couple crowd shots from some truly epic shows. Here's the audiences in Seattle and Denver. Love to see how many people are coming out and supporting Dessa and Chime on these runs.
And lastly, just a reminder that the Monakr dudes are really out here in these streets kicking it with giant lizards like it's nothing.
So that knocks out the West Coast, Midwest, UK, and European legs of the Chime Tour. Dessa will be back in the states next month to hit the East Coast and Southern legs, and will be hopping up to British Columbia in July for the Phillips Backyard Weekender. Check out all the upcoming dates below and grab your tickets right HERE.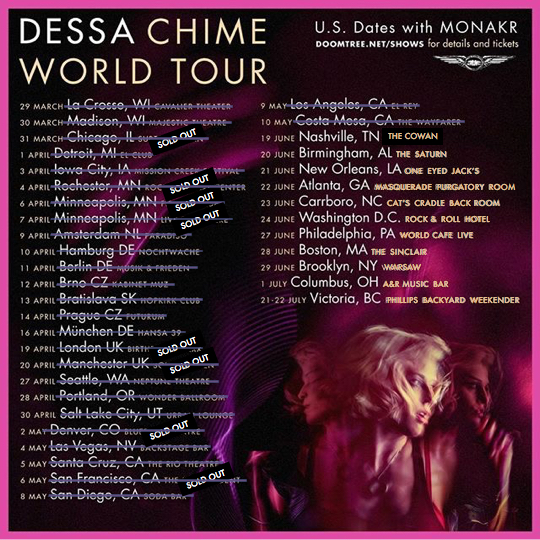 Dessa is currently in the air on a plane ride to China alongside partners-in-crime Matt Santos  and Aby Wolf. She'll be performing and giving workshops for the next two weeks all over the country through a partnership with Arts Midwest. Safe travels, dudes! Cannot wait to hear all about this sweet adventure.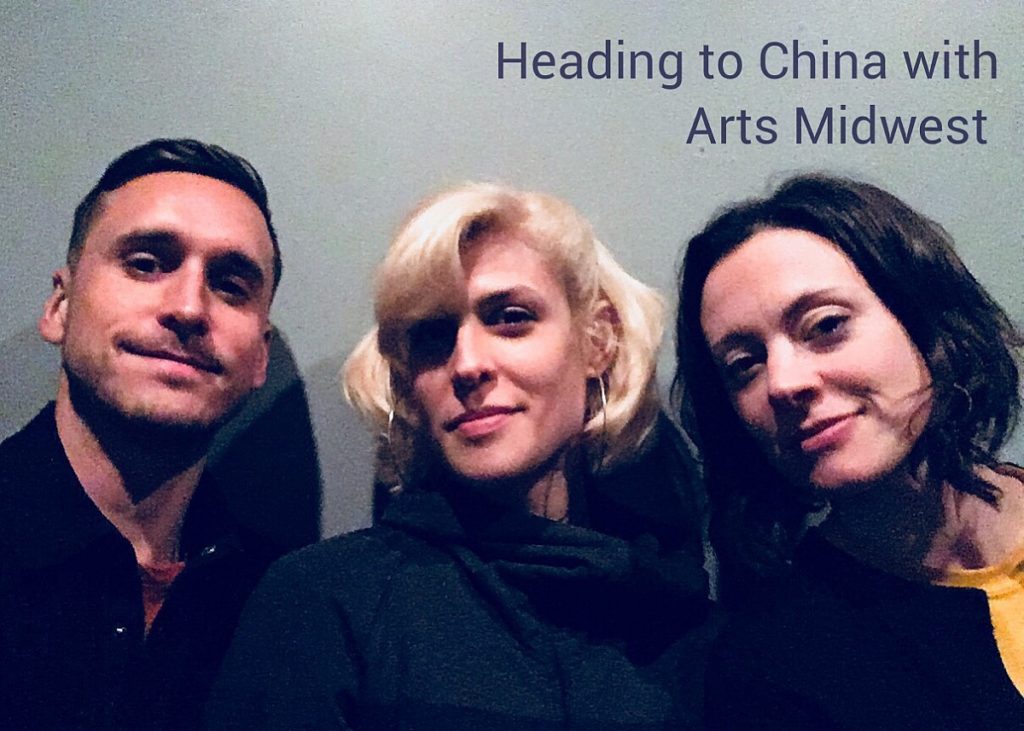 Now for some new music in case you missed the big unveil last week. I am overjoyed to announce that I've got a new album coming out with rapper Longshot on June 8th called Parades. Check out the lead single "Just Dance" below, to be bumped at ridiculously loud volumes. This Parades project has been in the works for years and I can't wait for people to hear the whole thing shortly. Perfect summertime feel-good cookout music.
Longshot and Lazerbeak – "Just Dance"
To really kick things into overdrive, Longshot and I recently announced the Parades hometown album release party. It's all going down at 7th Street Entry on that most festive of days, THE FOURTH OF JULY, and we've got a super squad of incredible friends and artists along for the ride. Holidae (featuring longtime Doomtree collaborator Ashley Gold), Angel Davanport (of the rad group Rapper Chicks), Purple Orange Beach (new P.O.S techno mania), and host for the night Metasota. So tight. Check out the details on the flyer below and grab those tickets right HERE. We're starting this one a bit later in the evening so you can still get your BBQ on, check out the fireworks, and take in an epic rap party all at once.
Just yesterday we received the Parades CDs back from Copycats, and they look AWESOME. Here's Shot and I holding them in our hands for the very first time. If you'd like to help support the project you can pre-order a physical copy of Parades from the Doomtree Webstore right HERE (with some extra goodies), or pre-order digitally from Bandcamp HERE or iTunes HERE. All pre-orders will receive an instant download of "Just Dance." Doooooooit.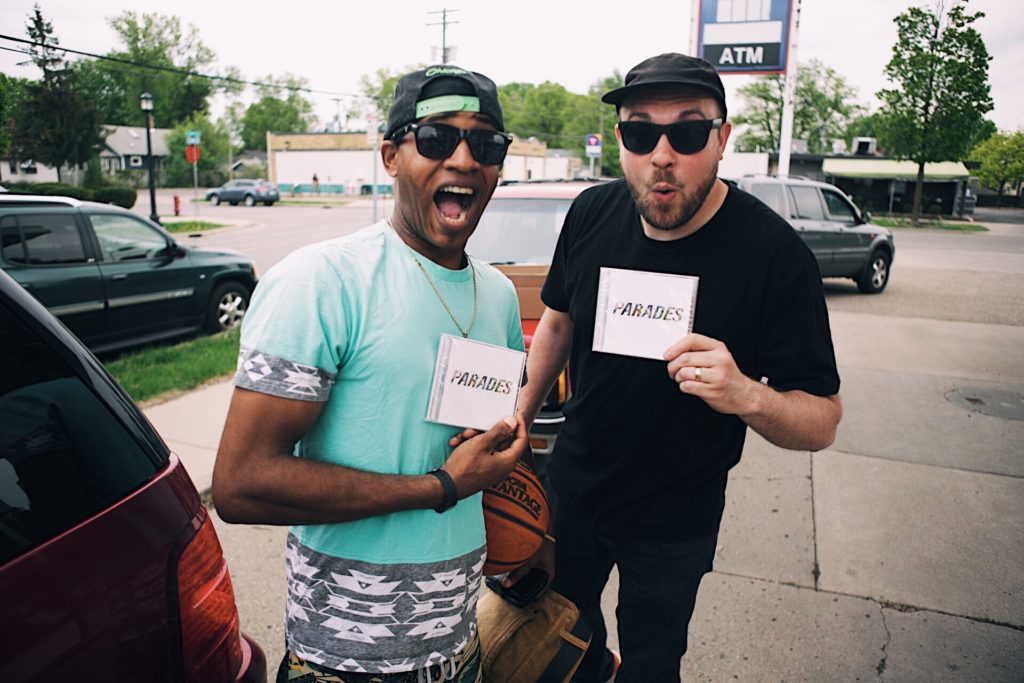 OK, that does it for all the Doomtree-related news this week. I'll leave you with some Bonus Baby Pics of my crazy kids. Spring has finally sprung here in the Twin Cities and we're taking full advantage of the gorgeous weather. Here's Lou, Cam, and Penny pausing to absorb the natural splendor of Minnehaha Falls.
And here they are devouring ice cream cones after getting some new summer haircuts. This marks the first time I've taken all three kids in for cuts and not a single tear was shed. PROGRESS!
Here's a little "taste" of what a #DadDinner looks like at the Mader household. I really outdid myself with this one. Full culinary greatness achieved.
Penny has had an awesome couple of weeks supporting some of her best friends. I got to take her to the Roma di Luna release show a few weeks back to see her buddy Pella perform for the first time with new band Double Dragons (amazing). Here's Penny getting amped for the big night, ready to shower Pella in gifts, praises, and accolades.
The two P's hanging out backstage at the Cedar moments after Pella absolutely destroyed her debut set. Someone get this kid a manager, stat!
The next day we trekked out to Eden Prairie to catch Penny's best friend Aniyah at her annual dance recital. Oh man, dance recitals are INTENSE!!! Aniyah scorched the earth with her epic moves and Penny was right there with flowers and hugs when the smoke settled. Way to go, Aniyah!
This past weekend I got to hang out at the Minneapolis Central Library and read some of my fav children's books to all sorts of kiddos and their families. We set up a little beat lab afterwards so everyone could take part in crafting their very own lava bangers. Here's Penny leading the charge.
Penny was so inspired after that Double Dragons show that she's decided we need to start a band of our own, and has taken to calling it Double Dolphins. Here's an excerpt of some of the material we've been workshopping. Pretty heavy and subject matter for a kindergartner. Dark times.
I took Cammy to his first ever Timberwolves playoff game! Unfortunately it coincided with the same game that the Wolves gave up 50 points in the third quarter. This is Cam sensing the impending blowout moments into the second half. Still a blast though. We're both very proud of our Wolves for breaking the 14-year playoff drought.
Here's Cam at Chuck E Cheese's last week on what appears to be an ancient death trap.
And now for the ever-changing wardrobe and career phases of Laid Back Lou. This dude is a force of nature. Within the last two weeks he's gone from a zebra ballerina….
To a successful general surgeon who busks down by the river in his spare time to stay grounded….
To a towel-waving Chicagoland sports bro with a taste for obscure French animated cartoons…..
To a pirate princess king sorcerer. ICONIC. We can barely keep up.
Can't forget to give an earth-shattering Happy Mother's Day shout to all the moms worldwide. You are incredible and I hope your weekend was filled with fun and maximum relaxation. Extra shouts to my own mom, Rosemary. Here we are posted up with the fam at the annual Race For The Cure walk this past Sunday. My mom is a strong-as-hell four-year cancer survivor and a truly incredible lady. Love you, Mom!
And now for some major major love and gratitude to the mother of my children and my fav person ever, Brittany Mader (aka Killa Cam aka 6 God aka StarBar Crystals). The last six years have been an amazing blur and you are definitely the reason any of us are still standing. Wild ride, babe. Love you mucho!
Alright! That does it for this very lengthy post. Congrats on making it to the end. Very amped to see a bunch of you out this Saturday at the Doomtree Flash Sale and Shredders Art-A-Whirl show. If not, I'll most definitely see you back here next Tuesday for another round of TWL!
— Beak
Twitter: @_LAZERBEAK_
Instagram: @lazerbeak

SUPPORT THIS BLOG LYFE. TUESDAYS WITH LAZERBEAK SHIRTS AND POSTERS AVAILABLE NOW!!!