Hey hey! Welcome back to another action-packed edition of Tuesdays With Lazerbeak. Soooooo much stuff into get into this week. Soundset 2018 is only days away and I couldn't be more pumped to be debuting this hometown Sick Trim set from Paper Tiger and myself. We'll be kicking the day off on the Essential Elements Stage, dropping live production over a bunch of our classic bangers and new beats to boot. Come through and say what's up.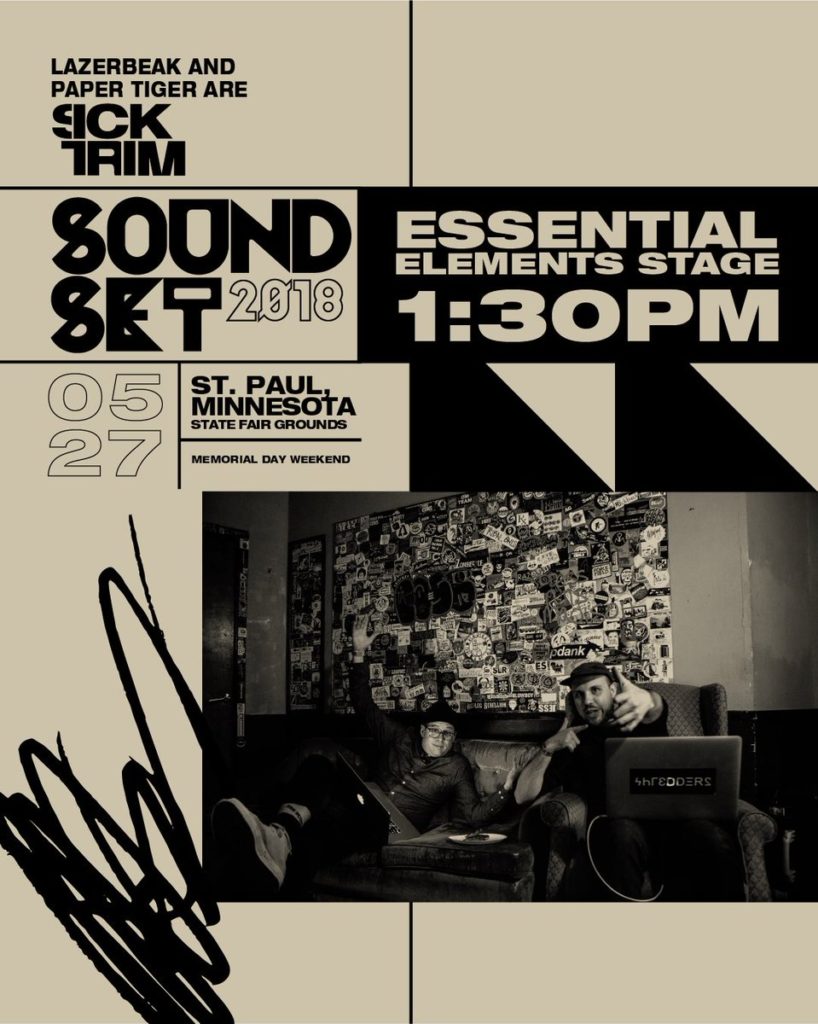 Here's the full-on insanely stacked lineup for the entire festival. I'm really looking forward to seeing Migos, Kamaiyah, J.I.D, Jaden Smith, and Young M.A. Grab your tickets right HERE and I'll see a ton of you down there on Sunday.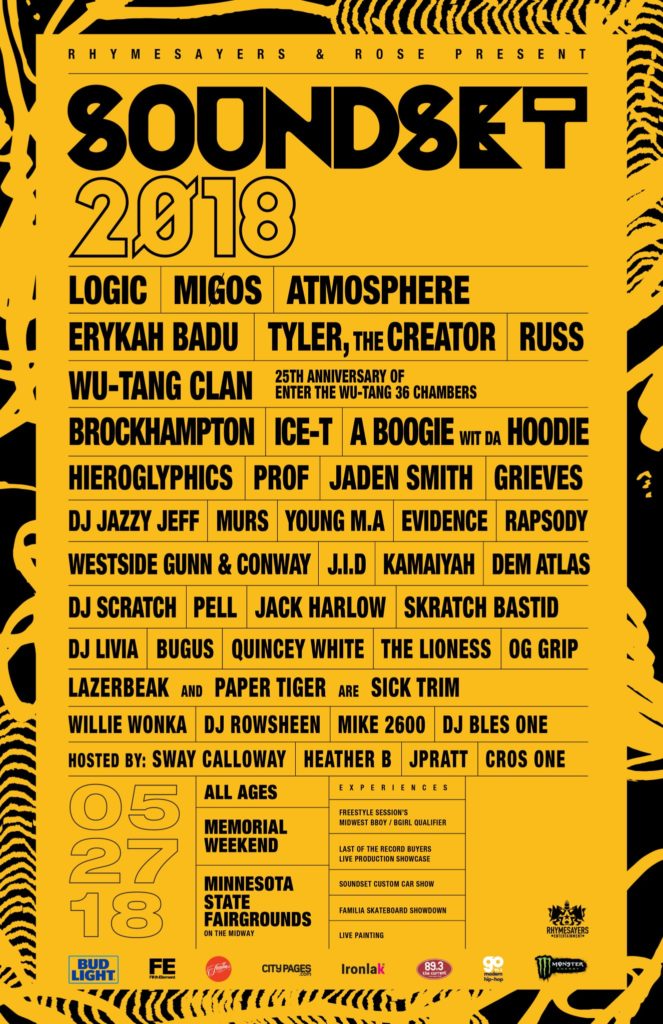 And to get your Soundset week started right, I've got an awesome mix from our good friend DJ Rowsheen for you. Rowsheen will also be spinning nonstop heat on Sunday, so definitely make sure to check her out.
DJ ROWSHEEN – Soundset Preparty Mix
Speaking of massive shows (SEGUE!), I want to give a quick shout to all the folks that crammed into the Doomtree Flash Sale and the Shredders Art-A-Whirl show at Bauhaus last Saturday. What a day! I literally got zero pictures because of how nonstop hectic it was, but here's a great shot from excellent local photographer Tim McG to give you a taste of the mayhem.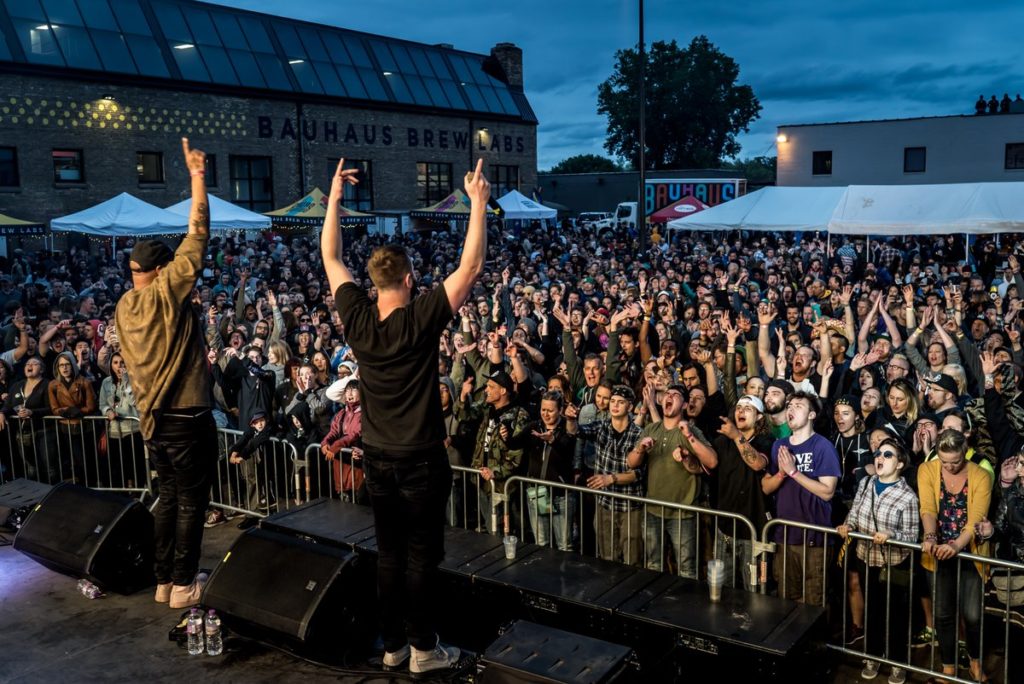 For those of you not in the Twin Cities, do not fear. We're figuring out some sort of way to bring those Flash Sale prices to the Webstore for all to enjoy. Should have something up in the next couple weeks once we get inventory sorted. For now though, enjoy this sweet little mini performance of "Xanthrax" from Shredders' set this past January at the Red Bull Crashed Ice party. Huge shouts to TPT for capturing the performance and whipping up this edit. Click the player below to check it all out.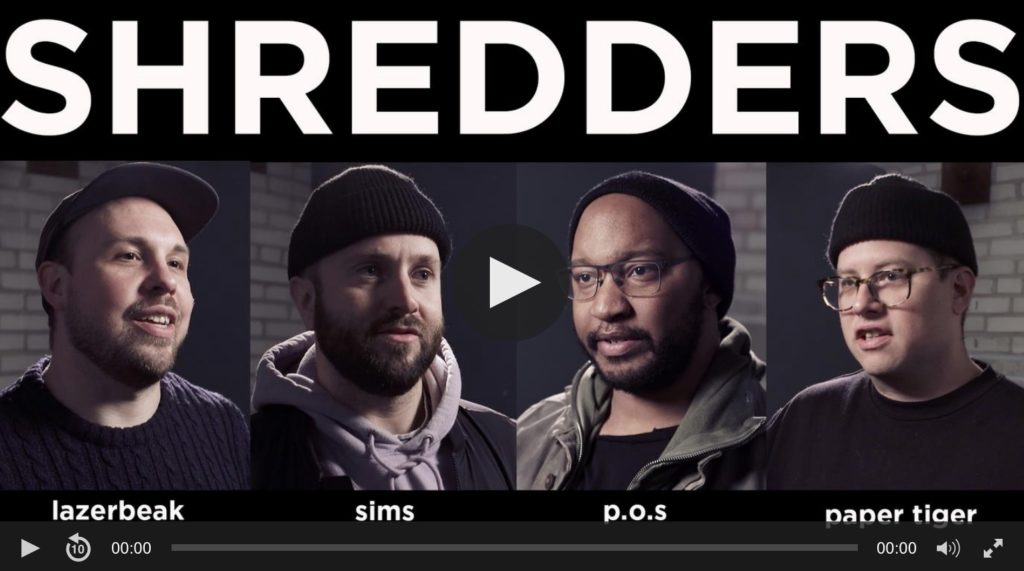 I'm getting so ready for this final Shredders mini-tour taking place down south next month. This is a part of the country we don't get to visit that often mainly because, to be perfectly honest, our draw and demand just isn't the same there as it is on the coasts and in the Midwest. Shredders will be swinging through Jacksonville, Chapel Hill, Atlanta, and New Orleans this time around and we would be seriously grateful if you could help get the word out to any people you might know in those areas. We'll be bringing the ultimate homie Astronautalis along for the ride again in the main support slot, so you know these shows are guaranteed to be the best time. Check out the dates below and grab your tickets HERE. Thank you!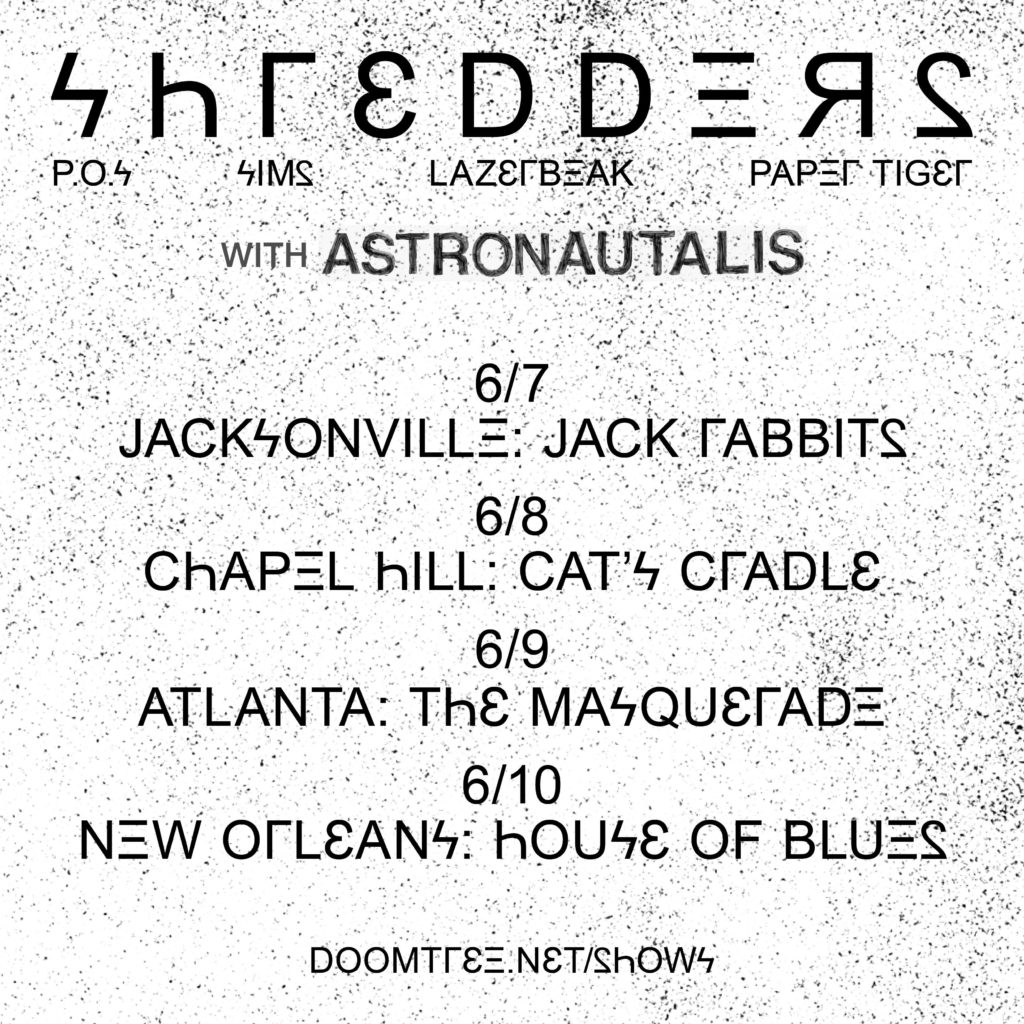 And don't forget that this Friday, May 25th, is the last day to submit your cool dog vids for this upcoming Shredders music video that Adam Dunn is working on for us. Thanks to everybody that's already sent in clips. Check out all the details, instructions, and where/how to send in videos right HERE. Spread the word!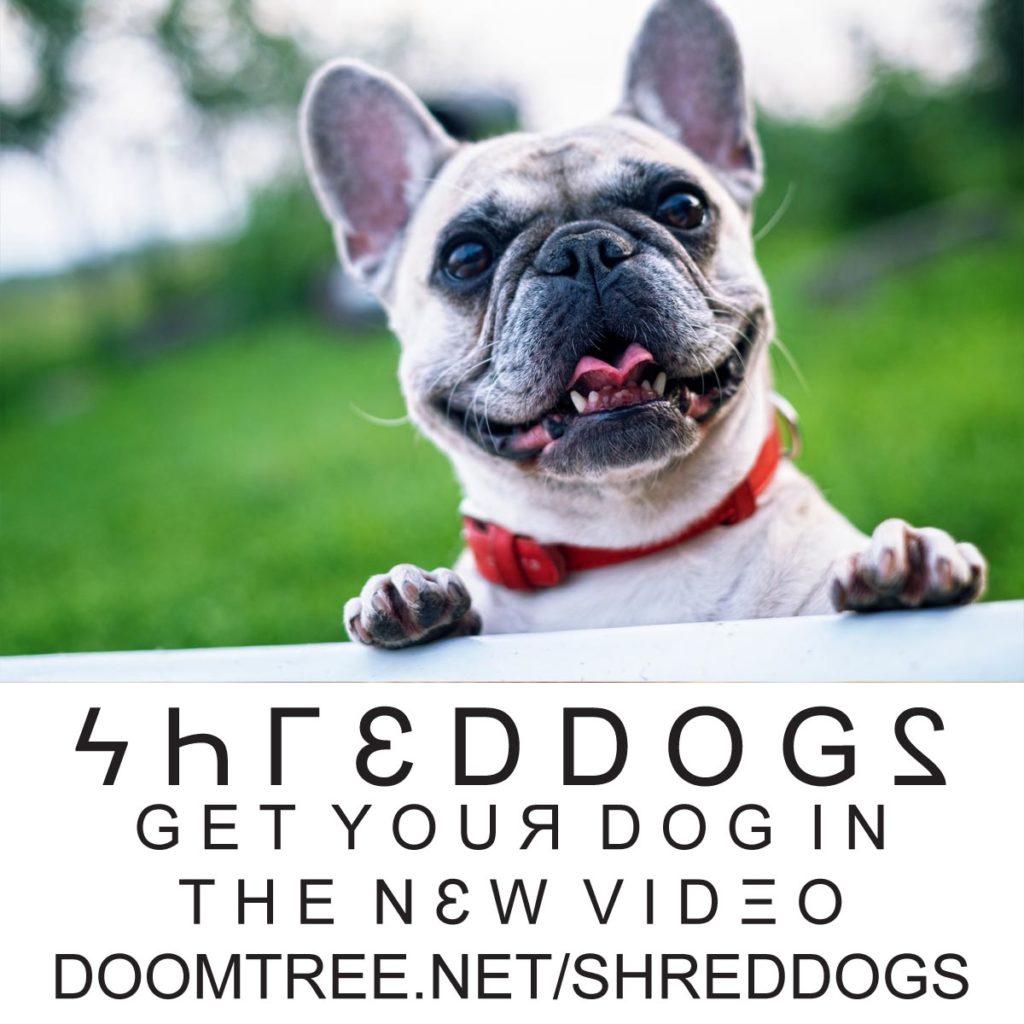 Dessa made it safely to China and has been on a whirlwind tour of workshops and performances with Arts Midwest. Here's a few pictures from the road as Dessa, Aby Wolf, and Matthew Santos travel across the country. So cool. Happy birthday shouts to Dessa as well, who turns another year wiser on May 23rd.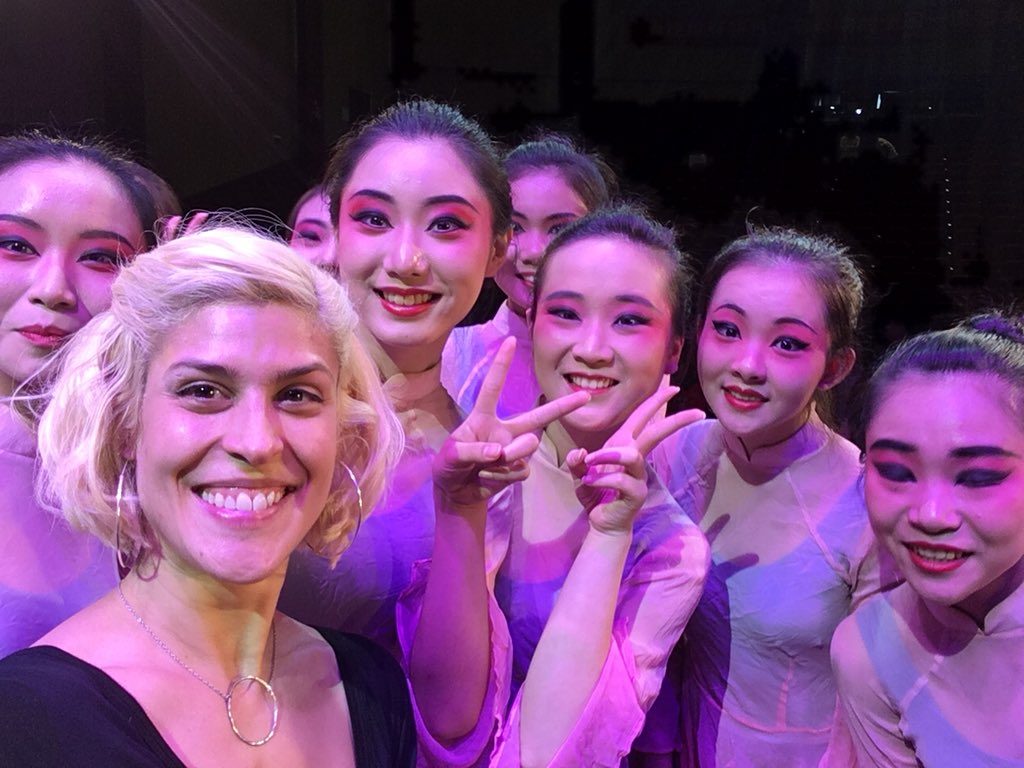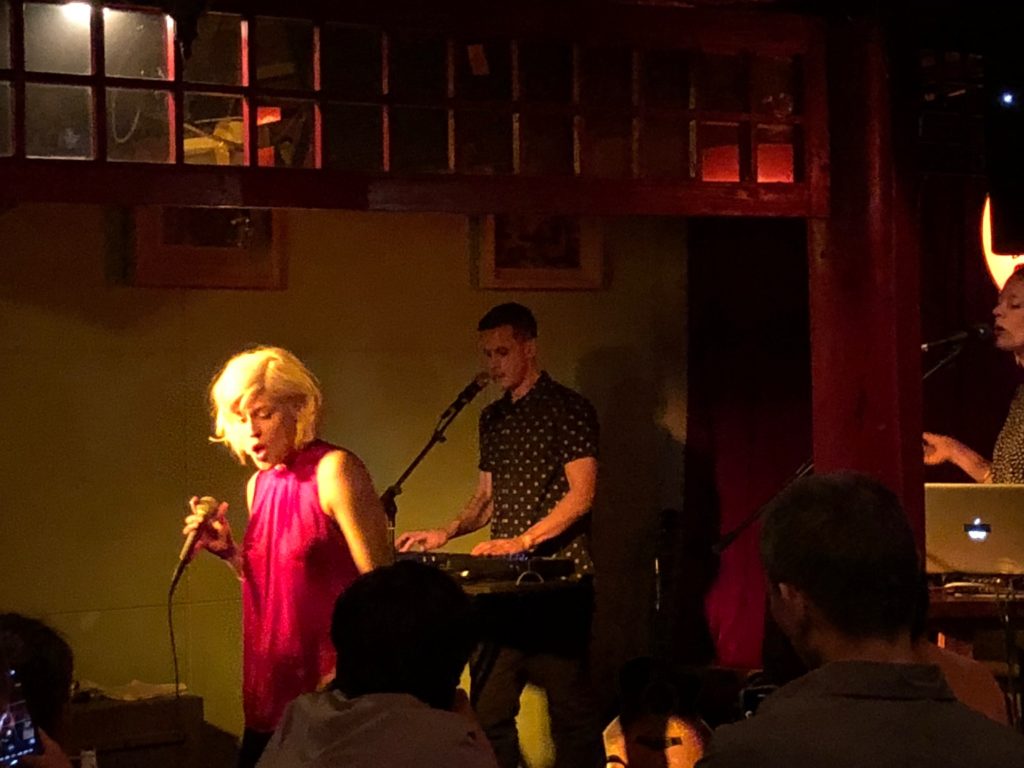 Dess will be back home next month just in time to kick off the East Coast and Southern legs of the Chime Tour. ROAD WARRIORS!!! Check out all the upcoming dates below and grab your tickets right HERE.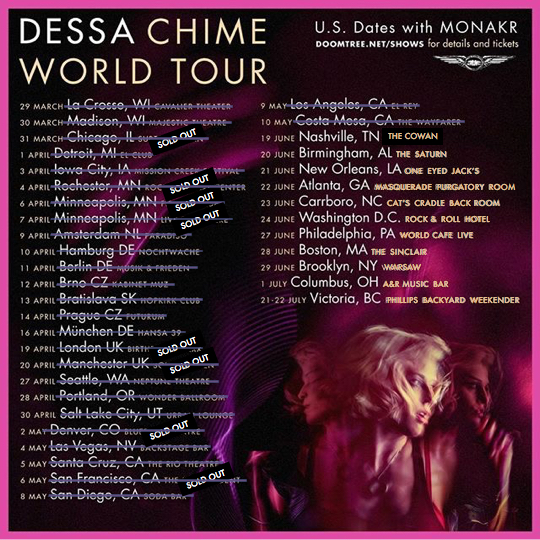 P.O.S is back from his short Midwest run of shows last week. Thanks to everyone who came out. The Current ran an awesome little story on Stef and his mother Grace for Mother's Day a few weeks back. You might also know Grace as the force of nature that has kept the Doomtree Webstore running for the past 15 years. She is the absolute best. Read the whole interview with Stef and Grace right HERE and check out a v sweet pic of Grace, Stef, and Stef's son Jake below. Generations!!!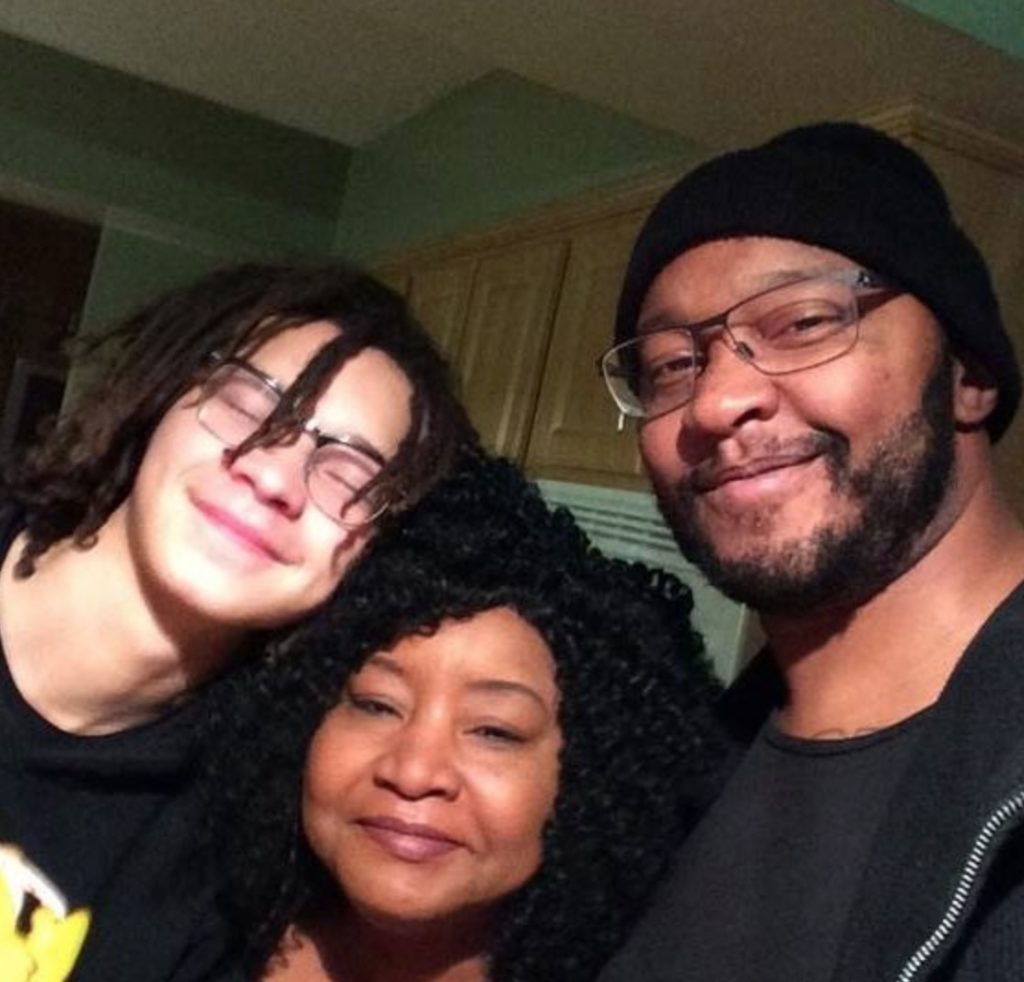 Speaking of P.O.S (SEGUE II!), he'll be playing The Current's annual Rock The Garden festival on June 16th at the Walker Art Center alongside Kamais Washington, Feist, and Father John Misty. Tickets are going fast for this one. Grab them right HERE.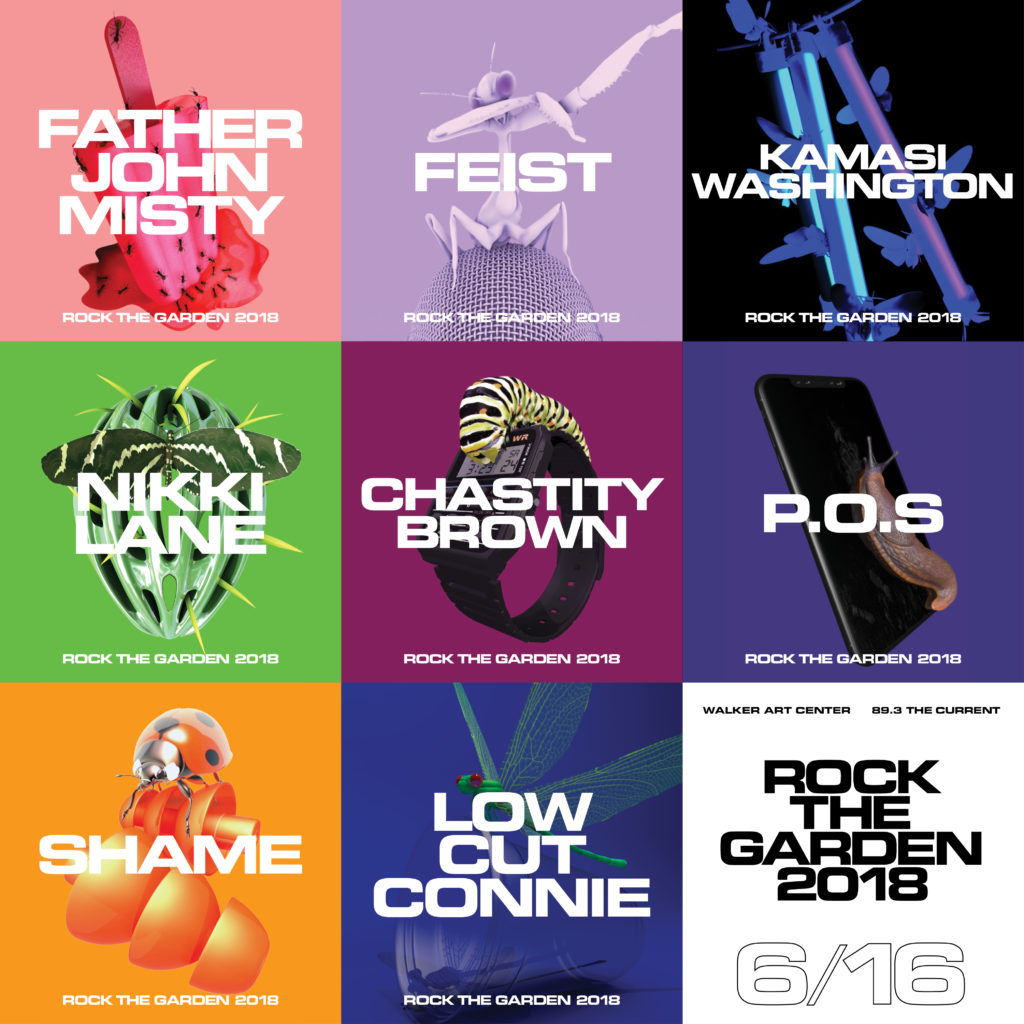 Earlier this month we announced this upcoming Longshot and Lazerbeak collaborative album, and I've been really floored by the positive response over the last couple weeks. If you haven't yet, make sure to check out lead single "Just Dance" below. It's the perfect uptempo vibe to kick your summer off right. Also test-driven and approved for barbecue season.
We'll be dropping the full 11-track Parades album on June 8th, and if you'd like to support us and the project you can pre-order a physical CD from the Doomtree Webstore right HERE. You'll get an instand download of "Just Dance," a signed album by both me and Longshot, three bonus tracks from the Parades sessions, and access to an Instagram Live Q&A with both Shot and myself. All for about the same price as a kids water gun at Target. Dooooooooit. For those of you who prefer a digital format, you can pre-order the album from Bandcamp (HERE) or iTunes (HERE) and receive an instant download of "Just Dance."

After the album it's the album party! We are going to be throwing one hell of a festive gathering on the FOURTH OF JULY at First Avenue's legendary 7th Street Entry. HOLIDAE (ft. Ashley Gold), Angel Davanport (of Rapper Chicks), Purple Orange Beach (P.O.S new project), and Metasota will all be along for the ride. So excited to have these amazing friends and extremely talented artists celebrate this big day with us. We're kicking things off late so you can still get your grilling and fireworks in beforehand. No excuses baby. Grab those tickets HERE and come through!
Alright, that does it for all of the Doomtree-related news this week. It is now my great pleasure to unveil the official Tuesdays With Lazerbeak Bonus Jams Spotify Playlist!!!
If you've been following the blog for awhile now, you know that every week at the end of the post I always hit you with some new Bonus Jams – whatever songs and albums I've been listening to and feeling at the time. Well, now you can take those songs with you everywhere you go with this ongoing Bonus Jams playlist. I've loaded this thing up with every Bonus Jam that I've posted so far in 2018, including the ones we're about to get into right now. Every Tuesday I'll be adding new tracks at the top to create a continuous mix for your listening enjoyment. Follow me on Spotify right HERE and check out the full playlist below.
LAZERBEAK'S BONUS JAMS PLAYLIST
So many incredible songs and videos have been dropping this month that it's been super hard to keep up. Definitely the best one though is this new Childish Gambino track. "This Is America" is one of the most powerful and creative song/video combo that I've seen in years. Not to mention Season 2 of Atlanta is absolutely flawless and a work of art. Both are a must watch.
Childish Gambino – "This Is America"
One of my favs, Anderson .Paak, is back and completely on fire after a decent break from new music. This "Bubblin" song is a total slam dunk and the video is amazing too. Can't wait to see what this guy has up his sleeve for the rest of summer.
Anderson .Paak – "Bubblin"
This new J Lo and Cardi B collabo will probably go down as the song of the summer, for me at least. It most definitely takes a very liberal sprinkling of Cardi's excellent "I Like It Like That,", but still manages to flip things enough to crush all on its own. This song is so good.
Jennifer Lopez ft. Cardi B – "Dinero"
Really loving this new Clean Bandit and Demi Lovato collabo as well. I don't know if it's just cuz the weather is finally nice here or what, but I'm all about the big clubby pop anthems right now.
Clean Bandit & Demi Lovato – "Solo"
Pharell and Camila have one of those on their hands as well with this new "Sangria Wine" single. Camila Cabello can do no wrong in my book, and her streak is alive and well on this one.
Pharrell Williams & Camila Cabello – "Sangria Wine"
Loving the new album from Maluma. Nonstop hit after hit after hit. Check out "Corazon" below featuring Nego do Borel.
Maluma ft. Nego do Borel – "Corazon"
Disclosure is back with maybe their most funky song ever. I really hope the next album is just like this. Fatoumata Diawara crushes it as well. Such a great pairing. Check out "Ultimatum" below.
Disclosure ft. Fatoumata Diawara – "Ultimatum"
Now to switch it up a little. I am 100% in love with the new John Prine album Tree of Forgiveness. And my kids are too. I've gotta be honest, I've never really listened to his extensive back catalog, but something about the vibe on this record has got me hooked. Will definitely be on my year end Best Of 2018 list, no question. Instant classic.
John Prine – "Knockin On Your Screen Door"
Now for a handful of excellent Local Bonus Jams that have recently come out. We tend to all hibernate in the winter and make tons of music up here in Minnesota, so the spring and summer are always a great time to hear what everyone has been up to. Dizzy Fae just dropped a stunning two-for-one video a few weeks back and it's soundtracked by a pair of my favorite songs from her recent mixtape.
Dizzy Fae – "Her / Indica"
Dwynell Roland is heating up and readying his new solo album out on June 1st. This "Control It" song is a straight heat knocker and the video is hilarious. Killing it. I see you, Zeke!
Dwynell Roland – "Control It"
The young gunners Nazeem & Spencer Joles are back with a summer hit in this "Rock Lee" joint. Shouts to the Cup Foods cameo in the video too. Classic.
Nazeem & Spencer Joles – "Rock Lee"
A few weeks back I highlighted the excellent Dismembered and Unarmed compilation that will be dropping next month, featuring over 30+ outrageously talented Twin Cities artists and curated by the legend god Chaka Mkali and author Resmaa Menakem. Learn all about the project and Resmaa's new book that inspired it right HERE. Here's a new visual from The Lioness for her track "You Got It (Part I)." Super tight.
The Lioness – "You Got It (Part I)"
And lastly, tiny deaths just popped back up with an excellent new single and video. This is probably my fav song that I've heard from Claire and Grant yet, and I'm very excited to hear more of what they've been cooking up. Check out "Always" below.
tiny deaths – "Always"
BOOM! There you have it, another week of Bonus Jams. Make sure you check out my Spotify playlist on the weekly right HERE to keep up with everything. Alright, that does it for this post. I hope you all have a terrific week. I'll see a ton of you at Soundset this Sunday, and if not, you can bet your sweet ass I'll be back here next Tuesday for another round of TWL.
— Beak
Twitter: @_LAZERBEAK_
Instagram: @lazerbeak

SUPPORT THIS BLOG LYFE. TUESDAYS WITH LAZERBEAK SHIRTS AND POSTERS AVAILABLE NOW!!!